My experience at a recreational ride in Puerto Viejo. For travellers who have biking in mind for their visit to the Caribbean and with a nice trip through secondary roads and the wonderful surrounding forest. All you need to know!
A good idea...?
Have you ever been in a situation where you think, how in life could I have gotten here? Or maybe, oh Lord, when did I accept such an idea was a good idea?
Well, these comments were in my mind, when my husband and I were about to participate in a recreational bicycle route in Puerto Viejo de Limón, on the Caribbean side of the country. This place is famous for having the most perfect weather in September and October, so we were considering going to the beach for the weekend. Awesome idea!
About the routes, there were actually two, the short one for amateurs (like me) 32Km and the long one for more experienced and trained bikers 66Km.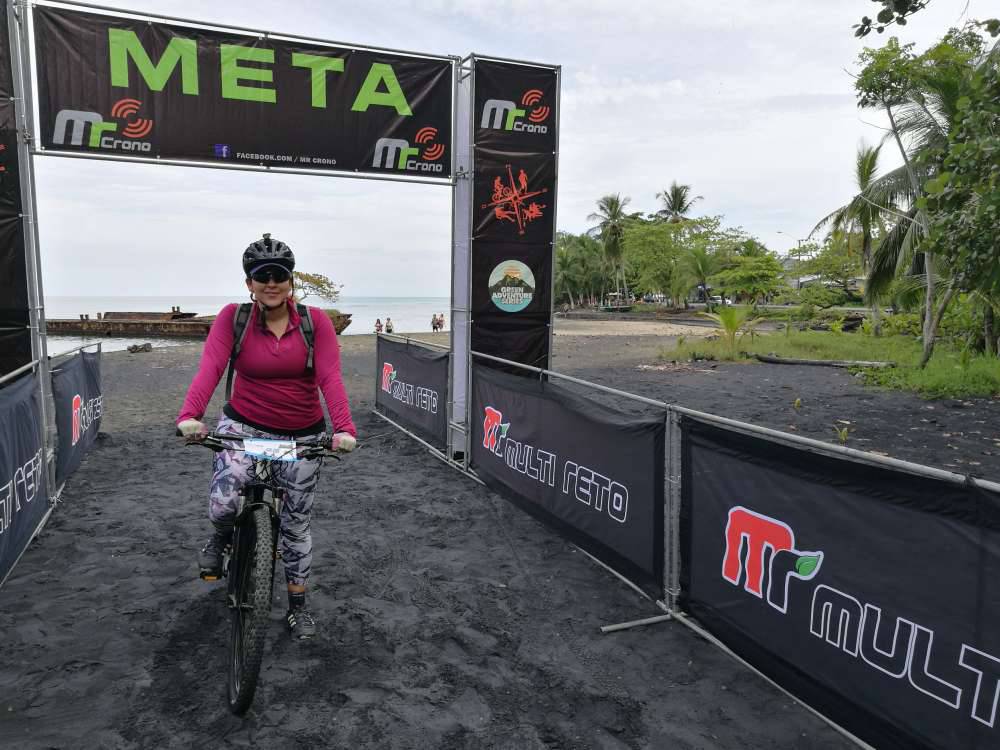 At first, I was quite excited about the idea of biking in Puerto Viejo de Limón. I thought, well it is above sea level, so it's going to be easy as pie, flat and recreational, right? Once there and hearing the route I wasn't sure about this, I started wondering about the distance and difficulty the moment some staff mentioned "Sixaola" which is a town located near the border to Panama. I also did not know which route would I take at first, either 35 of 75Km. The good thing is that both trails would be shared for the first part, so people would consider their condition when they got to the intersection that divided the trails. I was pretty sure by then, I was going for the beautiful 35Km!
I must say it wasn't the end of the world, there were some hills that took a lot of energy, but the views were unbelievable, through the forest and some grasslands.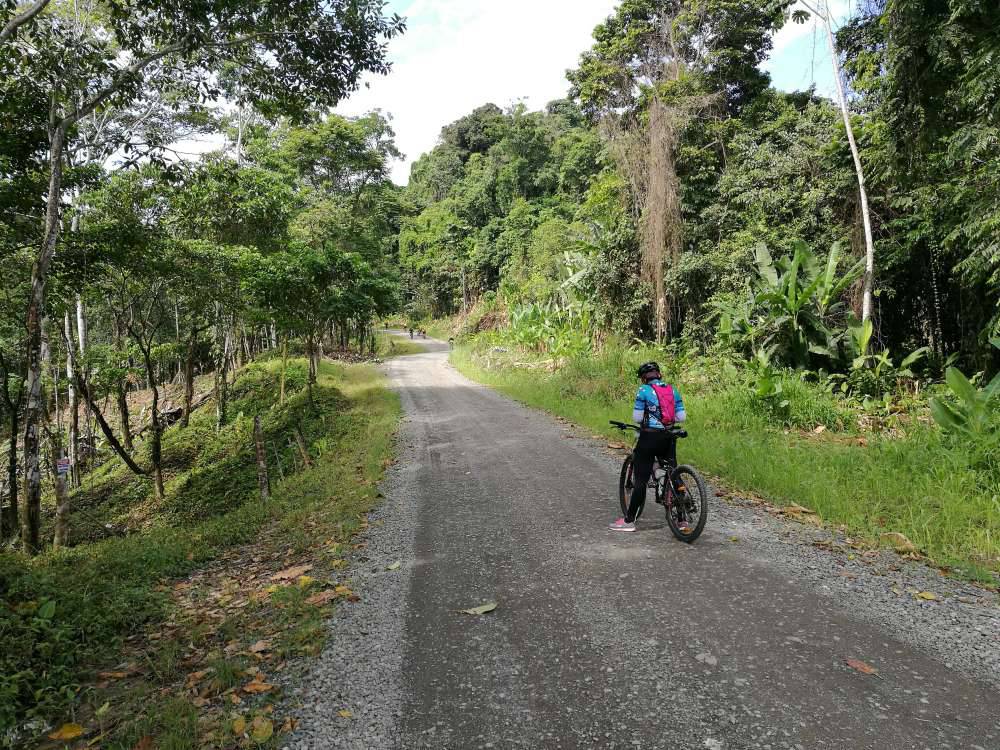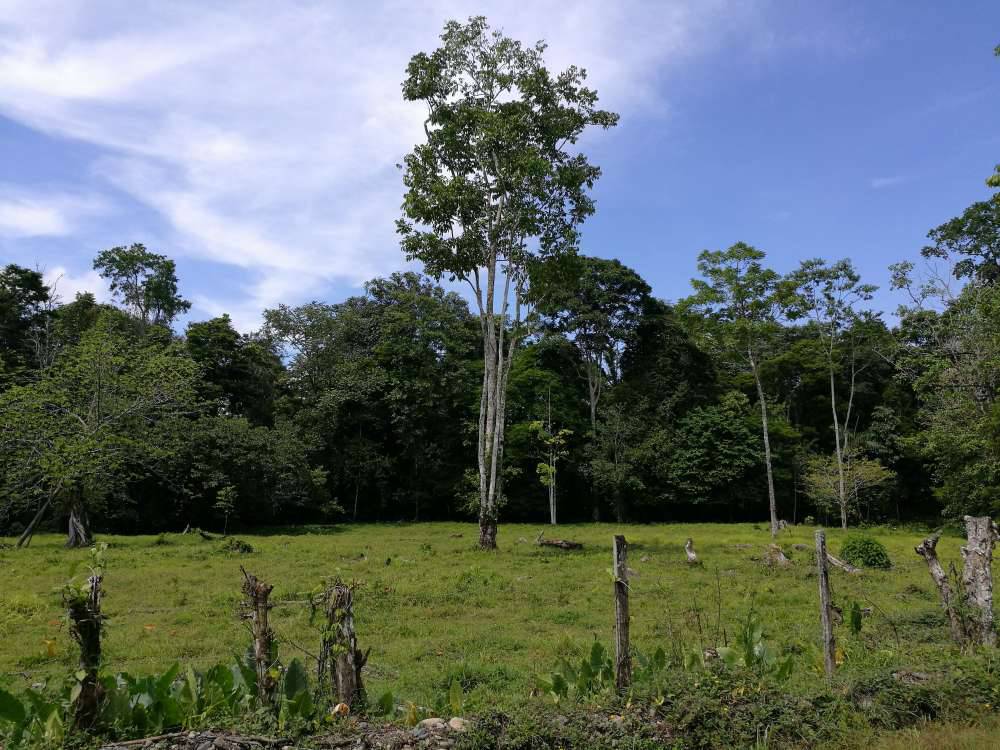 A picturesque experience
The day was sunny, the ocean was turquoise, and the ride was quite hard (at least for me), but it was worth every drop of sweat.
I have to congratulate the organization on such a beautiful event. There was insurance covering the riders, a cool green-yellow-red rasta t-shirt included, as well as some stands for assistance with water, drinks, and fruit. On the short one, there was just one stand in the middle of the trail and on the long one about 5 stands. We also had a motorbike at the end, making sure no one was left behind and taking care of any inconveniences, like getting a flat tire or having any injury, which may be considered when participating.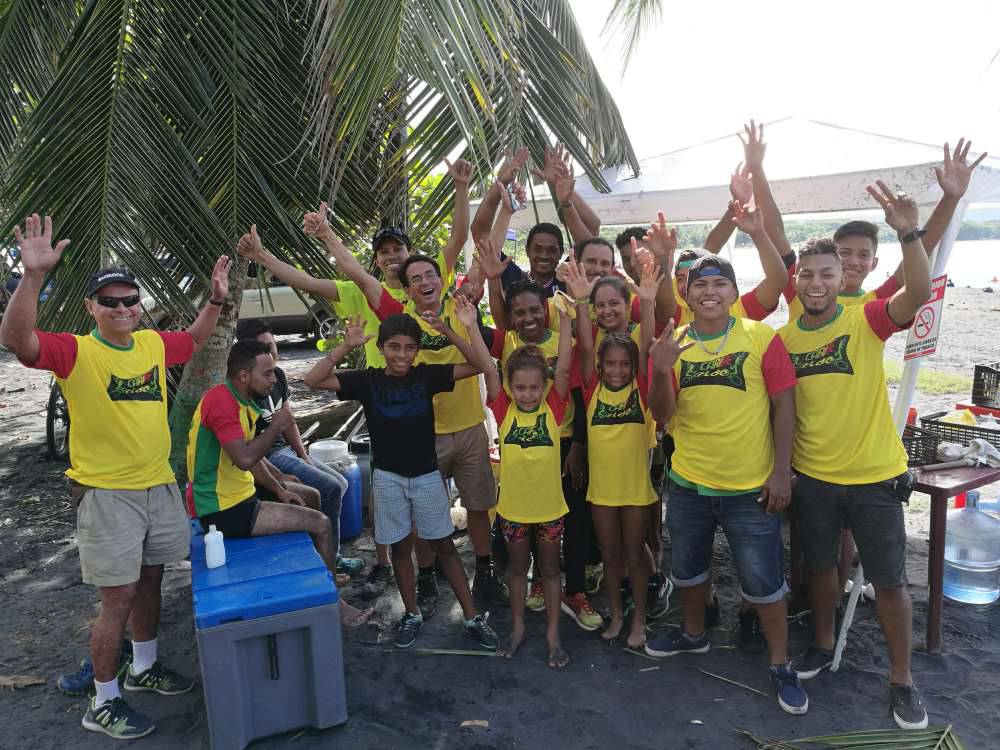 Actually I wasn't really prepared for anything like that. I took my backpack with a cellphone, ID, and water and I thought I was ready. In my defense, it was my first trail. That is the problem when your husband is a bike lover and is carrying the kit, spare tires and air pump. I went for the relaxed philosophy of the Caribbean "I just don't worry about a thing" and didn't think I would need any of these.
My husband on the other side, was on the 75Km while I was hoping to get to the finish line soon. After 3 hours with 3 minutes, I made it! I was really proud! It was cool to have some fruit available after the physical exercise. At the finish line, there was a group of people dancing and also having a great time while waiting for the bikers. I was surprised some of them would finish the track, get off their bikes and start dancing. I took a break and decided to wait for the 75Km group.
First finisher, waiting for her husband...
After some hours I started getting worried since Pedro didn't arrive. When he finally did, he told me about his experiences on the road. First of all, he found it amazing having to cross rivers, take a look at indigenous communities and also he was happy we had such a beautiful day. On the other hand, his tire did get flat, which took him about 45 minutes to repair (lucky him, he had the spare and also got help from the assistance crew). Since we didn't know the route, he also got lost! Thanks to the motorcycle that was behind the group, they could actually find him. He spent almost 5 hours accomplishing it and once finished, the satisfaction was 100%, his body was not that fit by then though.
Luckily, the massage therapist of the national bike team was part of the crew. His nickname is "pechuga" and he didn't want us to know his real name, 'cause no-one would ever recognize him with another name. "Pechuga's" magic hands gave him a massage and Pedro's face looked like he was in heaven.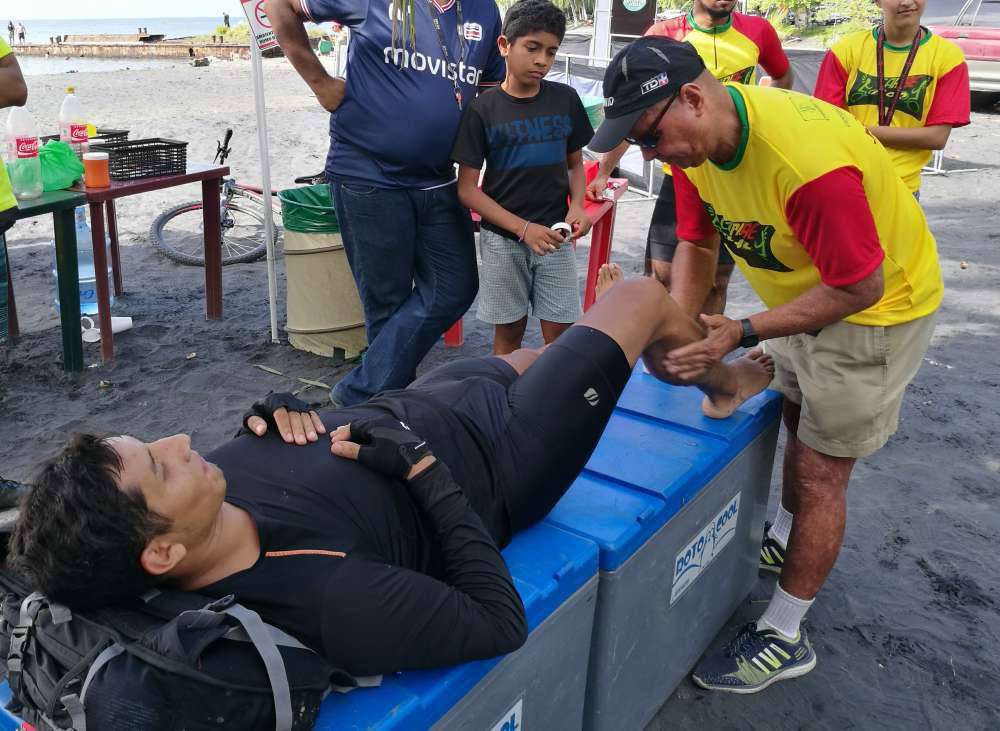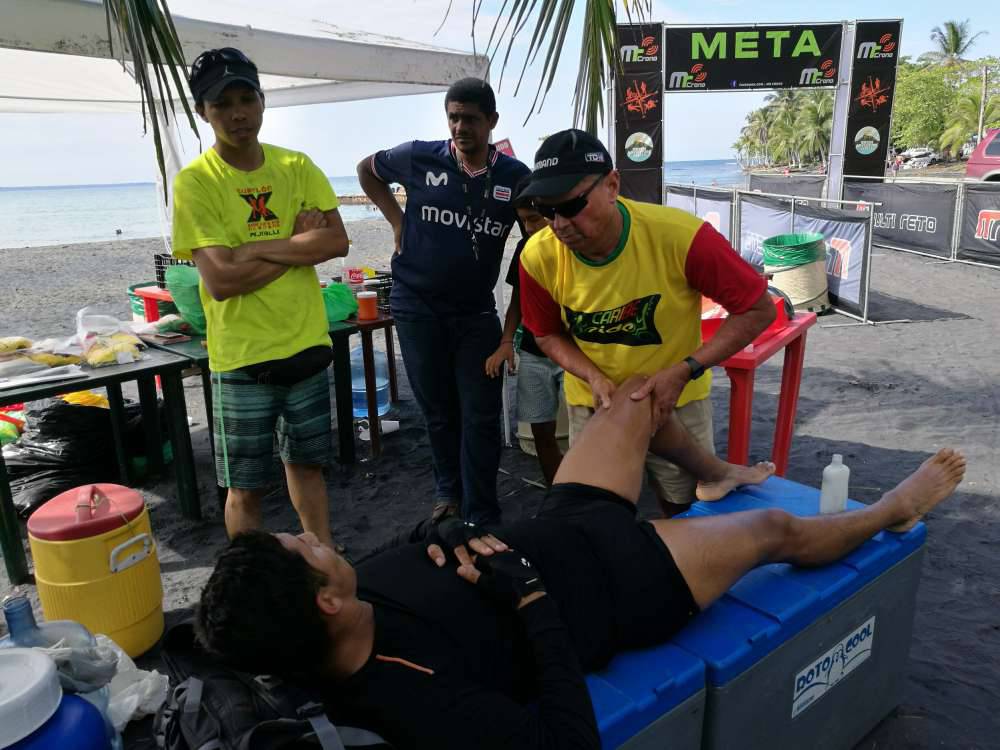 I did sleep like a baby that night!
Recommendations
What did we learn last week?
Prepare yourself for the competition, learn a bit more about the route. If you have a GPS even better.
If you like biking, be aware of the kilometres you can handle and also the elevations you will have during the trail. It makes a huge difference, trust me!
Do not take a ride without insurance, you never know what could happen!
Take full hydration and eat regularly while biking, your body needs it, especially in tropical forests and on sunny days.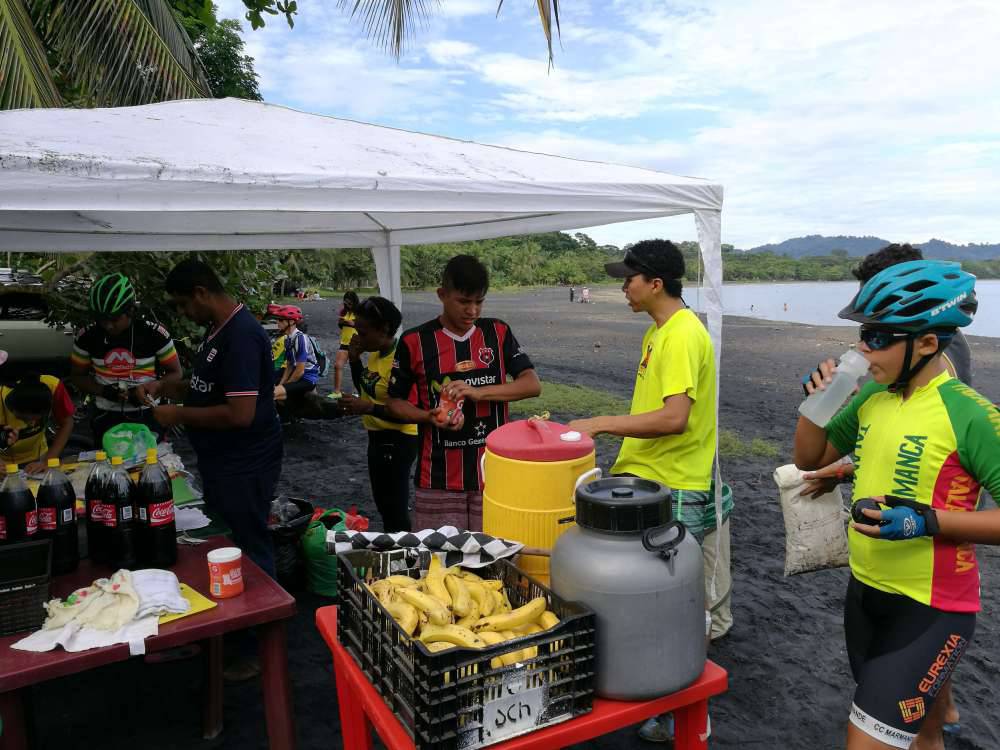 Take some time for relaxing the muscles, the beach is the perfect spot in the Caribbean!
October is a month in which we celebrate the multicultural ethnicities, consider the cultural activities along with your bike routes and beach time to get the best out of your visit. The Carnival of Limón is quite a celebration, pretty famous actually. This year it was celebrated on Saturday, October 13th.
If you took part in a route like mine, I would love to hear about it.
Here are the routes we made: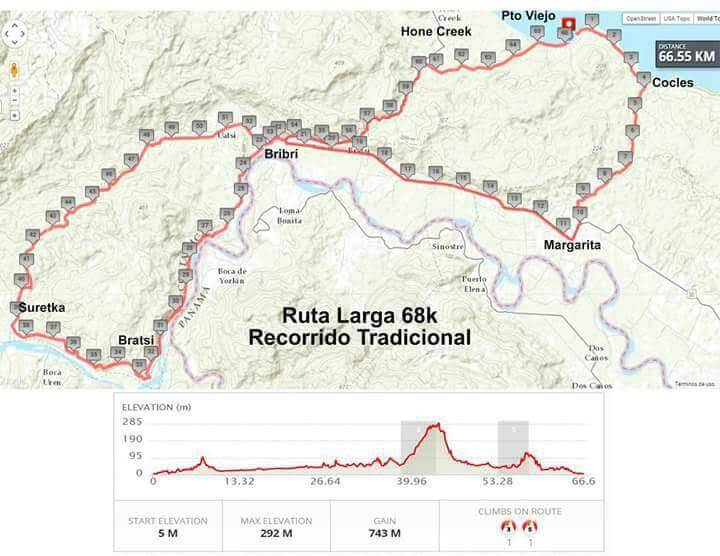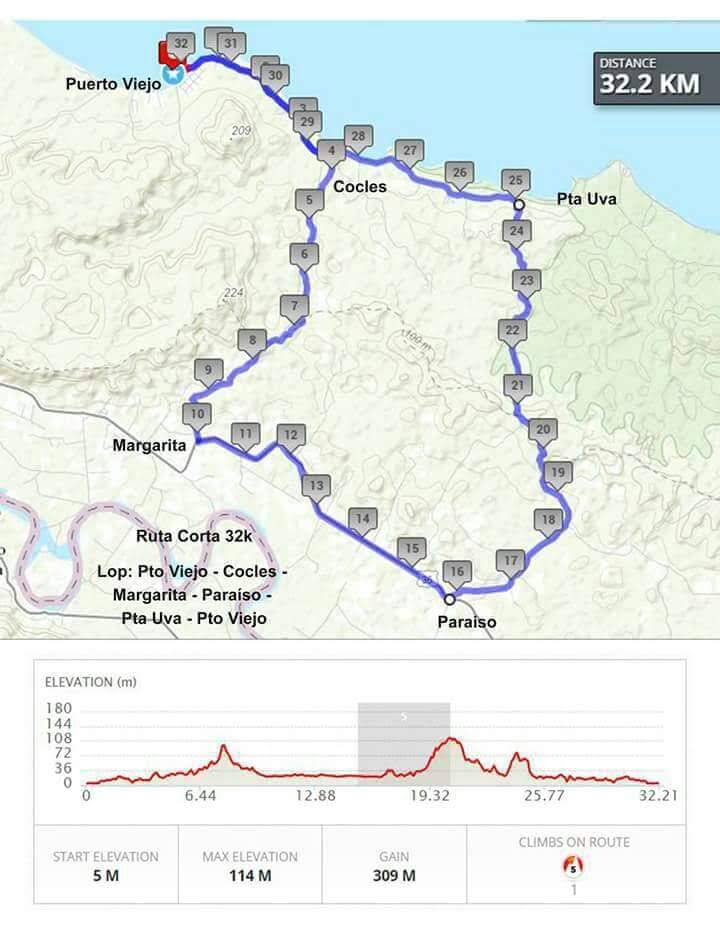 If you´d like some tips about your trip to the Caribbean, stay in touch!