Holy Week in Costa Rica
The Holy Week is what is celebrated in many countries as Easter week. Costa Rica is a very christian country - according to the Latinbarómetro survey of 2017, 57% of the population identify themselves as Roman Catholics and 25% are Evangelical or Protestants.
On the most important days, the Holy Thursday and Holy Friday, a lot of religious activities and ceremonies are being hold to remember the last days of Jesus Christ and his resurrection on Sunday as handed down by the bible.
Unlike other countries, the Monday followed by Easter Sunday is not celebrated in Costa Rica.
In order to celebrate these days, all private and public services remain close on Thursday and Friday, while schools, universities and some other government institutions are closed for the whole week
Family has a big value to Costaricans, so they often use these days to spend time together and travel around the country. Be prepared to meet many locals at national parks, famous beaches and other tourist destinations!
Traditions
While taveling through Costa Rica in the weeks before and during Easter you will see wooden crosses draped in purple in front of the houses. Since the beginning of Christianity the purple color stands for grief, today it also means penitence.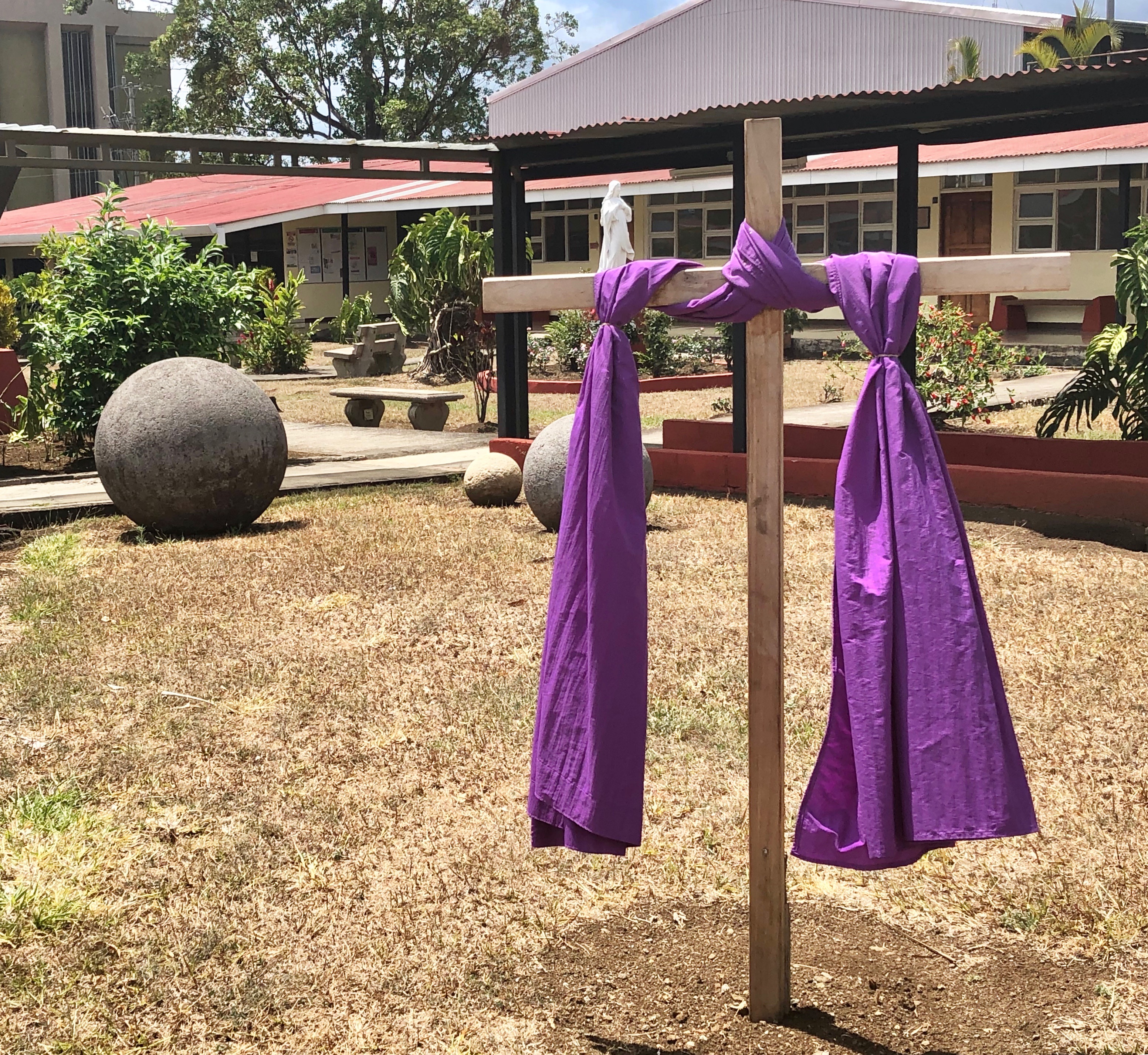 During the Holy Week parades, religious processions and small-scale festivals are being held. Most of them are recreations of different chapters of the biblical stories.
Holy Friday starts with the procession of the crucification of Jesus ("Via Crucis"), where in some cities person dressed as romans, Jesus and other biblical characters march through the streets towards the cathedral. In the afternoon the Entombment ("Santo Entierro") procession takes place. At this ceremony a picture of Jesus Christ ("Tricentenaria de Jesús Nazareno del Consuelo") is carried in a decorated coffin, together with a picture of the "Virgen Dolorosa" (Mary in grief), through the streets of the main cities. Cartago and Heredia are the best and most important places to watch these ceremonies.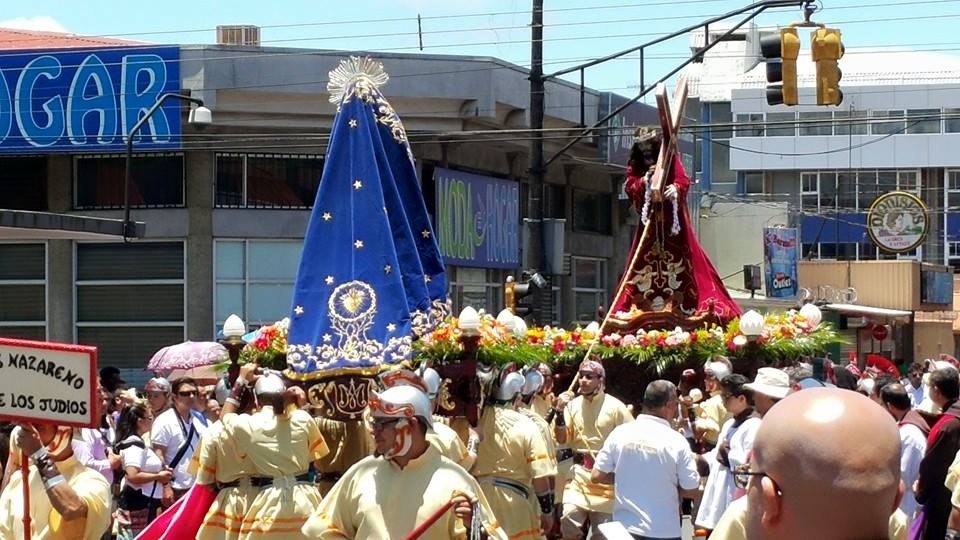 foto: AMprensa
In Ortega town, located in Guanacaste, "La Lagarteada" event is a tradition that takes place from more than 200 years. On Holy Friday, the largest crocodile found in the river is captured by intrepid local men and it is shown to locals until it is released the next day to its natural habitat. Previously, the crocodile was sacrificed on Easter Sunday to use its "healing powers". In recent years, the tradition is supervised by the Ministry of Environment and Energy (MINAE) so that the animal does not suffer damage. Today, in the place of La Lagarteada, the Crocodile Festival takes place.
Traditional Food
During Holy Week, out of religious reasons Catholics are fasting and are not allowed to eat red meat, especially on Holy Friday. So fish and seafood is the traditional food during the holy days.
A specialty is the "empanada de chiverre", filled with jam made out of a sweatened squash, and rice pudding.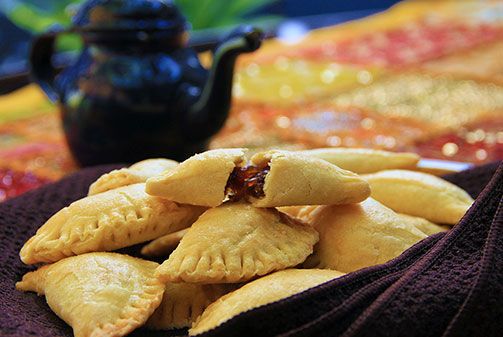 Further tips and information
Since the whole country is on vacation, this is a peak season besides Christmas time and New Year. Those who don't stay in the city to watch or assist to the processions or ceremonies spend their free days with their families at the beach or in the mountains. For this reason, those places are usually very crowded, while San José's streets are empty.
Tips for spending Holy Week in Costa Rica:
Normally, beach hotel occupancy is at 95% or more during this year, starting on Thursday until Sunday. Make sure accommodations are booked in advance. 
For clients renting a car, take into consideration that roads from San José to the touristic regions will be overloaded starting on Wednesday afternoon, and in the reverse direction on Sunday. If possible, avoid driving during these days. If you must drive, pack plenty provisions! Route 27, the main road between the central valley and the Pacific coast, will operate all lanes in the direction towards San José at some hours on Saturday and Sunday. You will have to take alternative routes if you are heading these days to the Pacific coast. We recommend to ask at your hotel before departure and check the electronic messages boards on the highway!
If you don´t like crowed places, San José is unusually quiet these days! Enjoy religious processions that are scheduled for the week. Take into consideration that farmers´ markets, museums, theaters and galleries remain closed from Thursday until Sunday.
The "dry law" is applied mostly during Thursday and Friday, forbidding to sell alcohol in some regions of the country (every municipal council can decide individually). In many tourist hot spots though it is allowed to sell alcoholic beverages.
Easter is celebrated during March or April, two of the hottest months of the year, so avoid extended time in the sun between 10:00 a.m. and 4:00 p.m. To prevent health problems, drink plenty of water and always apply sunscreen. In April there is a transition from dry to rainy season, so there might be some rains during the afternoon but definitely mornings will be very hot.   
If you need further assistance during these days, our operations department will be at your service the whole week.