Renting a car and driving in Costa Rica
We are often asked whether driving in Costa Rica is difficult or not. The short answer is no. In this blog, I will tell you about the street rules, what you need to know about renting a car and driving in Costa Rica.
To be honest, I also was a little scared at first, but I immediately understood that there is nothing complicated about driving in Costa Rica. Yes, there are some different rules and ways how to handle traffic than in other countries, but driving here is very easy as soon as you are aware of those rules. Now, I honestly enjoy driving here, and this is why I want to give you some tips about driving in this country.
Renting a car
To rent a car in Costa Rica, you have to be 21 or older and have a valid license for at least 2 years, which you have to present together with your original passport. Also, for traffic controls, a copy of your passport is not enough. An international license is not necessary. You will also need a credit card for the main driver to be responsible for the car. Which car you should choose, depends a little bit on your plans. With 4x2, you can get to most places. But especially in the rainy season, some roads might be a little muddy. Due to street conditions in rural areas, a 4x4 is recommended. My recommendation is to choose a high car either way.
Children under 12.99 years need a car seat, and children between 110 and 145 cm need a booster seat. 
In this blog, you can read more about renting a car. We will be happy to help you with your reservation, just This email address is being protected from spambots. You need JavaScript enabled to view it..
Streets
Maybe you have heard that the street conditions in Costa Rica are not always the best. I won't deny it, but highways and big streets are always paved and normally in good condition. The streets in San José are very small and sometimes there is just space for one car, not just because of the way the street was built, but also because of parking cars on the right and left side. The reason for the narrow streets is that at the time the city was built, there were not that many cars or even just Carretas (ox-carts) in use and they couldn't imagine that one day there would be this much cars. Of course, this causes traffic, especially during rush hour between 6:00 and 8:30 a.m. and 4:00 and 7:00 p.m. As everyone wants to get home, Ticos make two lines at a place where is actually just one, which makes it a little bit confusing, but this happens just during rush hour.
Driving through roundabouts during rush hour also might look a little tricky because Ticos like to take the space they find. Here you should have patience and just wait for a safe spot to enter.
Streets with holes are normally in neighbourhoods or rural areas outside the big cities like San José, Heredia, and Alajuela. If you see one, try to go very slow and if it is too deep, just wait for space and drive around it. In more rural areas, the streets might not be paved, but with a 4x4 it is normally not a problem.
Some bridges are very narrow as well, and just one car can pass at a time. If you see the red and white CEDA sign, you will have to wait, otherwise, it is your turn to cross the bridge.
During the rainy season, it can also happen that a river is blocking the road. This happened to us in Guanacaste. We had a big car and probably we could have made it, anyway we decided to turn around and look for another road. As we were driving backwards, a man with a motorcycle just continued driving straight through the river. The optimism of the Ticos is great, however, better take the safe way and don't get in trouble with your car rental company. 
Highways: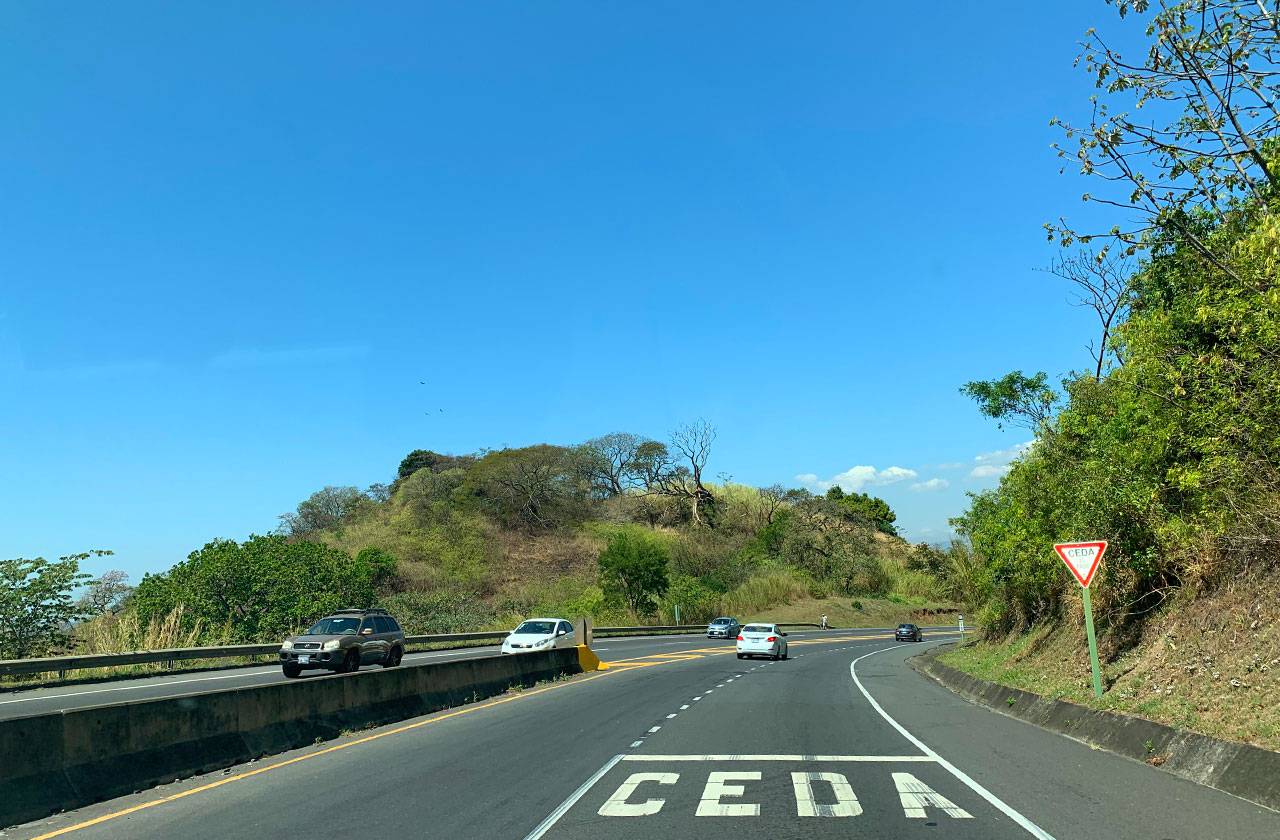 You will reach the most tourist destination over the highways. What is important to know here is that to enter the highway, you have to stop and wait until someone gives you space, but drivers that are already on the highway don't have to give you space and probably won't. This is marked on the floor with "CEDA" which means give way. On many highways, it is normal that at one point the right lane stops. Drivers on the right lane will have to give way again, so you may have to stop. The best advice I was given was to just stay on the left.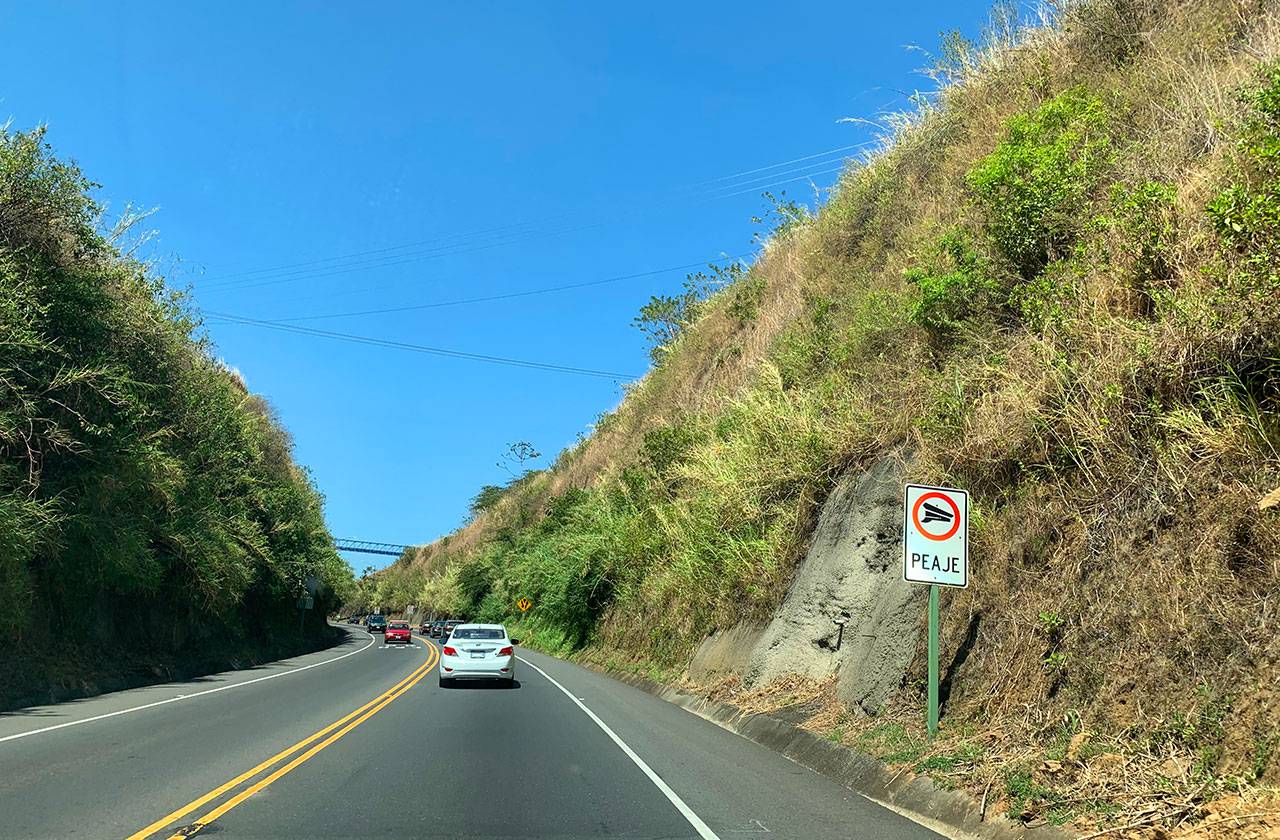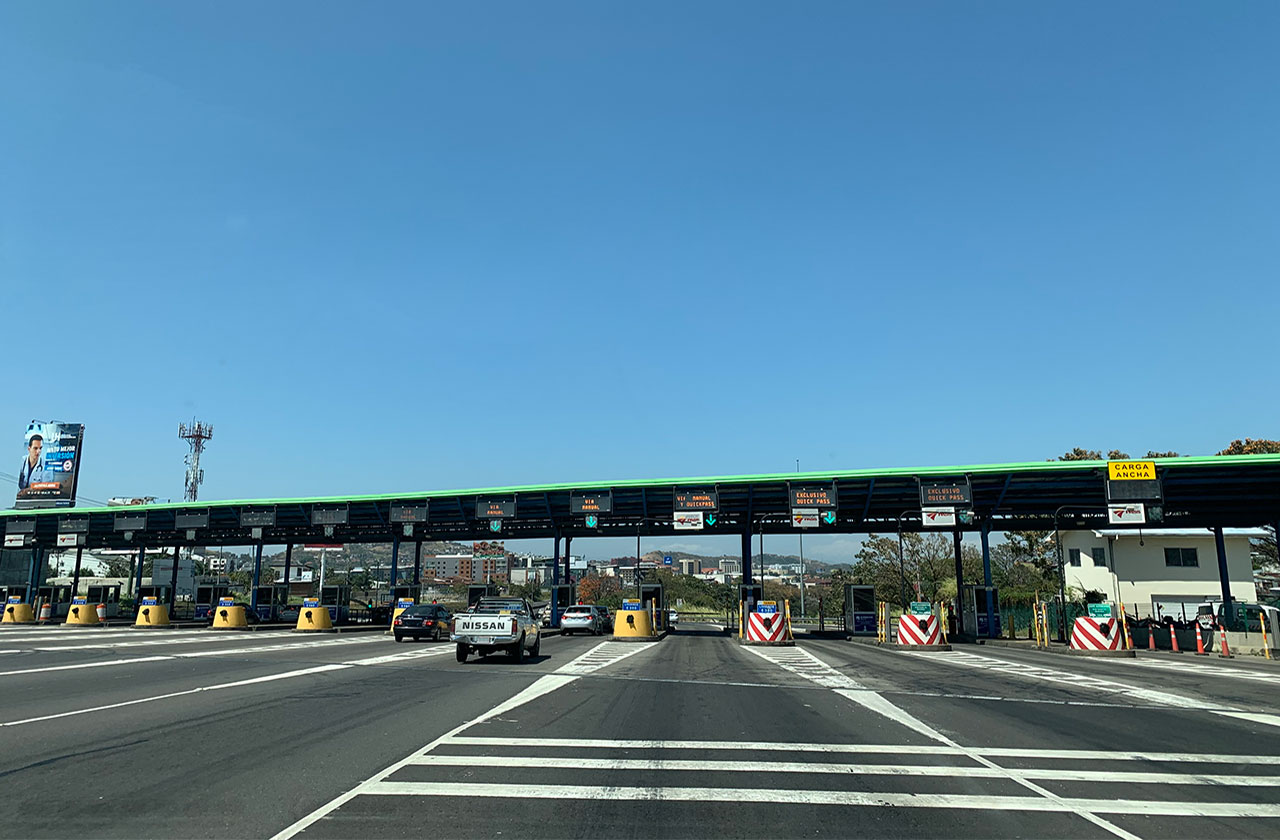 Especially on the way to the Pacific coast, there are different toll stations that are marked with the sign "PEAJE". Some meters before the toll, you can see on the sign how much you have to pay for your vehicle, usually, it's between 400 and 700 Colones. For this, you should have some coins in your car, small bills are also accepted. On the way from the Pacific to San José, there is a toll station in Escazú which has 13 lanes that close to just 3, so as you can imagine, especially during rush hour it will take a while. If you drive during the week, try to pass this place before or after rush hour.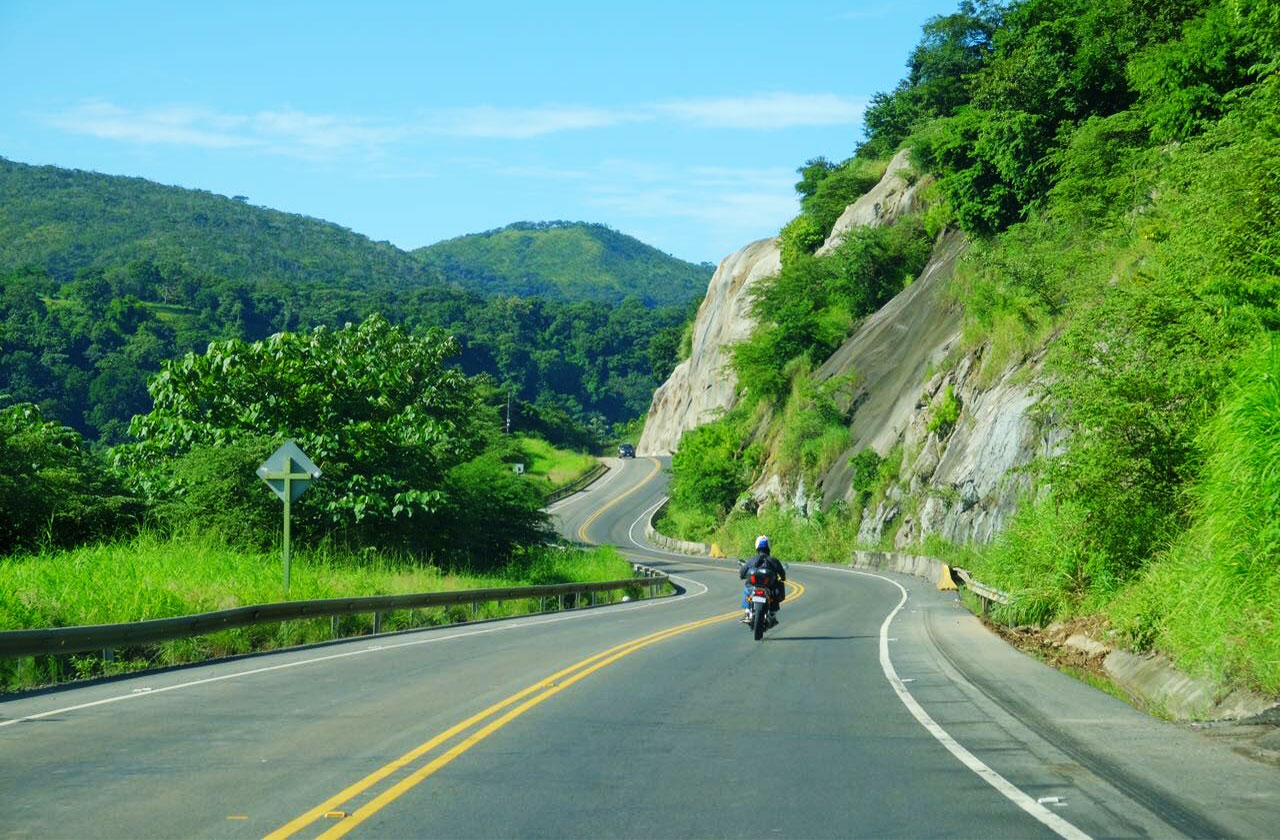 The rest of the highways is no big deal, the roads lead you along the mountains, fields and some nice landscapes and the drive is very calm and peaceful. If you drive through the mountains, you might see some cars going quite slowly, which is usually because of a little truck in the front trying to get up the hill. Here, you should just have patience. Don't overtake the car in the mountains because there are many curves and you can't see well.
Street signs and rules:

In Costa Rica, we drive on the right side. 
The speed limit is 40 km/h in cities and 80-100 km/h on highways
Alto: Stop
Ceda: Give way
No virar en U: No U-Turn
Calle sin salida: One-way street
Peaje: Toll station
If you are driving on a long road, you will probably wonder why people turn on their emergency lights that often. This is common to warn the drivers behind you that there is traffic. If someone gives you space to turn left or right, people also use the emergency light to say thank you. Sometimes they are honking twice for this. 
If you see someone on a long highway driving in the opposite direction and turning on their long light two times, they are warning you of a police control ahead.
Directions: 
This is one point I'm still struggling with after years. There are no street names! A direction would be: "In Heredia from the supermarket 500 Meters west and then 50 Meters north, there is a gas station, so continue for 350 Meters straight and then turn left." Luckily, helpers like Google Maps and Waze are invented, so it is easier to just find the place you want to go there. But don't worry, these confusing directions are mostly in the cities and if you go for example to Guanacaste, the way is mostly straight anyway, and in the end, we always find the place without any problem.
Gas stations
The gas stations have a service, so you just tell the person there "lleno de super" or "20.000 de super (veinte mil de super)" which means to fill the car up or fill the tank with Super of a value of 20´000 Colones, for example. You don't have to leave the car here, just to turn it off and check that the numbers on the screen are on zeros. You can pay with credit cards or cash. A liter of Super costs approximately 645 Colones (about $ 1,12), Plus 91: approximately 623 Colones ($1,08), Diesel: approximately 561 Colones ($0.98), and LPG: approximately 246 Colones ($0,43) (as in February 2020).
In some areas, you won't find a gas station for many kilometres, so never drive with your car less than half full and fill it up before driving long distances.
Parking
In public parking lots, they usually write down the number of your license plate and give you a little paper. When you come back, they charge the price by the hour. If there are no public parking lots, there are often men or woman in a yellow vest that take care of the cars and try to help you to get back on the street. It is common to give them some coins as a tip. If the street or the sidewalk is marked yellow, you are not allowed to park there. As much as possible, try not to leave your car on the street or let alone with visible valuables. Try to find a safe place to park your car.
Safety:
As Costa Rica is a tropical country, tropical storms and heavy rains can occur. In this case, you should stop the car and wait that it stops until you continue driving. During the rainy season, sometimes there are landslides or fallen trees on the street, so plan enough time to get to the next destination, especially on the day of your flight home.
When you have to take a road that leads through the mountains, for example to La Fortuna, there is usually fog in the afternoon, so you should go early. In case you are driving through heavy fog, turn on the emergency lights and drive very slowly.
If you drive through rural areas, go slowly, even when the street is paved. There may be wild animals crossing the street.
You might see some people driving without a seat belt or trying to fit 6 people on the back seats (especially in areas outside the big cities). This is not allowed and if the transit police see you, you will get a ticket. This is another point you have to take care of. If you get a ticket, you can cancel it at the car rental company, if not you might get into problems at the airport and you can't leave the country.
There are many motorcycles in Costa Rica and, especially during rush hour, they skip the cars from all sides. Try to check double before turning left or right.
Don't leave the car or the windows open at any place when parked.
Especially at night, traffic lights and stop signs are just a suggestion for Ticos, so drive extra carefully. Anyway, try to get to your next destination during daylight. Not all roads in rural areas have street lights.
What to do in case of an accident
In case of an accident, call the car rental company where you hired the car. If someone is injured, the emergency number is 911. Don't move the car until someone from the car rental company and the police get there.
As you can see, there is no big secret about driving in Costa Rica, and it is no reason to worry at all. As soon as you leave the city, you will see impressive landscapes and not much traffic at all.
If there is anything you´d like to add, feel free to write it in the comments below.
If you need help to rent a car, plan your trip, or if you have any other questions, feel free to contact us at This email address is being protected from spambots. You need JavaScript enabled to view it.. It would be a pleasure to help you.
Greetings from Costa Rica