Top 5 Places to fly a drone in Costa Rica
If you love drones and aerial shots and you are going to visit Costa Rica or you are already here, then this blog is perfect for you.
I will tell you about the most beautiful and best panoramic spots for your aerial photography, which will leave everyone speechless.
First of all, I would like to tell you about the laws to fly a drone, which are not as strict as in other countries (and this you will notice as soon as you get off the plane since you can easily enter the country with your drone and photography equipment in your luggage); even though there are some laws about time and other rules you should follow. These are for example:
It is just allowed to fly a drone during the day.
It is not allowed to fly drones for commercial purposes or paid activities (you need a civil aviation license, flight permissions and be registered as a Costa Rican company).
It is not allowed to fly drones over houses or residential areas.
It is not allowed to fly drones near manned aircraft.
It is not allowed to fly drones out of the operator's visual range.
It is not allowed to fly a drone heavier than 25 kg
It is not allowed to fly a drone higher than 400 feet (120 meters).
It is not allowed to fly drones within and 8 km radius around an airfield, Correctional Centers, the Presidential House, among others.
It is not allowed to fly drones in places that affect the privacy of others.
It is nor allowed to fly drones in massive activities or crowds.
If you follow these basic rules, you won't get in trouble with your drone, so I will tell you about these 5 places that will make you crazy.
#5 – The Savannah in Guanacaste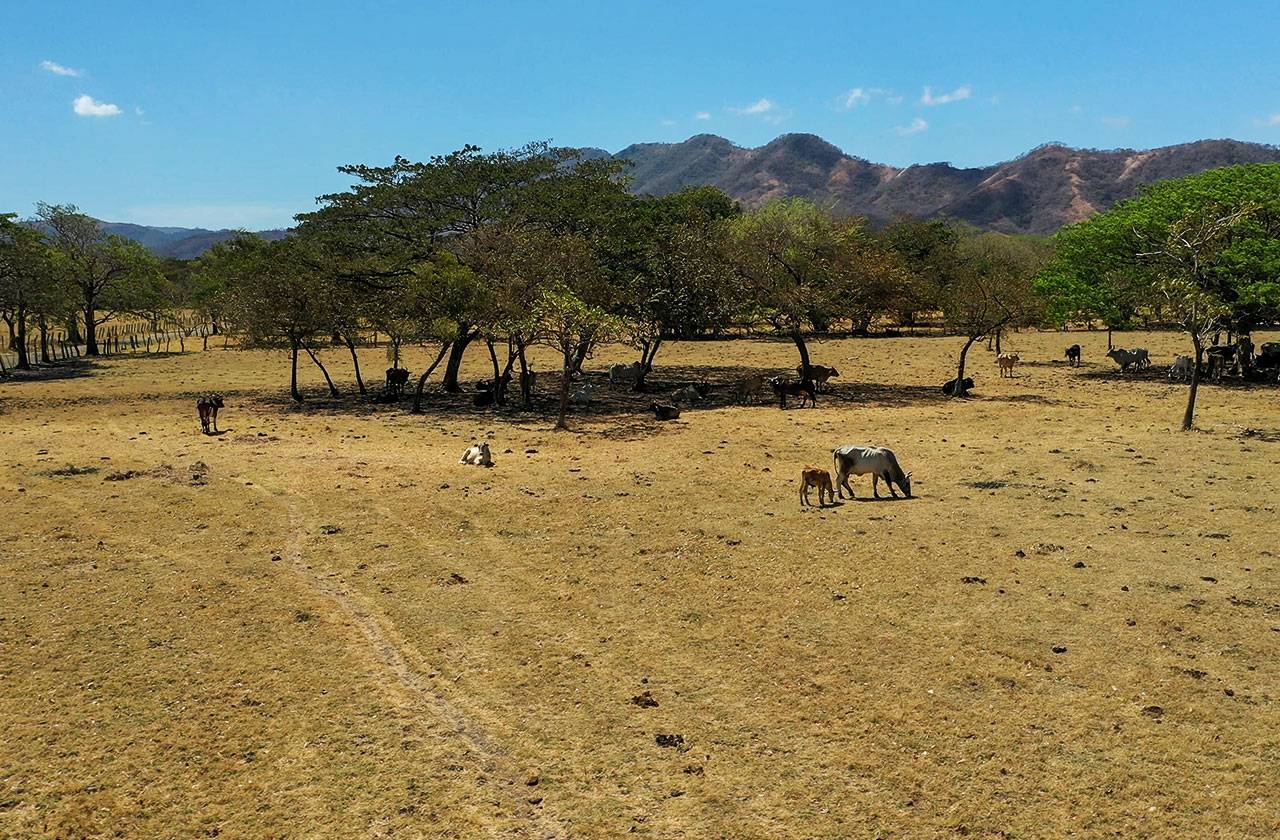 Some month ago we have visited Guanacaste, more precisely the Finca Sanja Negra, a unique and beautiful place, located at one of the five blue zones of the world (a place where a great number of people gets older than 100 years) and that's why it is a place full of customs and traditions that are typical for the Costa Ricans. 
The area is characterized by an extensive plain, with a long mountain range in the background, where the sunrise is beautiful and the weather is warm and clear most of the year. With your drone you can see the cattle grazing on the haciendas, making shots of the horizon and the nature of the place and also take a bit of the culture and customs of Costa Rican farmers and sabaneros. Without a doubt, it is a unique experience and I want to recommend it to you (if you wish so, we can help you book this experience, This email address is being protected from spambots. You need JavaScript enabled to view it. or contact us through the website chat to give you more information).
How to get there: Coming from San José, take the road to Liberia to Limonal, then cross the bridge La Amistad over the Río Tempisque towards Santa Cruz and from there to Santa Bárbara.
Vehicle: car.
Accessibility: Accessible to people with reduced mobility.
#4 – Peñón de Bajamar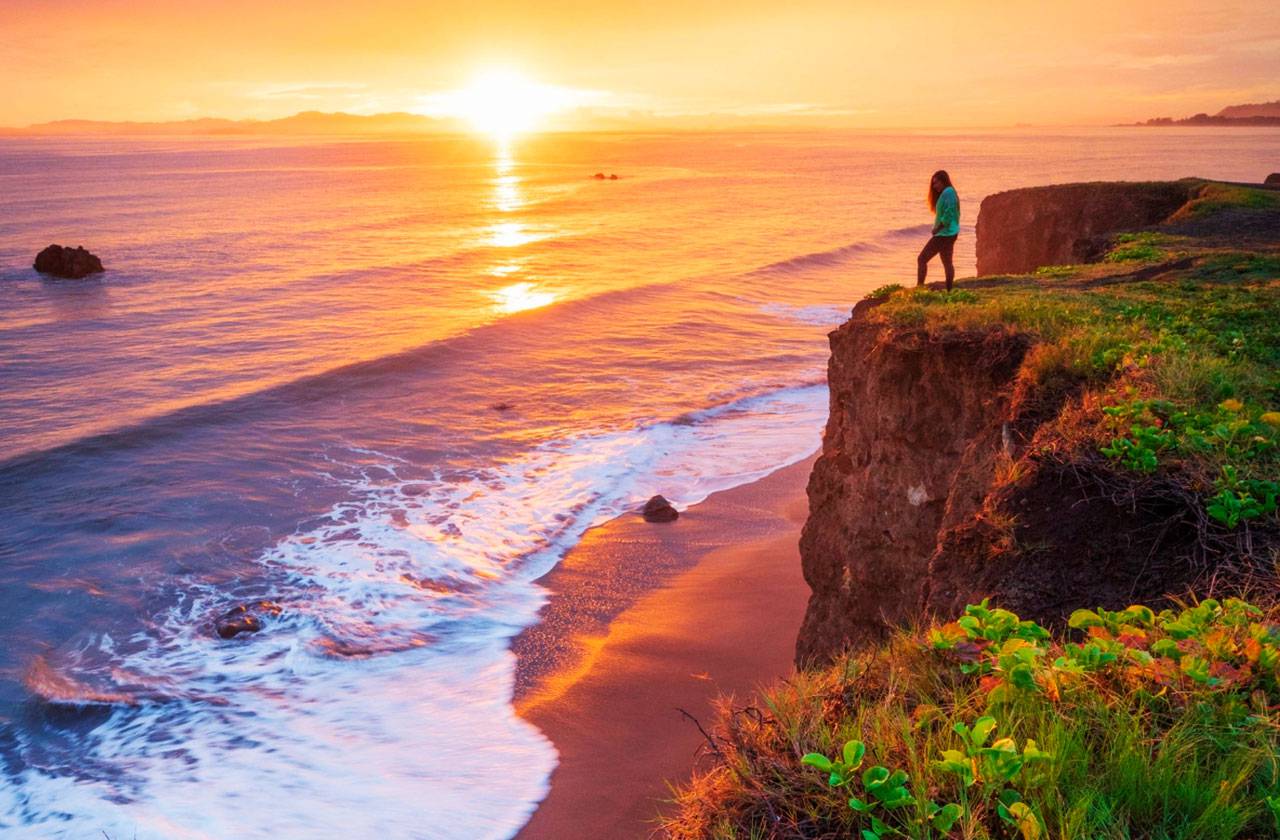 If you want to see a magical sunset over the Pacific Ocean, from a point where the rocks are formed by the strong waves over thousands of years, this place is just perfect for you. The region of Guacaclillo, closer to San José than you think and just a short time on the highway, you can take your drone and make some extraordinary shots from your trips in Costa Rica. The place is barely visited, even though there are some people taking selfies and sharing times with their partner. There are also beaches with amazing waves and it is very close to Río Tárcoles, where you can spend some time making a tour of the river and watching the crocodiles.
I recommend wearing closed shoes because depending on the weather there might be mud.
How to get there: It is about 1 hour and 30 minutes away from San José. On Route 27 you have to take Calle Loros towards Guacalillo, which leads to the rock.
Vehicle: Preferably a high car.
Accessibility: Accessible for people with reduced mobility even though there might be mud.
#3 – Hanging bridges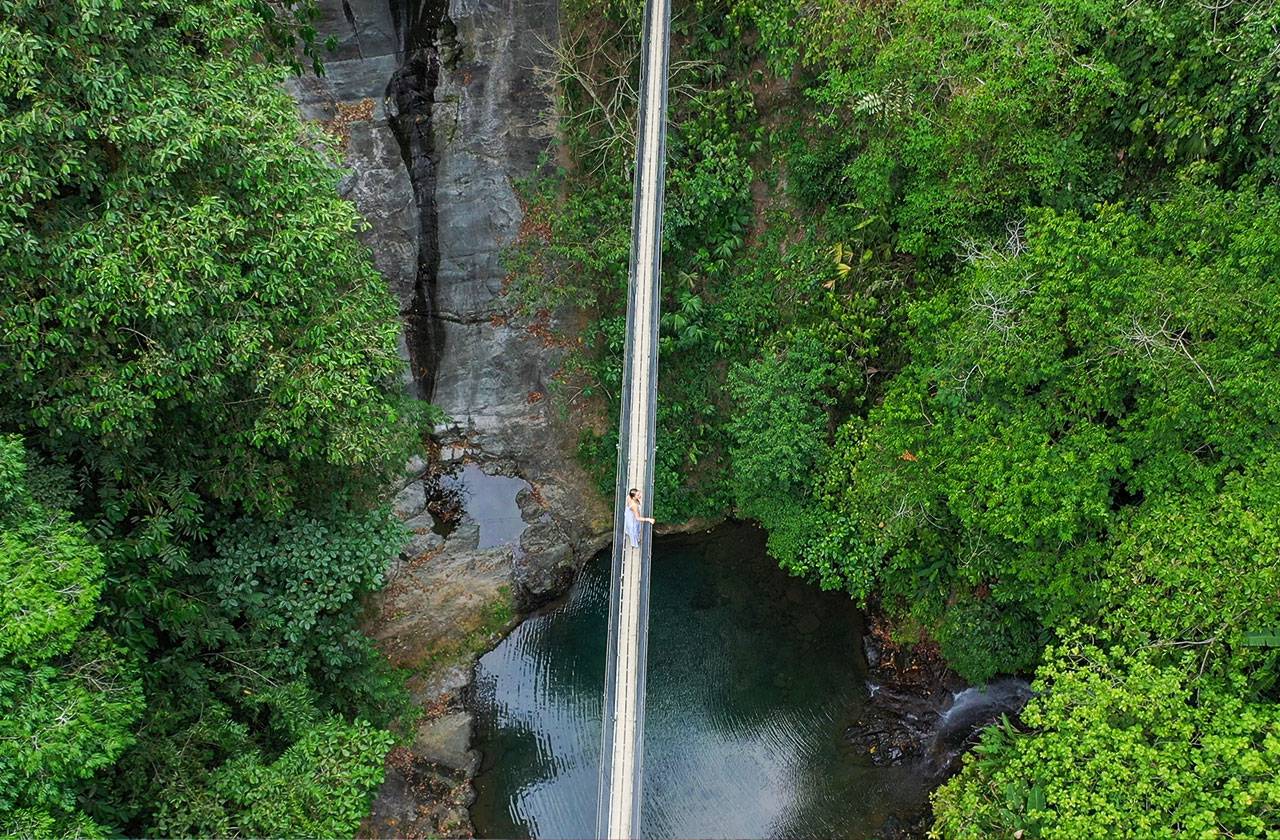 The hanging bridges are something stunning and if we add now the perfect climate and the nature in the background it will result in unbelievable pictures. Many hanging bridges in Costa Rica hang over the treetops, waterfalls, rivers and in the clouds, so it's difficult to choose the perfect place; there are so many. You could go for example to Monteverde (cloud forest), la Tirimbina in Sarapiquí (Río Sarapiquí), Quepos (Quebrada Arroyo waterfall), or La Fortuna (through the forest). If you wish so, we can help you to book a tour to one of those places. Write to us at This email address is being protected from spambots. You need JavaScript enabled to view it. or through the chat on the website.
Also, the shots of the La Amistad Bridge and the Tempísque River look like a picture from a magazine, so if you are in the area of Nicoya or Guanacaste, you should make a stop there.
How to get there: -
Vehicle: Preferably a high car.
Accessibility: The bridges are safe and with railings, although some are very narrow for a wheelchair.
#2 – Lagoon and the Arenal volcano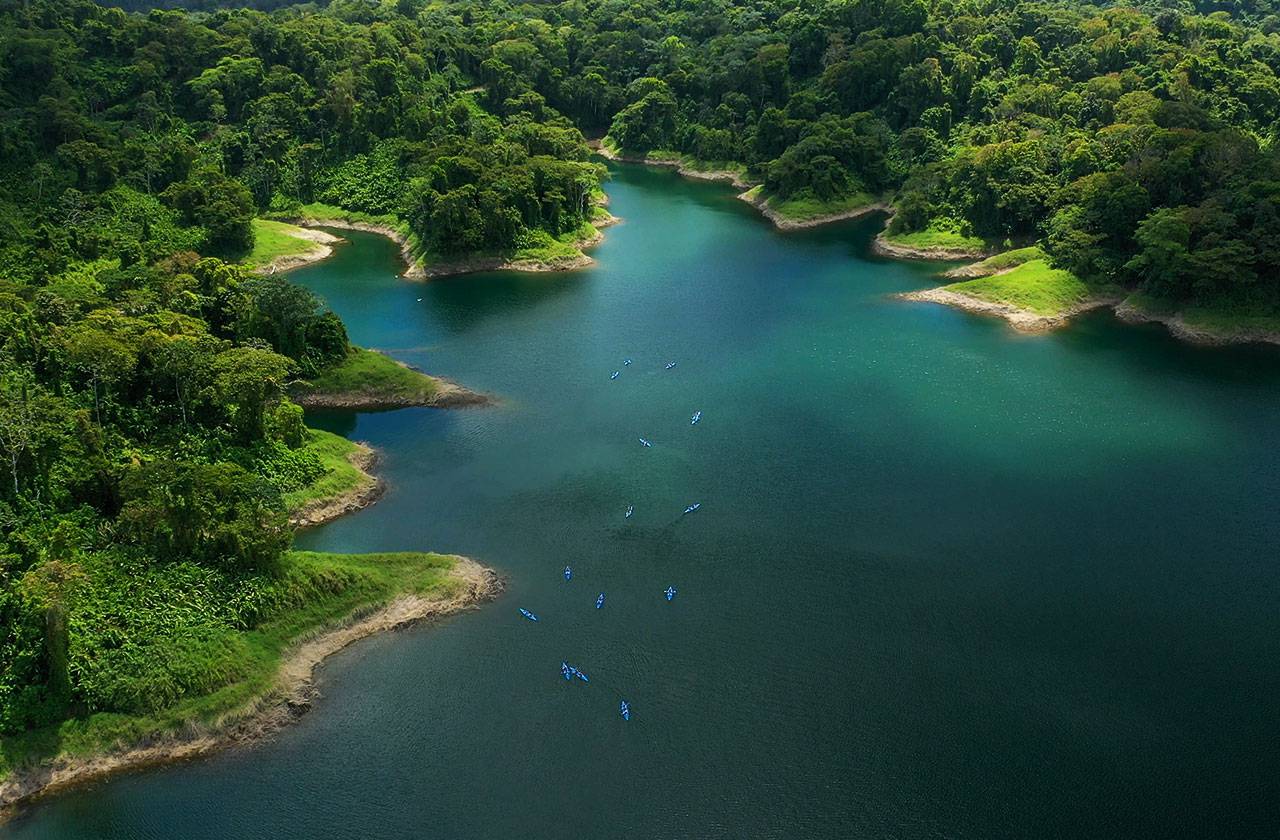 This is the biggest artificial lake in Costa Rica (88 square kilometres), which was built by the Costa Rican Electricity Institute (ICE) in 1979 when they constructed a dam over the Arenal River. There is a whole town under the water and when the water level sinks, you can still see the tower of the church at the lake. The views are spectacular, there is a lot of nature around and the Arenal volcano in the background. Also, you can always see boats and people doing kayaking, which you can include as elements in your aerial shots.
You should know that the dam generates a lot of electricity and that causes an unstable signal, so if you don't have a very strong radio control I recommend you to not fly the drone too far away, that you don't lose the signal.
How to get there: It is about 20 minutes away from La Fortuna, just take the highway to the lake.
Vehicle: car.
Accessibility: Accessible over the main road.
#1 – Points and beaches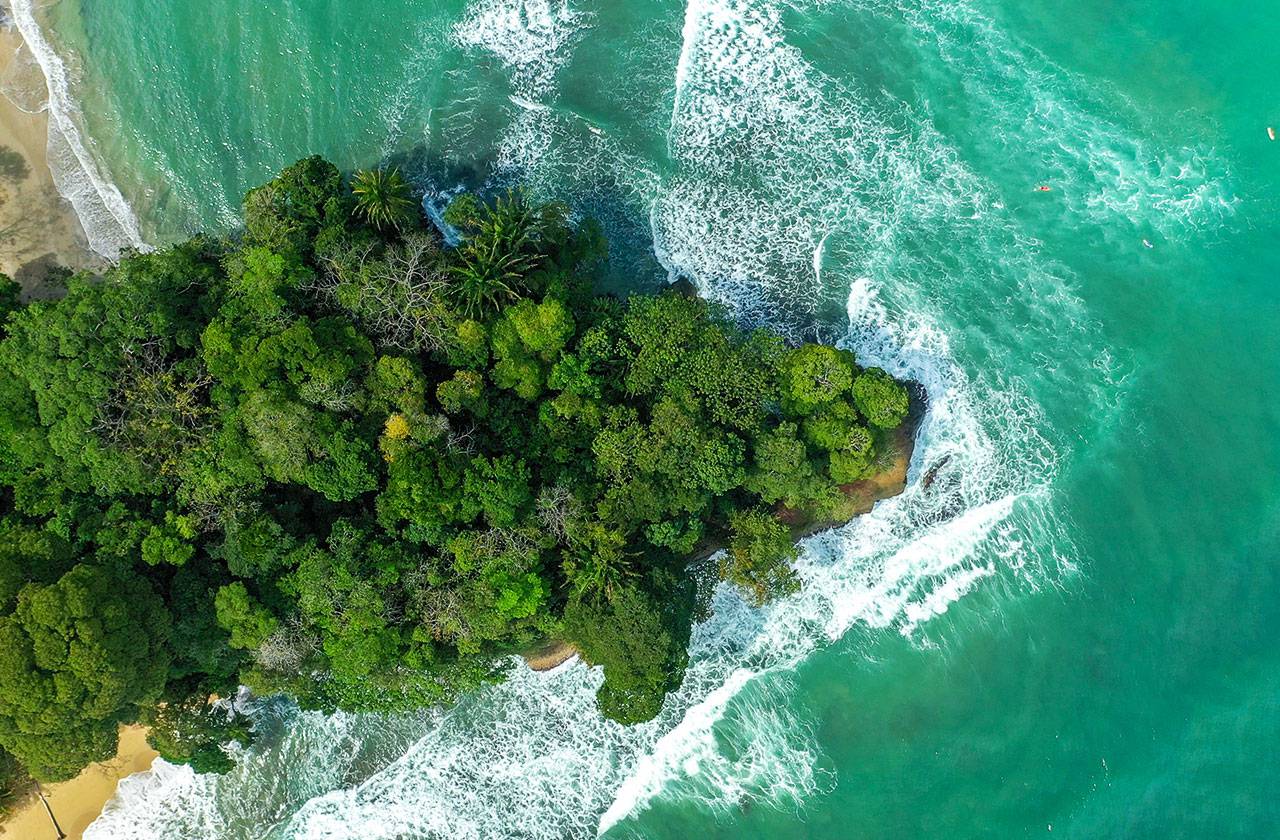 Being surrounded by two oceans (Pacific and Atlantic), Costa Rica counts with more than 600 beaches and even though the country is not that big, the beauty of each one offers an uncountable list of incredible photography spots. Those who follow my blogs will know that I love the Caribbean Coast of Costa Rica, the convergence of the beach with the forest forms a movie scene like Blue Lagoon and any shipwreck on an island is perfect for photos of your vacation and of course also aerial shots.
You just need to look for a beach and I'm sure you will find the perfect place. For my photos, we went to Punta Uva in Puerto Viejo de Limón and the results are stunning.
How to get there: Coming from San José, you take route 32 to Limón and from there you turn right to Puerto Viejo de Talamanca. The drive is about 4 hours.
Vehicle: car.
Accessibility: Some beaches are not accessible, but the Cahuita National Park has ramps and bridges which make the ways accessible.
All in all, Costa Rica is full of incredible places, from the air and the ground, the photos you will bring home will amaze your family and friends or for whatever you need them. Don't forget to tag us in them!
If you have something to add or another place we should include in this blog, don't hesitate to write it in the comments. You can also write to us at This email address is being protected from spambots. You need JavaScript enabled to view it. if you have a question about the places we shared.
Top 5 Places to fly a drone in Costa Rica
Recommended Blogs