Top 5 Tours at Manuel Antonio National Park
Manuel Antonio National Park is located at canton Quepos, province Puntarenas. It is an incredible place and even though it is quite small, it has become one of the main tourist destinations in the country.
The National Park at the Central Pacific counts with endless biodiversity where you can see white beaches with turquoise water and enjoy beautiful and impressive sunsets. You can also see much flora and fauna, for example, iguanas, sloths, Capuchin monkeys, squirrels, coatis, and hundreds of birds. The hotel offer is huge and there is everything from 1 to 5-star hotels, boutique hotels and hostels, there is something for everyone.
In Manuel Antonio there is much to do, so we started looking for the best tours you can do in this area. Therefore, we called or friends from Iguana Tours, experts in the area. So if you are planning to visit Manuel Antonio, we have some advice for you. I'm sure that after this blog you are even more excited to experience everything by yourself. So let's start!
Tour Deluxe at Manuel Antonio National Park
This is a guided tour through the national park. The certified guide explained to us a lot about biodiversity in this area. I'm sure he will affect you with his happiness and enthusiasm. It's incredible how Mauricio (our guide from Iguana Tours) still gets excited about a bird that flew over our way, after 20 years working in this national park (as he told us). He immediately started running to place his telescope so we could see it as well.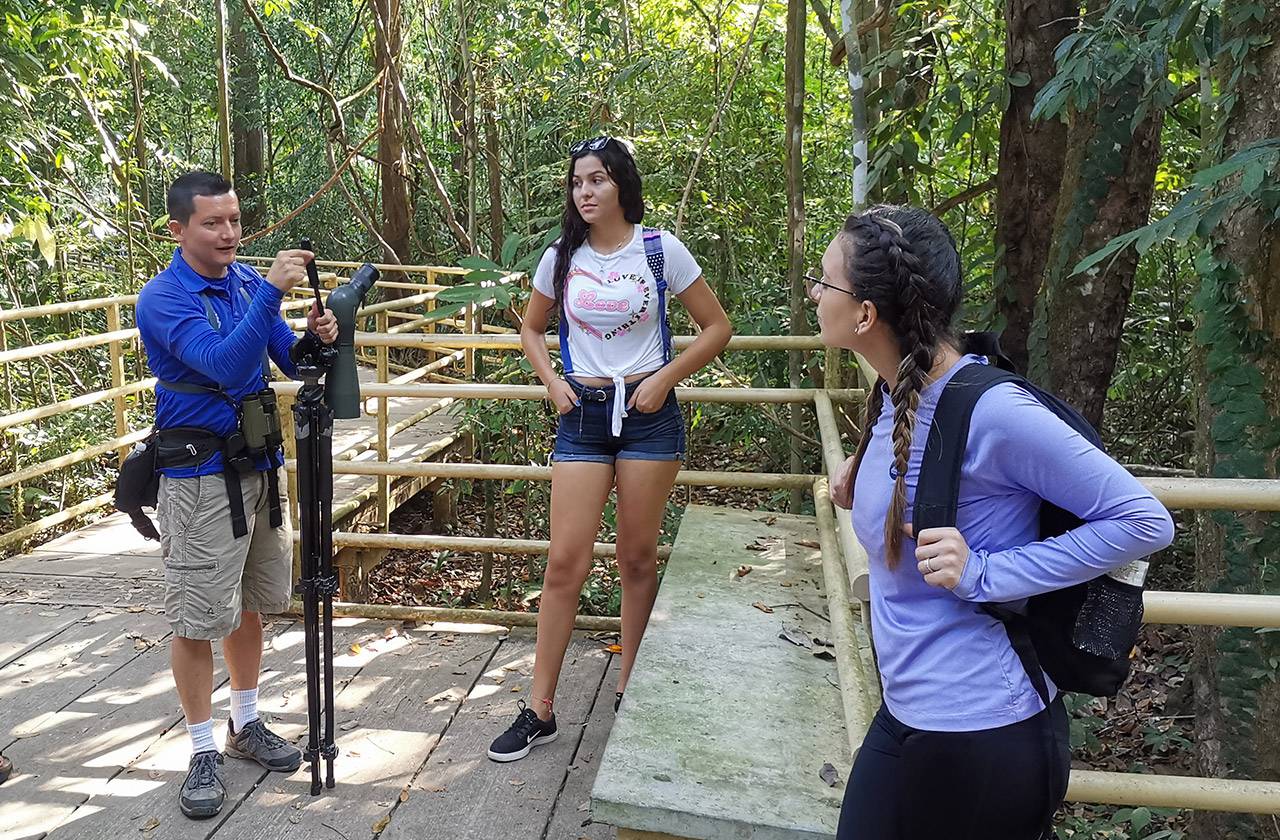 During the hike, you can visit beaches and souvenir stores, the ways are accessible for wheelchairs as well and you can see a great number of wild animals.
It's easy to see iguanas, anteaters, and sloths, listen to the singing of the birds and watch the Capuchin monkeys play. It is one of the very few places where with a little luck you can see a very special kind of squirrel monkey in its natural habitat because there are only less than 1´000 animals of this kind.
The hike takes about 2 hours and 30 minutes. After the half, you can relax at the white sand beach with crystal-clear water and enjoy some tropical fruit and drinks. The guide also showed us some other trails where you can walk by yourself and see waterfalls, viewpoints and other beaches of the park.
Duration
Includes
Collective excursion
Transport from/to the hotel in Quepos/Manuel Antonio
Bilingual guide (English, Spanish, French or German)
Fruit snack and a drink, as well as the entrance to the national park.
What should I bring?
Water bottle
Swimwear
Sunblock
Towel
Hat
Camera
Changing clothes (optional)
Catamaran Snorkel and Sunset Tour
A catamaran is a small boat with two parallel hulls, which is designed for tourist activities. On this tour, you can enjoy nature and beautiful views from the ocean to the coasts of Quepos and the national park. We did the tour in the afternoon and left around 1:30 p.m.
Onboard, we met Tomás, a man from Limón who has been working for many years on the catamaran of Iguana Tours. He is responsible for the party vibes, shares time with everyone, takes selfies, talks to everyone and also has his live music show. He is also responsible that everything is in order and that everyone follows the rules.
During the ride, we had the luck of seeing dolphins playing and jumping in front of the catamaran. Later, the captain stopped the boat so we could jump into the water or use the slides and swim in the warm water of the Pacific Ocean. We swam a little bit (50-75 meters) until we reached the riff where we could snorkel for a while.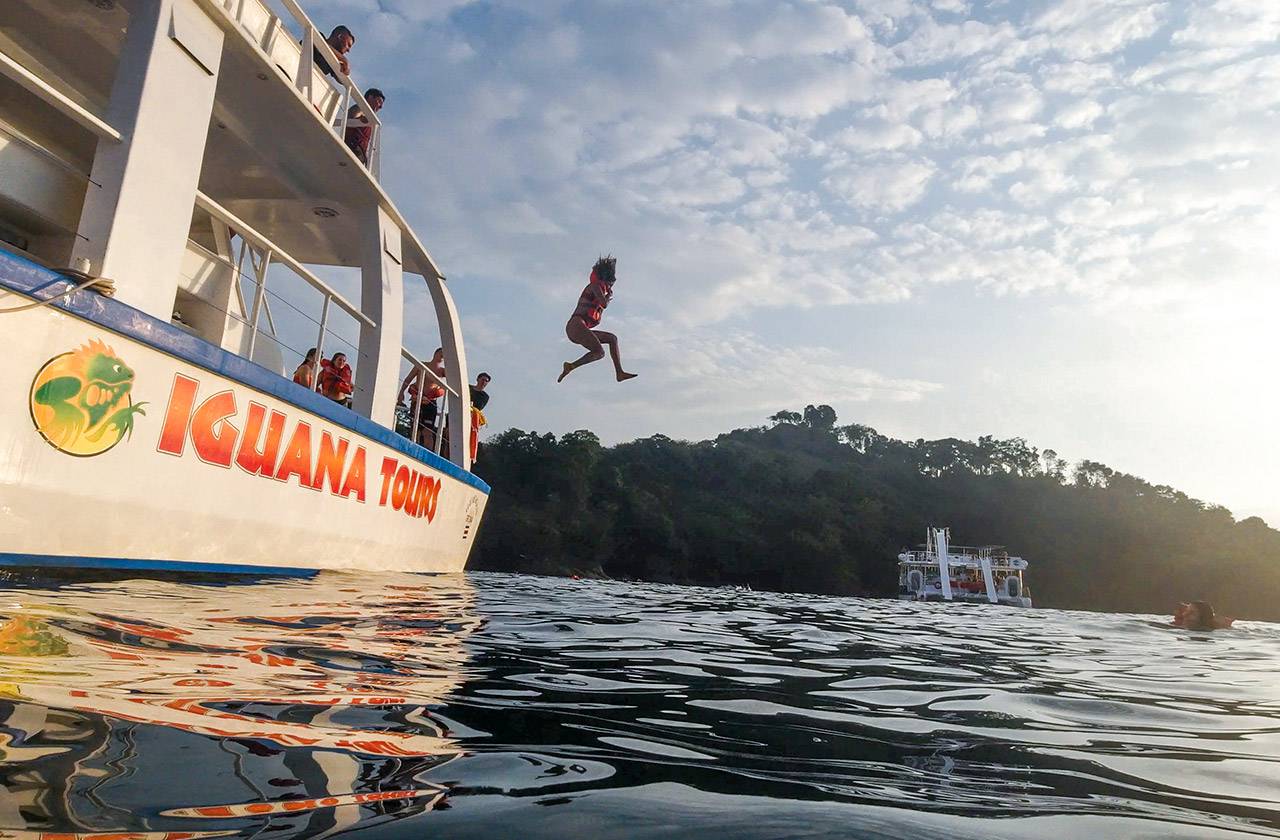 Depending on the season, you might be lucky and see some humpback whales, dolphins, rays and many more animals.
The whole trip there was good music playing and they had fresh fruit and a minibar, in which you can drink all the cocktails and soft drinks you want (the only thing that is not included is beer). Before the trip ends, you will enjoy a delicious lunch or dinner, depending on the time you take the tour.
This is a highly recommended tour, no matter if as a couple, with friends, or in the family.
Duration
Includes
Collective excursion
Transportation from/to your hotel in Quepos/Manuel Antonio
Bilingual guide (English and Spanish)
Lunch and cocktails with national liquor on board
Snorkelling equipment
Live-music on board
What should I bring?
Comfortable clothes
Swimwear
Sunblock
Towel
Hat (one that doesn't fly away on the ocean)
Camera
Changing clothes (optional)
Kayak and Snorkeling in the ocean
Is there a possibility to fell freer and be closer to the ocean than in a kayak? Imagine paddling and seeing rays and dolphins swimming by your side. This is another adventure you can do in Manuel Antonio, in a group or individually.
Everything starts in Quepos at the Marina Pez Vela, where you drive along the coast of the beach and Manuel Antonio National Park until you get to Bahia de Biezans. Here you can take a swim in the turquoise water of the Pacific ocean and enjoy a delicious local snack.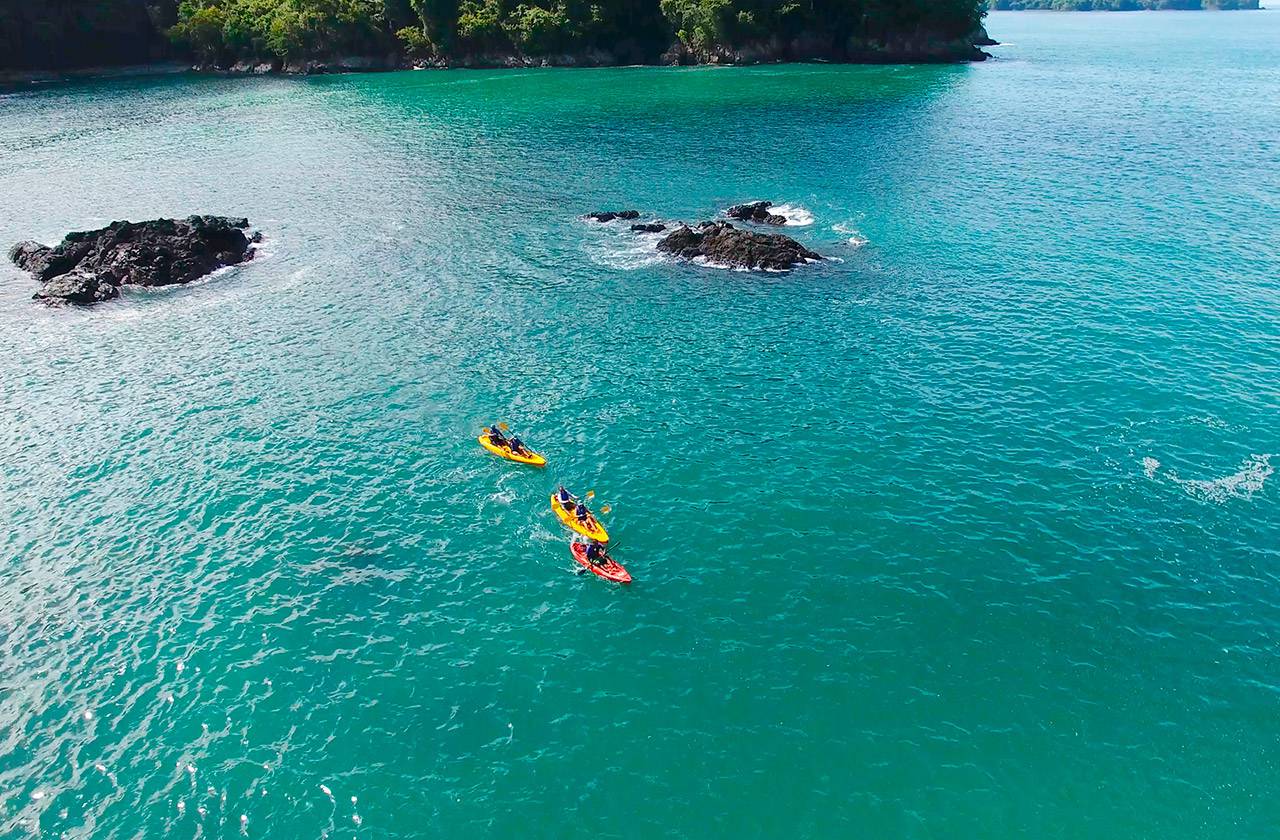 It can be a bit exhausting paddling by the sea and with the waves and rip currents. For this reason, it is recommended to have a certain physical condition to enjoy the tour.
The guide of Iguana Tours accompanies you and shows you the best places for snorkelling. In the end, you can eat a delicious lunch. It is a great way to experience the Pacific coast of Costa Rica.
Duration
Includes
Collective excursion
Transport from/to your hotel in Quepos/Manuel Antonio
Local guide
Fruit and refreshing drinks
Equipment (ocean kayak for one or two people)
What should I bring?
Swimwear
Sunblock
Towel
Hat
Camera
Changing clothes (optional)
Requirements
Preferable experience with kayaks on the ocean
Good physical condition (to paddle on the ocean)
Minimum age: 8 years (accompanied by an adult in a double kayak)
Comfortable clothes and shoes that may get wet
Kayak through the mangroves of Isla Damas
During this tour, you can enter the mangrove forest while a local guide shows you some interesting aspects of this environment. It's normal to see wild animals on the shores. We were able to see monkeys, crabs, and small caimans.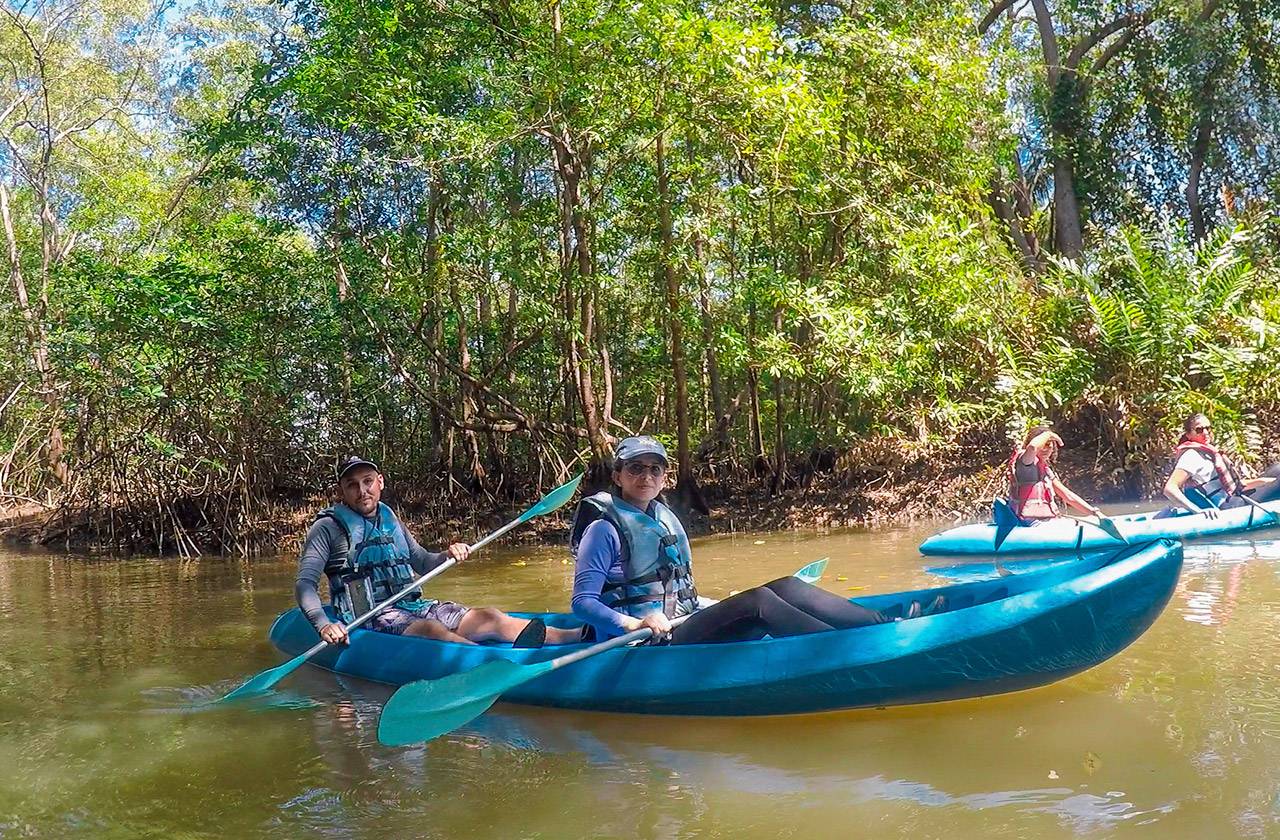 It is important to bring repellent or another protection against the insects and not to wear bright colours like red, blue, yellow or purple which attract insects.
The ride takes about 2 hours. You paddle through 4 different types of mangroves and will see the scenic forest like in a movie. After the tour, a delicious lunch and natural drinks wait for you. This is definitively something you need to experience once in your life. 
Duration
Includes
Equipment (double or single kayak)
Swimwear
Lunch
What should I bring?
Protector solar
Light cloth
Camera
Repellent
Horseback Riding Tacorí Waterfalls Rancho Don Gilberto
Close to the town of Quepos, there is beautiful countryside with trails through the grasslands and forests, with a river and a beautiful waterfall. With no doubt, this is a great way to relax and enjoy a ride on a horse.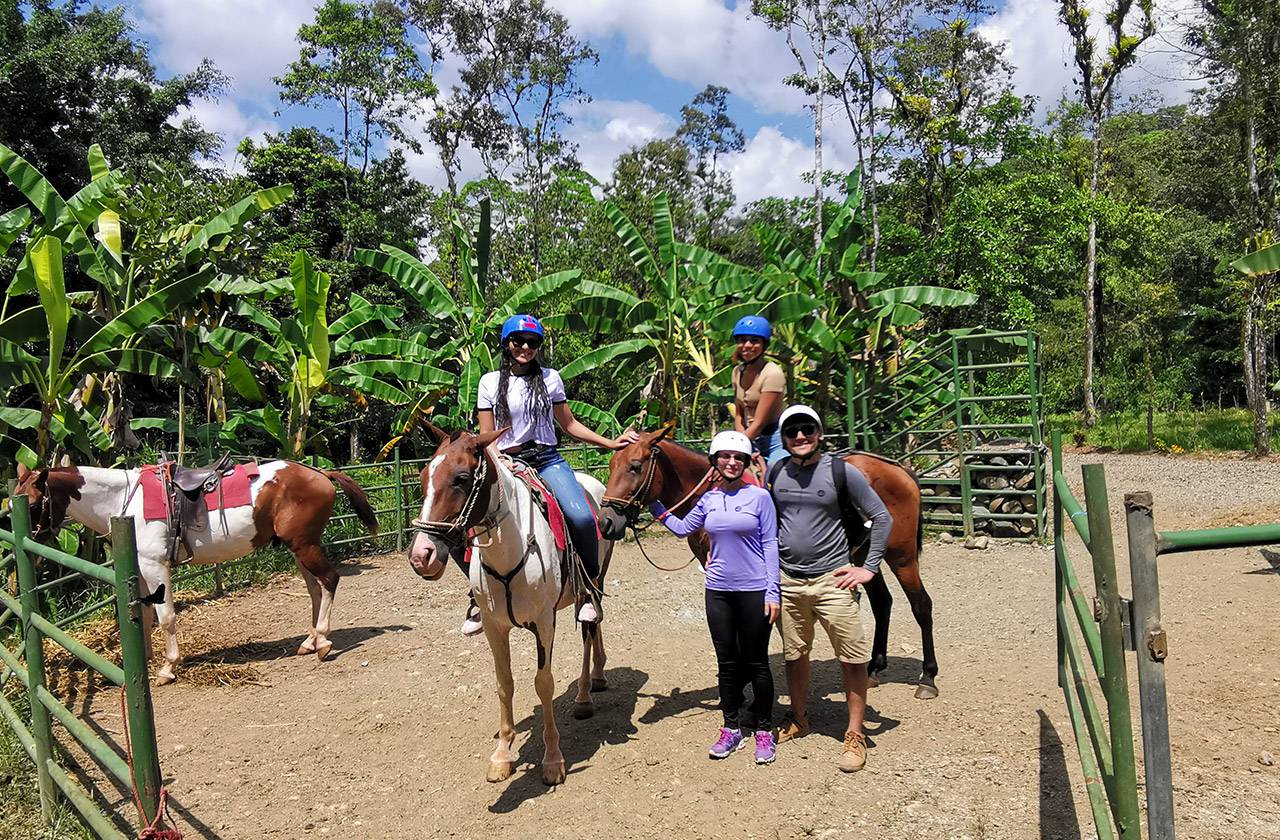 We started the tour at Rancho Don Gilberto, where Don Gilberto himself was our certified natural guide who told us about the plants that are growing on the ranch and its application in health, the kitchen, wildlife, history, and culture. He also answered some questions we had. When we started the horseback riding tour, the guide gave us some instructions. No matter it is the first time you sit on a horse or not, with this advice you feel like an expert.
While we were riding, we crossed a primary forest (never changed by humans) of the Reserva Ecológica Privada Tacori (private ecological reserve Tacori), where we saw a lot of wildlife and beautiful landscapes, until we reached the Tacori waterfall. Here, we enjoyed a refreshing bath in its waters.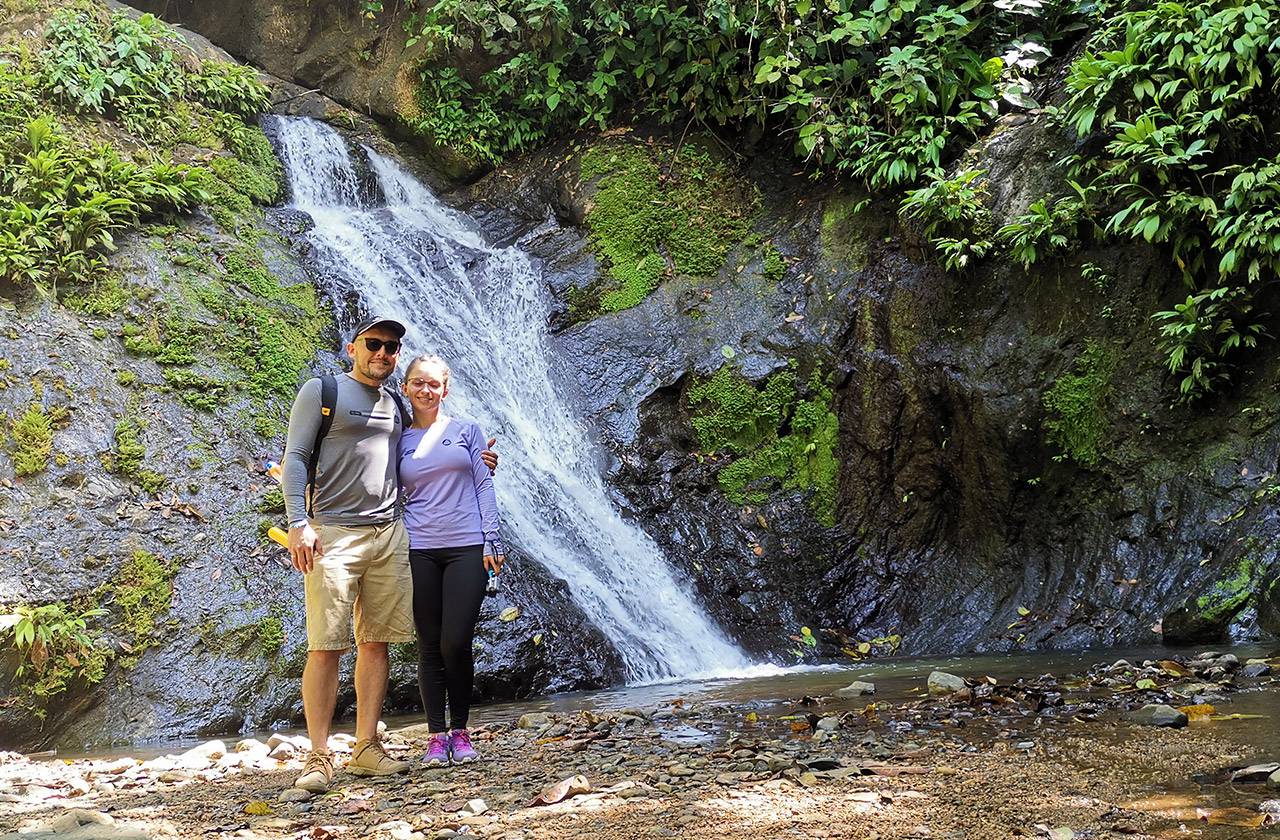 At this place, we got a snack and a bottle of water. When everyone was ready, we went back to the ranch to enjoy a delicious lunch.
Duration
Includes
Collective excursion 
Transportation from/to your hotel in Quepos/Manuel Antonio
Natural Guide
Lunch, fruits, and juice
Necessary equipment (helmet and mount)
What should I bring?
Water-resistant boots or shoes
Swimwear
Repellent
Sunblock
Towel
Changing clothes (optional)
Requirements
Comfortable clothes and long pants
Maximum weight per person: 200 Libras / 90 kilogram
Minimum age: 7 years
With no doubt, there is a great number of activities around the Manuel Antonio National Park, but the ones I mentioned in this blog are options I consider the best for an unforgettable experience in Costa Rica. Anyway, there are some others available that fit any traveller that visits Manuel Antonio National Park.
I hope this blog has been helpful and we will soon be enjoying those options in this area together. 
If you would like to share your experience or you have any question, feel free to write it in the comments down below. You can also write to us at This email address is being protected from spambots. You need JavaScript enabled to view it. and we will soon be in contact with you. 
Greetings from paradise!
Top 5 Tours at Manuel Antonio National Park
Recommended Blogs