Top 5 Waterfalls in Costa Rica
As I promised in my last blog, here is my list of the TOP 5 waterfalls of Costa Rica.
I bet that if you come some weeks to Costa Rica, you will see more waterfalls that you have seen in your whole life visiting other countries during those days because here, you will probably get a great connection with nature that invites you to get to know more and enjoy more and more of its paradisaical scenes. 
Therefore, I will give you a list of the TOP 5 waterfalls, which I think are the best ones you can see in Costa Rica.
This country has a great number of rivers, navigable, narrow and mighty ones (perfect for tubing), rivers between rock canyons with rivers flowing underground, rivers suitable for rafting up to category IV, and also rivers that form incredible waterfalls. About those, I will tell you in this blog.
#5 – La Gata Waterfall – Marsella, San Carlos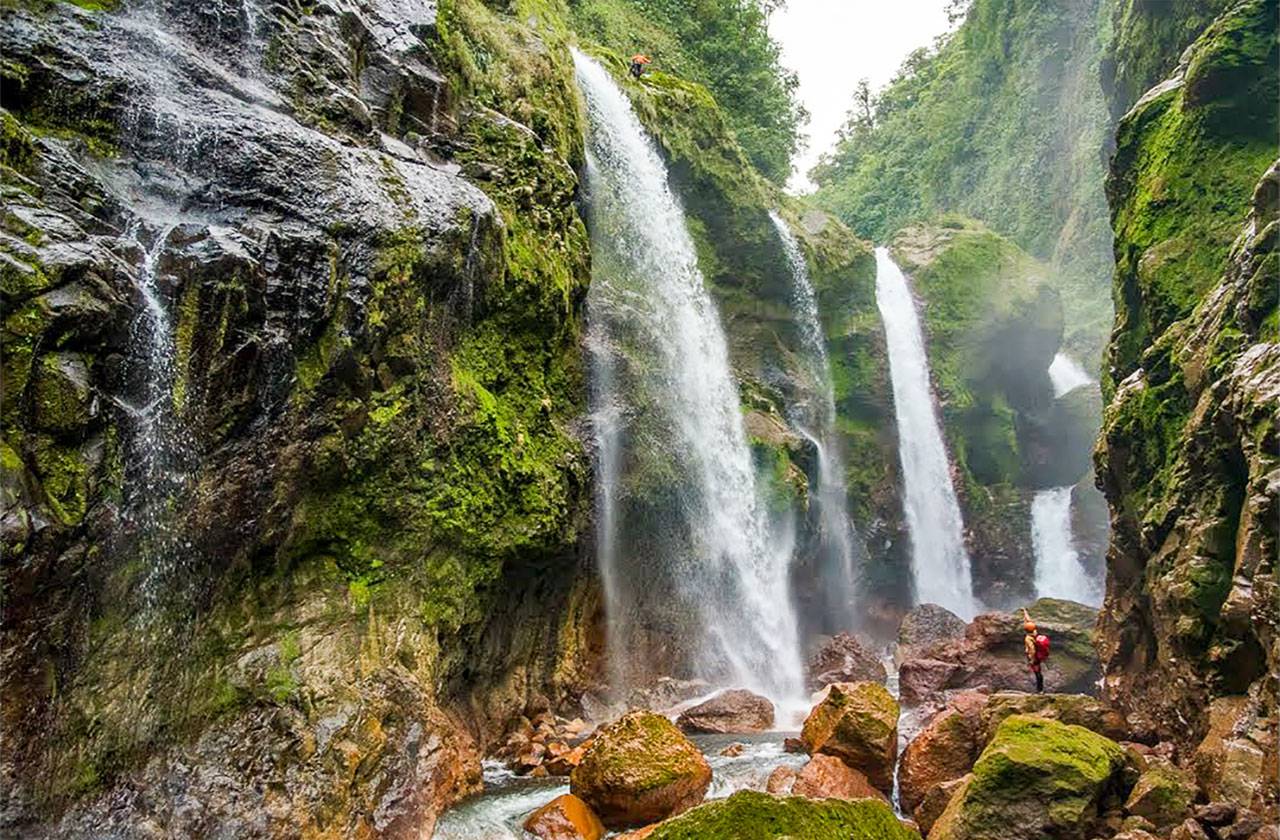 This waterfall is not that known since they just recently discovered it and that's why they opened the way just some years ago. However, I think that it deserves fifth place due to its beauty and location in the middle of a hidden paradise, like in a Hollywood movie.
How to get there
It's located 2 hours and 30 minutes from San José. You should start at Marsella de Venecia in San Carlos, then to the hydroelectric Plant Toro ll, where you have to leave the car and walk the rest. Then go down to the Toro River and walk then up the river until you reach the waterfalls. The walking time is about 4 hours.
Difficulty: Very difficult
Barrier-free: NO
Recommended vehicle: car
Camping: NO
Picnic area: NO
#4 – Los Campesinos – Quepos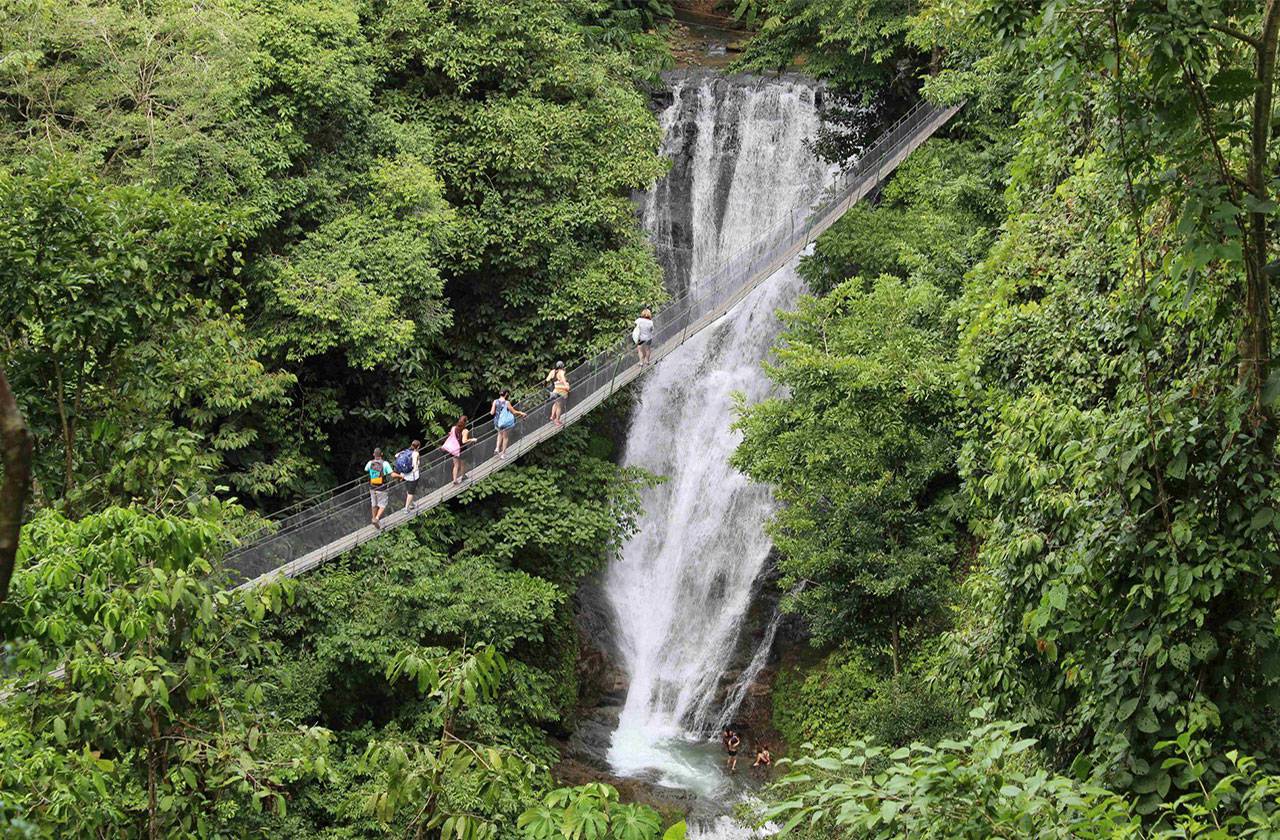 This waterfall is one of the most beautiful ones I have seen in person, and over this one is one of the longest hanging bridges in Costa Rica. There are trails to reach the bottom of the waterfall and a pool for those who want to go swimming, and there are also springs right beside it where you can also cool down.
The trails go around the whole place. There is a trail of 12 kilometres into the mountains, where you can see a great amount of wildlife and birds. 
How to get there
It's just 25 kilometres from Quepos, you can go by car, but the best option is by 4-wheel drive car. It´s about 40 minutes of ascent to Londres de Quepos, along a path of exuberant scenic beauty. During our visit we were able to see monkeys around us, jumping from one tree to another.
Difficulty: Easy
Barrier-free: NO
Recommended vehicle: A high vehicle
Camping: NO (there are cabins to sleep)
Picnic area: There is a restaurant but you need to make a reservation when you get there
#3 – Waterfall Llanos del Cortés – Guanacaste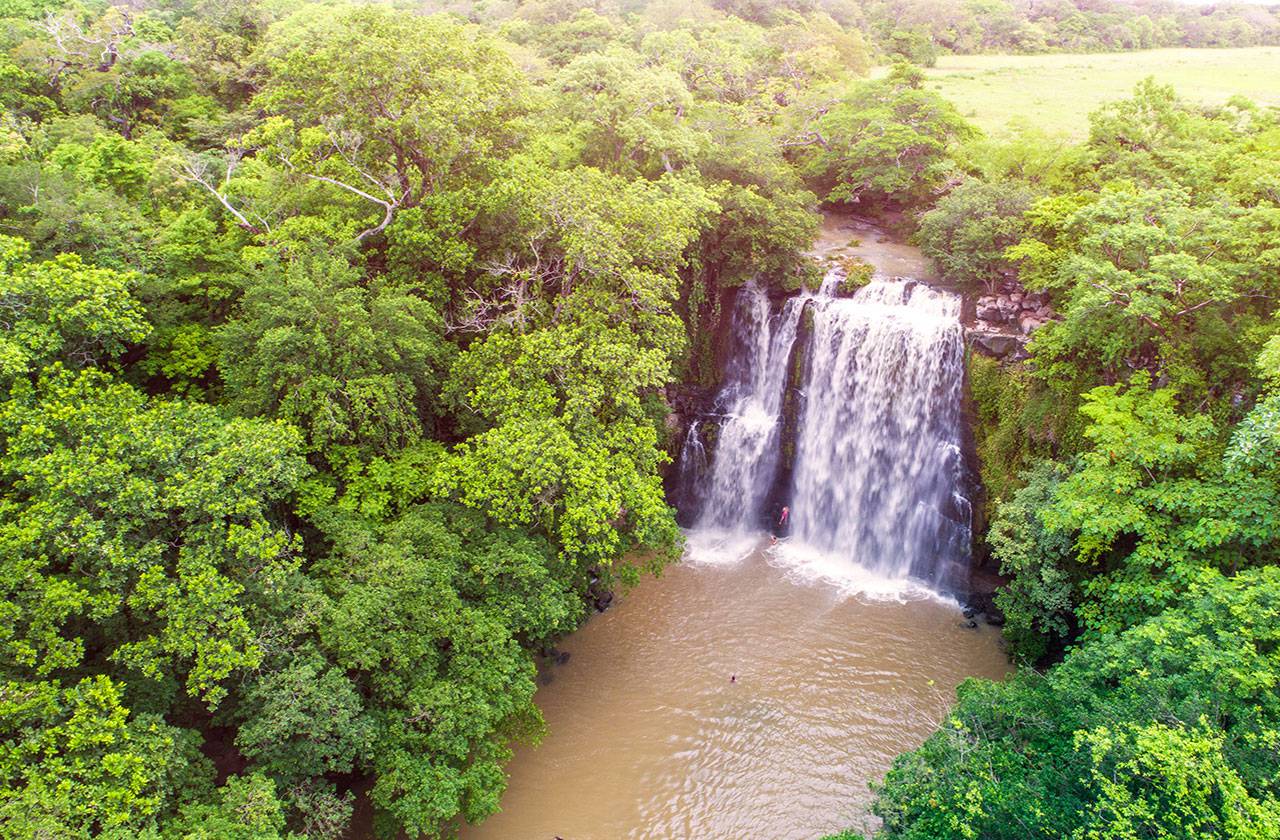 This is the closest representation of a waterfall of stories for children. It is a magical place, surrounded by forests at the plain lands of Guanacaste. This place is quite hot, so if you find a refreshing pool it's the best opportunity to enjoy it taking a bath, take some selfies and tell all your friends that you have been to a spectacular tropical destination.
How to get there
Llanos de Cortés is just 3 hours away from San José. To get there you have to take the North Interamerican Route to Liberia, then from Bagaces it's about 3 km to the Río Piedras, right there is the entrance to the Finca. The price of the entrance is voluntary and with this, they help the school and sporty activities in the community.
Difficulty: Easy
Barrier-free: YES
Recommended vehicle: car
Camping: NO
Picnic area: NO
#2 – Waterfall Río Fortuna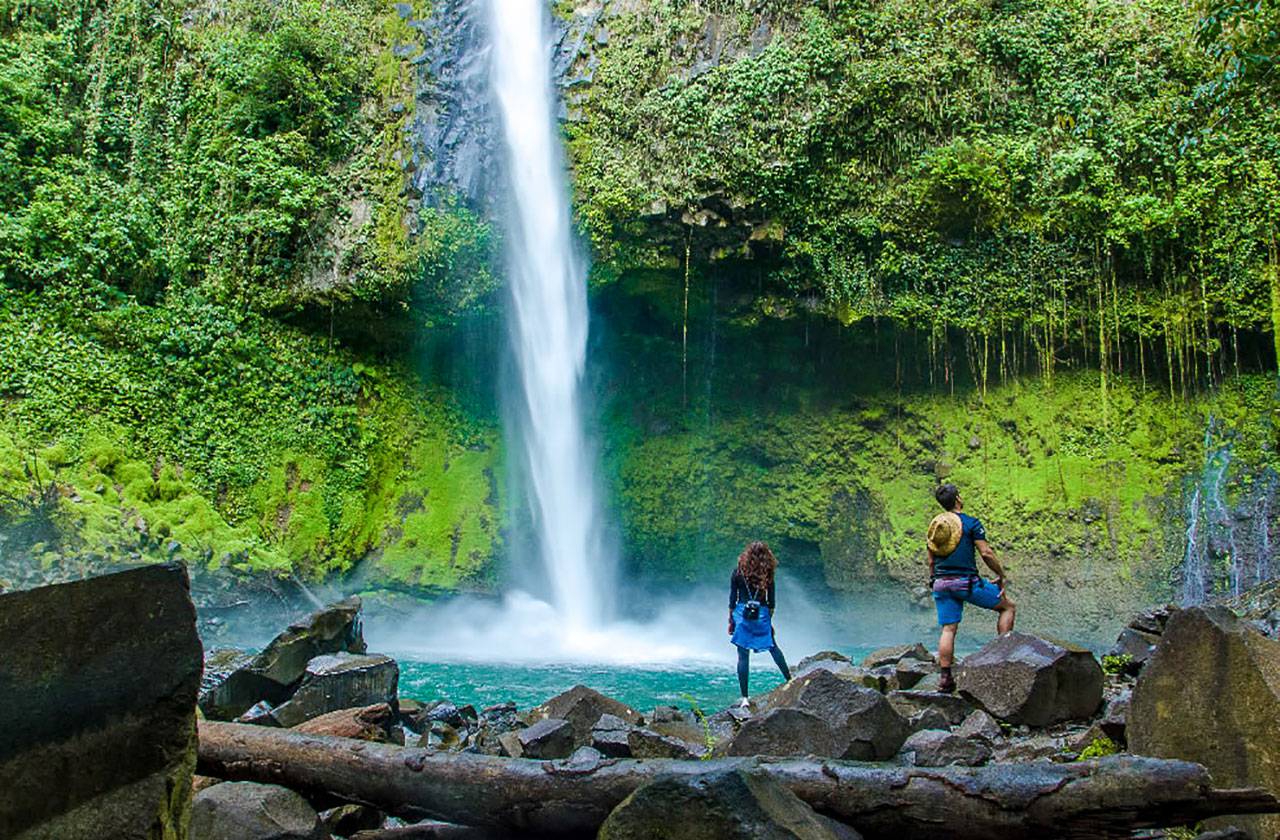 This is one of the most known and visited in the country, due to its beauty and because it is located in a highly visited tourist area. It is 27 meters high in the middle of the mountain and close to the Arenal volcano. You must go down paths and more than 480 steps to the pool (there are some rest areas). The river is quite cold, but that is no reason to not enjoy a bath in it.
How to get there
It is located just 10 minutes by car from the downtown of La Fortuna. From San José, it's about 3 hours. The way is in perfect condition until the parking lot of the reserve, and then the descent down the trails.
Difficulty: Easy
Barrier-free: Accessible until the viewpoint.
Recommended vehicle: car
Camping: NO
Picnic area: There is a restaurant
#1 – Waterfall Río Celeste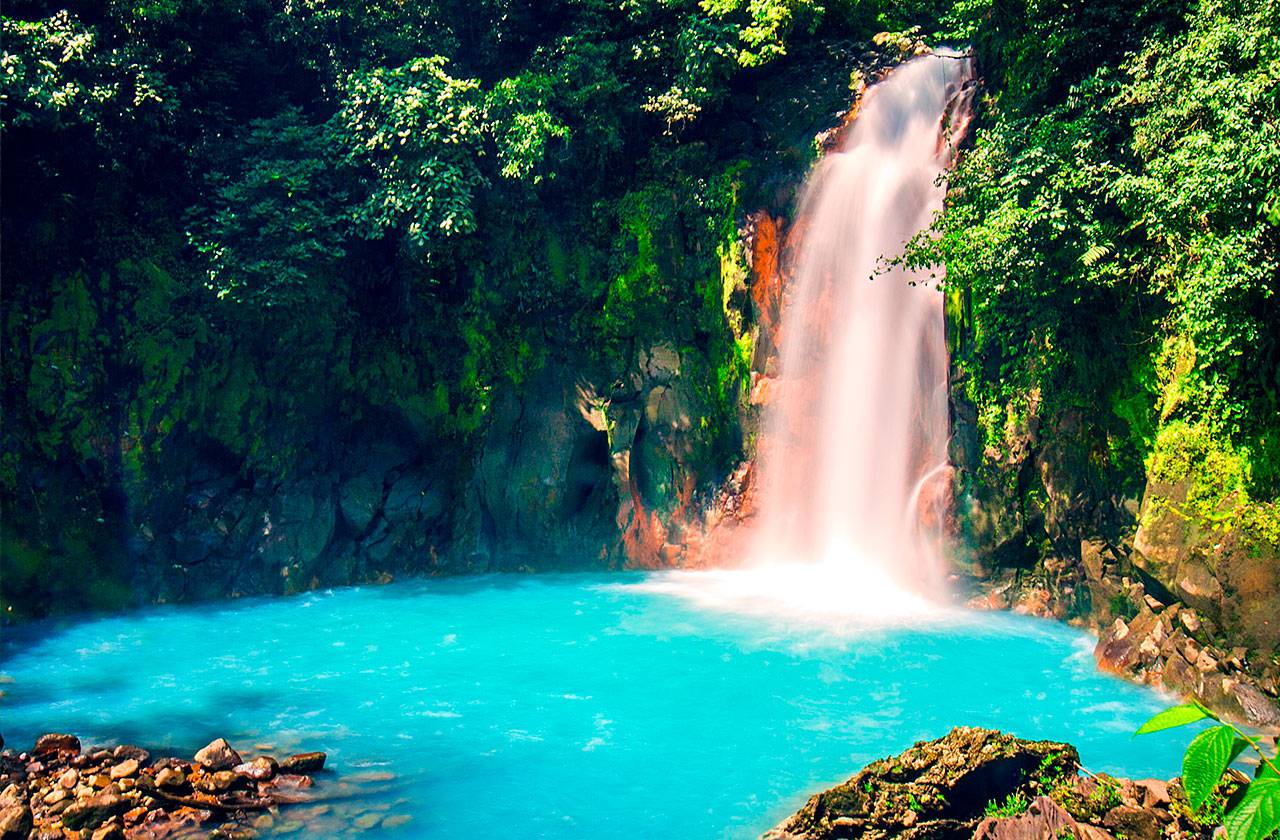 In my opinion, this is the #1 of the Top 5 in Costa Rica and many others in the list of waterfalls of our world, and that's because of its unique colour and beauty. Just imagine a turquoise waterfall that falls directly into a pool of the same colour, similar to the colour of the sky. It's something that will leave any poet speechless. The beauty of this place has been recognized in the whole world. And even though it's not allowed to swim in the water or at the pool, it's a tour which you should write on your bucket list of places to see in this world.
How to get there
It's located at Guatuso de Alajuela, at the Tenorio Volcano Nacional Park. From San José, you have to drive to La Fortuna and from there until Upala. From there it is about 1 hour and 30 minutes more. The trip takes about 4 hours if you go by car from San José. After that, you have to walk down the trails, which are three kilometres (6 in total with the way back) and walk down many stairs. I recommend taking trekking shoes.
Difficulty: Intermediate
Barrier-free:  NO
Recommended vehicle: car
Camping: NO
Picnic area: NO
Honestly, Costa Rica doesn't stop surprising us and with this list of waterfalls, it makes it a destination to add to your wish-list. I hope that everything I mentioned is useful and if you know another waterfall, which you think should be included, leave it in the comments below. 
Do you want to see those waterfalls with your own eyes? This email address is being protected from spambots. You need JavaScript enabled to view it. and we will be pleased to help you to plan and book your trip to Costa Rica. Greetings.