It's true... Costa Rica offers a lot of attractions, but to travel with a baby and to define which activities we are able to undertake with it, is rather hard. More even, if it's the first time in the country.
Costa Rica is a good destination to travel with kids, but to enjoy fully in the end, I recommend you to check the possible activities and getting some tips before.
So, let's go! Here I'll tell you about some experiences about the destinations we made with our little one, Saúl, and will show you that yes, it is possible. :)
Lankester Botanical Garden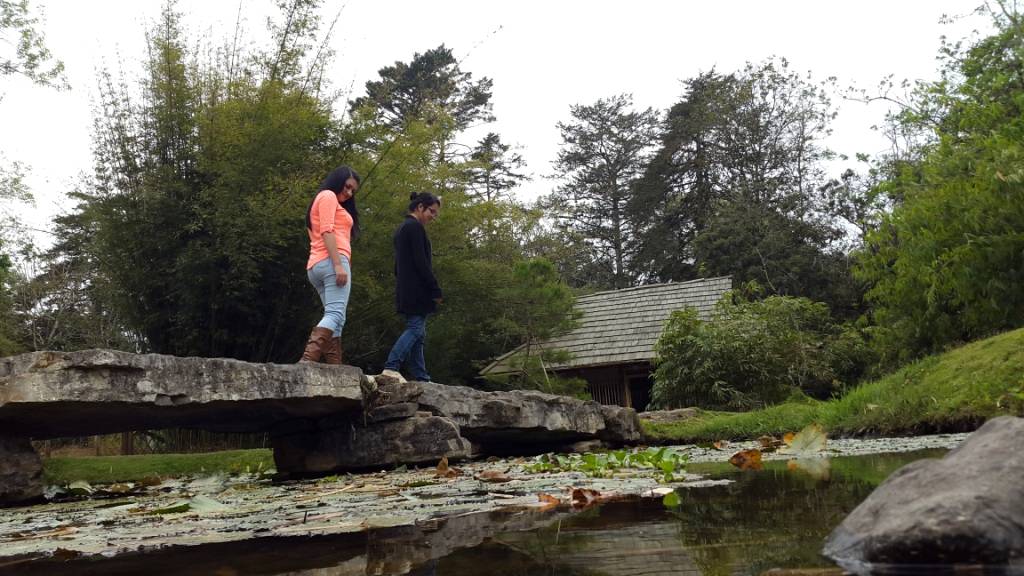 Let's begin with the surroundings of San José. Lankester Botanical Garden is located in Cartago province, in Paraíso to be specific. Even if it may sound far, you'll reach it within 50 minutes by car (more about travelling by car with kids) from San José, and it's open every day from 8.30 am to 4.30 pm. Cartago`s sky without clouds, combined with a little cool wind, is the perfect combination for this trip.
In the garden, you can get some fresh air. It offers different sceneries and landscapes, like the Japanese Garden, for instance. Also, there are collections of orchids, succulents, besides others. Furthermore, there is access to a small piece of forest, where you can observe high amounts of butterflies, birds, and other animals. There's so much to see that the visit can be very dynamic, for parents and for the kids.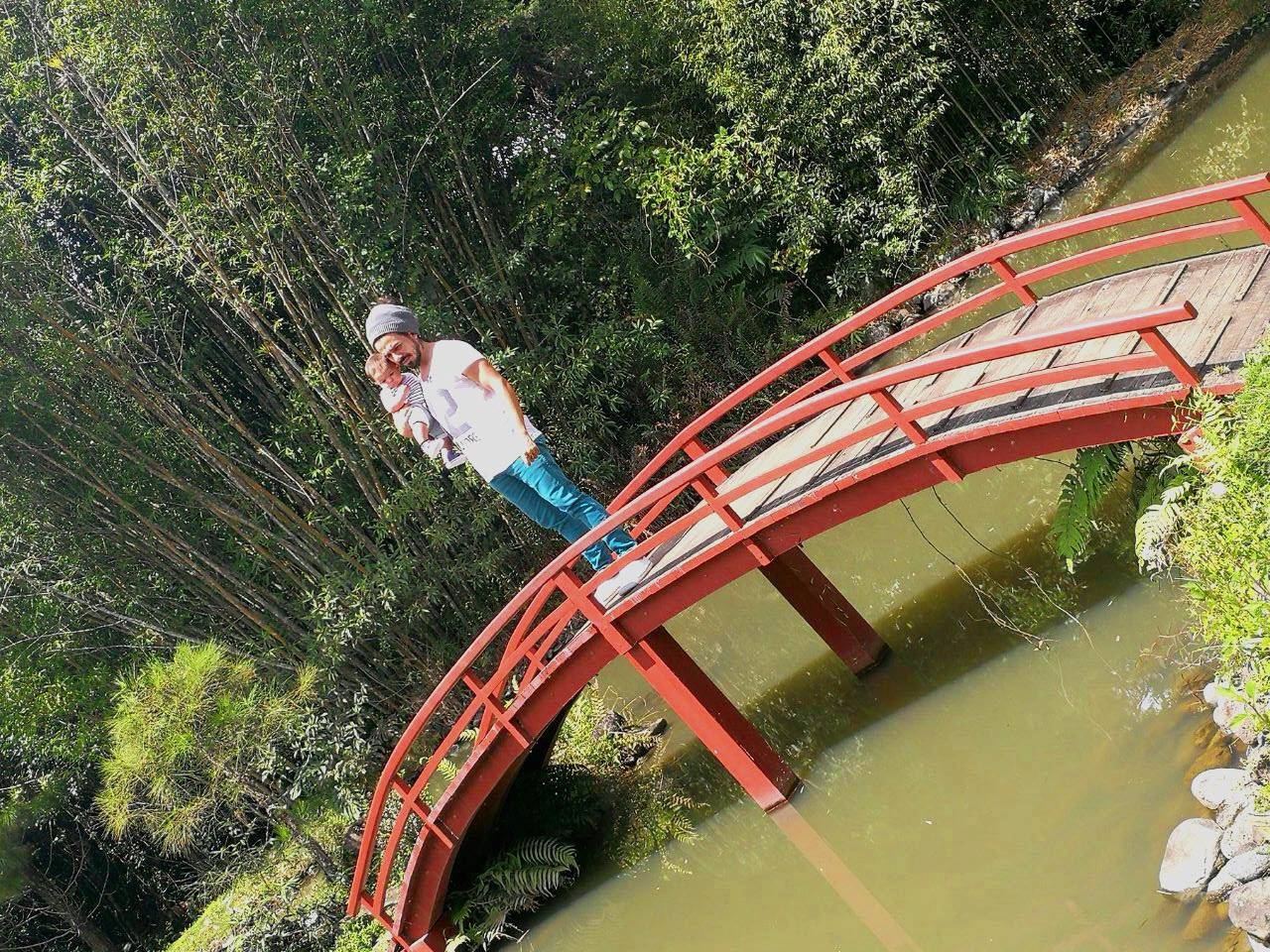 When we visited the Lankester Gardens, our little Saúl was only 6 months old and he was highly satisfied and impressed about everything he could see around him (besides he could breathe a lot of fresh and clean air). There a lot of places, where you can stop, take pictures, and, of course, take care of your babies' necessities: To rest, eat, or to get their diapers changed.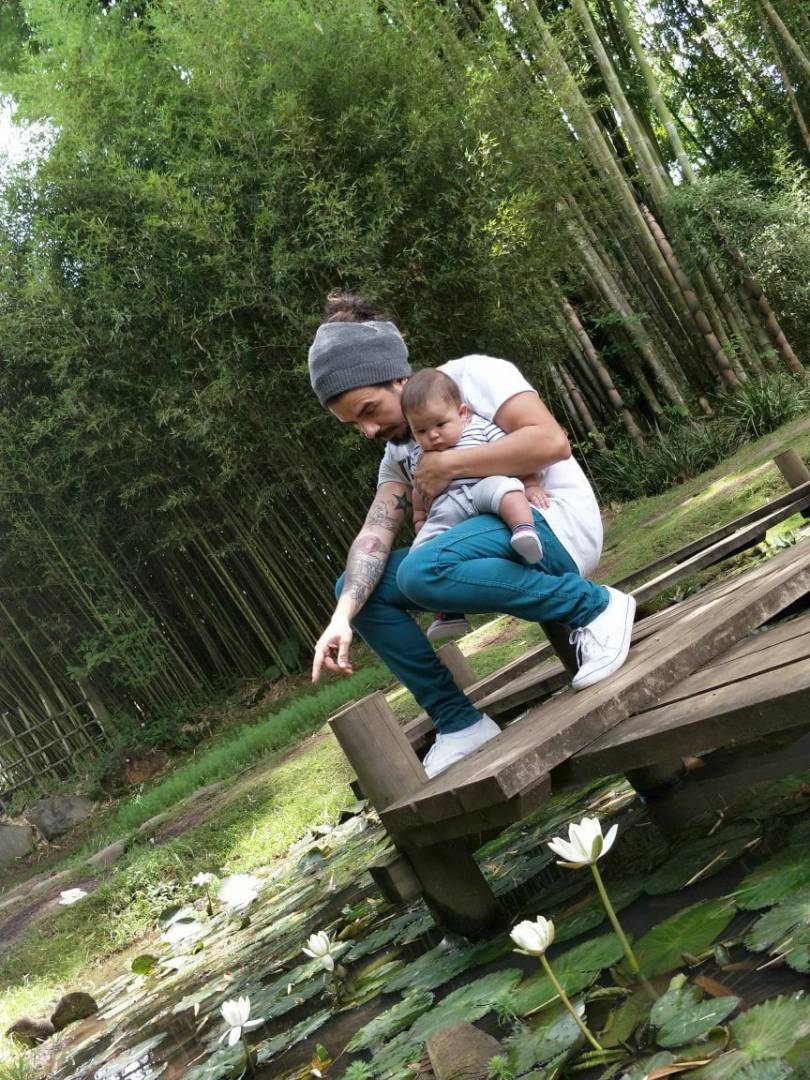 If you don't find a place to change your baby´s diapers, don't worry, there are enough green places where you could take out your changing mat. Also, you'll find tables that you can use for a picnic, open-air, or indoor structures such as the Japanese Garden.
In the end, I can say that the tour is not too long and invites you to enjoy with your family. The price is a very accessible one too for a day tour: 10 USD per adult, of course, babies are for free.
Recommendations
Check first how the weather on the visiting day looks like and try to visit when there are no clouds. Because if so, the Cartago mist provides a slightly cooler climate and it would be less comfortable for your baby.
Take your stroller with you so you have the chance to go around with your baby in it. Walking with the baby on your arm might be a little tiring.
With comfortable clothing, shoes, an umbrella, and a coat, you're fine to go. Remember that Costa Rica is a tropical country and climate change can happen at any time and very suddenly.
Puerto Viejo de Limón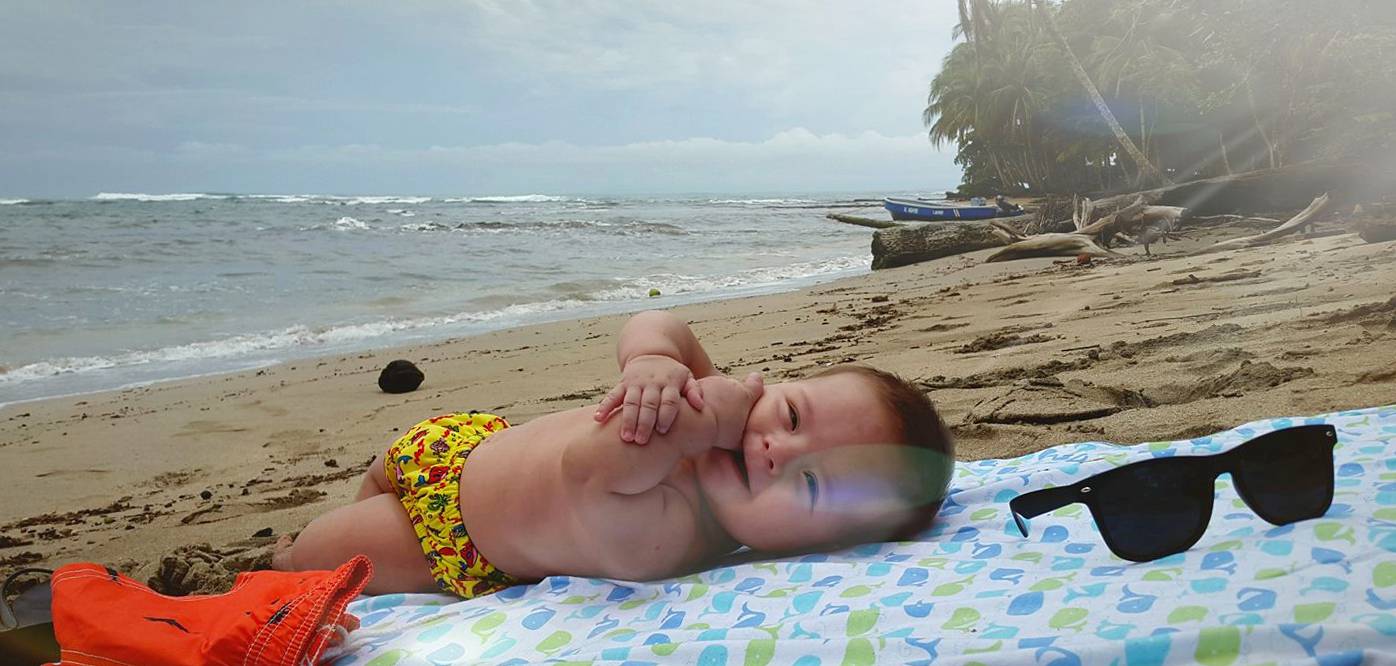 Personally, I think that Puerto Viejo de Limón is the perfect beach destination for the whole family. Puerto Viejo has clean paradise-like beaches, clear water, and the best... few people if you're going in the correct months!
Puerto Viejo is located on the Caribbean Coast in Limón province. The whole area has its own atmosphere because of the combination of Afro-Caribbean, Latin American, and indigenous cultures. Even if the journey is a little longer, around 6 hours by car, it is totally worth it... Of course, it's recommended to have some stops in restaurants on the way, even more, because the baby has its own needs.
Once you arrived, you can choose between several beaches. The experience with our little one, 4 months old, shows that the best beaches are: Gandoca - Manzanillo, Playa Chiquita, Puerto Vargas, and Cahuita. This just because the scenery is calmer than in other places.
The best months to visit are March to April as well as from August to September. Calm waters and fewer people you'll find in September, perfect for kids if there are not too heavy waves.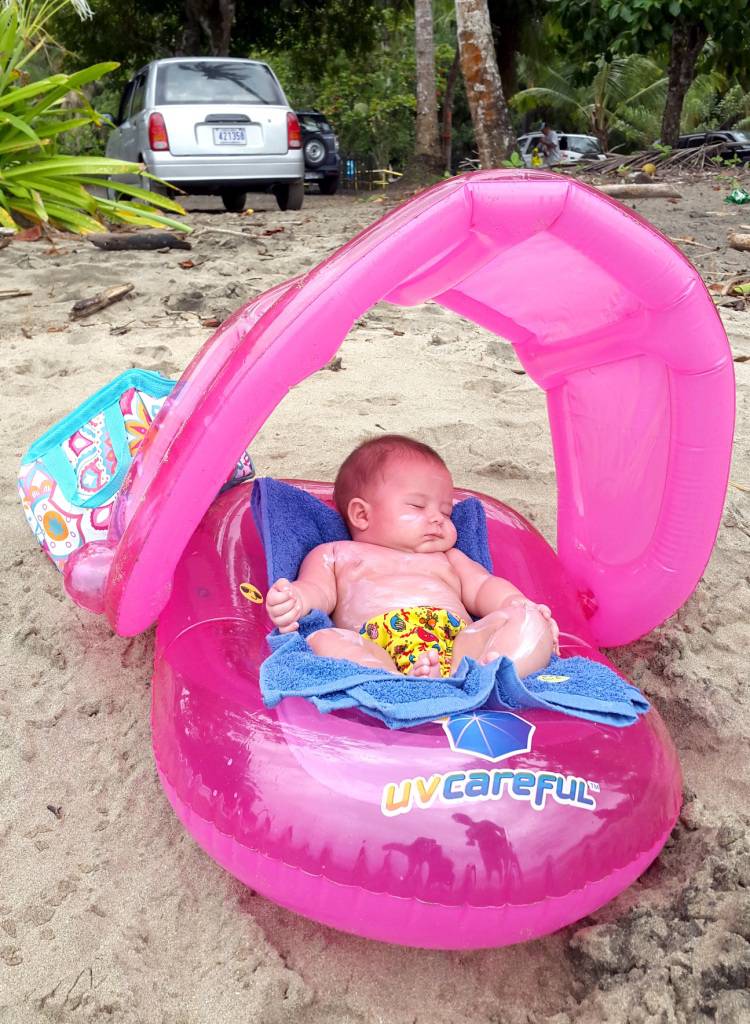 Recommendations
High rates of humidity in the area, combined with warm temperature, will cause irritation to the smallest ones. It's near mandatory to book accommodation with fans or air conditioners.
It's definitely tropical... so you're going to find insects. Look for anti-mosquito awnings above the bed or bring your own to protect your kid.
I recommend bringing UV- inflatables to lay your baby once it gets tired, and don't forget the sunscreen.
In the area, you can find several attractions such as the Sloth Sanctuary, Jaguar Rescue Center, and the Museum of the Cacao. You can use those tours as another option besides the beach. You can also be sure that your baby is not only on the beach the whole day under the sun and the water.
Tortuguero Canals
Tortuguero is a very quiet and cool place to visit with your family, basically, it's a network of channels, rich in flora and fauna, and a small village.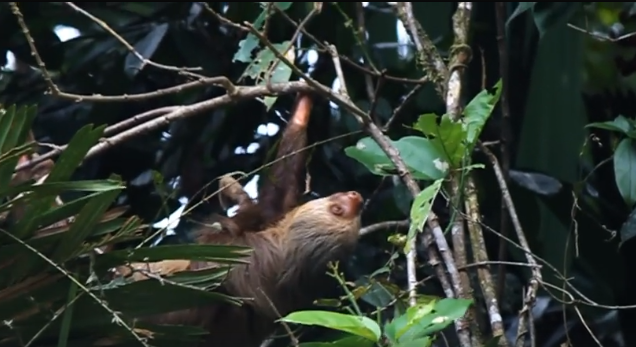 Most of the accommodations are built, to put it in a certain way, "over water" and looking towards the canal. Tortuguero, like Puerto Viejo, is located on Costa Rica's Caribbean Coast. The best way to get here is in a package that includes transfers from/to San José, or, even better, you fly from San José to Tortuguero´s airstrip. The last-mentioned possibility saves you a lot of time, thinking about the baby´s comfort.
A visit to Tortuguero with the family is an excellent option to see many different species of animals, especially birds while cruising through the calm canals, an ideal tour for kids. The landscapes attract both adults and kids, and the deep green is for sure medicine for the body!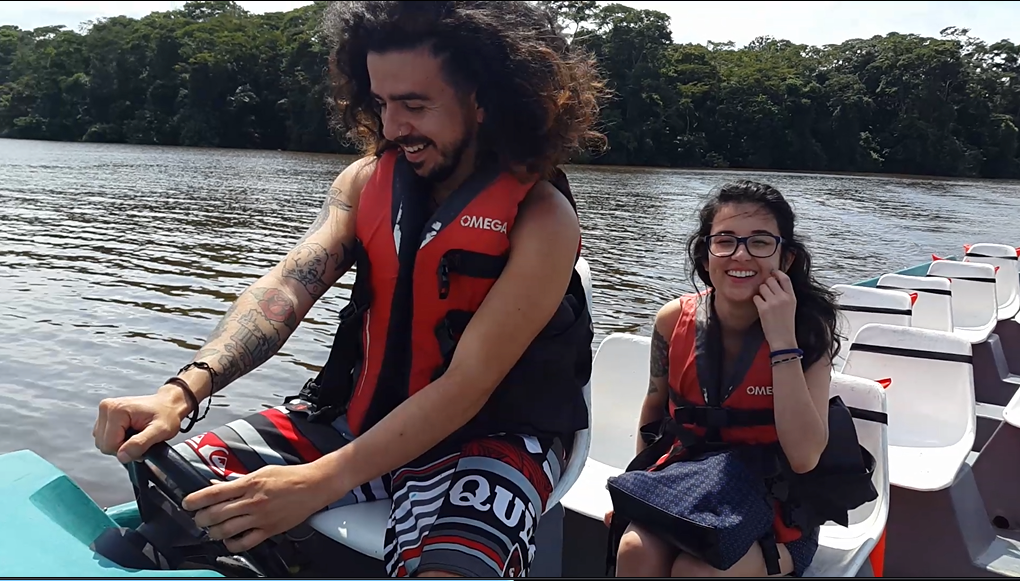 From approximately July to October, you'll be able to observe the spawning of the green sea turtles. This night activity (most common at night) can be difficult with a small child but there are also tours in the mornings, where you're able to see freshly hatched sea turtle babies looking for their way to the Caribbean Sea.
During the year, there are different times in which you can glaze at various turtle species laying their eggs, so Tortuguero is a good option for that.
The most recommendable is to book a package for 3 days and 2 nights. This option will allow you to see the turtles laying their eggs, go on a tour of the canals, as well as visiting the national park and the village, and so, be able to observe the highest possible amount of animals.
The entrance to the park costs around 17.00 USD per day and person. That means you can go on a tour in the park in the morning and in the afternoon and you still pay just 17.00 USD for the entrance.
Recommendations
As I mentioned earlier, the best way to visit Tortuguero is booking a package with 2 or 3 nights including With such an option, you don't have to worry about transportation or activities in Tortuguero.
If you want to go on the turtle tour with a child younger than one year, do it in the morning.
Take with you raincoats and waterproof shoes (for all!) because it can be drizzling at any time.
Zoo Ave
ZooAve is a non-profit organization that protects wildlife in Costa Rica, it is located in La Garita de Alajuela.
It's known as one of the best places to reintroduce animals that were in some kind harmed by humans, into the wild in Costa Rica. The best is that it opens daily from 9 am to 5 pm and you can go on a visit at any time.
ZooAve takes care of animals that were victims of animal cruelty, even some animals that were on national TV you'll find here. Furthermore, you'll find animals that have been kept in a cage illegally and are being prepared to live again in the wild.
You'll find various species that are walking around freely between visitors, it's a pure experience for the little ones. There is also a restaurant where you can eat alongside living turkeys! Also, there is a canopy, an ice cream stand, and a souvenir shop.
On the paths, you'll find benches that invite for a break if your kid is tired or to just refresh yourself and drink something. You're also able to rent buggies for your baby so it's not going to be that tiring for them.
The entrance fee is inviting with 20.00 USD for adults and 5.00 USD for children.
Recommendations
There are buggies for the kids and the paths are out of asphalt, so you're able to go around with your buggy without any problems.
It's best to have a buffet lunch in the restaurant, it offers a good choice and options for kids, too. Also, it's very accessible.
It's recommended to go to ZooAve in comfortable shoes and to take plastic to cover your buggy, in case it'd rain later in the afternoon.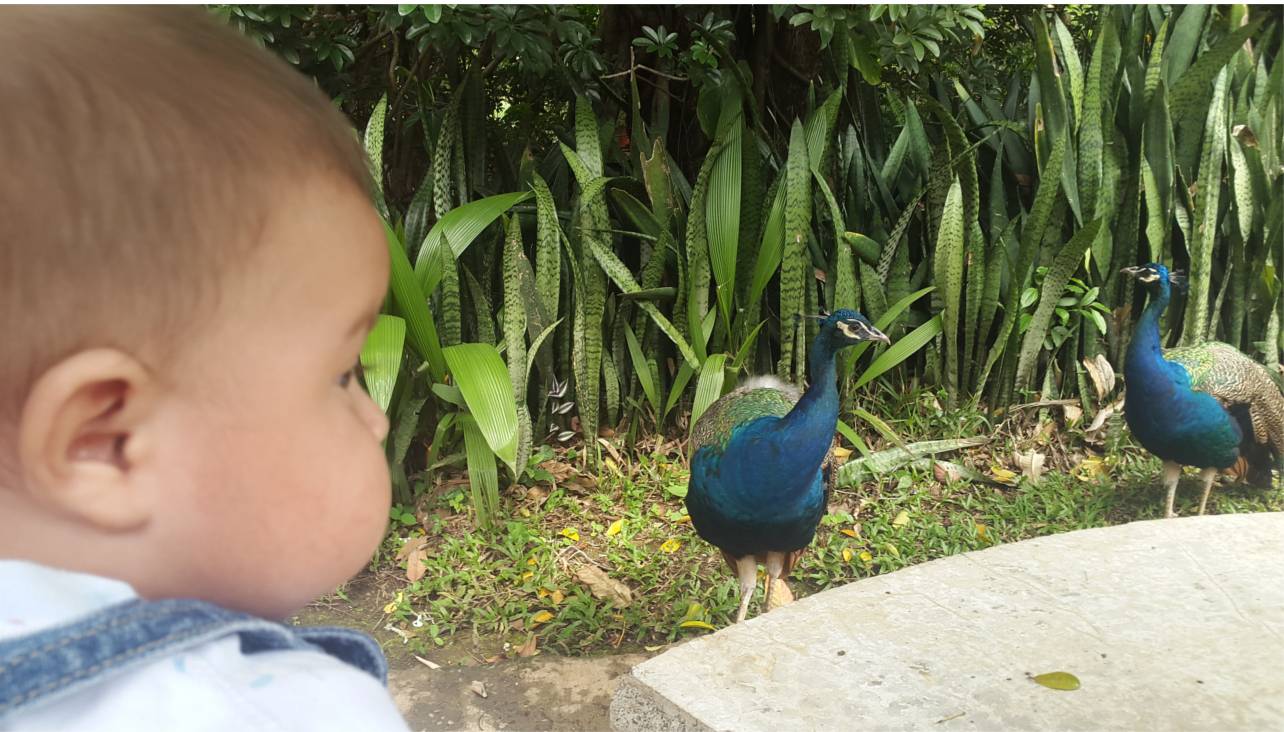 As you can see, those are only 4 places you can visit with kids in Costa Rica. There are more excellent places to discover. We also recommend you our Family Tour package which you can book here, This email address is being protected from spambots. You need JavaScript enabled to view it.!
Do you have more tips or questions? Subscribe to our blog. ;)