The 6 most romantic places in Costa Rica (only for lovers)
We are at the most romantic months of the year and it is the perfect moment to talk about things that Costa Rica has to offer for the amorous.
February 14th gets closer, and many people want to conquer or reconquer the love of their life. The traditional ways, flowers, romantic dinners, or viewpoints to see the stars at night (even though it will also work) are not included this time. Now it´s time to innovate.
The country has much to offer. Some places are that romantic that just walking there with the love of your life by your side you will feel like in paradise!
Some followers have asked us about the most romantic places to visit in this country, and these are the options we have chosen for you:
Sunset in Santa Teresa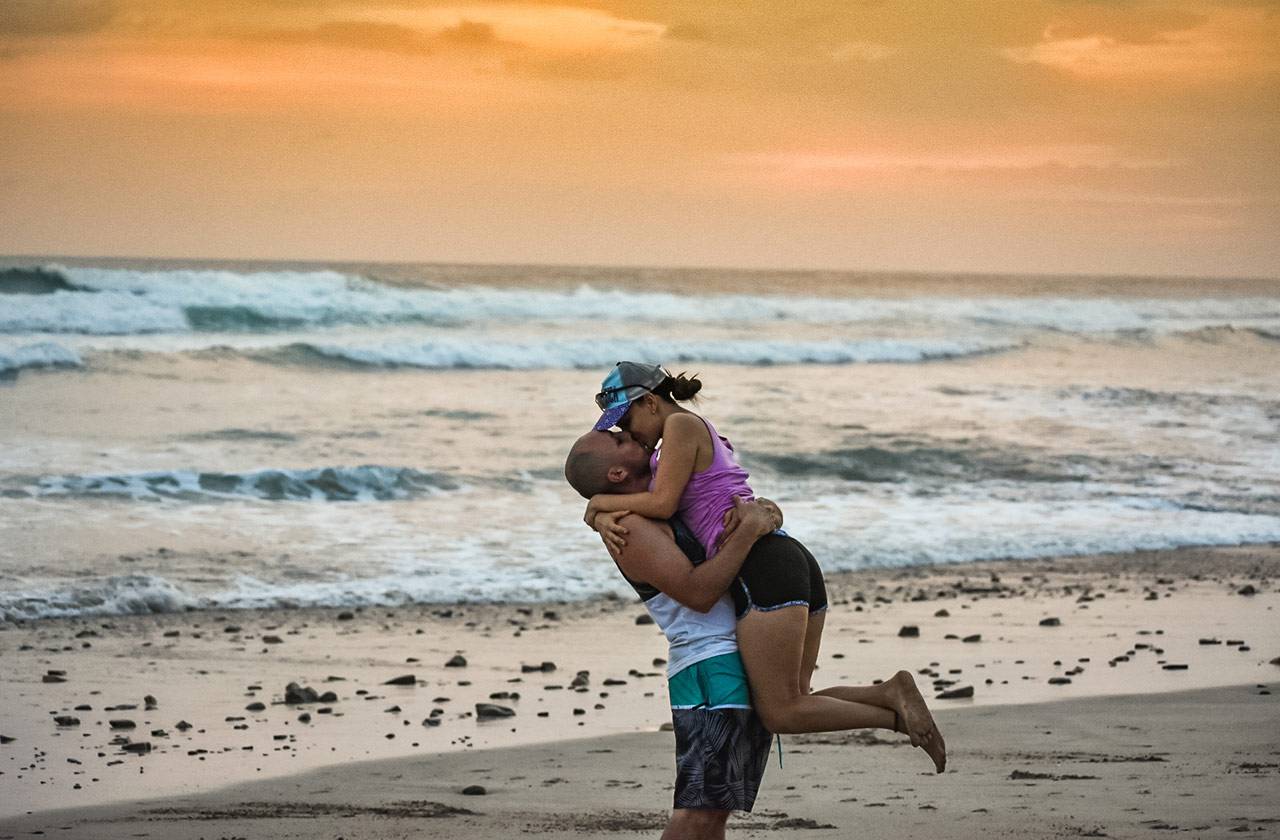 Santa Teresa is a beautiful beach in the South of the Peninsula Nicoya, quite famous for its waves and surfing area, but there are also the most beautiful sunsets of Costa Rica. Imagine feeling the sand on your feet when he or she takes your hand and you walk with the sound of the waves by your side... You will probably feel the strong heartbeat in your chest when you see a smile on the lips of the person you love. This will become a unique moment and a memory that will last for years.
Bajos del Toro, like a fairy tale.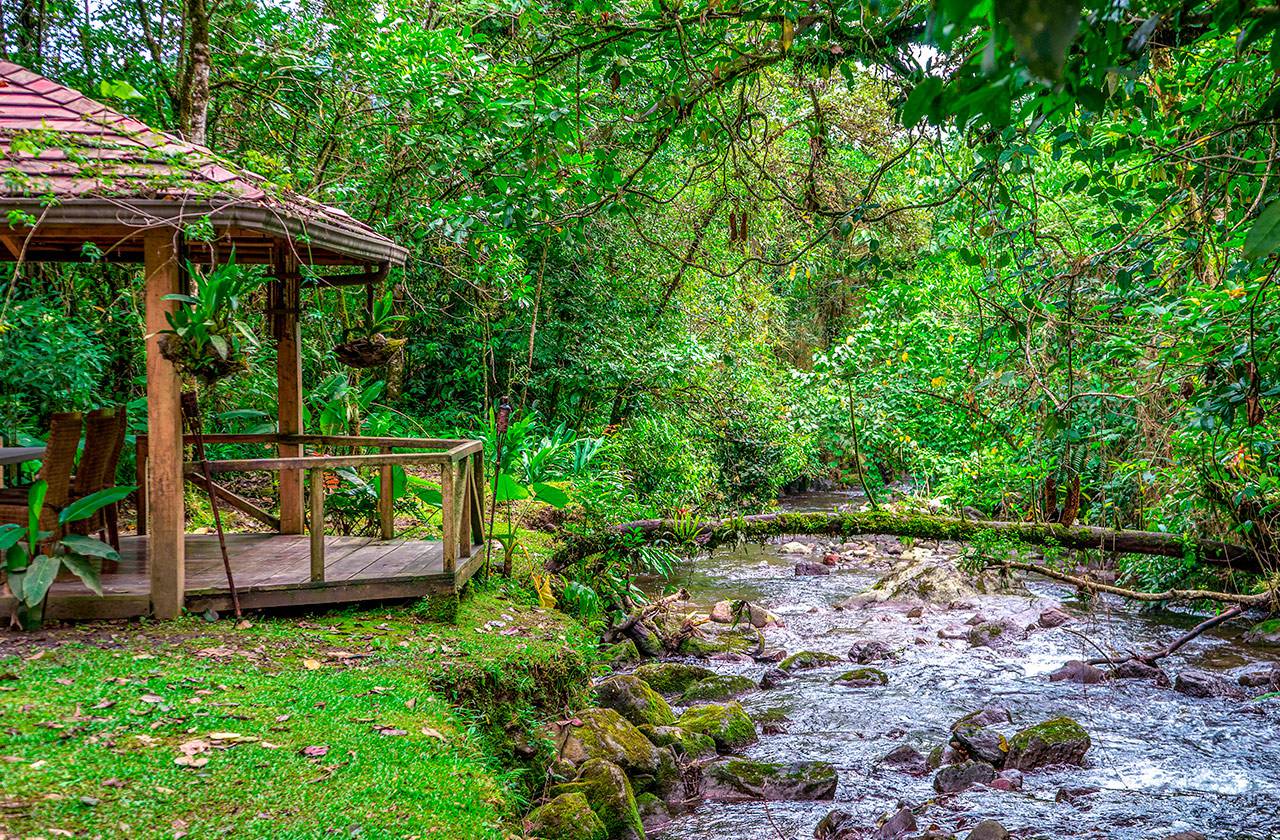 This is a little town in the mountains in the province of Alajuela, surrounded by nature. It is a place where you can breathe the pure and fresh air, the hotel in this area is calm and romantic, perfect to spend time alone with this one special person and you will fall in love with him or her all over again.
For those amorous who want to visit this place, the experience begins with entering a secret forest, with such magical and impressive scenarios that you´ll hardly believe it ... waterfalls and hidden turquoise rivers descending between the mountains, paths that go accompanied by the song of the birds, and the resonance of the Chicharra, the perfect place to steal a kiss and give a deep look at those that will make you lose your mind for a moment.
Walking through el Bosque de la Hoja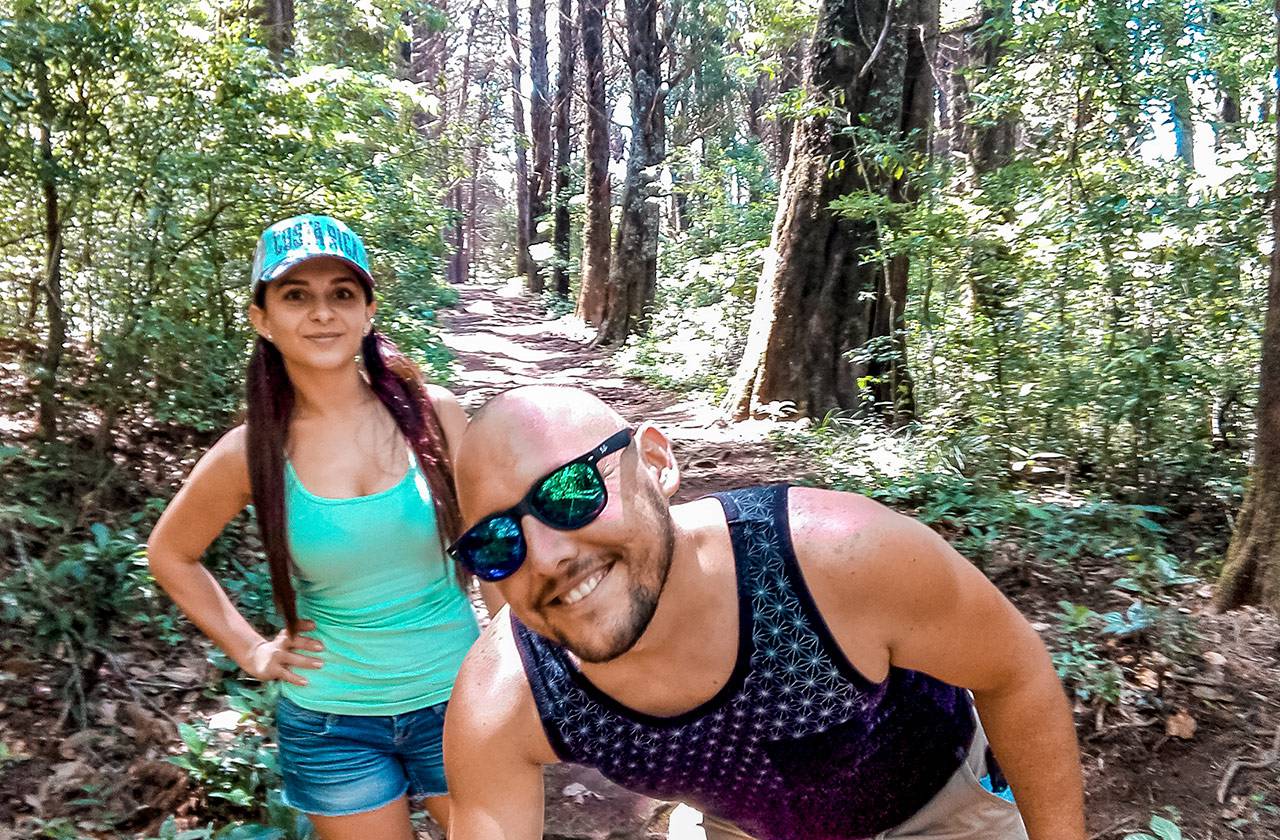 Close to San José is this beautiful place. The fresh air of the mountains, great green fields, a magical forest with leafy trees, and 4 km of trails covered with dry leaves.
As you walk through this place you will hear the breeze that moves the branches of the big trees and a feeling of freedom will fill your spirit. To share with that person you love, you could prepare a picnic and your favourite snacks. There are also ranches with chairs, places to prepare a barbecue, and it is a "Pet-Friendly" place.
Important notes:
The Forest is protected and is administrated by the municipality of Heredia.
Opening Hours: Friday, Saturday, and Sunday from 9:00 a.m. to 5:00 p.m. 
Prices: Adults: 800 Colones (USD 1,5 approximately), Children: 400 Colones (USD 0,75 approximately), people older than 65 years don't have to pay. Parking: 2000 Colones (USD 4 approximately).
Address: From the intersection of the Basílica in Los Ángeles de San Rafael de Heredia, 3 kilometres to the northeast.
The mountain of yellow flowers in Cartago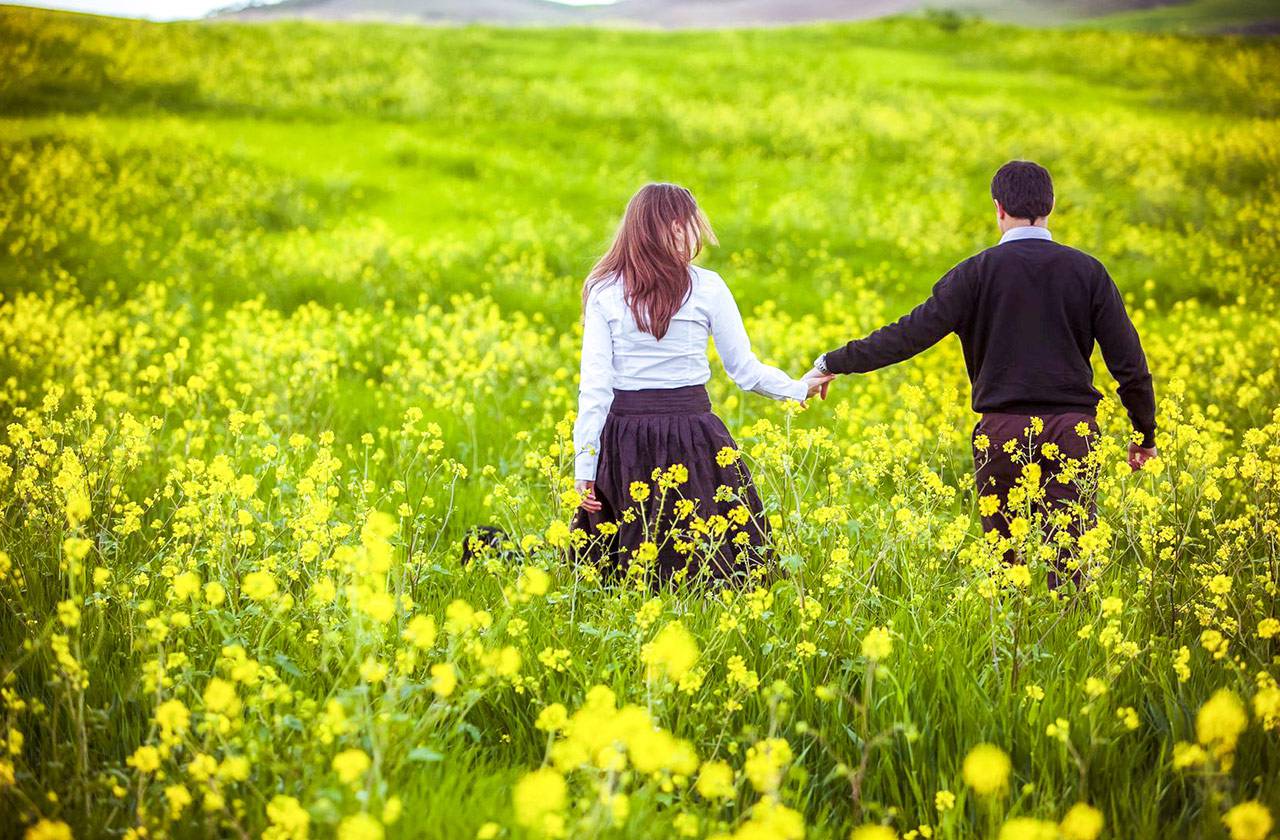 Located in the mountains of Cartago, on the feet of the Irazú Volcano, is a place that is perfect to take the best photos with your loved one since this is a greenfield covered in yellow flowers which you can't find every day. Some locals think that the yellow flower fields are part of the forest of Prusia, but they are not.
The administration of the mountain of yellow flowers is private and it is necessary to ask for dates in the season of the flowers on their official Facebook page.
For this season, it will start blooming around February 8th and take about 5 to 6 weeks, so you should start planning your trip right now.
The Finca also offers its visitors:
Field of yellow flowers (in the high season)
Path to the viewpoint (distance 1 kilometre)
Green areas to relax or for a picnic
Tables with barbecues 
Parking lots
Bathrooms
Campsites! (for this, you have to make a reservation in advance)
Pets are allowed.
The entrance fee is just 2´000 Colones. (4 USD approximately)
Spa and Hot springs in Tabacón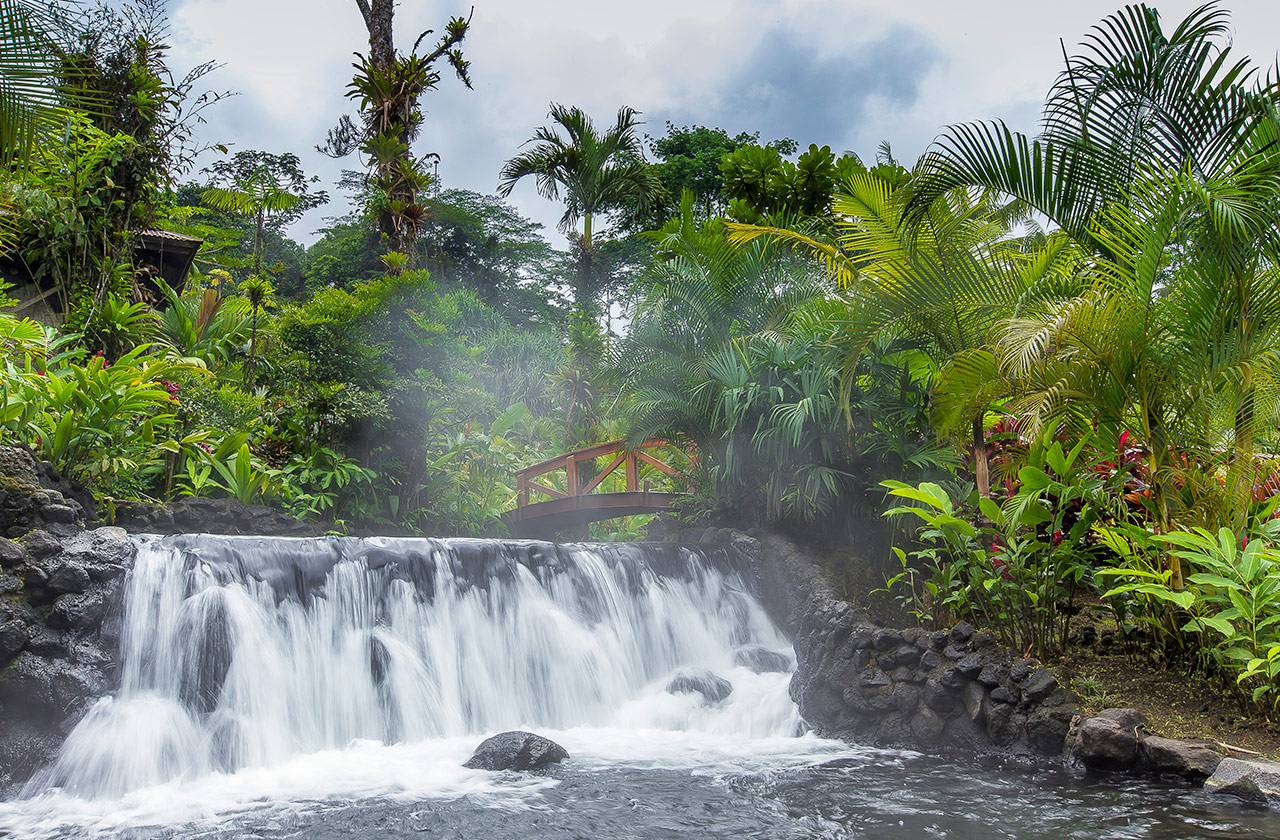 Tabacón Thermal Resort & Spa, located in La Fortuna de San Carlos, has already enjoyed several years of unsurpassed fame with its hot springs, gardens, and trails, which undoubtedly turn any visit into an unforgettable experience.
Even more, if it is about being some time alone with that one special person. Here you can relax in the thermal waters, get a relaxing couple massage through the hot water and the many little waterfalls in the pools, and enjoy a walk on the trails and tropical gardens. If you want to stay a night, the dim lights that light the pools give it a romantic vibe. It is the perfect place to look at each other and smile, tell the other person about your love and the beginning of beautiful memories together.
If you want to reserve this day tour to a romantic place, just write to us at This email address is being protected from spambots. You need JavaScript enabled to view it.
Peñón de Guacalillo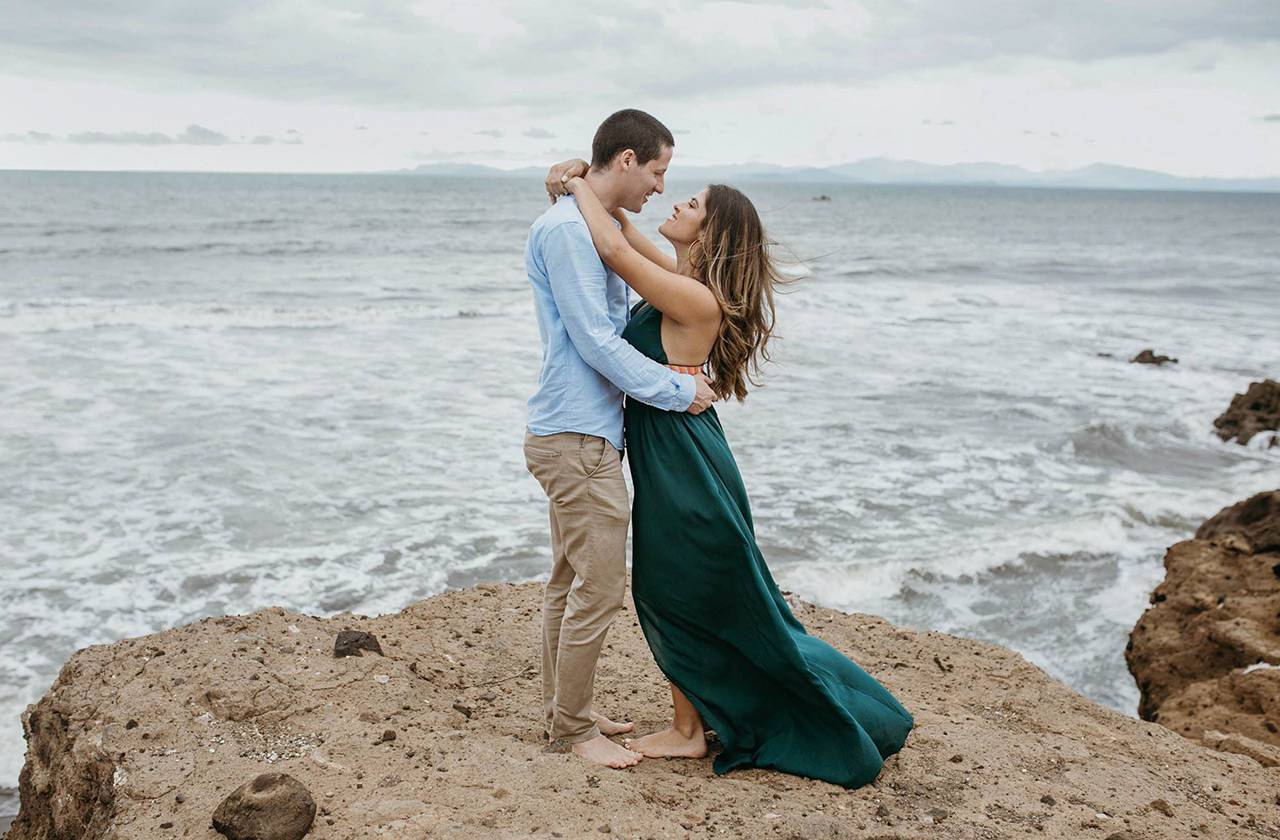 Photo courtesy of Adri and Mariano, Peñón de Guacalillo. Photo by Estefanía Herrera Photography
Just some hours from San José and close to the highway, there is an incredible place at the ocean. 
This seems to be made for a romantic moment. Imagine getting with the car to the Peñón, in a starry night, sitting down and listening to the waves touching the rocks, drinking together a bottle of Champagne under the dim light of the moon which illuminates everything, even your heart. Any person would enjoy a night here together with the best company. Many love stories have started here, so don't wait to start your own story, or continue yours.
Notas Importantes:
This is a public place of the community Guacalillo, Puntarenas. To get to El Peñon de Guacalillo, you should do it in a 4x4 car, since the last 11 kilometres of the way is in a bad condition, anyway, people who want to go in a car can do it when they drive slowly and carefully.
Opening hours: Always accessible.
Prices: For free
Address: Comunidad de Guacalillo, Tarcoles, Garabito, Puntarenas.
Additional Comments
This is just some advice about the places we have chosen since they count as the most romantic sunsets in Costa Rica. Even though there are many things you can do with your partner without leaving the house or at a low cost, remember that a delicious dinner with this one special person, going together to a restaurant with a great view, buying flowers or other details that sometimes seem simple, but strengthen ties, never cease to surprise the person next to you.
If you have other ideas of romantic places that we haven't included in the list, you can leave them below in the comments. If you wish for more information about a place, you can write to us at This email address is being protected from spambots. You need JavaScript enabled to view it.. Greetings from paradise.
The 6 most romantic places in Costa Rica (only for lovers)
Recommended Blogs