Travelling through Costa Rica and watching animals
Travelling and seeing exotic animals at the same time- this is absolutely normal in Costa Rica.
"I want to see exotic animals in nature" - this is a big wish of most visitors who travel to a tropical country. Today I show you how easily you can make this wish come true in Costa Rica.
Who can watch animals?
People often ask me if they can also see animals as normal tourists in Costa Rica, or if this is just possible with a guide with the right equipment. I can answer this question, if you can see animals without a guide, with yes. When you keep your eyes open, you can see animals as a normal tourist, and sometimes with the help of a local guide (voluntarily or because it is obligatory for the park) and also when you respect them (pssssst...!!!)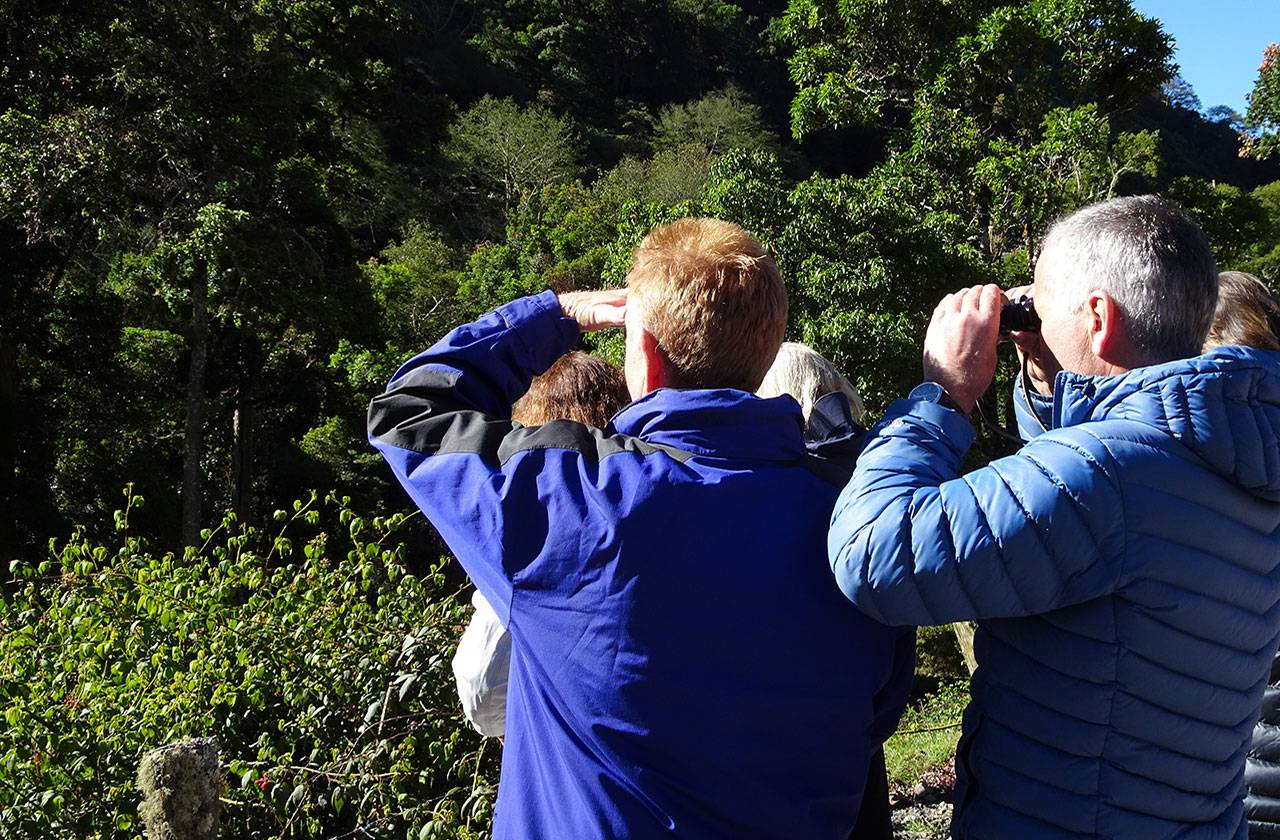 Birdwatcher
Of course, wildlife is not a zoo. And anyway, you will be surprised by all the animals that cross your way walking or flying in Costa Rica, and how easy it is to take beautiful photos as memories. Even if you just take photos with a small camera (but with a good zoom) or with your phone. But: Selfies with animals are not wanted. This could disturb the sensitive wild animals. Thanks for keeping to this rule!
Now, I want to share my animal pictures and the places where I took them. I will be just talking about the places I have visited this year. Of course, Costa Rica offers many more destinations that are perfect to watch animals.
Where should I go to watch animals?
As soon as you leave the city jungle of San José, you are no longer safe for animal encounters. In the beginning, you might just see colourful butterflies. Then the fast hummingbirds, later the cute squirrels with their fluffy tail and then a nose bear crosses your way. And... it gets even better:
North Pacific
Please don't get scared if you are woken up by loud noises. Those are the funny howler monkeys that will entertain you for a bit when you watch them. They are seen easily and often in Nosara. When they are not howling, they are sleeping - like in the picture. Also, the raccoon or coati with their cute ears can be seen quite often. But caution: petting or feeding them is strictly prohibited. They are wild animals and we won't get closer to them and want to maintain their natural behaviour.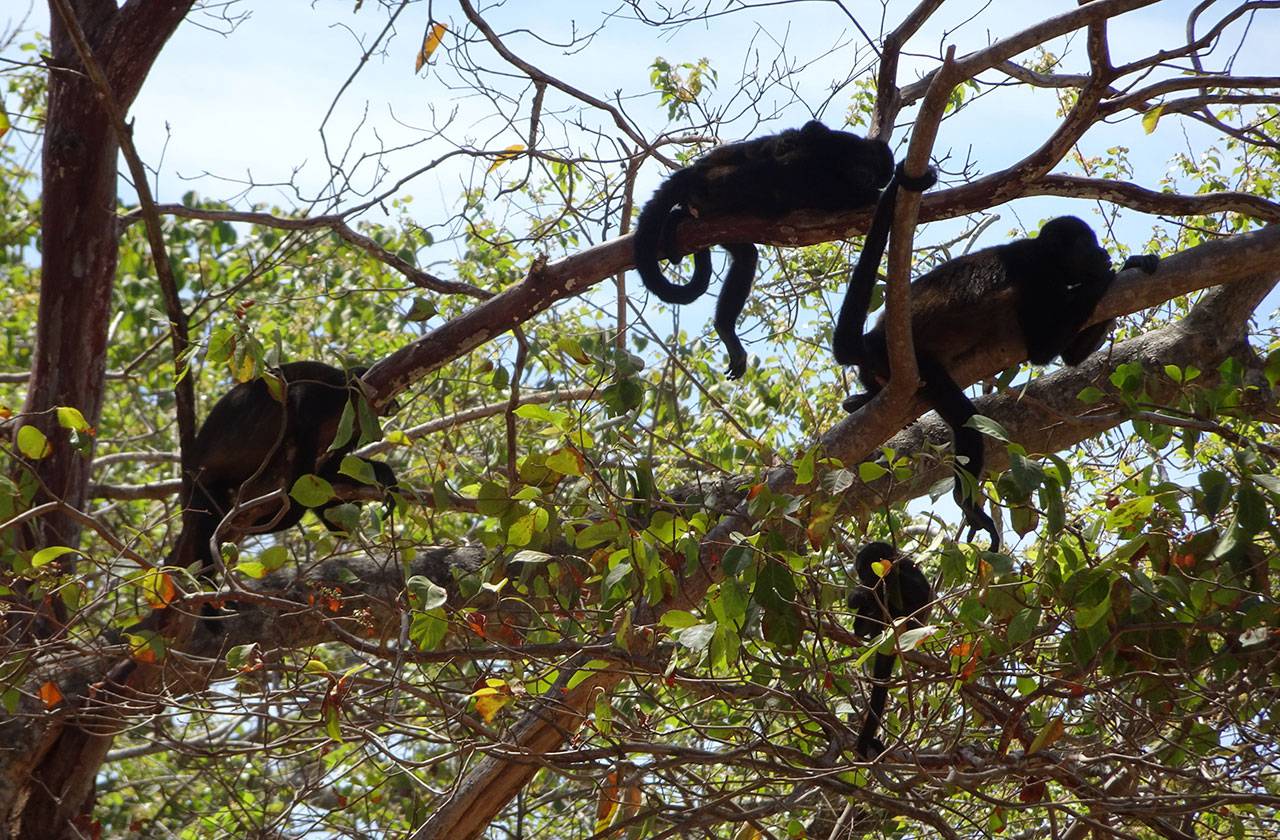 Congos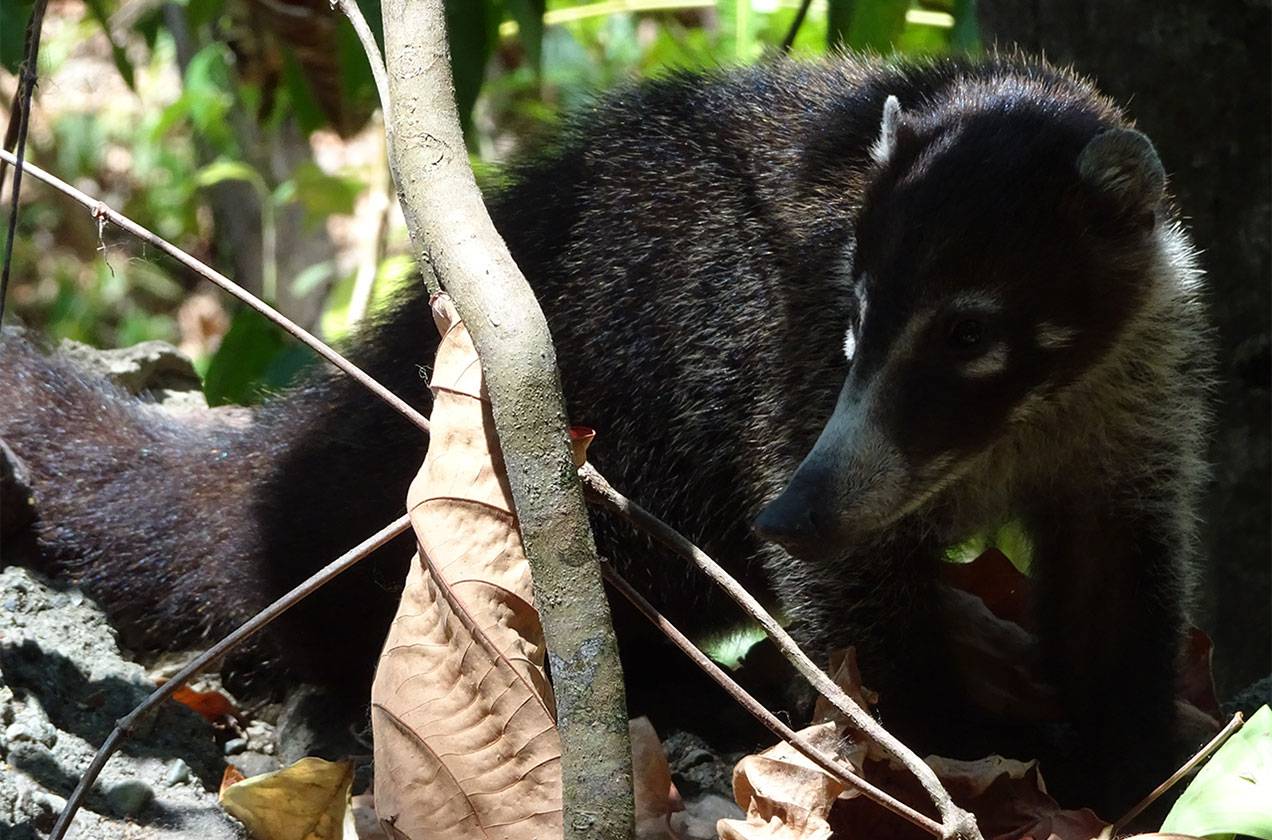 Coati
You need a little bit more luck and have to be at the right time in the right place if you want to see the sea turtles. That means to be there when thousands of turtles arrive at the beach in Ostional, for example, to lay their eggs. This happens usually between July and November, normally once per month, but the exact day can never be predicted. This is nature. If the timing is right, you can visit this extraordinary and emotional nature event together with an authorized guide. Actually, you can also see some turtles between December and June that come to Ostional. Ask someone when you are in this area. It is definitively worth it.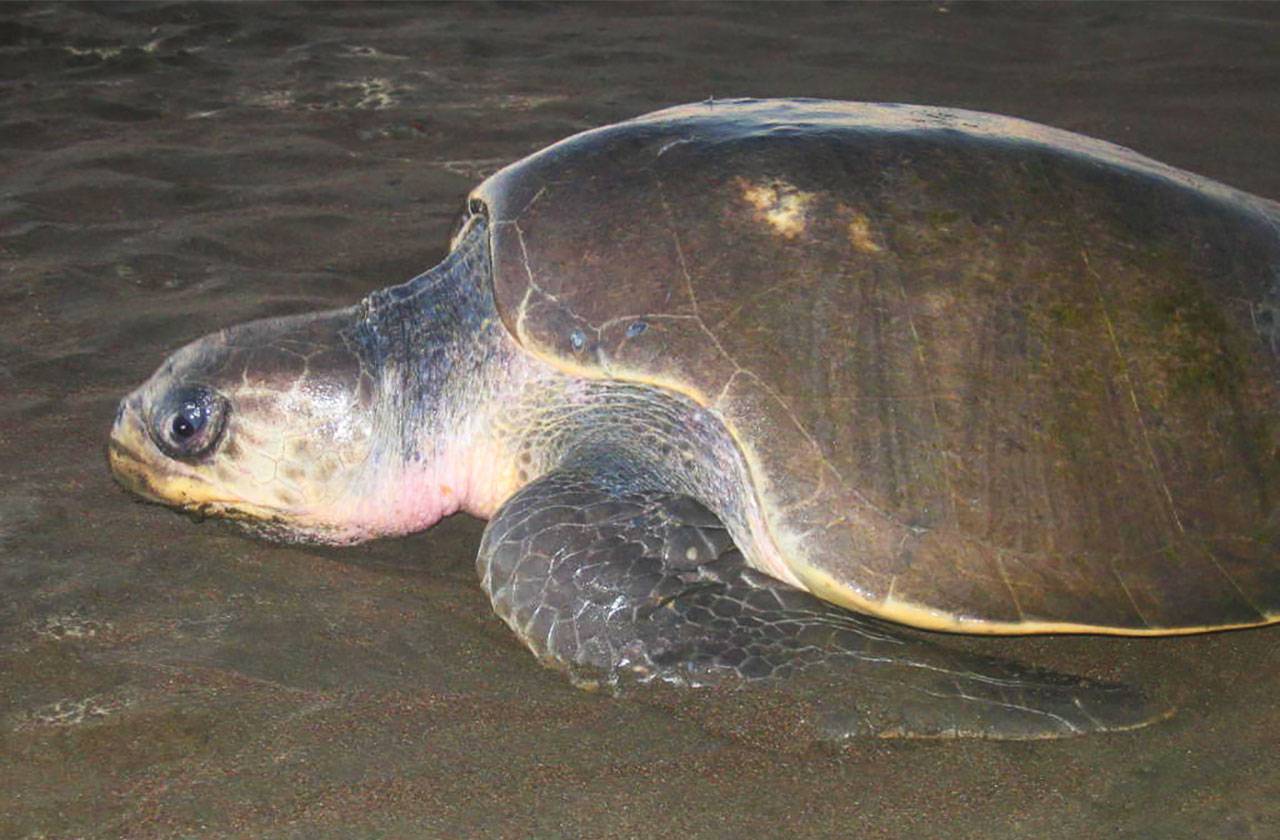 Olive Ridley Sea Turtle
In the mountains at day and night
At 1´400 meters above sea level, the climate and vegetation changes but the sensation of seeing animals stays the same. For example many birds. Unfortunately, I only know the names of the big ones like the Motmot at the terrace of the hotel or the god bird Quetzal, which we saw at a hike at the Monteverde Reserve on the way. A great meeting!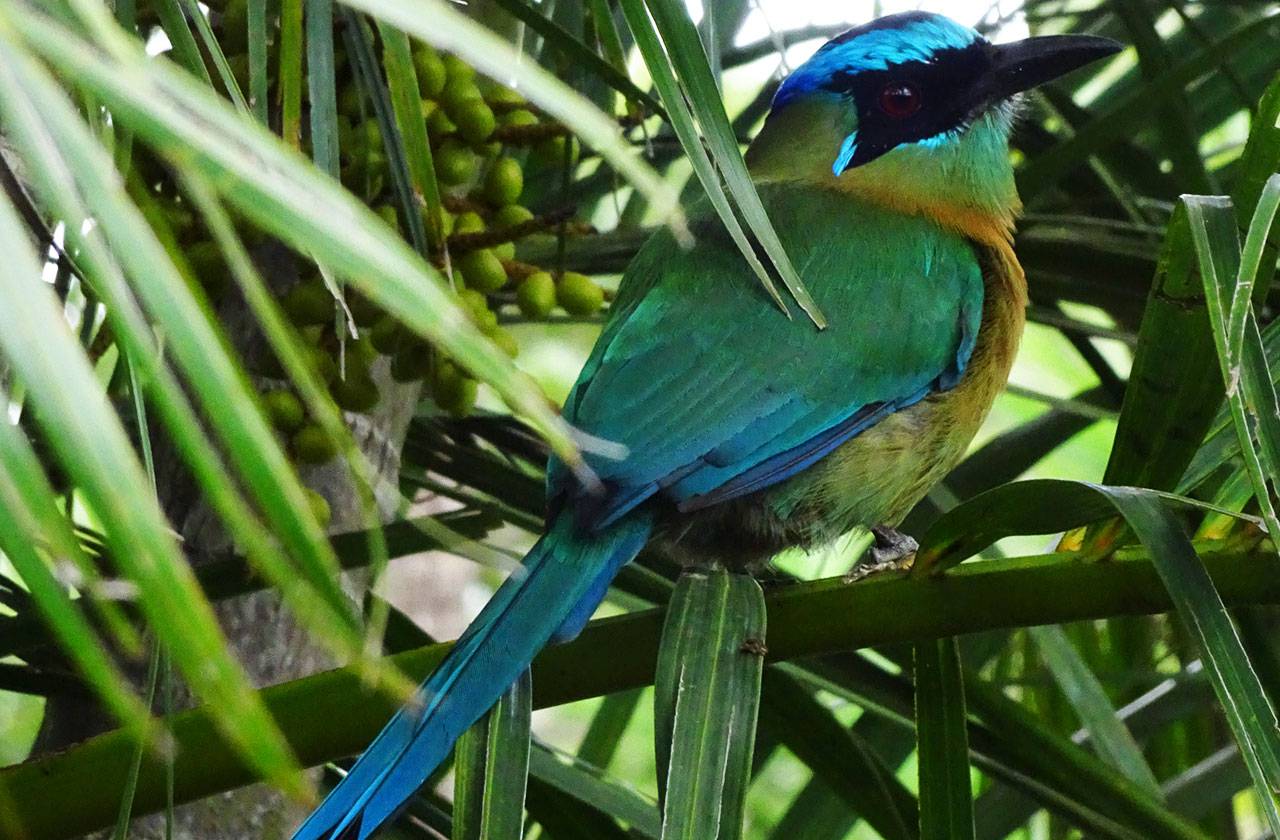 Motmot in Rincón de la Vieja
Who wants to go to the forest by night needs a local guide. As a specialist, he takes care that you don't get lost in the darkness and shows the visitors many of the nocturnal animals, like this Tarantula for example.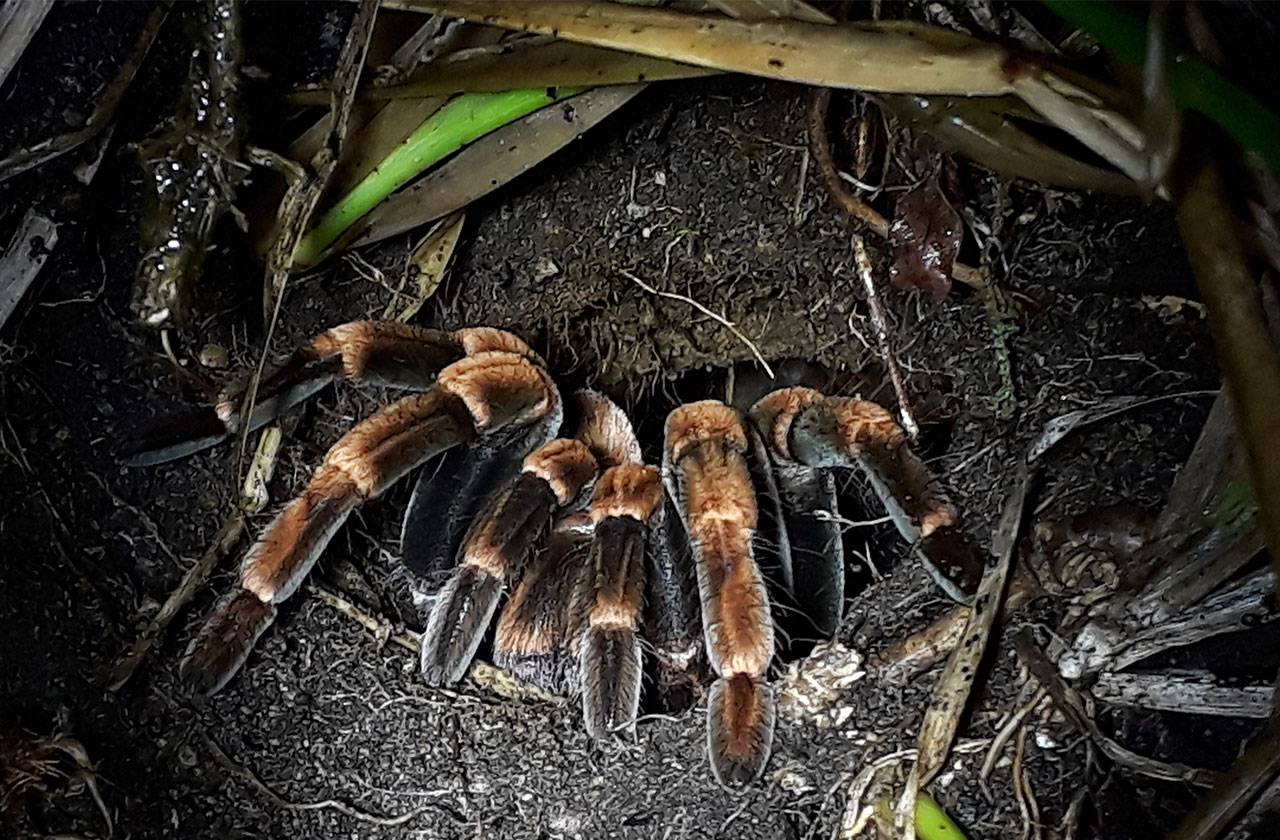 Tarantula
On the road
In which country can you travel on the main traffic artery, the Panamericana, and see exotic animals? In Costa Rica, of course... between Liberia and Puntarenas is a place called Limonal and is quite popular, as for taking a break or to watch the red ara parrots, that are flying around at his place. A little bit more south, between Orotina and Jacó, is a bridge, from which you can see a whole crocodile colony. But please, watch them just from the bridge!!!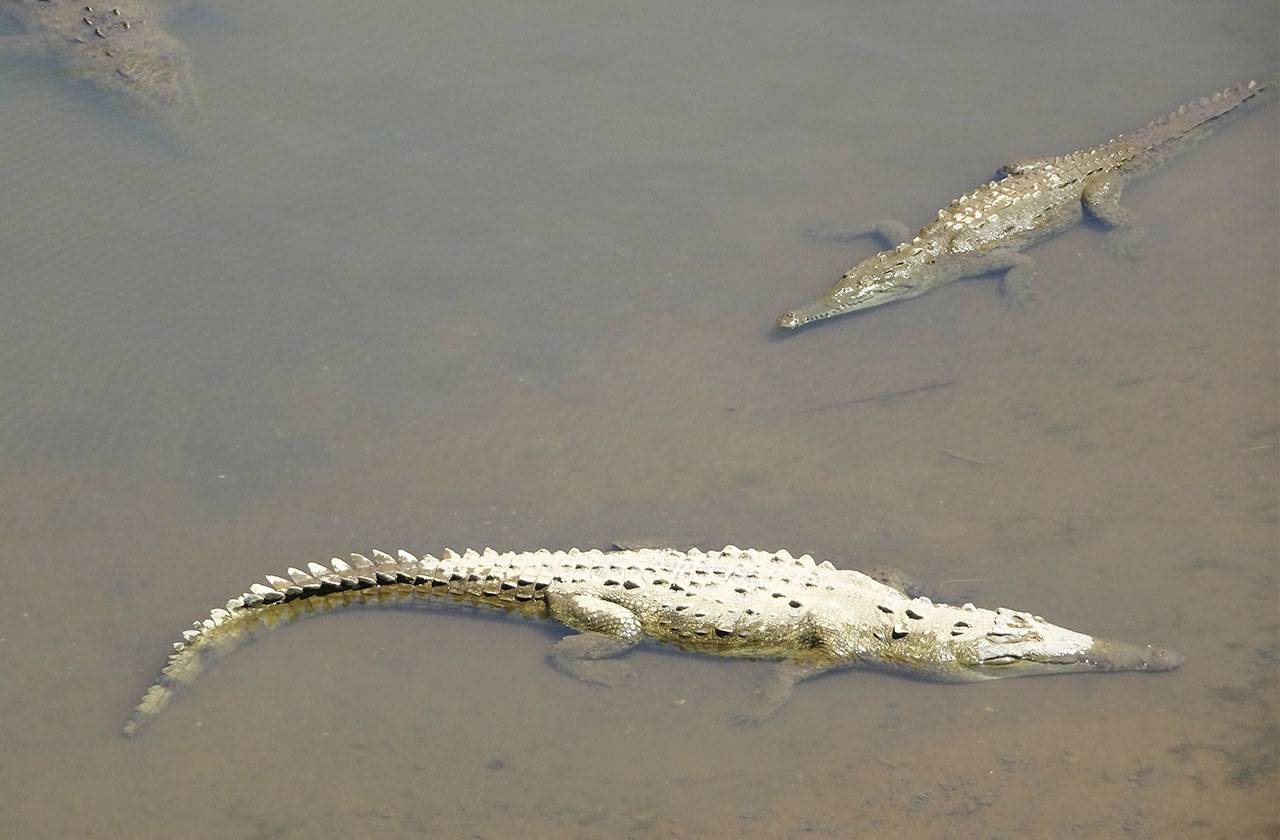 Rio Tarcoles
Sarapiquí
The region of Puerto Viejo de Sarapiquí has many animals.. different toucans, which you can hear from everywhere and thanks to their big, colourful beak they are easy to see. Back at the hotel, a bluejeans frog jumped over my way and when it got darker, they showed me many more frogs. I like the one with red eyes!
Absolutely adorable are the white bats that live in this region. I am very grateful for the guide who showed them to me. I would not have seen them without him.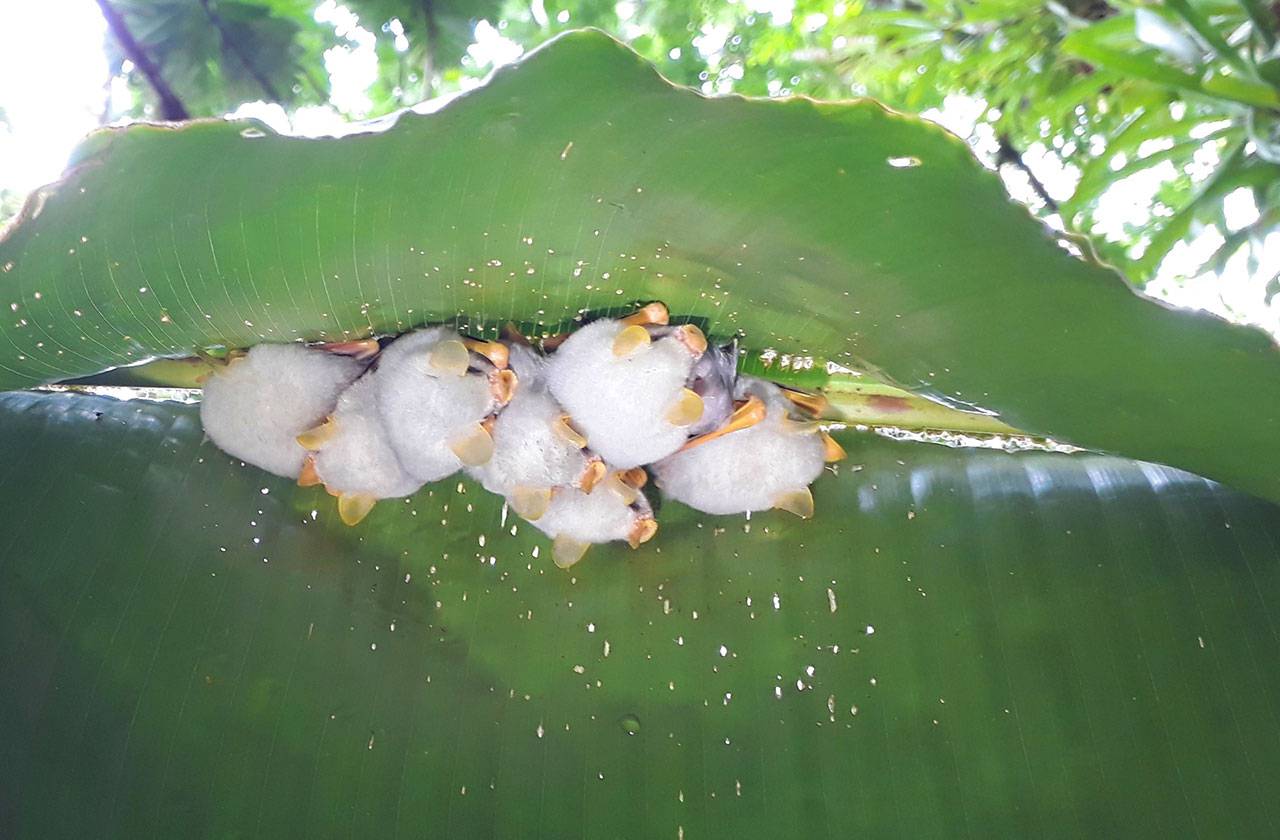 White Bats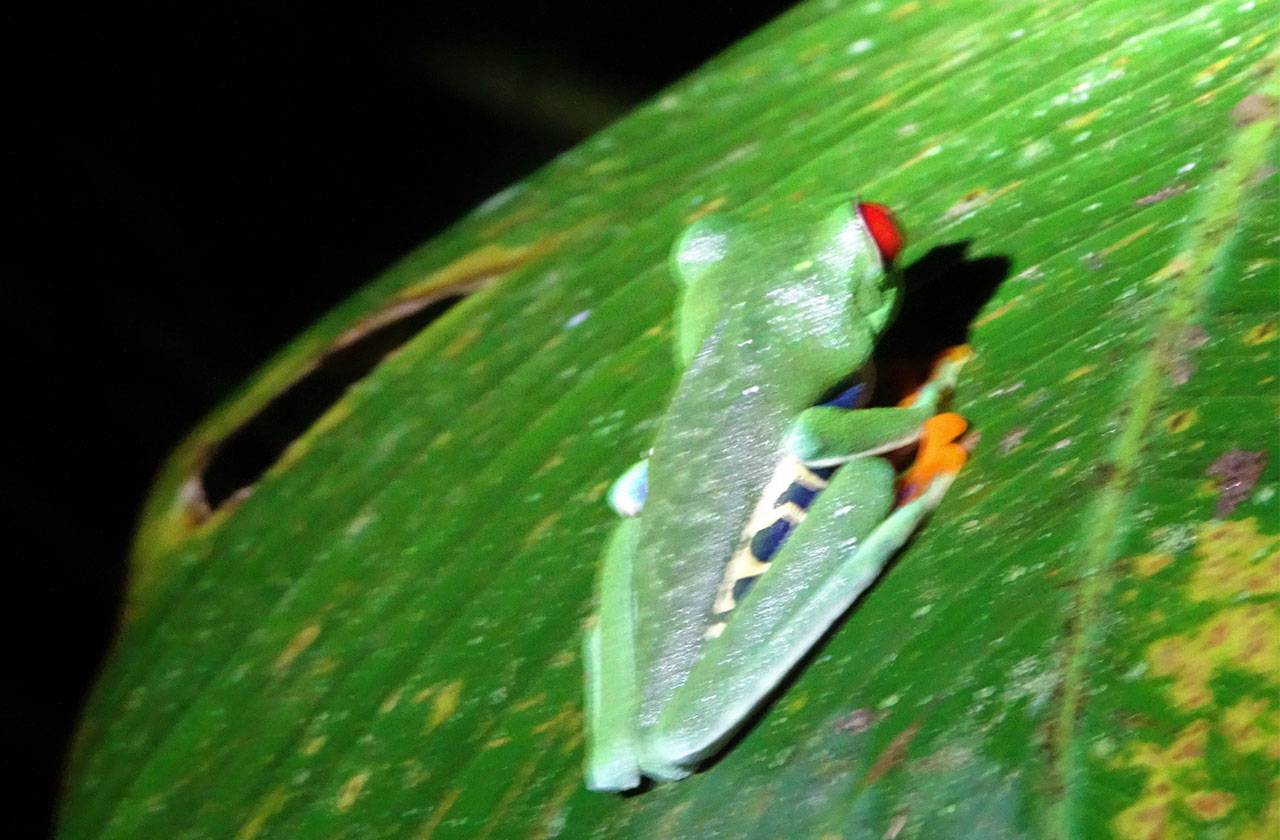 Red-Eyed Tree Frog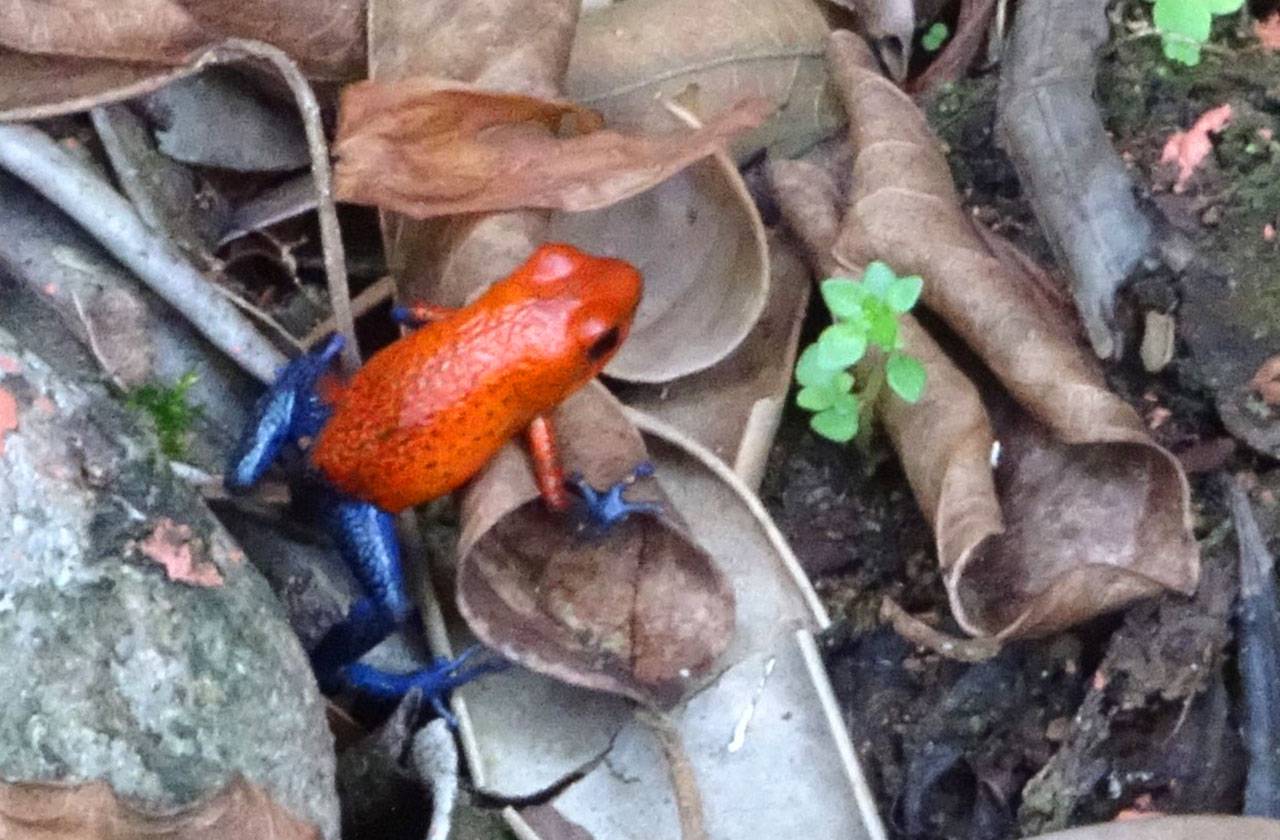 Blue Jeans Frog
Caribbean Coast
My trip also took me to the Caribbean coast of Costa Rica and I saw a Lapa Verde (green ara parrot) twice in one day. First when we were driving through remote mountain regions and later close to the hotel at the coast. I could hardly believe my luck.
A short time after, we saw a sloth in the trees when we were on the way to the beach. These are moments when I am sure that I am in paradise on Earth.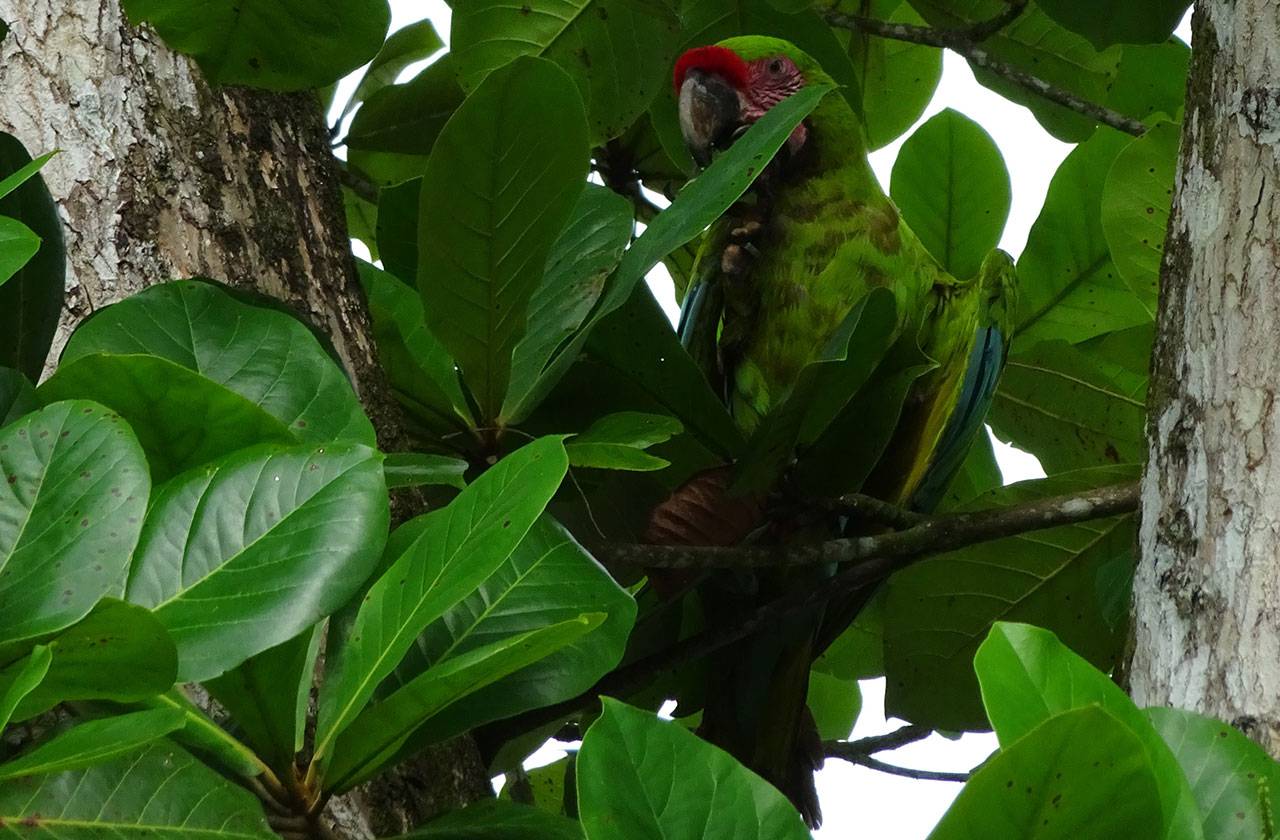 Green Ara Parrot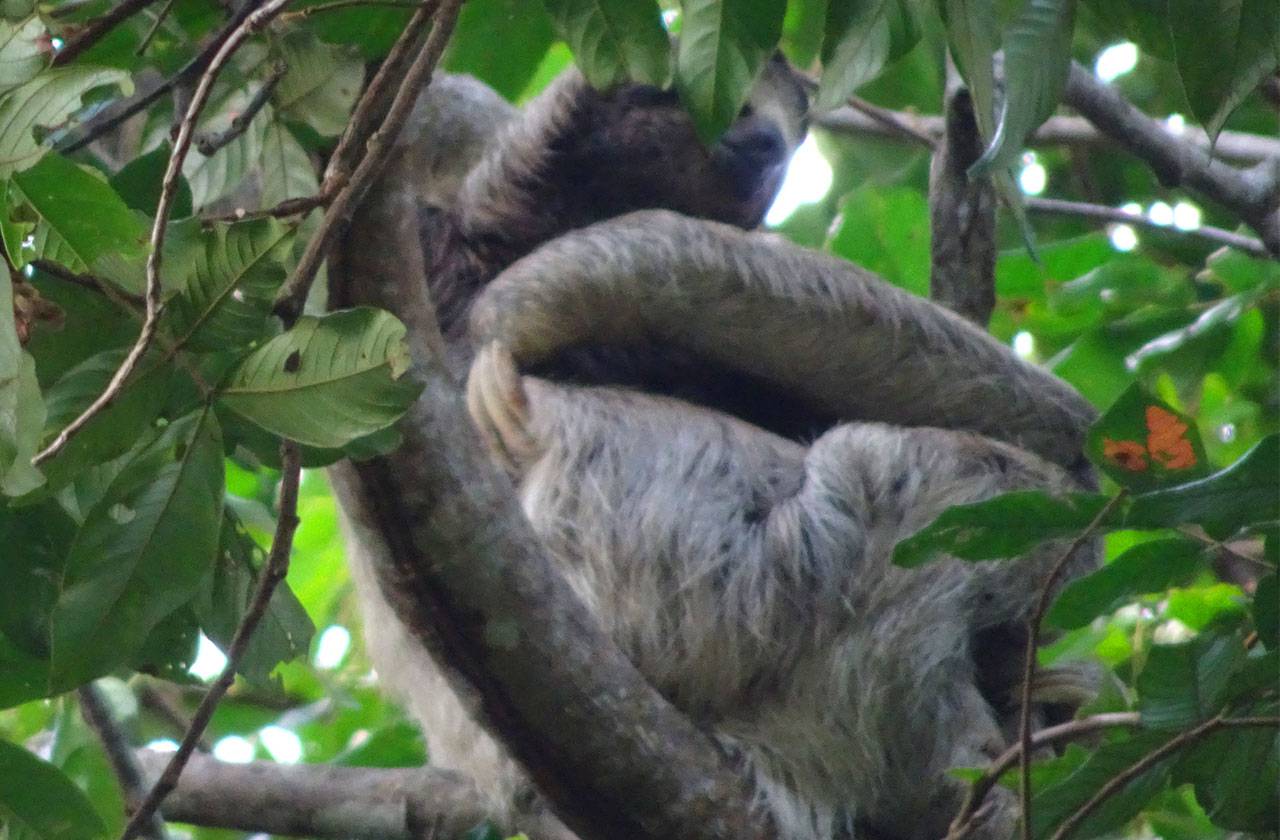 Sloth
South Pacific
Also in and on the water, paradise has a lot to offer. At the South Pacific coast, you are comfortably sitting in a boat and drive through the Marino Ballena National Park at Uvita. Actually, I wanted to see whales, but my visit was in the wrong season. But our boat wasn't alone for a long time. Dolphins came to us and played and swam with the boat, like a little race. What a great spectacle.
Dolphins at Marino Ballena National Park
Corcovado National Park
If you want to see animals at the Corcovado National Park, you have to try a little harder than I explained before.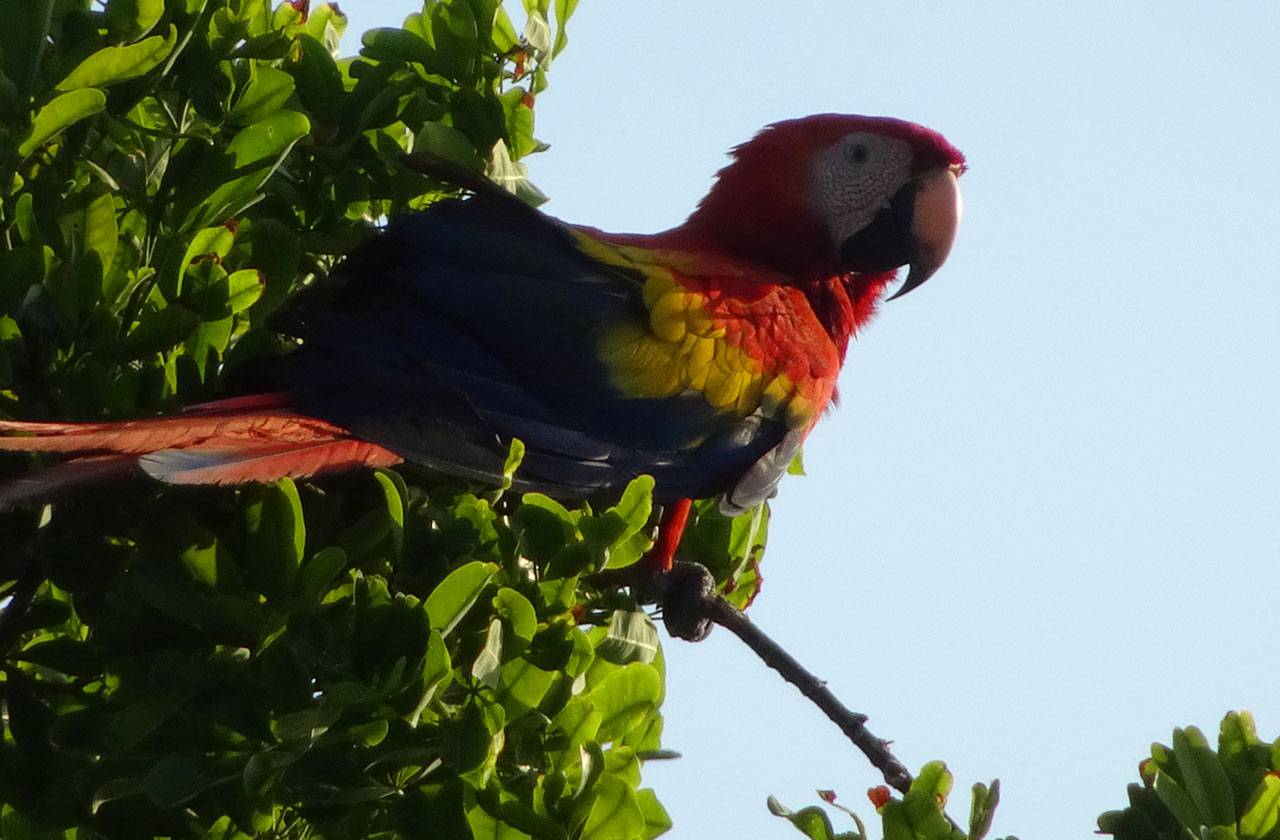 Red Ara Parrot
Of course, you can see animals like the red Ara Macaw parrot while lying in the hammock of the terrace of the lodge, outside of the park. But I wanted to see more and hiked from Carate to La Leona inside the Corcovado National Park.
This is just possible when you go with a guide. Depending on your physical condition, you can hike for 1-3 days. I did a day tour that took us along the beach and then through the forest close to the coast. It was not the kilometres but the heat that made me tired. But it is worth it.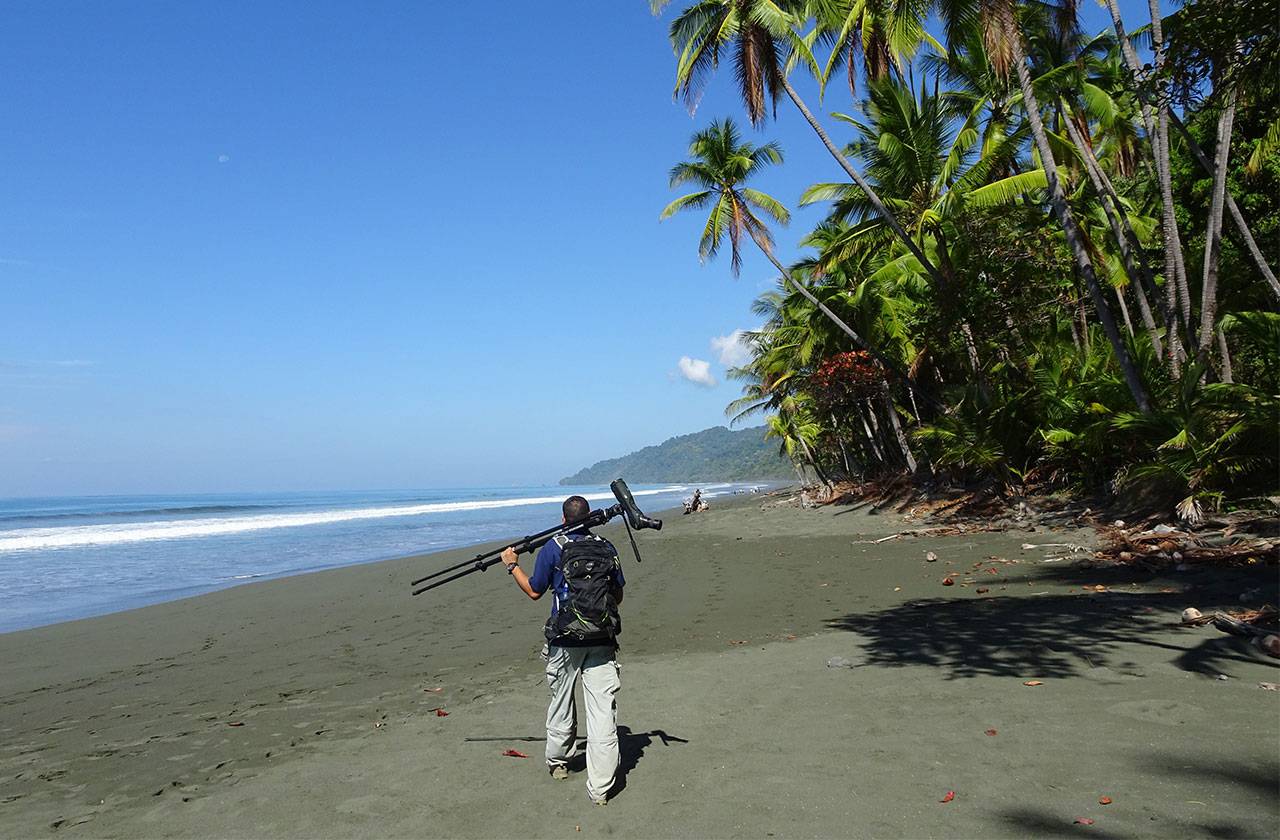 Guide in Corcovado
Thanks to our guide, we saw many animals, of some of them I could not take a photo because they were so fast, but we were able to watch others through the binoculars of the guide and it was a unique experience. Costa Rica at its best!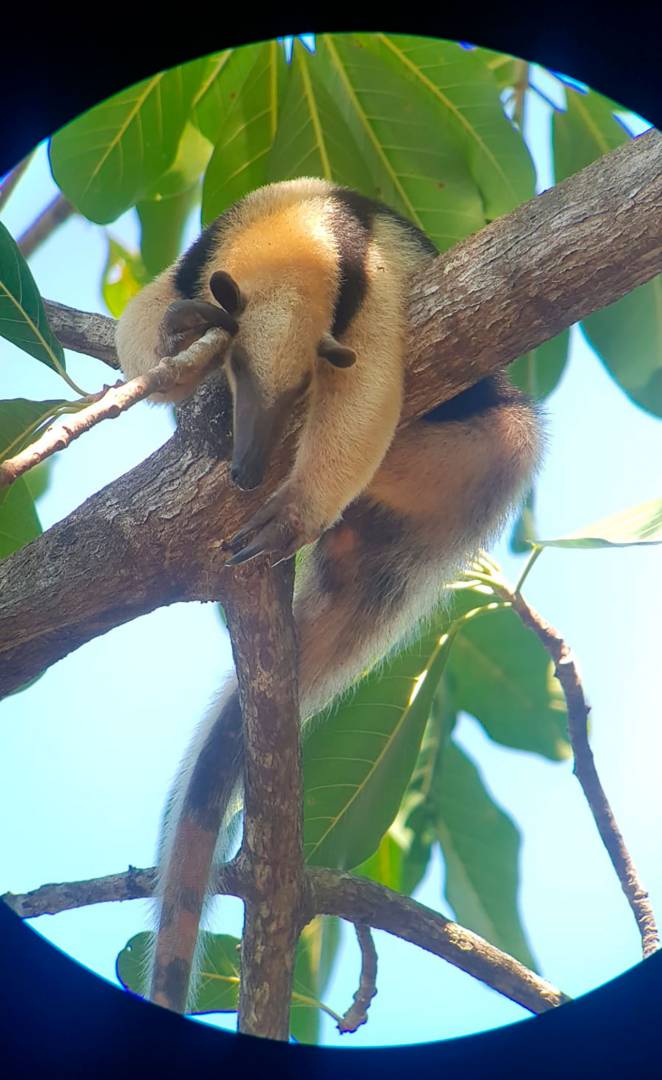 Anteater in Corcovado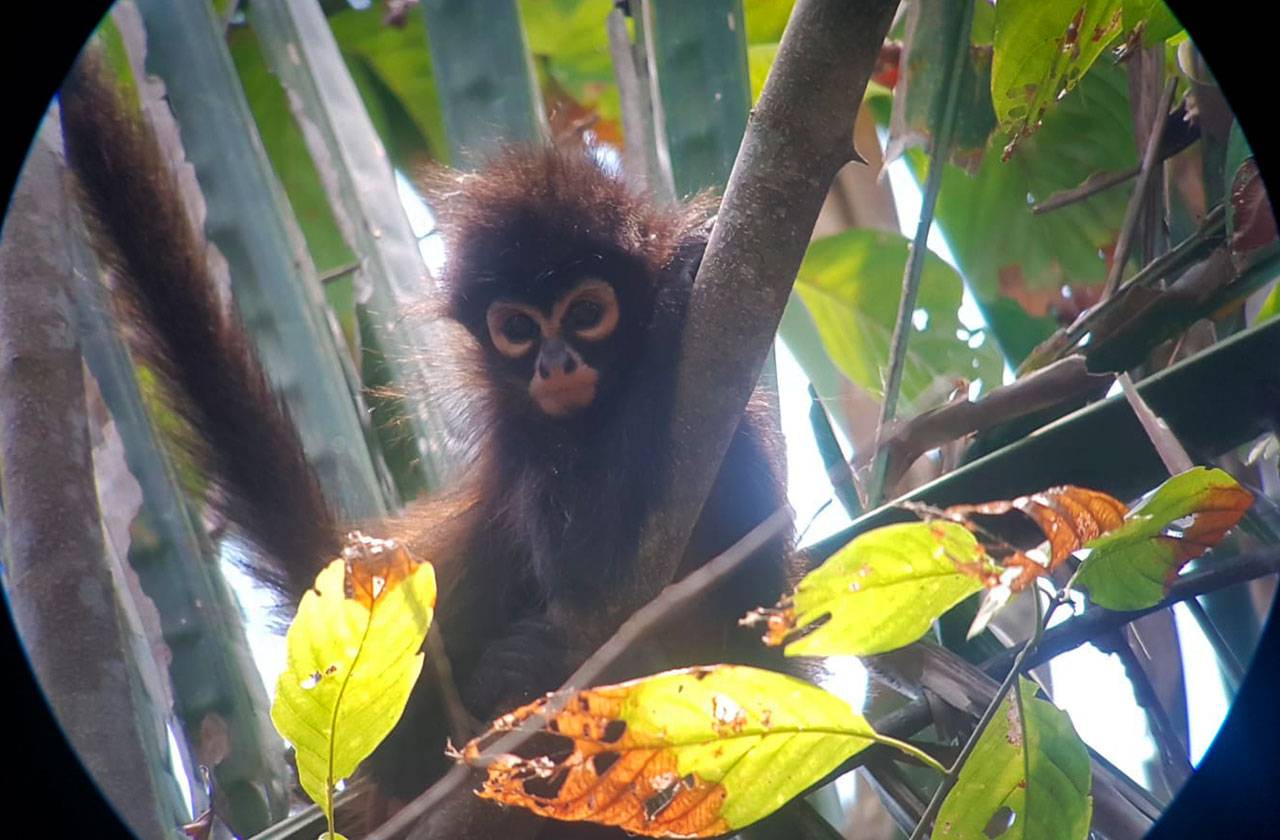 Tití Monkey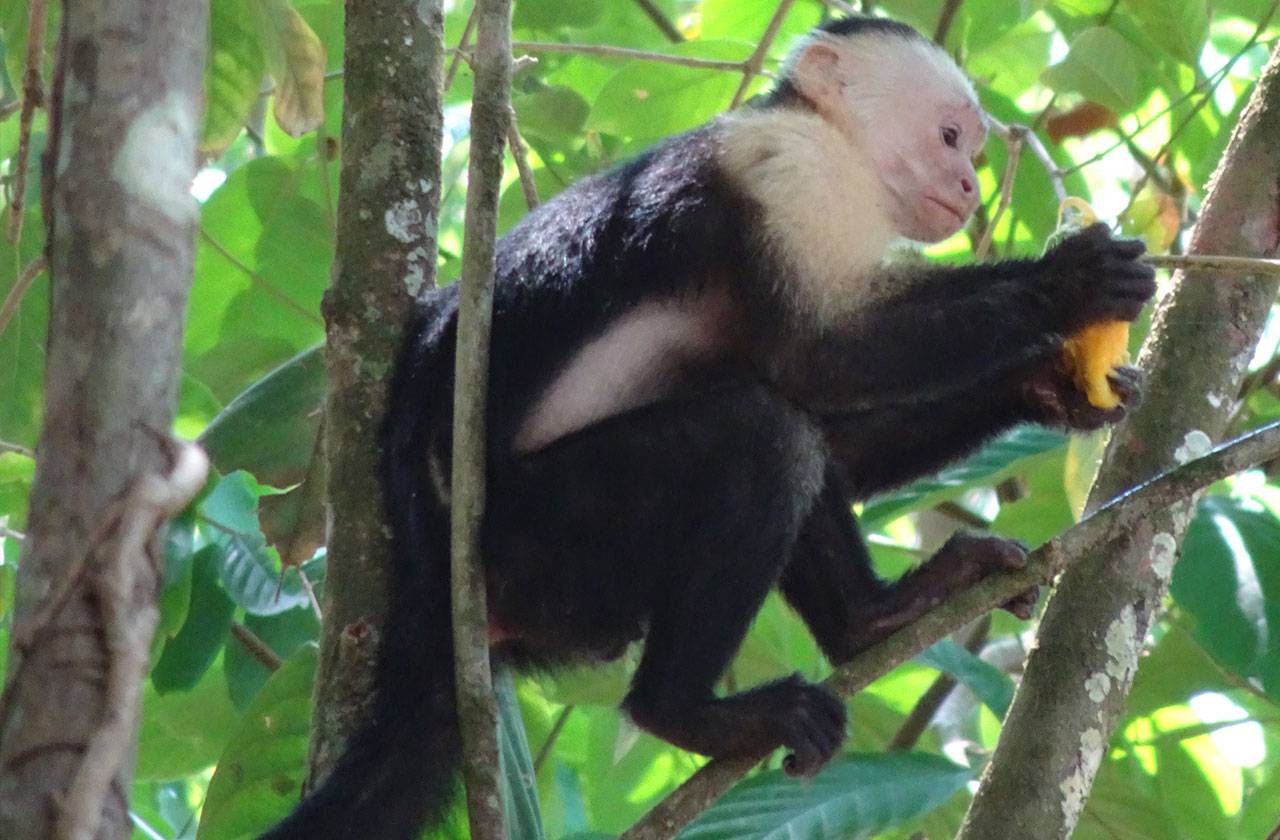 White-faced Capuchin Monkey
Nature has blessed Costa Rica with great biodiversity that you can explore enjoy during your trip with a little bit of patience and luck. Did you ever experience something like this? Please This email address is being protected from spambots. You need JavaScript enabled to view it. if you have questions or something nice to share about the animals in Costa Rica. 
Pura Vida from Nosara.