The top 5 EXTREME- adventure activities in Costa Rica (just for brave people)
If you are passionate about feeling the maximum adrenaline and feel really alive, you are continually looking for activities that give you exactly this feeling. Even though many different things take us to our limit, Costa Rica offers a list of activities that make you feel invincible while you experience extreme adventure.
No matter if you are an extreme tourist, a middle-range or you are just starting with this kind of experience, in this list, you will find options for everyone and you can decide which one will be your favourite one to try out on your next adventure.
1. Surfing in Tamarindo - Roca Bruja - Guanacaste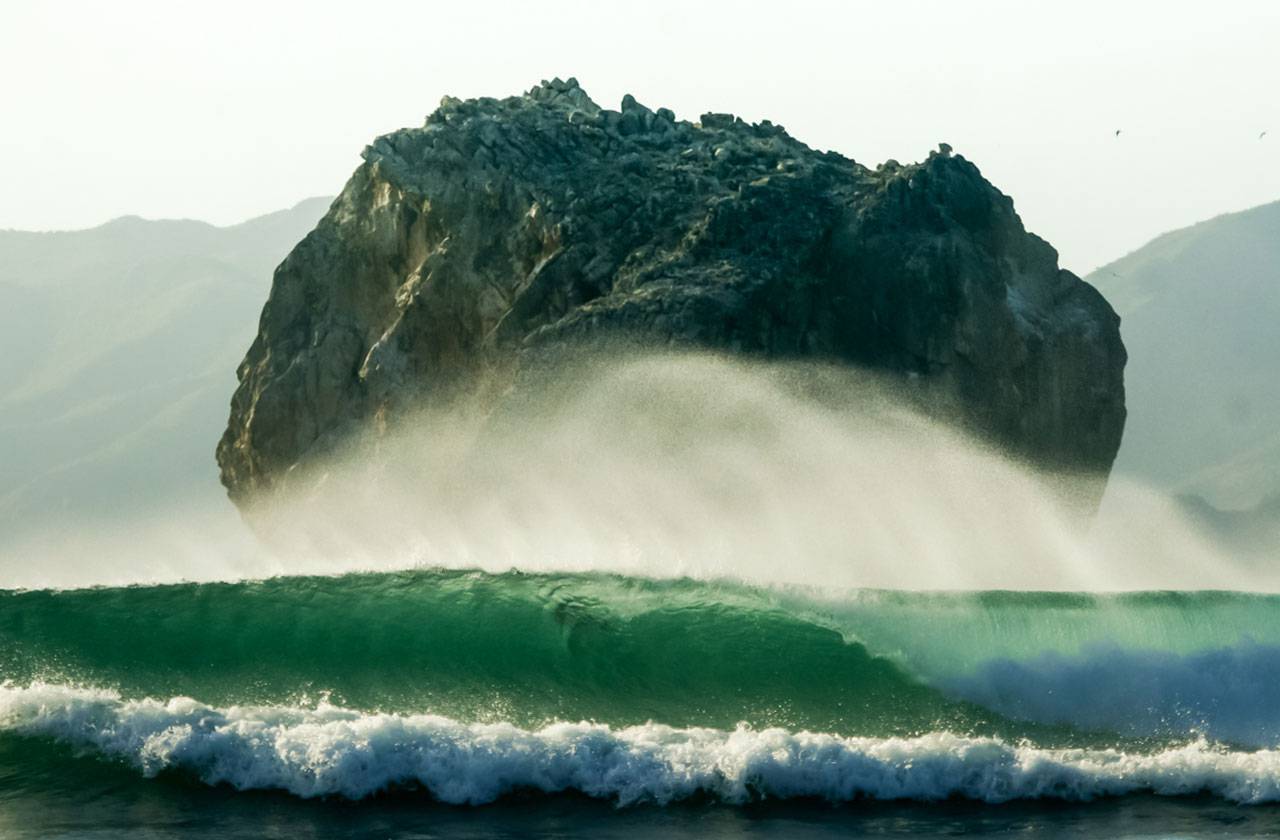 If you like surfing, the waves at Tamarindo beach are considered to be the best ones in Costa Rica to surf. It is one of the most crowded beaches in the country, since the access is really easy and just one hour away from the international airport Daniel Oduber in Liberia. 
The waves are all year long the same and such a long beach like this one is suitable for riding the waves. The waves here are perfect for beginners and experts. If you like to surf but you still don't know how to practice it, This email address is being protected from spambots. You need JavaScript enabled to view it. and we will help you to organise a surf lesson for you.
Just for experts:
Roca Bruja is a giant rock located at Naranjo beach in Guanacaste. The name comes from the spooky noise that the offshore wind produced, that blew through a hole in the rock that today is clogged by erosion.
This is a surf destination known for its tubular waves in the whole world. To begin, being located within a protected area, the only land access is through the Santa Rosa National Park, so during the rainy season (between May and November) it is practically impossible to reach the beach, the only way would be by boat over the sea. During the dry season (from December to April) you can only get inside with a double traction vehicle. 
The waves until 300 meters long and up to 4 meters high. The water temperature is around 17° C, so it is recommended to wear a neoprene or spring suit.
In the water, you can easily see sea turtles, manta rays, dolphins and sharks. On the other side, don´t forget to bring enough food and drinks, because the next town due to the bad street conditions is several hours away. I also recommend you bring a first-aid kit, just in case.
If you want to do this activity, you should do this by yourself. In the Santa Rosa National Park, it is possible to camp but you need to rent a 4x4 vehicle to get there or walk a very long way. If you want to reserve a car with us, just write to us at This email address is being protected from spambots. You need JavaScript enabled to view it.
2. Canyoning in La Fortuna - Arenal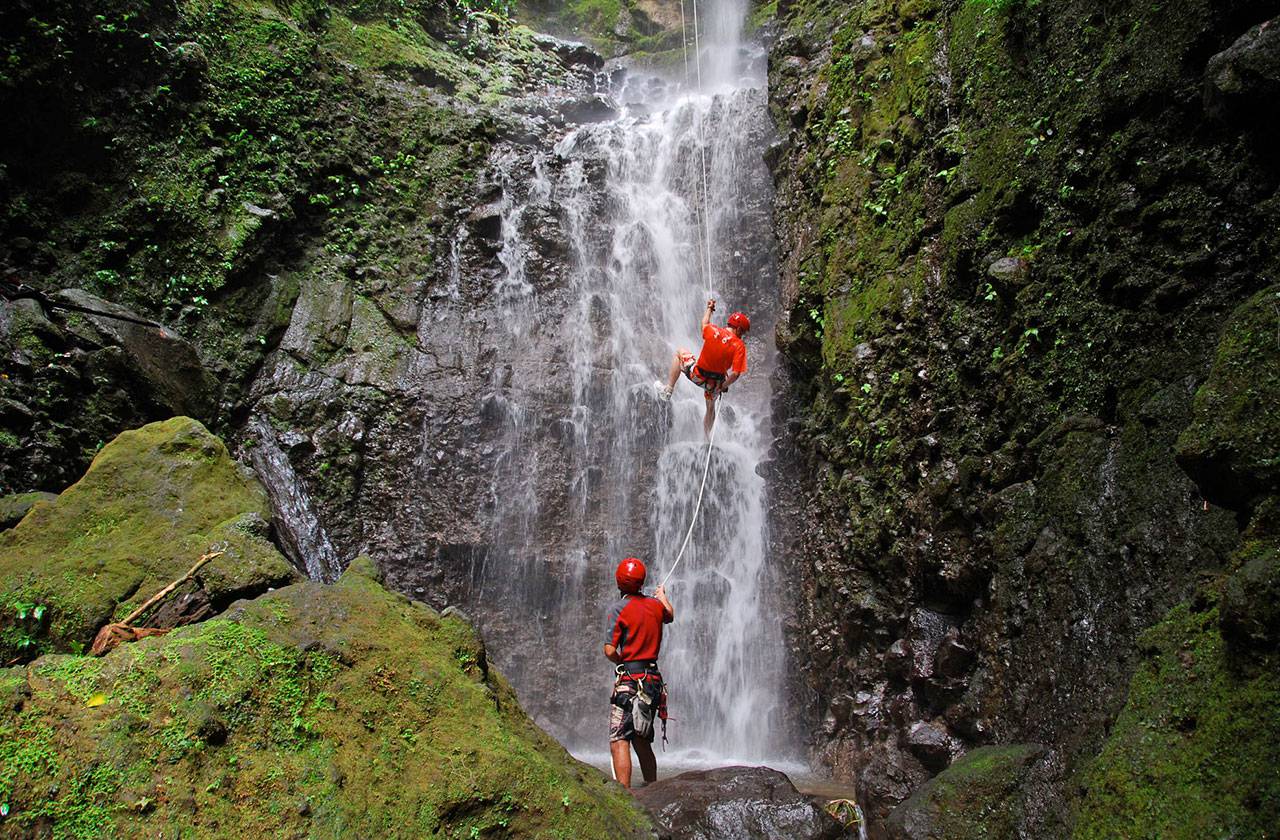 Even though this is not one of the most popular activities, climbing down waterfalls in the middle of the jungle is an extreme activity that you can enjoy in Costa Rica and even though the security that the tour operators provide is really high, this is just something for brave people. Just imagine, those waterfalls can be higher than 50 meters, you descend slippery rocks and the waters splashes in your face, while you climb down the mountain hanging on just one rope. Doesn't it sound interesting? If you like this type of experience, this is definitively something you need to try out at least once in your life. 
You can reserve this experience by writing to us at This email address is being protected from spambots. You need JavaScript enabled to view it.!
3. Sky Trek in La Fortuna - Arenal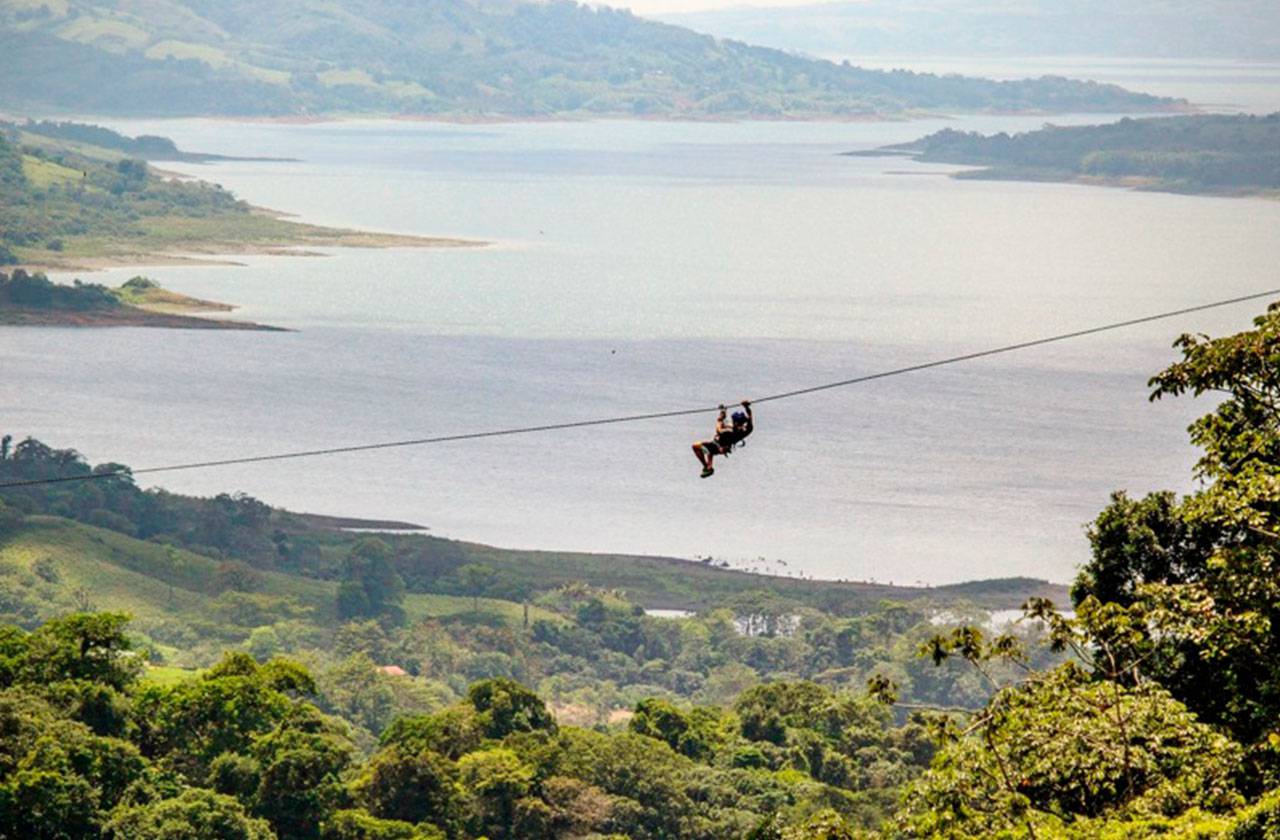 The Sky Trek is the perfect combination of nature, taking a gondola and ziplining. The cables go from mountain to mountain, being incredibly long and high and cross canons, forests and even clouds. This is an adventure that will leave you shaking for a while when you feel the altitude you could have never imagined.
The best thing is that you can admire the lake and the Arenal Volcano from a unique perspective, being very safe and without having to walk. If you get to one platform you can immediately take the next cable. 
Are you curious about this adventure? You can reserve this experience just by This email address is being protected from spambots. You need JavaScript enabled to view it.!
4. Flying like Superman - Monteverde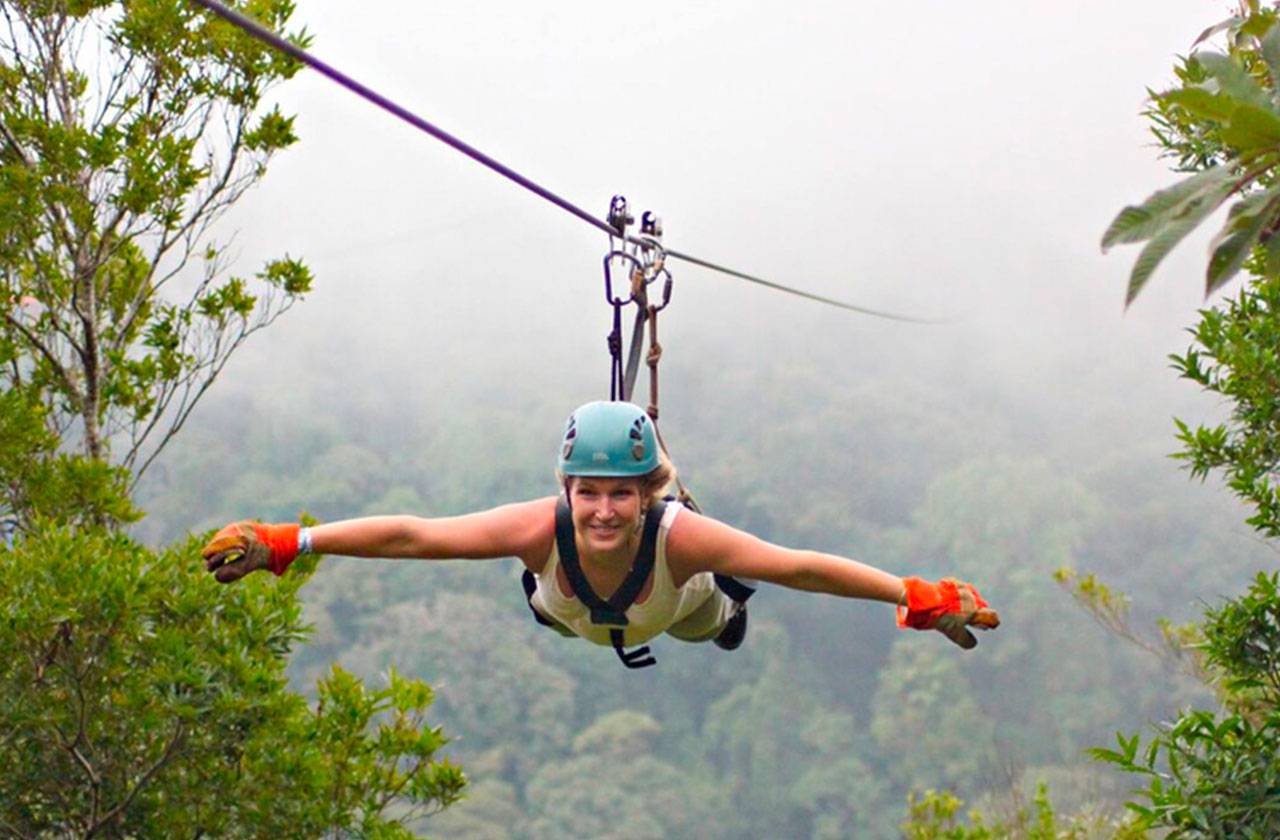 Ziplining goes to the next level when you do it in the "superman position", because like this the speed is faster while you fly with all excitement through the treetops of the cloud forest in Monteverde. Furthermore, there is the longest and most extreme cable in whole Latin America, with a total distance of 1´590 meters (5216 ft).
At this adventure, you will be hanging at your back while you fly through the forest. Like this, you make the dream of every boy come true and fly like a superhero until you forget that you are actually attached to the safety cables.
To do this activity I recommend you use closed shoes. People between 5 and 65 years can do this, having a maximum weight of 108 kilos (240 Libras) and those who like to experience the maximum adventure. Just This email address is being protected from spambots. You need JavaScript enabled to view it.!
5. Rafting Class V (extreme) - Pacuare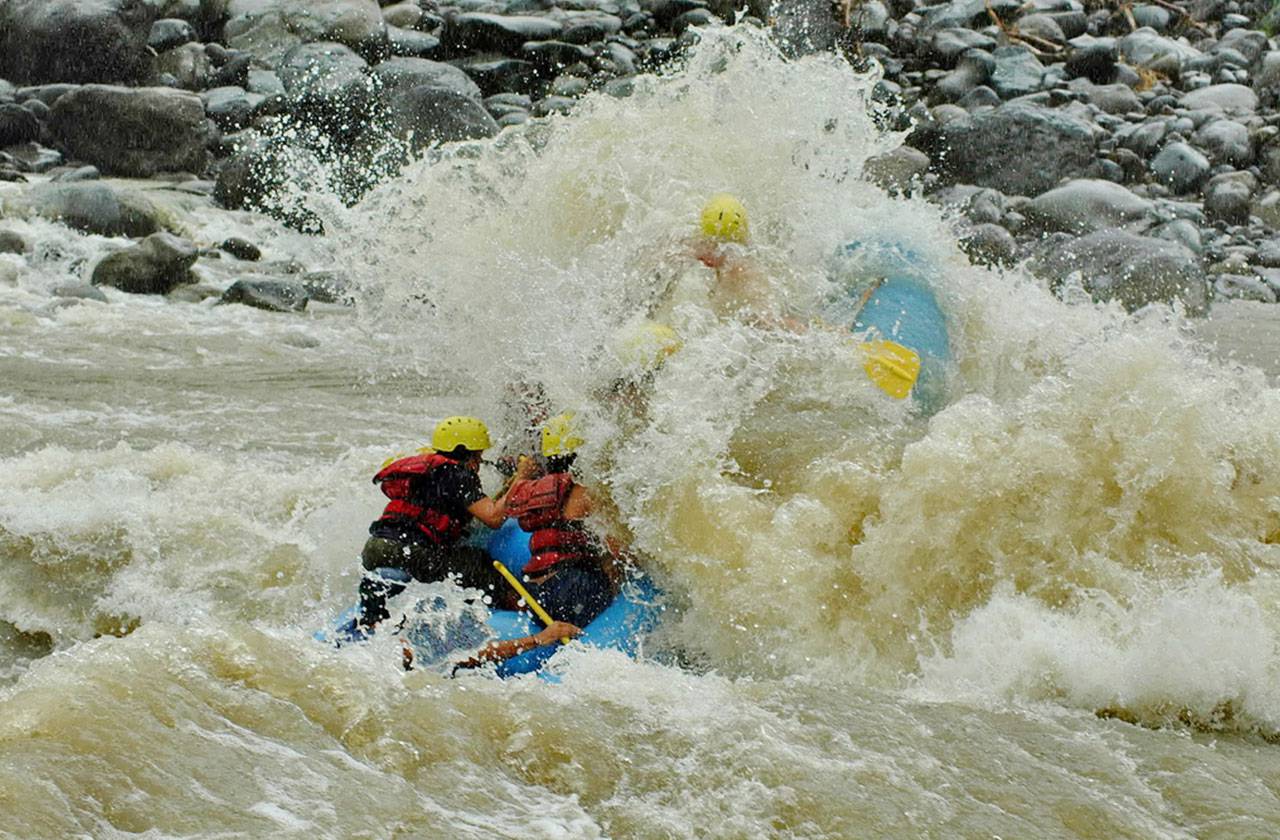 The Pacuare River is on the list of the 10 best rivers in the world to do rafting (place 6) with the categories lll to lV, which makes it simply impossible to not include it on my list of the most exciting extreme adventure activities in the country.
The most interesting thing about this river is that the part of the rafting is up to 30 km long. It starts at 1´500 m and goes to 350 meters above sea level. In the rainy season, it can overcome category V, which is really extreme, and sometimes they even have to stop this sport for a time.
It is important to know that the only way to do this tour is, for safety reasons, accompanied by a guide. The tours always include a snack, transportation, life jackets, a bottle of water and a dose of endless adventure.
You can reserve this experience This email address is being protected from spambots. You need JavaScript enabled to view it.
It is important to remember that, since these are extreme activities, safety is very important, so you have to make sure that the providers are legal companies, which have insurances and a safety protocol according to the activity. To help you with this, we can help you with the reservation and organization of your trip as we are a legally constituted company by the Costa Rica Tourism Board ICT, also, we work with providers who are legally constituted and specialists in this type of activities.
I hope this list of adventures will be an inspiration for you, so when you get to Costa Rica you can get a long extreme adventure and enjoy it to the fullest.
If you have something to add or if you have a question, don't hesitate to write it in the comments down below. If you want to reserve one of the excursions or if you wish us to organize your trip with different adventure excursions, write to us at This email address is being protected from spambots. You need JavaScript enabled to view it..
Greetings and Pura Vida!
The top 5 EXTREME- adventure activities in Costa Rica (just for brave people)
Recommended Blogs