Costa Rican Food: Top 5 dishes you must try!
When travelling to Costa Rica, the first thing that comes to our mind is a country with paradisiacal landscapes, lots of green nature with beautiful trails, incredible colourful birds, hidden waterfalls, epic rivers with lush tones and wonderful and exotic coasts, but we do not think so much about Costa Rican gastronomy and there is a variety of dishes you must try!
What do Costa Ricans eat during the year?
Costa Rican dishes are based mainly on four pillars which are cereals, legumes, animal protein, and flours. To be more clear the "Ticos", as they are popularly called, eat rice, beans, red meats, bread or similar.
What dishes can I find across the country?
The fact of being a small country makes that its cuisine can be replicated in every corner, creating almost a single or similar menu in most of these places where you can buy a delicious dish, perhaps in a rural "soda" (a Costa Rican expression for a typical and small restaurant), a bar from the beach or an exclusive restaurant in the capital.
In almost all these places you can eat:
#1 - Gallo Pinto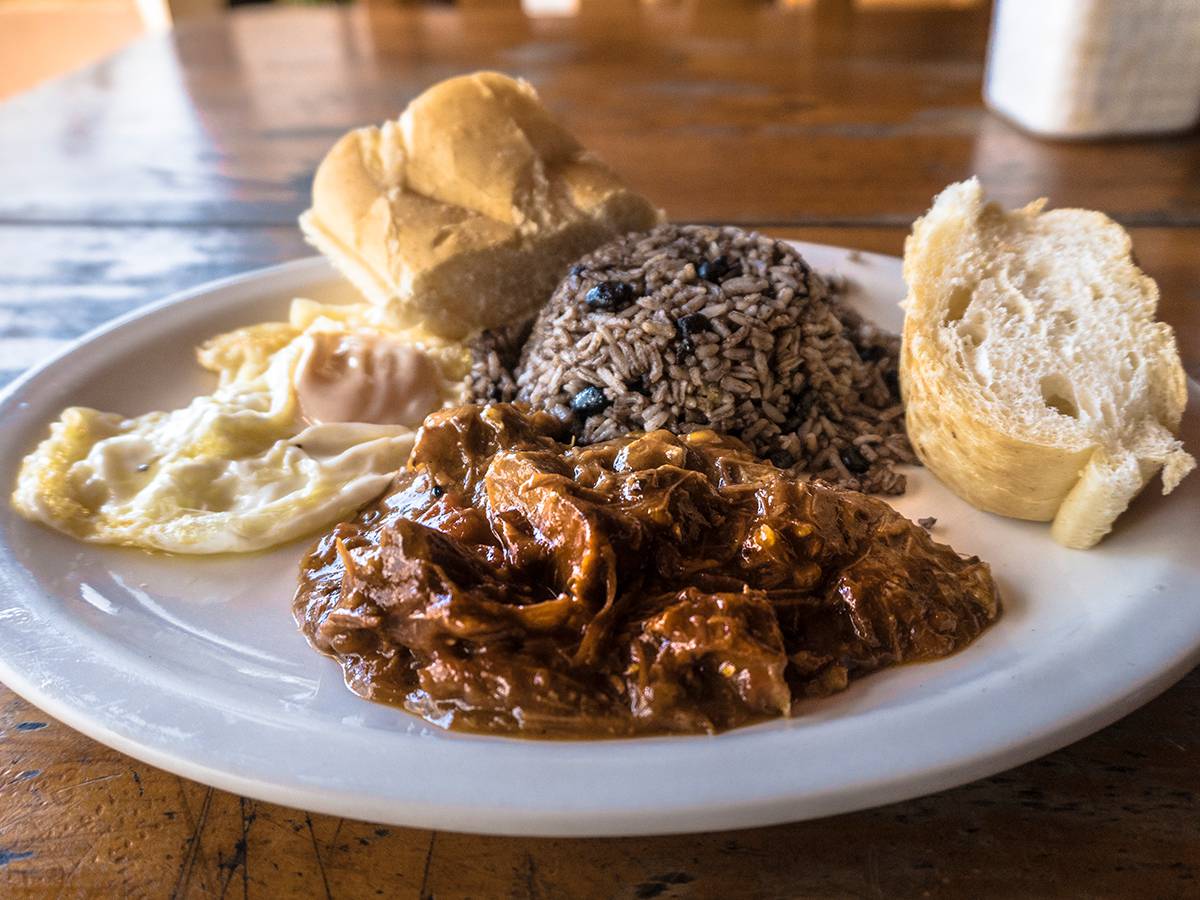 The "gallo pinto" is usually served in the morning and is basically made of rice with black or red beans, which were mixed during its cooking along with finely chopped and sautéed smells. The "gallo pinto" can also be found accompanied by meat with tomato sauce, ripe plantain and bread or webbed tortillas.
#2 - Casados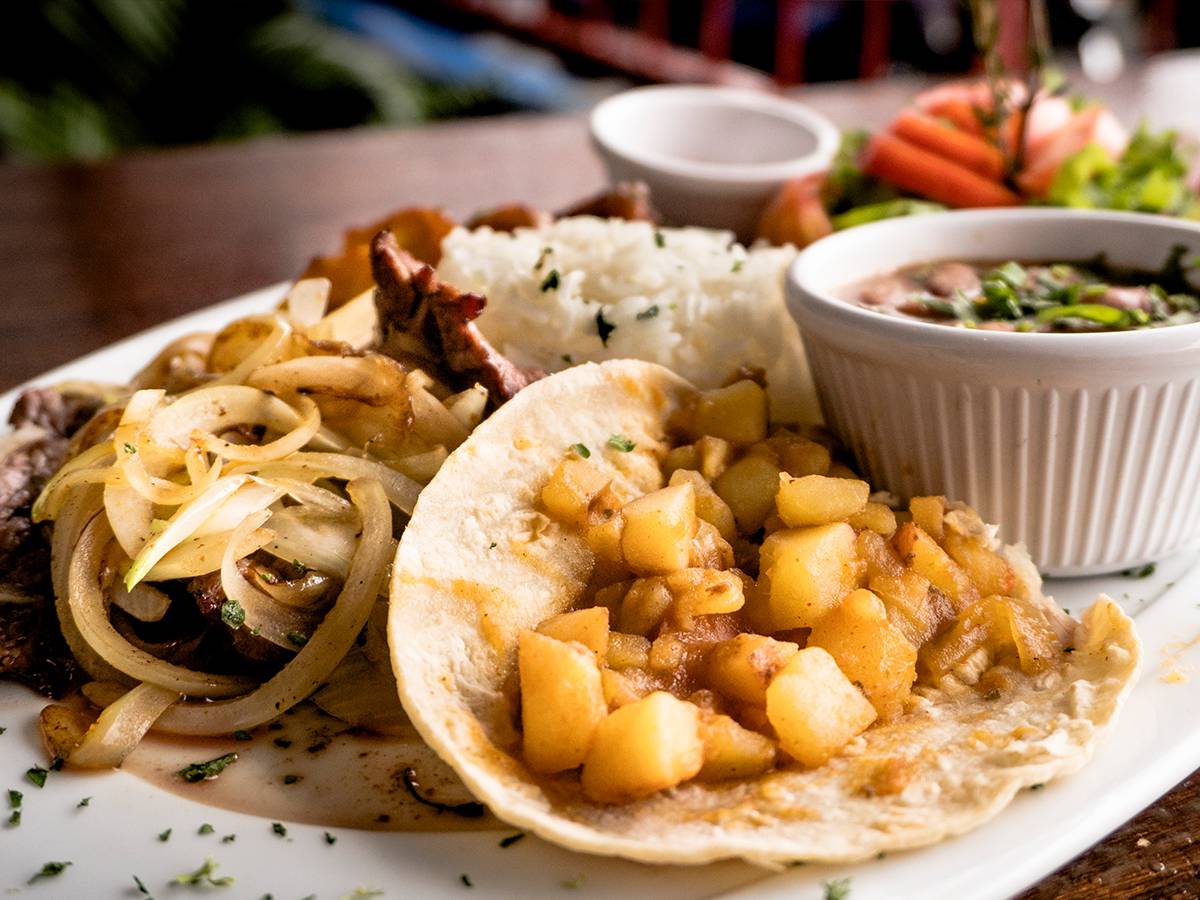 This dish is the most popular in the whole country. Normally it is served at lunchtime and has the following accompaniments: White rice, black or red beans with broth, a portion of meat to choose: can be fish, steak with or without onion, chicken and, as an additional option, you can substitute the fish or the steak for a tasty well-cooked pork chop. But that's not all, because it's also accompanied by a traditional "picadillo de chayote" or potato, along with some delicious ripe plantains in syrup and green salad with dressing.
Tip:
"In some restaurants, the "casado" includes a natural drink, for which I recommend consulting the waiter in advance". 
#3 - Arroz con pollo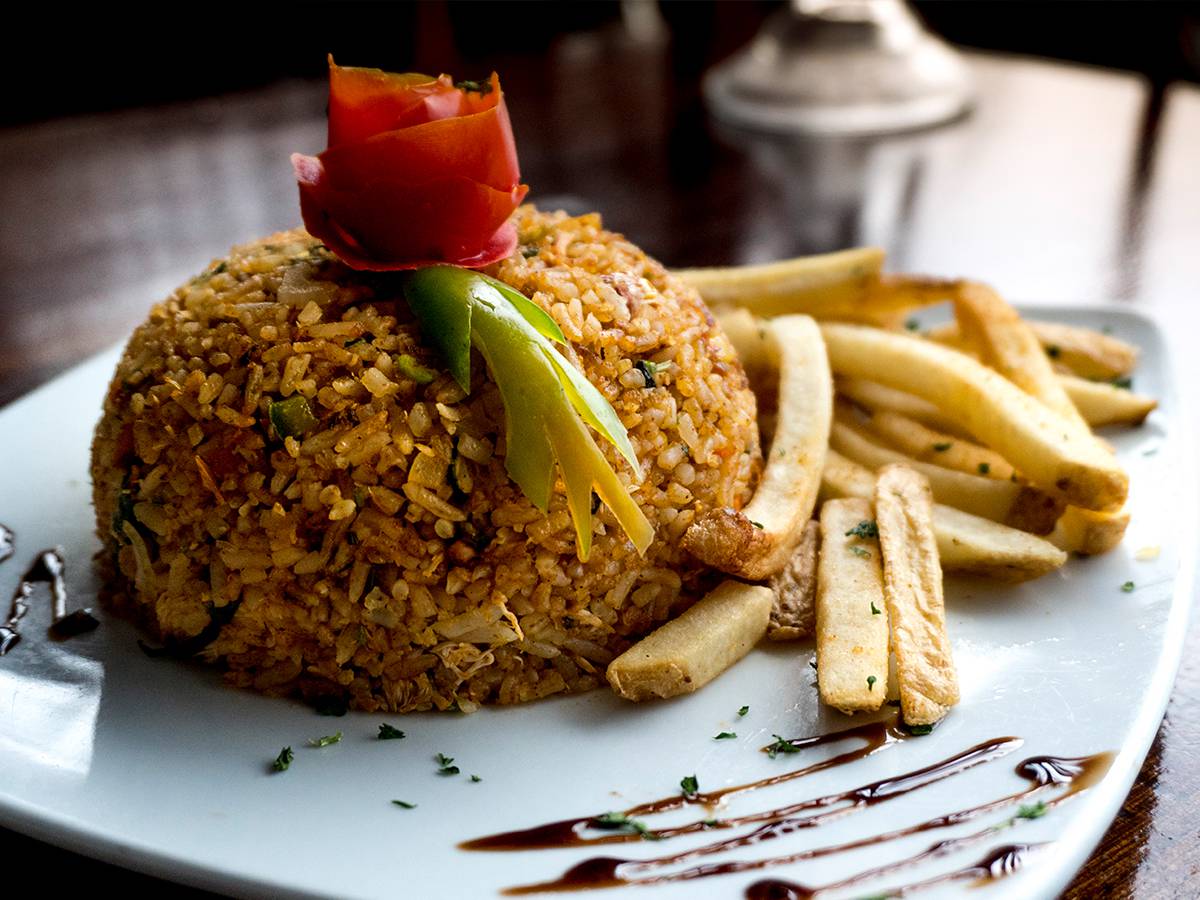 In Costa Rica we call it "arroz con siempre", it's just a phrase, since it is almost a "sacred" tradition in every house in the country, to make this dish when there is a good reason for a celebration like a birthday, a graduation or any party in which you have a large number of guests because it is a simple dish and yields a lot.

This dish has a varied mixture of finely cut vegetables along with a large amount of white rice and "achiote" to give colour and aroma. But let's not forget the main actor, the shredded chicken, which was previously cooked in water along with onions and other natural species that gave it an exquisite flavour. The rice with chicken is served with 2 accompaniments that can vary between ground beans, cabbage salad with carrot, Russian salad (Purple beet with hard-boiled egg), potato chips or ripe bananas.
#4 - Chifrijo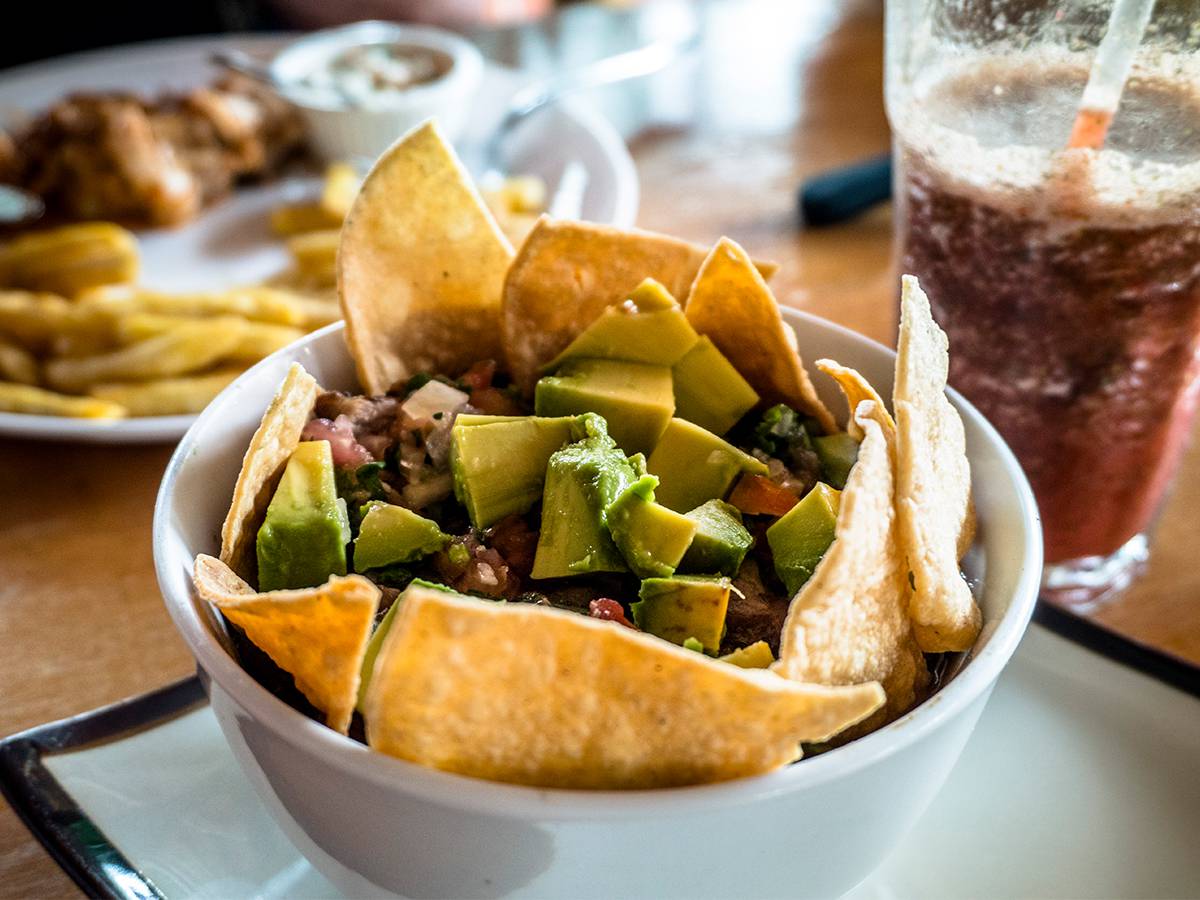 This name comes from abbreviating, in some way, the words "chicharrón" and "frijoles" creating one of the most popular contemporary dishes of the Costa Rican territory.

This dish has different versions that give different "personalities" depending on the bar or restaurant you are visiting. Normally the "Bocas", as the Ticos named the bar dishes, are served in a medium-sized deep dish, however, there are very creative places where they serve it in a fried flour tortilla that simulates being a deep dish and turn this simple dish into an explosion of crispy flavours, which will undoubtedly make you salivate.

Now let's talk about the ingredients: this dish is served with a base of tasty beans called "cubaces" brown or red with a lot of broth, white rice, pork rind freshly cooked, pico de gallo (tomato chopped with smells, lemon, and salt), slices of avocado and is decorated with tortillas on one side or around the plate. Without a doubt, when I finish writing this post, I will go for a chifrijo and a beer!
#5 - Rice & beans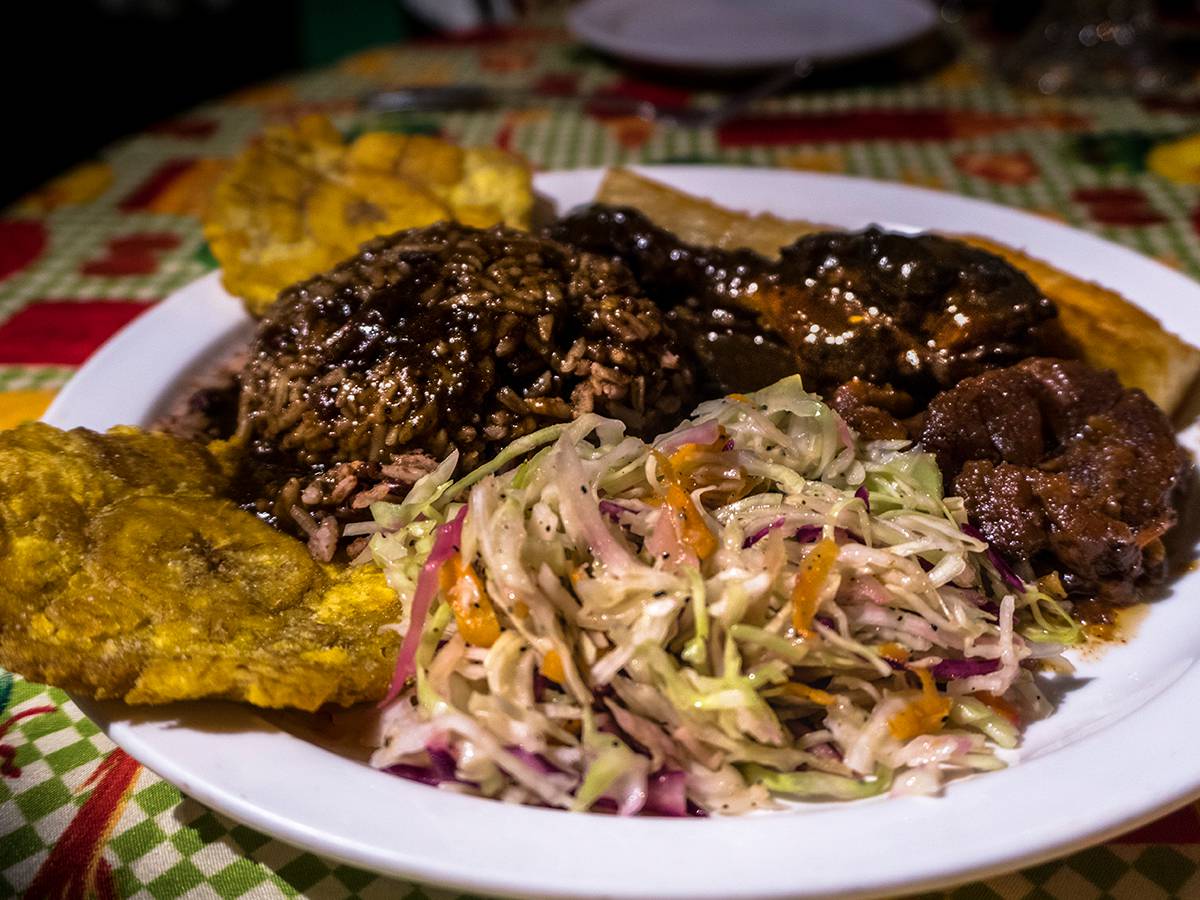 If the Caribbean coast is part of your destination,  undoubtedly you have to try the famous and acclaimed "Rice & Beans". This is an afro-Caribbean dish, which contains a tradition of decades on the Caribbean coast of Costa Rica, which turns the common ingredients of the area into an experience of indescribable flavours and sensations.

This dish is quite elaborate in its simplicity, the "rice & beans" mix the beans with coconut milk, white rice and cooked with some "habanero chiles", besides it could be accompanied by a tasty portion of chicken that was also cooked in coconut milk, patacones (ripe plantain) and green salad.

Tip:
"This dish is also accompanied by a drink called "agua de sapo", which is a soft mixture of sweet cap with ginger and lemon. Normally it comes included in the price, but if it is not the case, it would be a drink that goes with this dish very well, so I recommend it 100% ". 
Conclusion
Costa Rica, besides being a country with many paradisiacal landscapes, also has a wide culinary culture based on the pillars that I mentioned earlier and without a doubt, this top 5 list does not honour all the tico dishes but can give you an idea to discover the endless flavours that the Costa Rican culture captures.
If I didn´t mention any of the dishes you like the most in this top 5, I would like to know what is it? Tell me in the comments, where did you try it? And what did you like most about that dish?
Costa Rican Food: Top 5 dishes you must try!
Recommended Blogs