Sierpe, The Three-headed Snake
Preserving magic in the wetlands of Sierpe. A hypnotic attraction drawn by a weird first encounter left me wanting more. My curiosity about this ghost-like town was aroused.
Gateway Town
Sierpe, "the pearl of the south" is the gateway to the marvelous Osa Peninsula in Costa Rica. While the main attraction in Osa is the Corcovado National Park, known for its virgin green beauty, there are many other villages and towns that are worth visiting for their charismatic inhabitants, which mostly keep their original roots intact to the classical Costa Rican culture and traditions.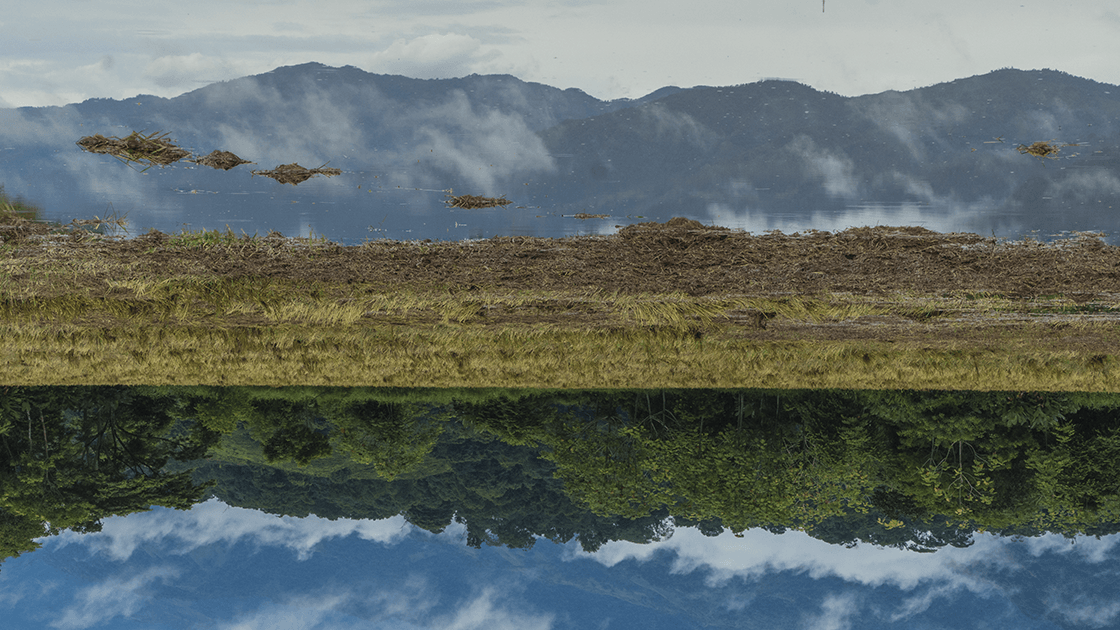 Like many small towns around the World, the town of Sierpe has a dark past, one which has built a mysterious air, breathable since you enter its main road, filled with labyrinths of palm trees on both sides of the now renewed thruway. Getting to Sierpe takes a few long hours of driving, but believe me, it's a road trip filled with spectacular landscapes and small "sodas" (small typical restaurants) that serve many lost Costa Rican culinary recipes and ingredients. One of my favourites: cashew juice, a forgotten sandy taste I long remember from when I was a kid.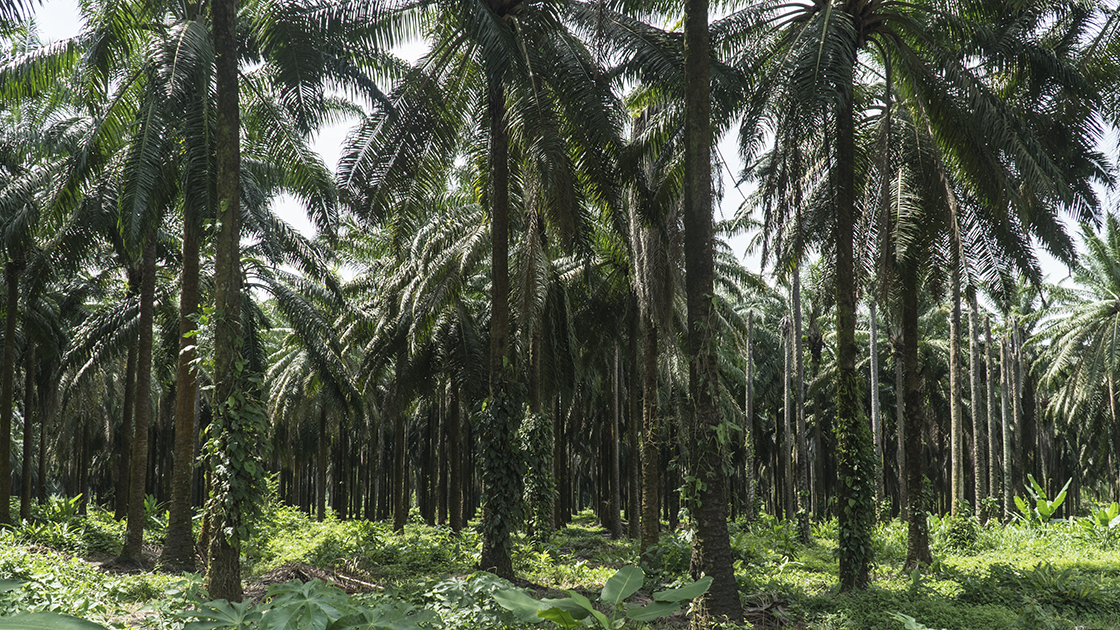 My first encounter with Sierpe was a weird one. Like many visitors, I was just passing by and using it as a hub to another destination, so I wasn't really aware of its secret beauty. I got there late at night and I found a small hotel by the Sierpe River where I´d spend the night and continue my trip the next morning.
I woke up early, packed my stuff inside my car which was parked outside the hotel, drove a couple of streets, and took a "lanchón" (a very small ferry) to cross the river to a road that would take me to the very south of the Peninsula; though I wasn't aware that I needed a four-wheel drive to get through that dirt road, so I had to go back to Sierpe. It was already past mid-day so I decided to grab some lunch and as soon as I got out of the car a "Güachiman" (Guys who watch your car on the street for some spare change) told me:
"Oh man, you're under a love spell!"
I didn't get what he was saying, so I asked him what it was and he replied;
"Yeah man, you are under a love spell, look at your car's exhaust pipe, it's filled with hair! That means someone has you under a love spell"
I thought he was making fun of me, but I checked and it was filled with synthetic blonde hair! I tried to pull it out just to find out, it was meters and meters long. I asked for a garbage bag at the restaurant and I actually filled two large garbage bags with the hair I pulled out. I couldn't believe it. I was feeling a bit nervous about staying any longer in Sierpe, so I had lunch and continued my trip through another way out of town.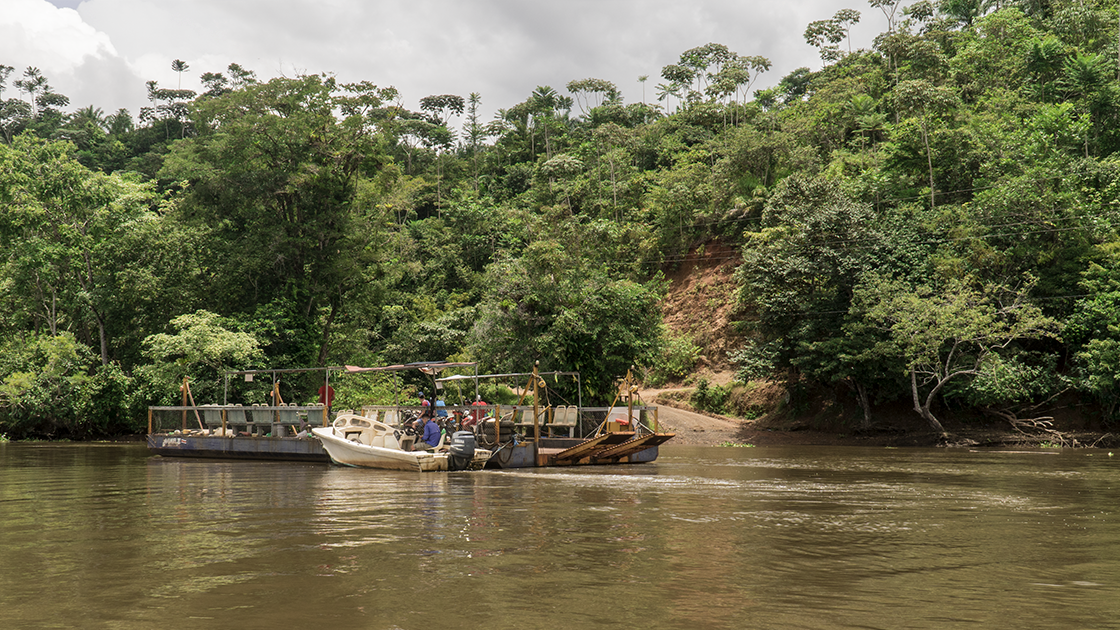 Love spells and ghost town feeling
Years later, my curiosity about Sierpe was aroused and I decided to take another trip to finally learn what had happened that day with the "hairy love spell".
The history of Sierpe is visually explained through its only road, which holds architectural treasures from early Costa Rica. Small colourful houses around football fields take you back in time to the occupation by the banana companies. The houses aren't painted colourful because of their cheerful look; instead, they each had different colours to label the families living inside and these colours dictated their job hierarchy inside the banana plantations.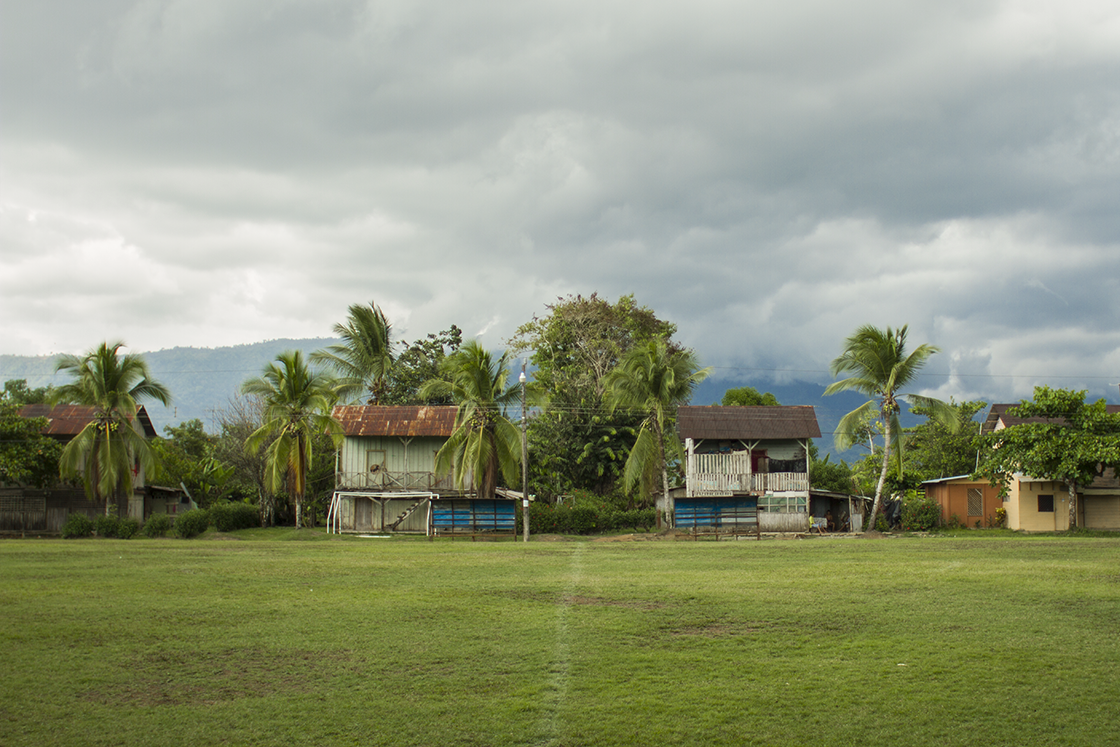 The same night sky enlightened by millions of stars when there was no electricity, was shared with indigenous communities a long time before the banana companies pushed them out of the lands they had protected for so many years; leaving behind sacred looted indigenous cemeteries and giant stone spheres, which are believed are part of a huge land astronomical map of the cosmos; most of them were relocated into private homes for decoration.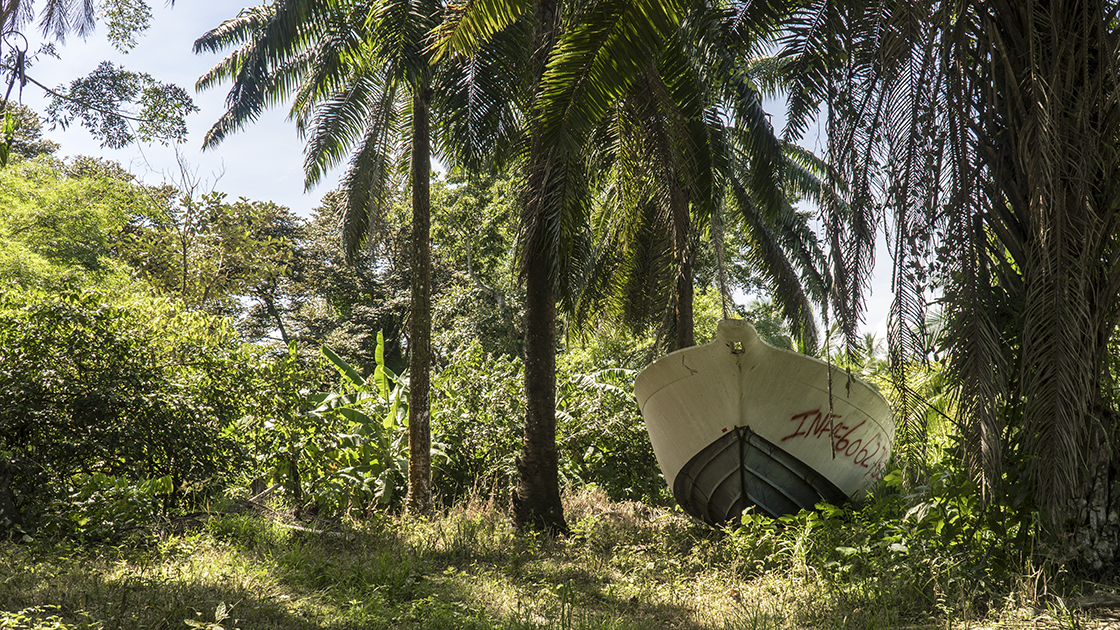 Sierpe feels like an inhabited ghost town, you never really see people on the few streets of the small town, but if you stop by really early in the morning or in the evening, you'll get a busy sight of tourists from all over the world waiting for Boat-Taxis at the main dock, from where they will be transported to different other small towns around the south Pacific coast. After they're gone, the various myths and speculations of how Sierpe was founded continue to roam the empty streets.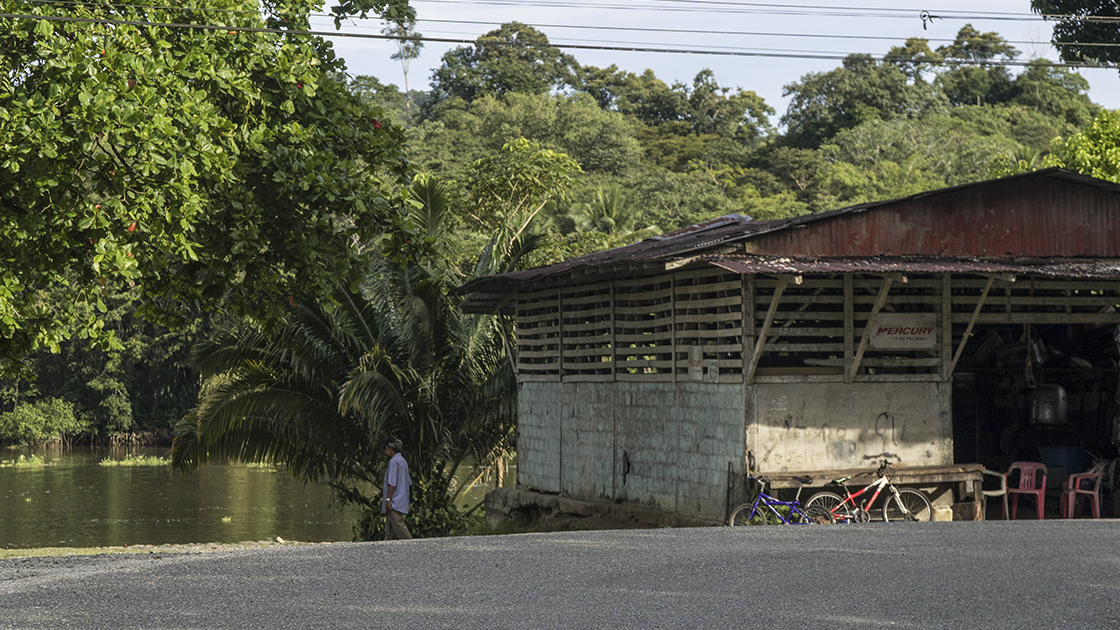 On my arrival, I decided to book some tours and get a closer look at what Sierpe had to offer. There's a lot to do and many tours to choose from, but the problem I noticed was that most of them are out of Sierpe, meaning that many tourists never stay more than one night and because of this, there is no "need" for improving the infrastructure or having more entertainment for visitors besides the one bar and two restaurants the town has. For me, this is perfect! The development will kill the authenticity of the village, transforming it into a "theme park" experience that is not real.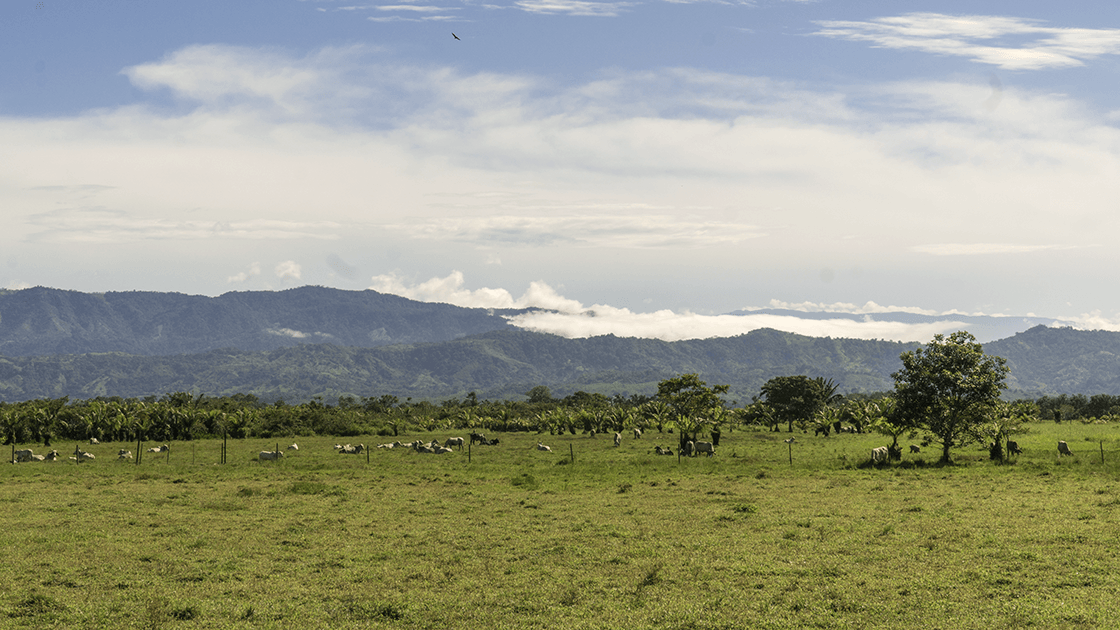 Three-Headed Snake
I set sail from the river dock, gliding smoothly at full throttle through the meandering Three-Headed Snake; this is how some locals call "Sierpe River" and that's the name the indigenous communities had for it. "Three-headed", because it has three main river mouths and that's where I was heading to, open waters.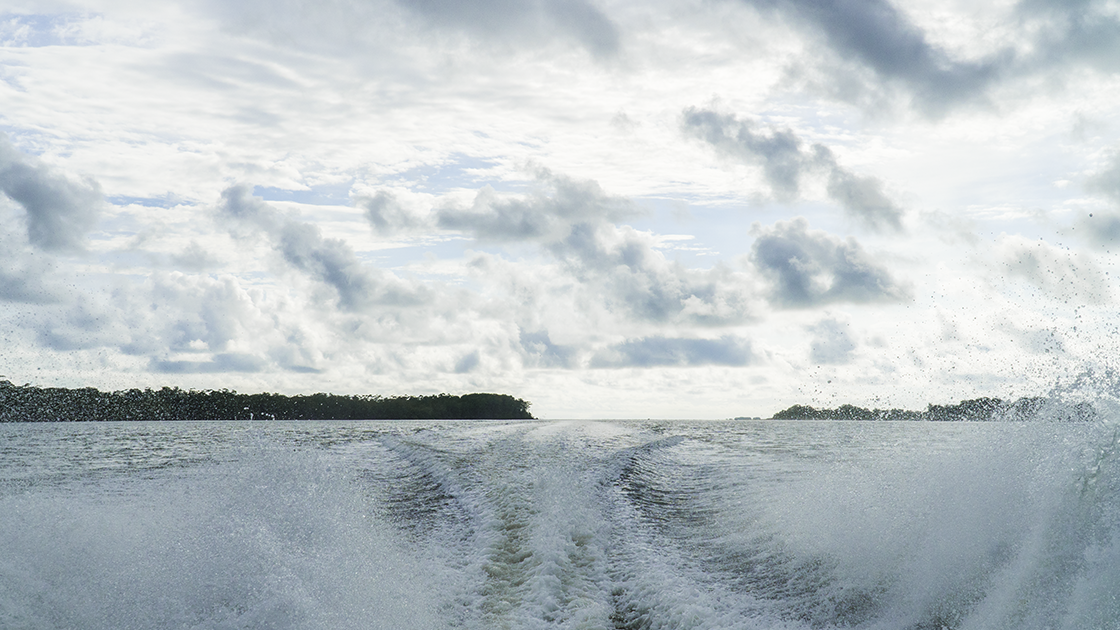 The majestic, different shades of green on the wetlands and the tall mangrove trees along the river create a hypnotic attraction where at points the horizon is lost by the sky's reflection on the river. Colourful birds from different species aid engineer this huge ecosystem, but sadly there is an invasion going on; our own human ecosystem is slowly killing this natural environment. Rice, banana, and palm plantations are a huge problem, as they are fumigated by air, poisoning not only the air Sierpe breathes but also when there are floods, all the chemicals end up in the river, killing many of the species, mainly fish. Pineapple is one of the worst and most polluting, luckily the town managed to rise up against this industry and, for now, they are safe from having this "pest". But one of the most silent aggressors is another of their strong pillars on their economy, boats, and tourism. The constant waves the boats create are sweeping away the banks of the river, pushing them away, each time further and further from each other. The Captain of the boat told me he remembered when he was a kid, sailing without an engine and he clearly recalls that the width of the river was so small that some of the treetops touched each other from bank to bank.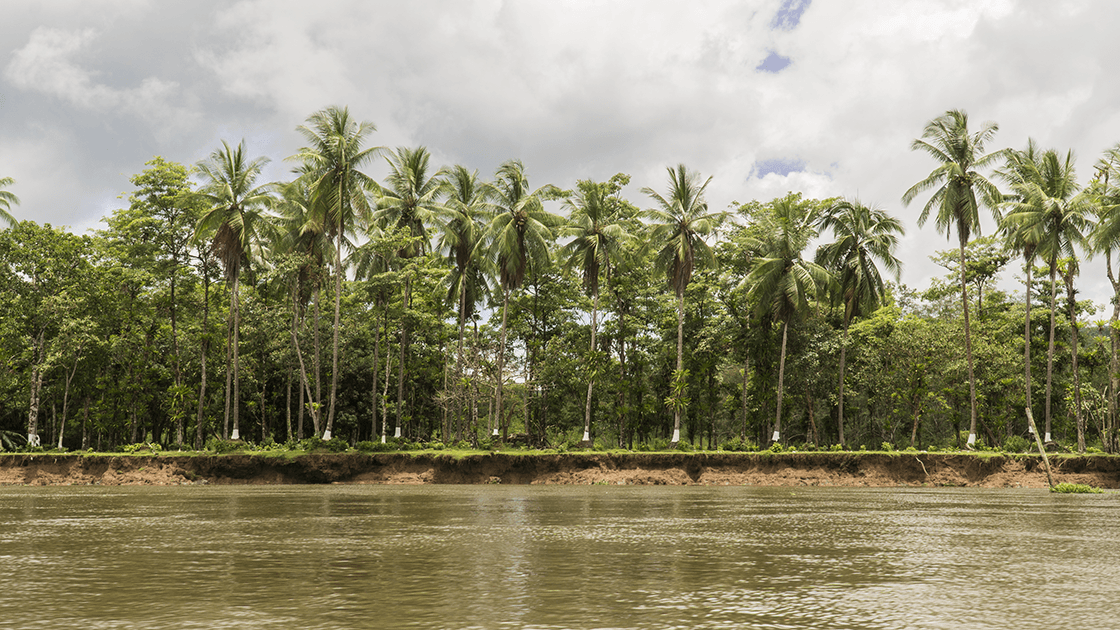 As sad and ironic as it may sound, their only income is killing the land from where they profit, but isn't that the same problem all over the world?
There should always be hope! It's surprisingly amazing how clever nature is and how it tries to protect itself from all these harms. All along the river, there are some plants called "Jacintas" an aquatic species that "cleans" the water from chemicals and unwanted nutrients; beneath them, a small food buffet is born for smaller fish and shrimps that bring back to life part of the damage.
The Jacintas die as they become closer to the salty waters where the mouth of the River meets the ocean, but a whole new ecosystem is out there. After crossing the heavy swell of the Ocean and long minutes of dizziness the Captain stops...
Look!! Over there...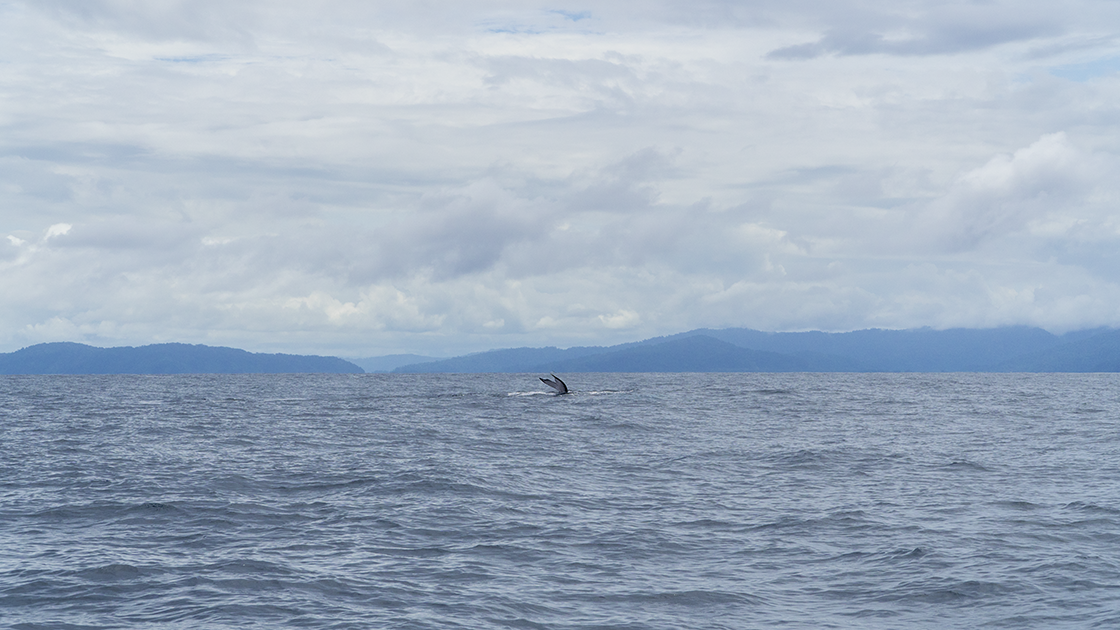 I slowly stood up trying to focus on my eyes at the bright exterior. A Humpback female whale and its newborn; swimming, teaching its calf how to breathe over the surface, what a sight! Especially after being taught that the mothers come all the way from the south of Argentina to give birth in our warm waters and feed their babies until they become fat enough to endure the cold waters of their original habitat.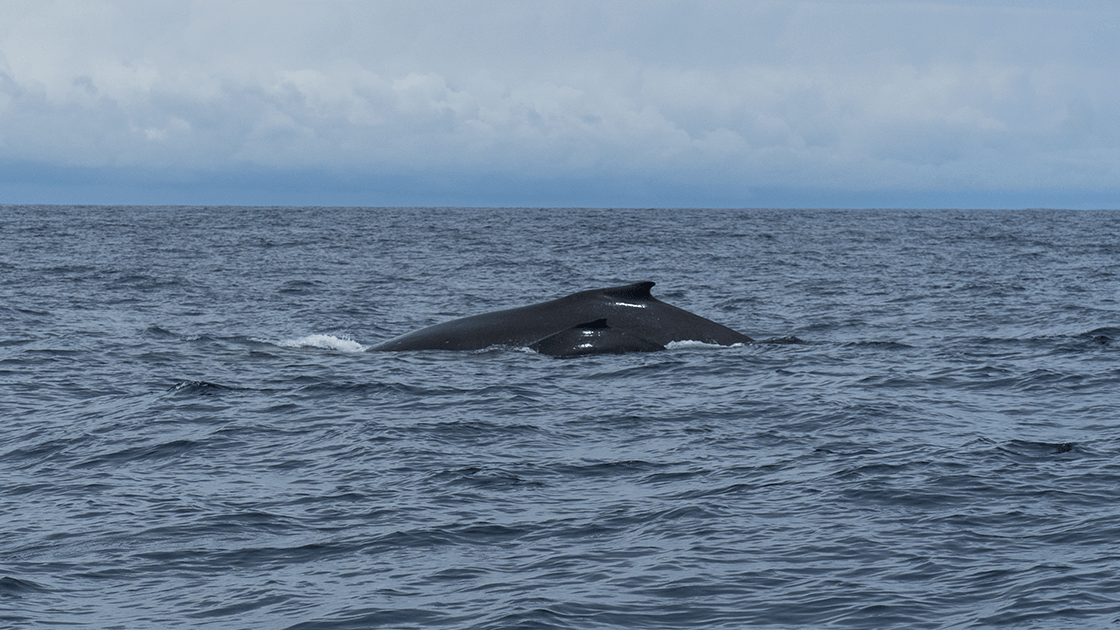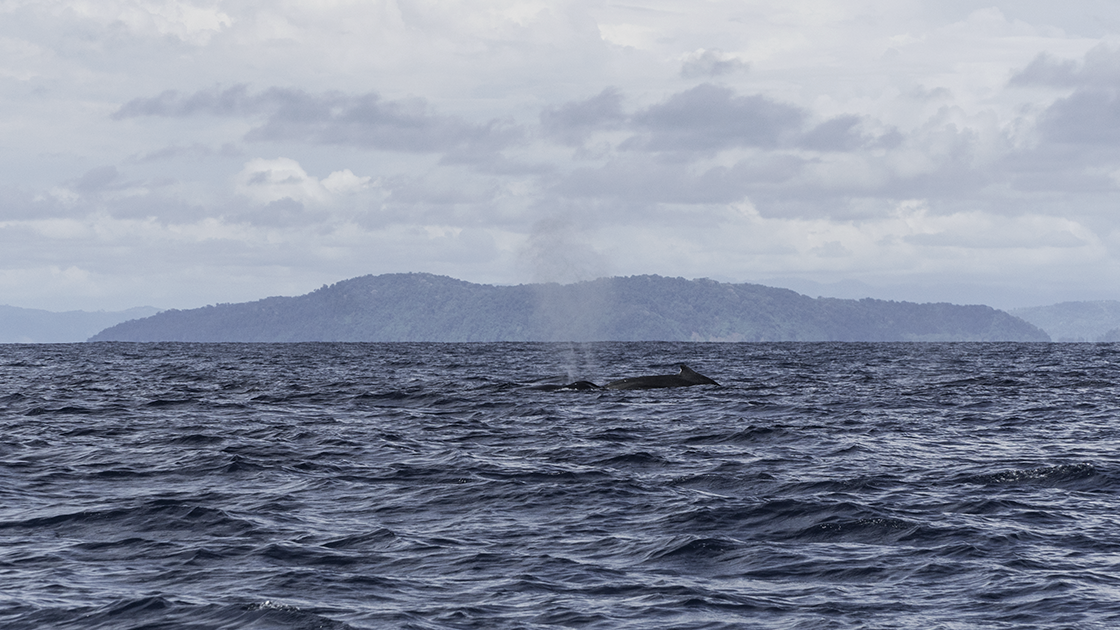 We continued our quest further into open waters until we arrived at "Caño Island". This beautiful secluded land is surrounded by white sand beaches and strange rocky formations that used to protect an ancient burial ground for high-ranked indigenous shamans. The hill that goes up this cemetery is off-limits and guarded by Park Rangers, as years ago it was ravaged by "Huaqueros" who plundered the graveyard looking for gold and other archaeological valuable artifacts. I tried to sneak in, but on my way up, hiking a rocky hill that leads to the place, I found myself enclosed by a couple of snakes on different occasions. The ranger saw me and kindly warned me that I shouldn't walk alone on the Island, as there might be some dangers up the hill, especially snakes; even though they are not poisonous, they can do some serious harm. So I decided to stay safe and walked around the soft sand beach where the natural architecture seemed still untouched by man. I found some hidden spots with an array of textures and colours that left me astonished by its impossible structures, all created by different organisms living here. The heat was wearing me out, so I decided to lie down and enjoy the cold sand beneath some palm trees.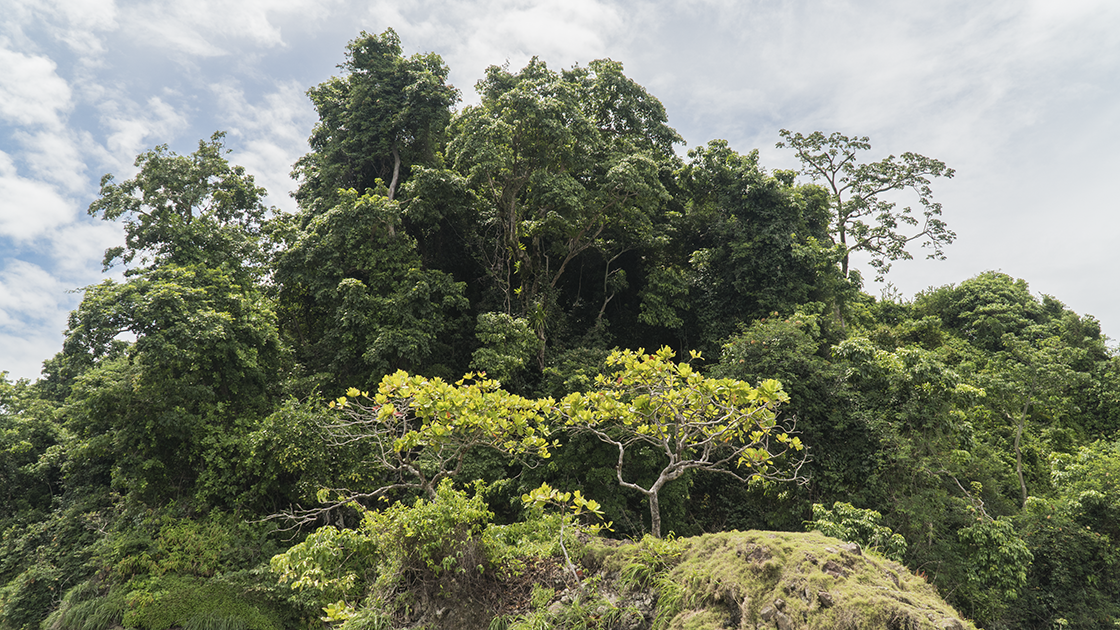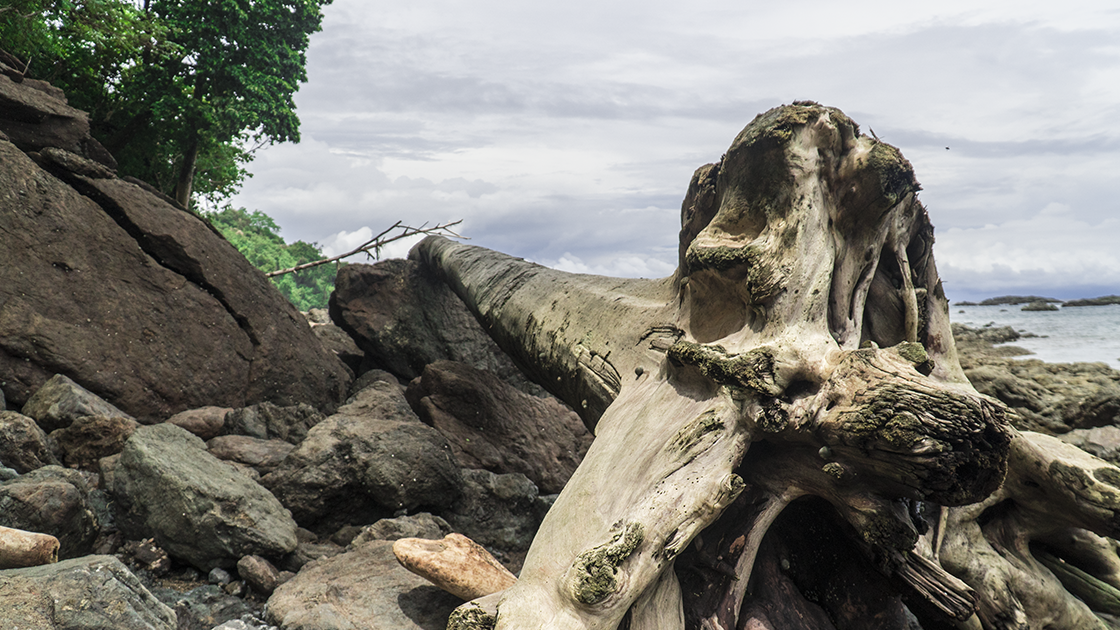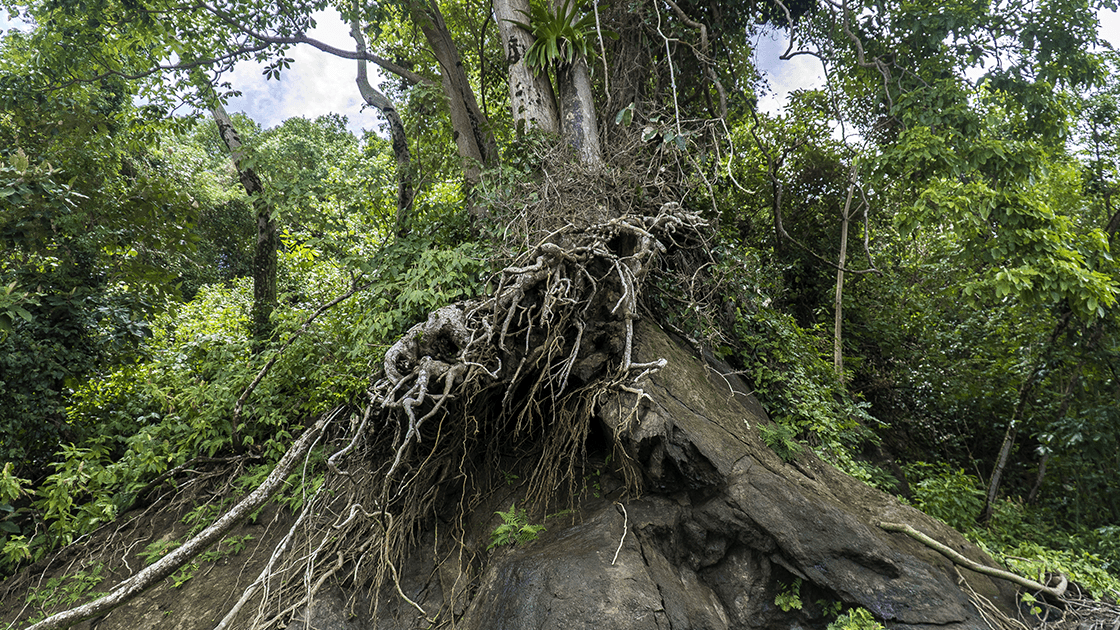 About an hour later, the captain came back with the boat and we met a seafarer that was taking a break at the park ranger's cabin and was telling eerie stories in between jokes about an Island called "Violines". This island is part of the Sierpe meandering river that mouthes to one of the snake's head. The captain told me we could grab lunch there, where a recluse solitary man called "Don Manuel" lives in a cabin. While sharing some sandwiches and rice with vegetables, he told me how he has walked all over the Island, and again, stories about indigenous tribes came into the conversation. He recalls hearing about tribal ceremonial processions from all over Costa Rica going down to the Island until gold looters found a 2.5 kg rock of gold - or at least that was the amount they reported - when taken to the Pre-Columbian Gold Museum in San José. "Violines" became a paradise for gold panners, until they luckily were stopped by the Government when the area became a national park to protect its natural environment, part of Sierpe's wetland biodiversity.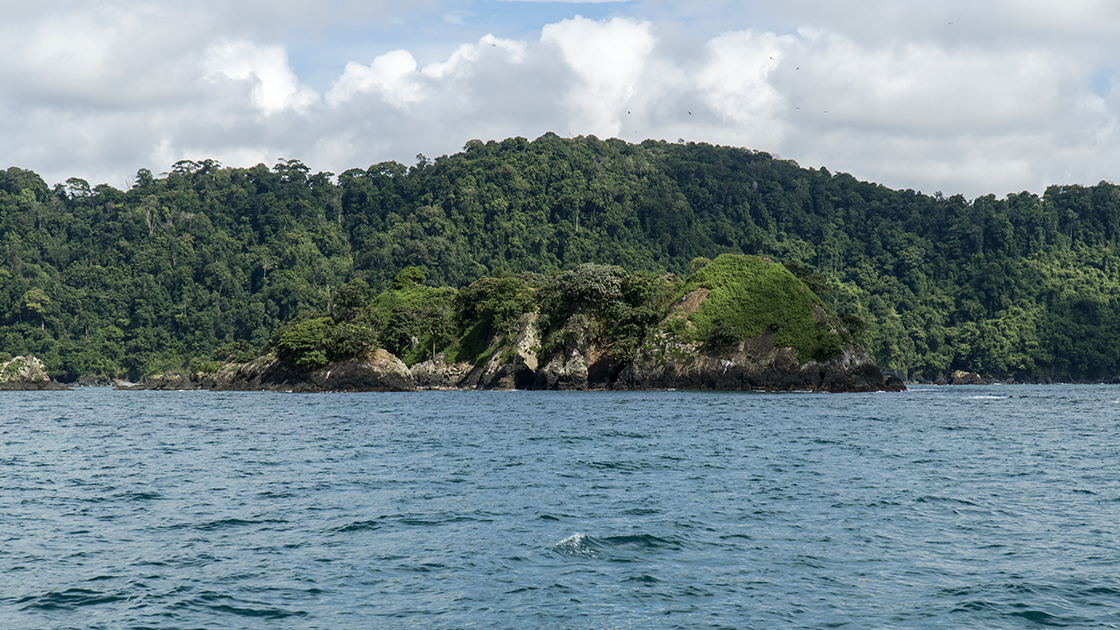 The trip was an uninterrupted, panoramic natural delight, filled with unimaginable tales of the history confining Sierpe, but still, I didn't get any clues to where my so-called "love spell" came from.
Later that night, I met a friendly ex-pat, who calls Sierpe "A sunny place for shady people".... I found the name very amusing, but especially intriguing; though I soon forgot about it after sharing some laughs and great conversations. He introduced me to many locals at different places and I soon noticed that Sierpe, though small, had a wide variety of characters, all known by funny and sometimes scary nicknames. Some of their stories were sad and others even tragic, but they seemed to get along through life with a big smile and strong friendly handshakes that made me feel welcomed with respect. I was already feeling almost like a local; the Serpent had embraced me and now It was calling out my name to go and meet its deepest bowels. I was ready for it!
I woke up early in the morning by a distinctive mist that rumbled through the humid jungle next to the river canal where I was staying. The harsh sun rays trying to penetrate the hazy scenery gave a gloomy, dreamy effect that made my cabin felt cosy and homely. The mood and atmosphere were set for one last glance at the "Snake" before I went home.
I arrived at the river docks and tried to find a captain that would take me to an experience he hadn't yet taken anyone before. I found Captain Steven and convinced him to take me out looking for "piangüas".
"Piangüar" was a term I heard from some fishermen earlier on the trip and it's another of Sierpe's economic pillars that consists of going out looking for some type of mollusk that lives deep underground in the mud, clamped to the mangrove tree roots. Captain Steven said,
"Are you sure?!" This is not an easy task. You will get lacerated by mangrove thorns and get bitten by thousands of midges in a muddy environment that will cover you from toes to hips."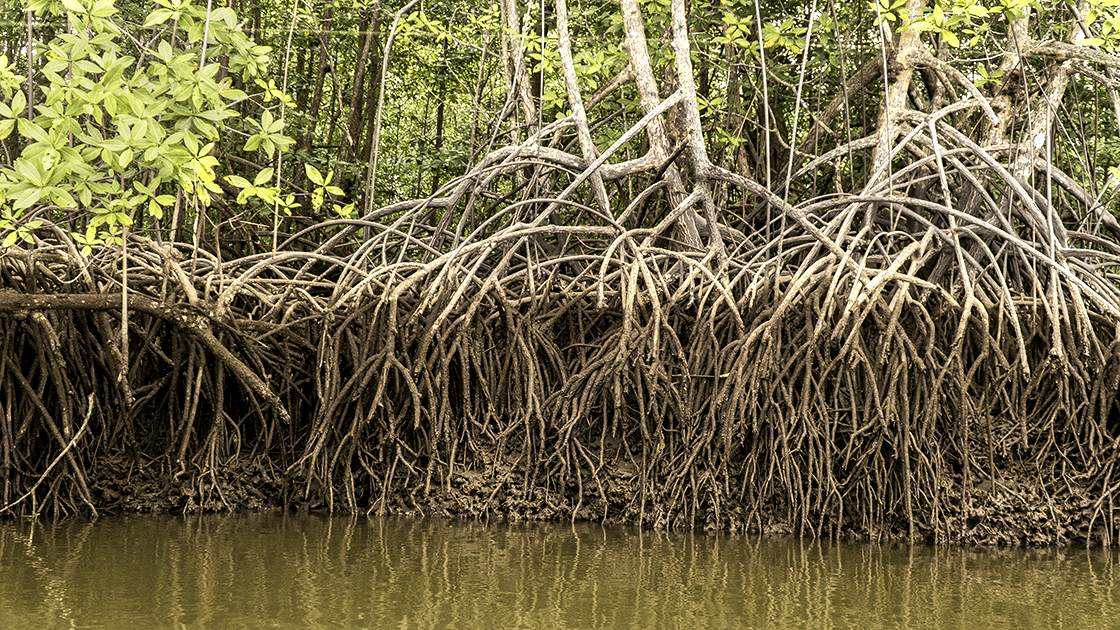 Mangroves
Without giving it any thought, we sailed 35 minutes on low tide through the mangroves. We spotted a small boat at one of the small canals that go deeper into the mangroves; "probably he is also looking for piangüas, let's see if we can meet him." We secured the boat to the shore, tied up to a mangrove tree. As I descended to the muddy bank I was swallowed to the knees inside the swamp, at first I got a bit nervous and almost regretting my decision, but Steven was already deep in and I somehow felt safer, so I struggled to keep up my pace, avoiding the millions of towering roots around and above me, looking at hundreds of "tiger crabs" peeking my disturbance around their tiny holes in the mud.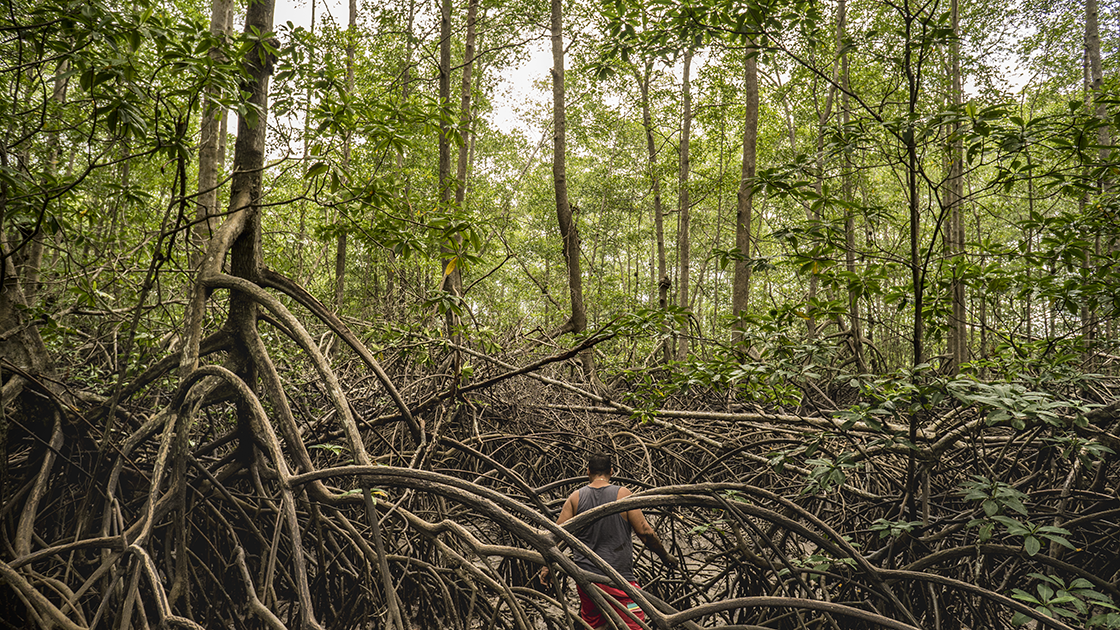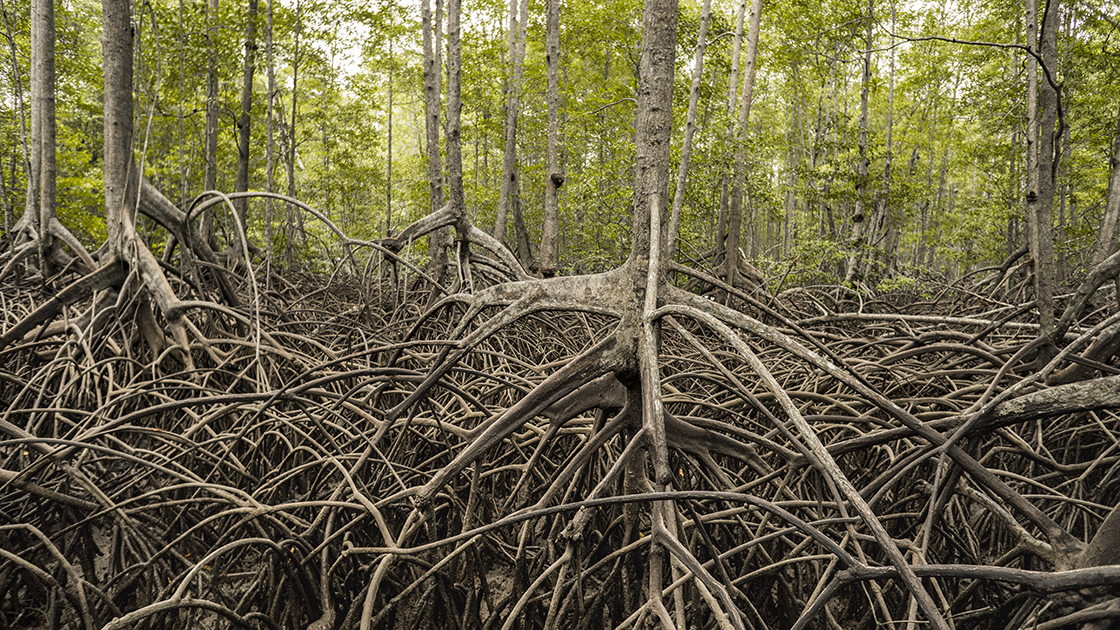 I was doing it! Walking down in my hips through the sludge, sticking my hand deeper, caressing the underground roots, and trying to find piangüas. Not an easy job, all I was thinking was that the Piangüeros receive less than $0.1 per mollusk and they catch maybe between 100 or even 300 in a good day, by the end of our run we caught 15, the right amount for one piangüa ceviche serving.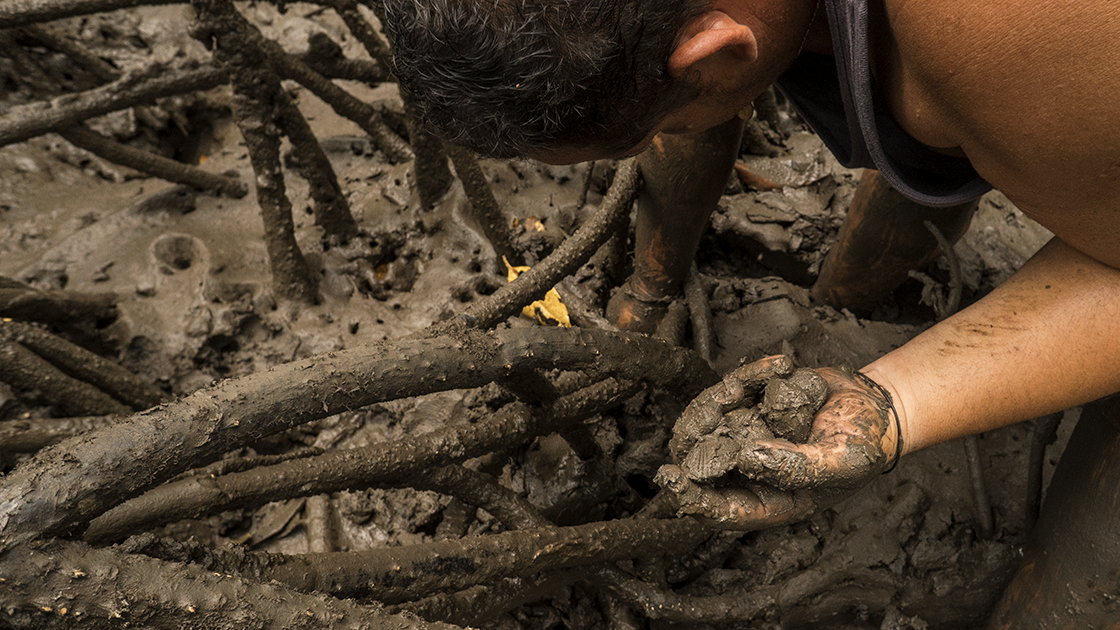 Captain Steven at some points did some "monkey howls" to see if someone will reply back and finally we came across a "Piangüero", covered in gasoline and coconut oil to repel the midge mosquitoes, that all of the sudden I realized they were swarming and biting into my arms. The Piangüero couldn't lose any time talking to us, as he only has 3 hours a day to pick up as many mollusks as he can; so he briefly explained to me about the gasoline/coconut oil brew and that they get compensated by an association when there are red-tides that poisons many shellfish, including the piangüas.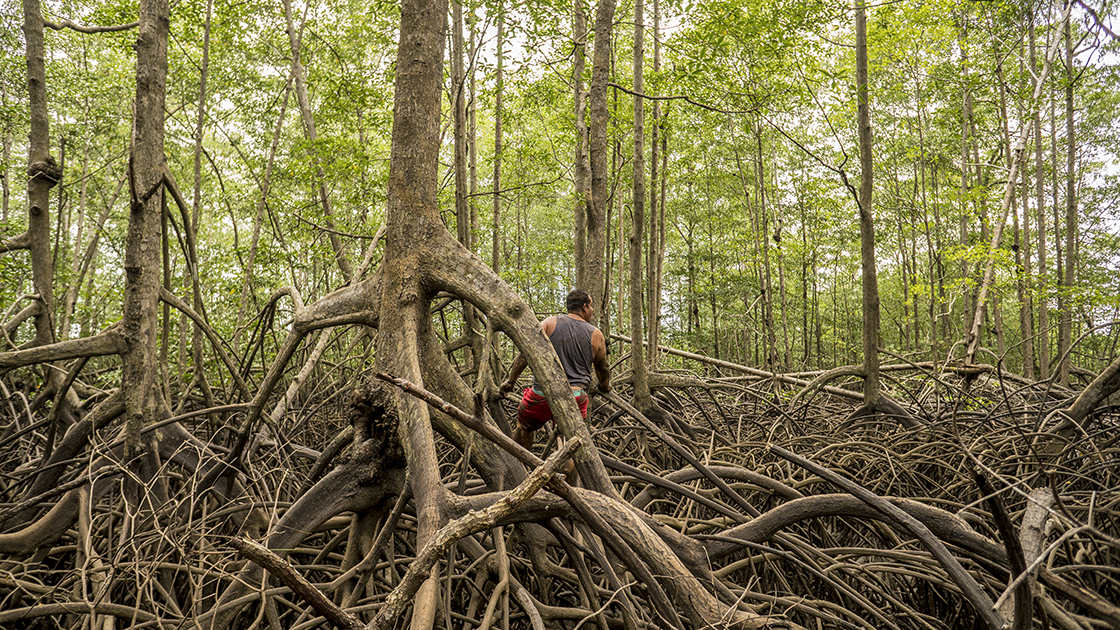 All of a sudden he was meters away from us, shouting;
"Be aware of the crocodiles! I saw one near you a while ago..."
I'm not sure if he was joking to make me, an outsider, feel scared, but we started to move out towards the boat, this time we went climbing; walking on top of the roots, a much easier way to get through, but it's kind of tricky, as some of the roots are old and might break, others are crazy slippery, but most of them bend, bearing lots of weight and pressure.
We finally got out and rode back to the mainland. The sun was about to set down and the banks were cleared of water; we saw at least five crocodiles sunbathing on our way, maybe the Pinagüero wasn't joking?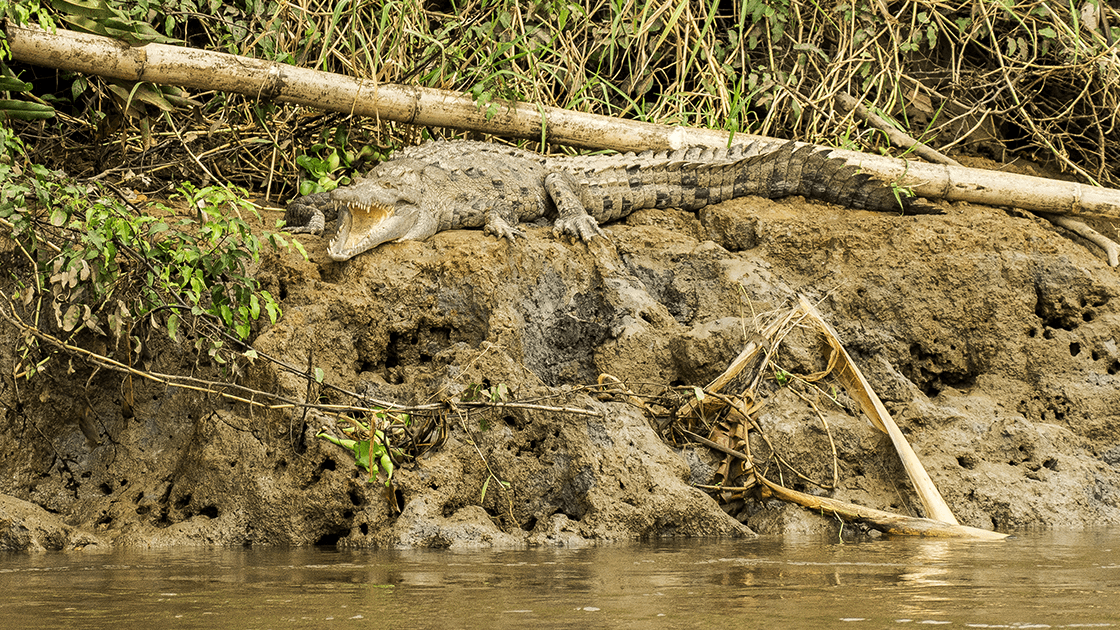 I still enjoyed the experience, an eye-opening occurrence that in between my excitement, I finally had a revelation:
The love spell I've had had on my first trip wasn't a love spell for a person, it was a spell to fall in love with this town, and even though I couldn't find out about the "hair", I sure fell in love with Sierpe and its wonderful people and secrets. Some mysteries are meant to be kept alone, that's how magic is kept alive and that's what Sierpe is, magical land of puzzled beautiful rarities.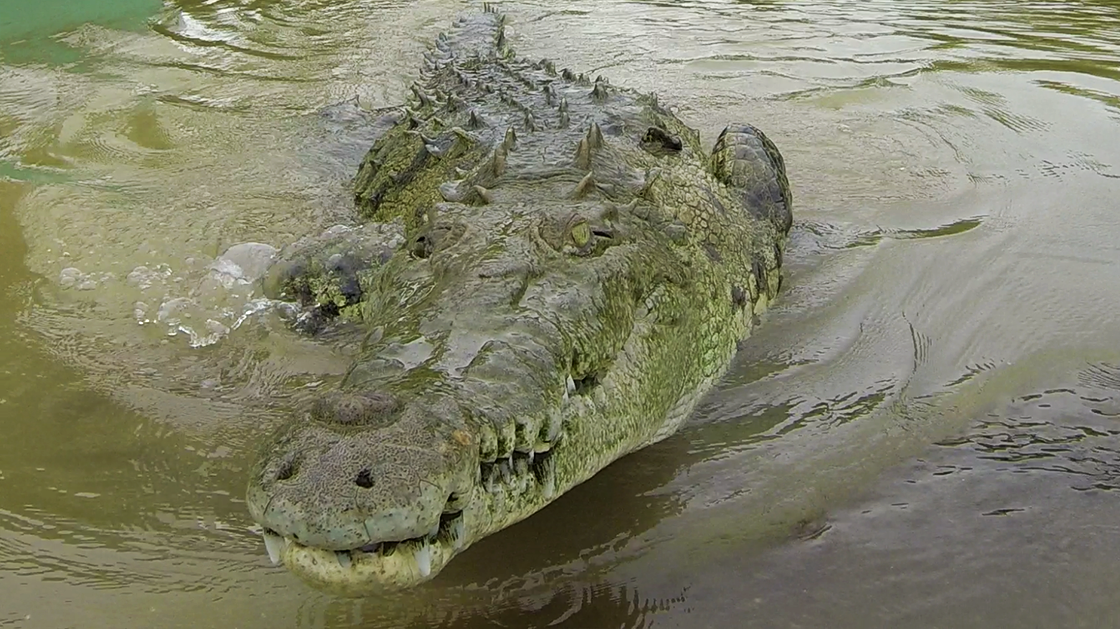 Story & Photos by Juancho Otalvaro