The best National Parks in Costa Rica
The hikes in these national parks are not too long and also work for kids or those who want to experience the national parks in just one day. As there are many national parks in Costa Rica, I tried to choose the best ones in each region, but that doesn't mean that the others are not worth a visit!
North Pacific
Rincón de la Vieja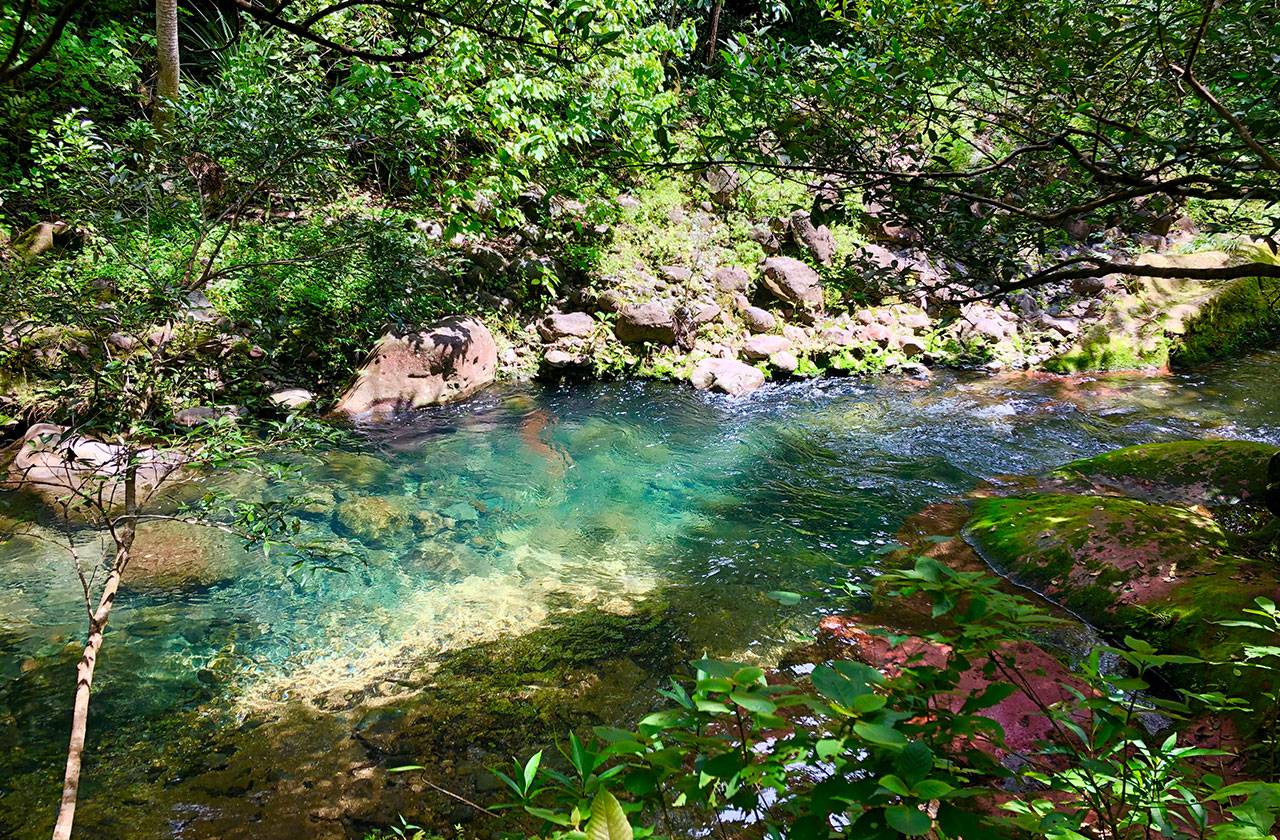 Opening hours
Important
On Mondays, the park is closed to visitors.
The Rincón de la Vieja National Park is located in the North of Costa Rica. It represents the tropical rainforest and a great destination for hiking and mountain biking.
The park is divided into two sectors. In the Las Pailas sector, there are several trails of varying difficulty. The easiest and shortest is a very nice circuit of about two hours and leads through the forest and the area of the mud piles, where you can appreciate the volcanic activity. Another trail of about 2 hours each way leads to a beautiful waterfall and the third, most difficult one which is currently closed due to recent volcanic activity, to the crater. The other sector is Santa Maria where the trails are of moderate difficulty.

If you like camping, you can camp in the Santa Maria area and use the grills in the food preparation area. The Las Pailas sector does not have a camping area!

Around the National Park, there are several beautiful waterfalls, for example, La Cangreja Waterfall and Oropéndola Waterfall.
Read more about the: Rincón de la Vieja National Park
Central Pacific
Manuel Antonio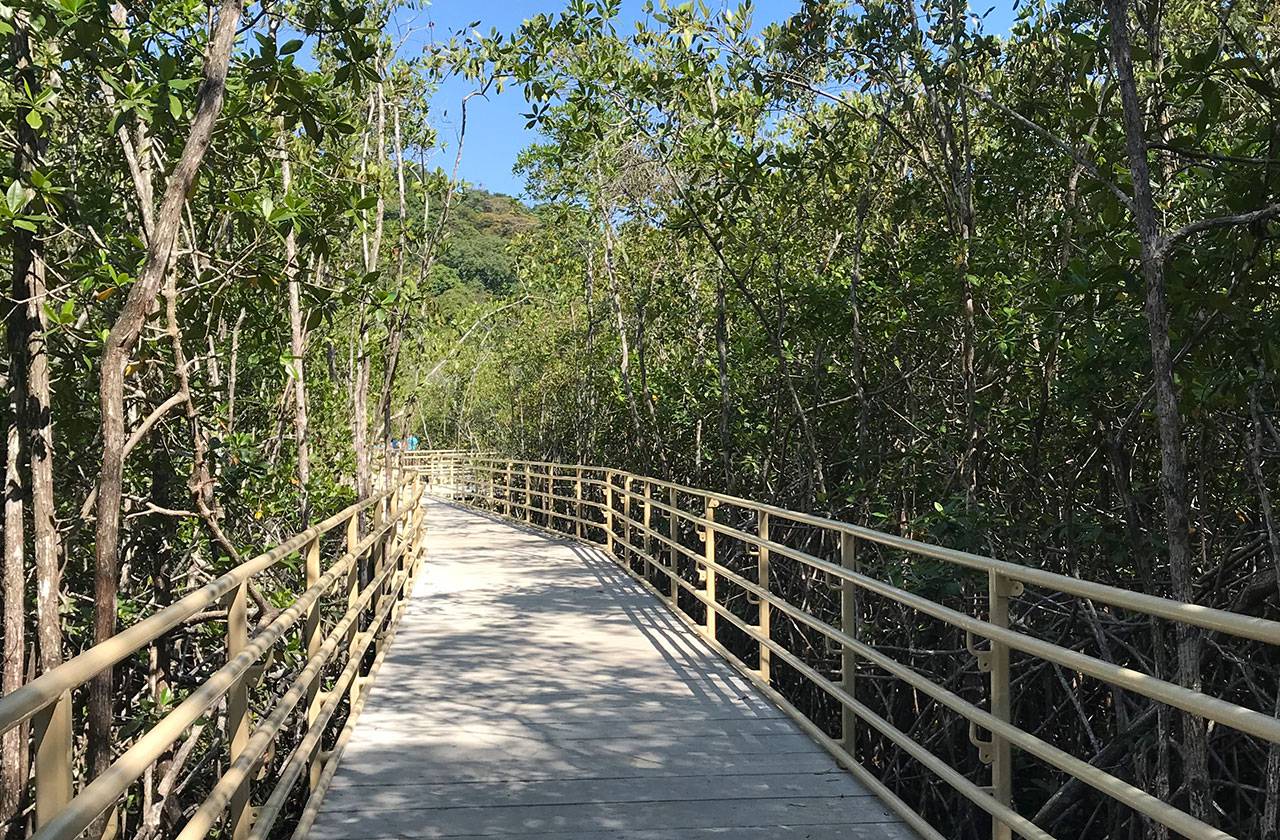 Opening hours
Important
On Tuesdays the park is closed to visitors.
The Manuel Antonio National Park is the smallest but most visited National Park in Costa Rica. It's located in the Central Pacific, in the canton of Quepos. I visited this park many times because it combines the beautiful rainforest with a stunning beach with crystal clear water.
From the entrance, the trail leads through the rainforest. Take your time and be quiet, like this you can see many animals like monkeys, sloths, deer, snakes, crabs, and birds. This trail is called Sendero Perezoso which means the Sloth trail. This one is fixed and barrier-free since 2016 and there are also benches to take a break. At the end of the trail, you can decide if you want to go to one of the two different viewpoints or take a break at the beach. There are some tables where you can sit and eat some snacks (they don't sell them, you have to bring your food).
I guess this is why there are so many Capuchin monkeys too, they are probably waiting for a snack. They come very close, but please don't feed or touch them and don't come too close to take pictures.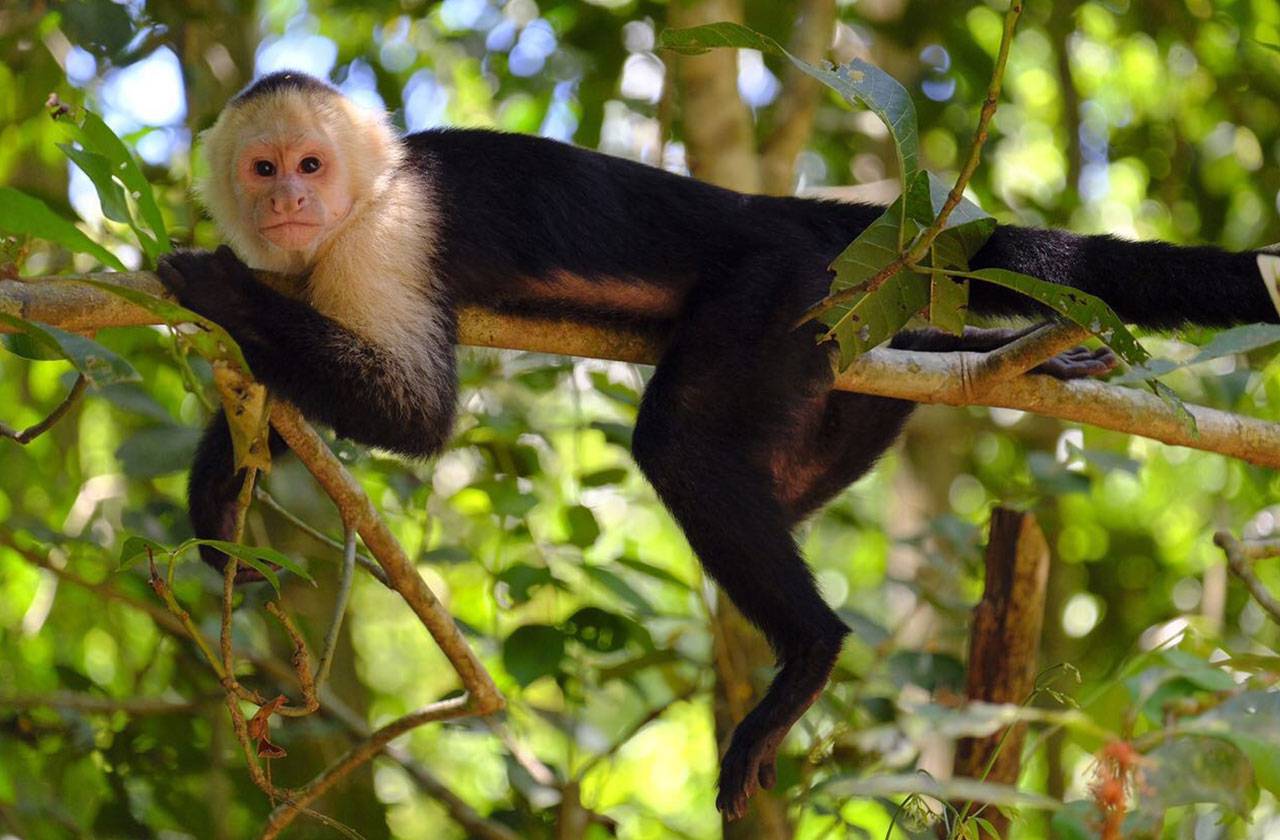 At this place, you are at a wonderful beach and every time I am there it is like a must for me to go swimming there, so don't forget your swimwear. The water is really clear and there are showers and changing rooms. During the high season, the beach is a little bit crowded, but just some meters on the other side there is another beach which is usually quite empty. Here you are at the bridge and you can take a hike to Punta Catedral or along Playa Espadilla back to the exit.
I went there once with a guide and we really saw so many animals! Another time we just went alone, we also saw some animals but not as much as with a guide. If you book one, make sure he or she is certified by the ICT (Costa Rican Tourism Institute). Both ways you will have a beautiful day, but if you are interested in seeing animals, you should go with a guide!
Carara National Park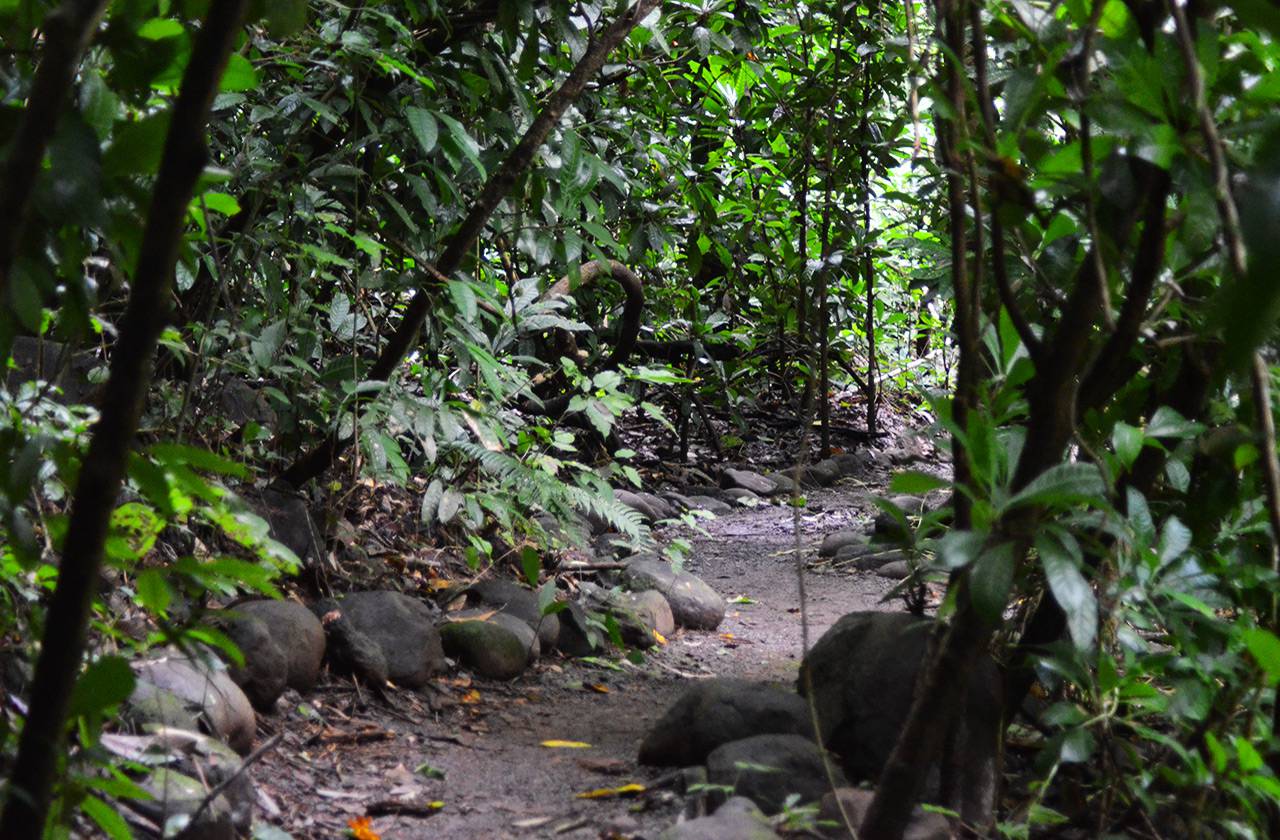 Opening hours
from May to November, every day from 8 a.m. to 4 p.m.
from December to April every day from 7 a.m. to 4 p.m.
Carara National Park is somehow not that famous but I like this park a lot. When you drive down the Central Pacific coast you will pass the Carara National Park. It is between the Tarcoles bridge, where many tourists stop to see the crocodiles, and the beach and surf town Jacó, so if you are on the way to Manuel Antonio, I recommend taking a break and visiting this park as well.
This national park represents a transition forest. Due to its location, the tropical dry forest from the North and the tropical rainforest of the South meet here. This is why half of all animal species that live in Costa Rica can be found in this park! It is also well-known for bird-watching and you can see the red Ara Macaw parrot here!
There are fixed hiking trails, which makes the park also accessible for wheelchairs, and natural hiking trails, so I recommend bringing closed hiking shoes! As the Park is not that visited like others, you have the chance to see many animals and birds and enjoy the quiet peace of nature and listen to the tropical sound of the forest!
Here you can read more about the Carara National Park.
Here you can read more about Bird-watching in Costa Rica.
South Pacific
Corcovado National Park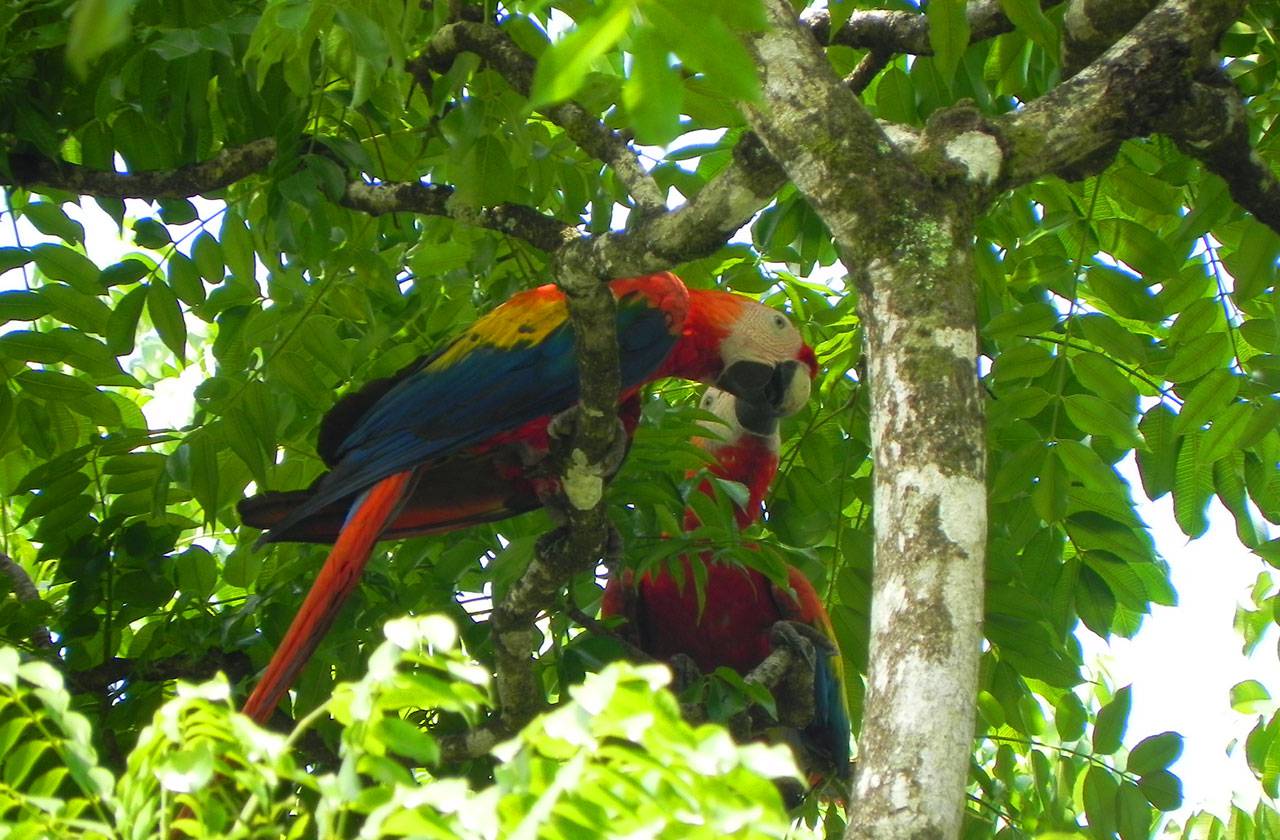 Opening hours
Every day from 7 a.m. to 4 p.m.
Important
The Sirena Sector is closed in October
For safety reasons, it is obligatory to visit the park accompanied by a certified guide.
The Corcovado National Park is the most famous one and located in the South of Costa Rica. As it contains 2,5% of the biodiversity of the world, National Geographic called it the biologically most intense national park on our planet! This is why it is also called the "jewel" of Costa Rica.
The park is divided into six sectors. All of them have many different hiking trails. What is important to know is that, for example, the Sirena Sector can only be reached by boat, departing from Drake. This is also the only place where you can camp, but a prior reservation is necessary. As the hiking trails are very long and for security reasons, you can just visit the National Park accompanied by a certified guide.
If you love hiking and want to experience the tropical rainforest with all of its flora and fauna, this is where you should go. The trails have different difficulties and are up to 8-9 hours long.
Here you can read more about the Corcovado National Park.
Caribbean
Cahuita National Park
Opening hours
Playa Blanca Sector: Every day from 6 a.m. to 5 p.m.
Puerto Vargas Sector: Every day from 8 a.m. to 4 p.m.
The Cahuita National Park is located on the South Caribbean Coast of Costa Rica. The special thing about this national park is that the management is shared between the community and the governmental institution SINAC (Sistema Nacional de Áreas de Conservación). In 1978 the area was declared a national park to protect the great coral reef.
The national park divides the tropical rainforest into two sectors, the Playa Blanca Sector and the Puerto Vargas sector. Entering the Playa Blanca Sector, there is no entrance fee but a voluntary contribution in cash to support the community.
The hiking trails lead along the coastline of the white sand beach with clear water. On the hiking trails, you can see many animals such as monkeys, sloths, birds, snakes, among others. Like in the Manuel Antonio National Park, you can go swimming and snorkelling to see the impressive underwater world with many fish, the coral reef, and if you are lucky you can even see turtles. There are showers, changing rooms and bathrooms.
The best time to snorkel is between September and November, which is the dry season on the Caribbean coast. To see as many animals as possible, I recommend visiting the park with a guide. This email address is being protected from spambots. You need JavaScript enabled to view it. if you wish to reserve a guided hike and snorkel tour at the Cahuita National Park.
What you should know before visiting a national park:

Don´t touch, remove or eat any plants or fruits. They might be toxic.
Don´t sit on tree trunks. There might be snakes or other poisonous animals.
Don´t interact with the animals. If you want to take photos, do not use flash and keep enough distance so you won't disturb them.
Don´t leave the hiking trails.
Always use closed and proper footwear. Sandals are not recommended.
Use sunblock, mosquito repellent and wear a hat.
Always bring enough drinking water.
Smoking is not allowed in national parks.
Don´t leave any garbage. 
Of course, many other beautiful national parks are worth a visit, as well as private reserves.
I hope this information and the recommendations are helpful. If you have any questions about the national parks or if you need help to plan your trip, feel free to contact us at This email address is being protected from spambots. You need JavaScript enabled to view it..
Greetings from Costa Rica!
The best National Parks in Costa Rica
Recommended Blogs