The Jaguar Rescue Center is a great place, not only to be able to observe many species of animals but also to support their survival, so I decided to share my experience with you.
My son and his friend were visiting me from Switzerland for two weeks, so I was trying to take them to different places on a coast to coast journey. We were on the Caribbean side of the country so we decided to visit the Jaguar Rescue Center.  
Why we decided to visit the Center
This is a great place, not only to be able to observe many species of animals but also to support their survival, so I decided to share my experience with you.
This incredible place is a temporary or permanent home for ill, injured and orphaned animals. The place provides shelter, food, love, veterinary services, and basic care in comfortable cages, something without the animals couldn´t survive in the rainforest or in the sea.
Why Jaguar?
Also, you will be able to see a lot of animals such as birds, reptiles, amphibians, and small primates, the place is called "The Jaguar" because this animal represents the most hunted endangered animal in the Americas. It's a symbol of nature that suffers from a great threat of extinction. 
Our experience
That morning we woke up early... wow, I was so excited !!
A song was playing loudly while getting ready for breakfast so music was also a little help for waking up the boys!
We had a delicious and very traditional breakfast with a twist... Swiss cheese Yummy!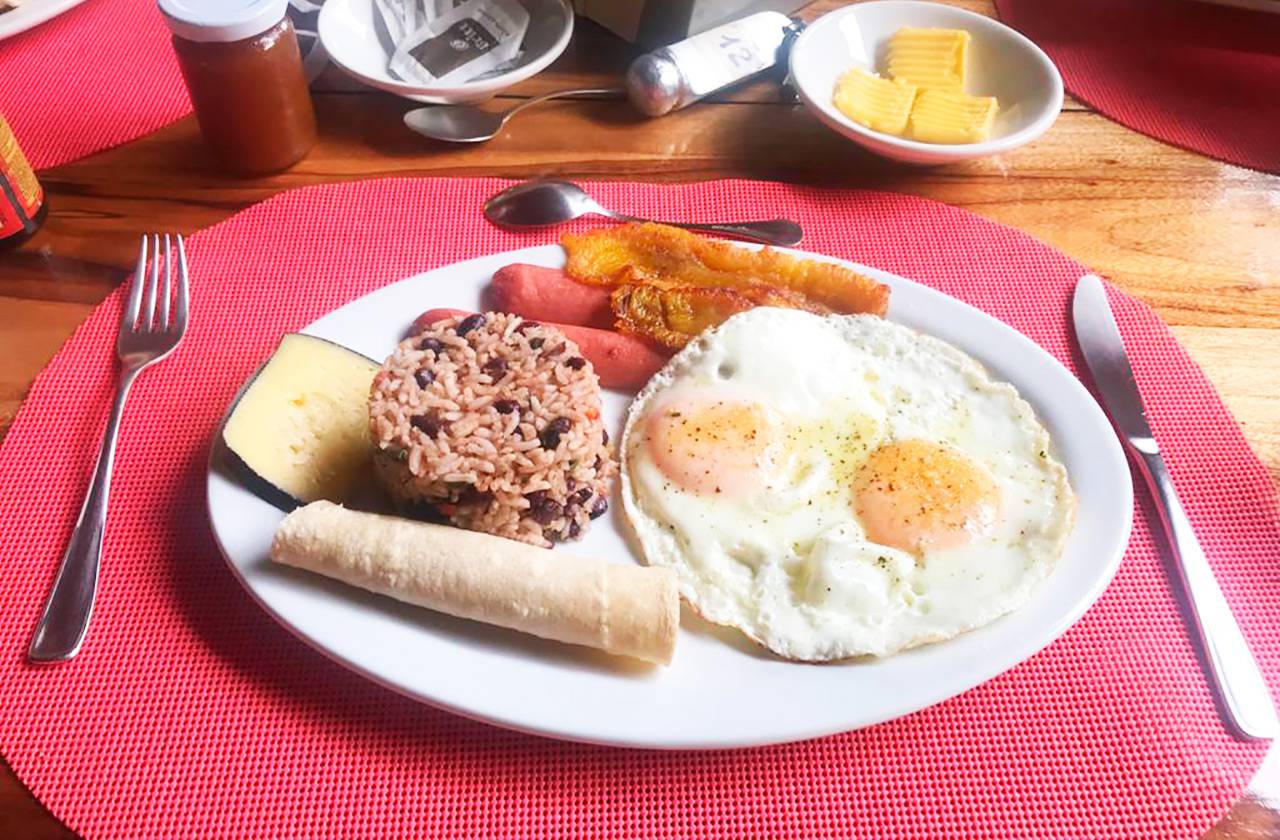 We were staying at the Suizo Loco Lodge & Resort in Cahuita (which means the Crazy Swiss man and really, its owner is a funny crazy Swiss guy who is a great host)!
This cosy lodge is located just 30 minutes away from the Sanctuary in Puerto Viejo so you`d better be there 20 or 30 minutes before the tour starts. Visits are limited and just twice a day: 9:30 a.m. and 11:30 a.m.
On our way, I was thinking that sometimes I forget how beautiful the Caribbean Coast is. Impetus ocean to our right came along the whole drive on a nice sunny day! Finally, we arrived at 09:10 a.m. Perfect timing!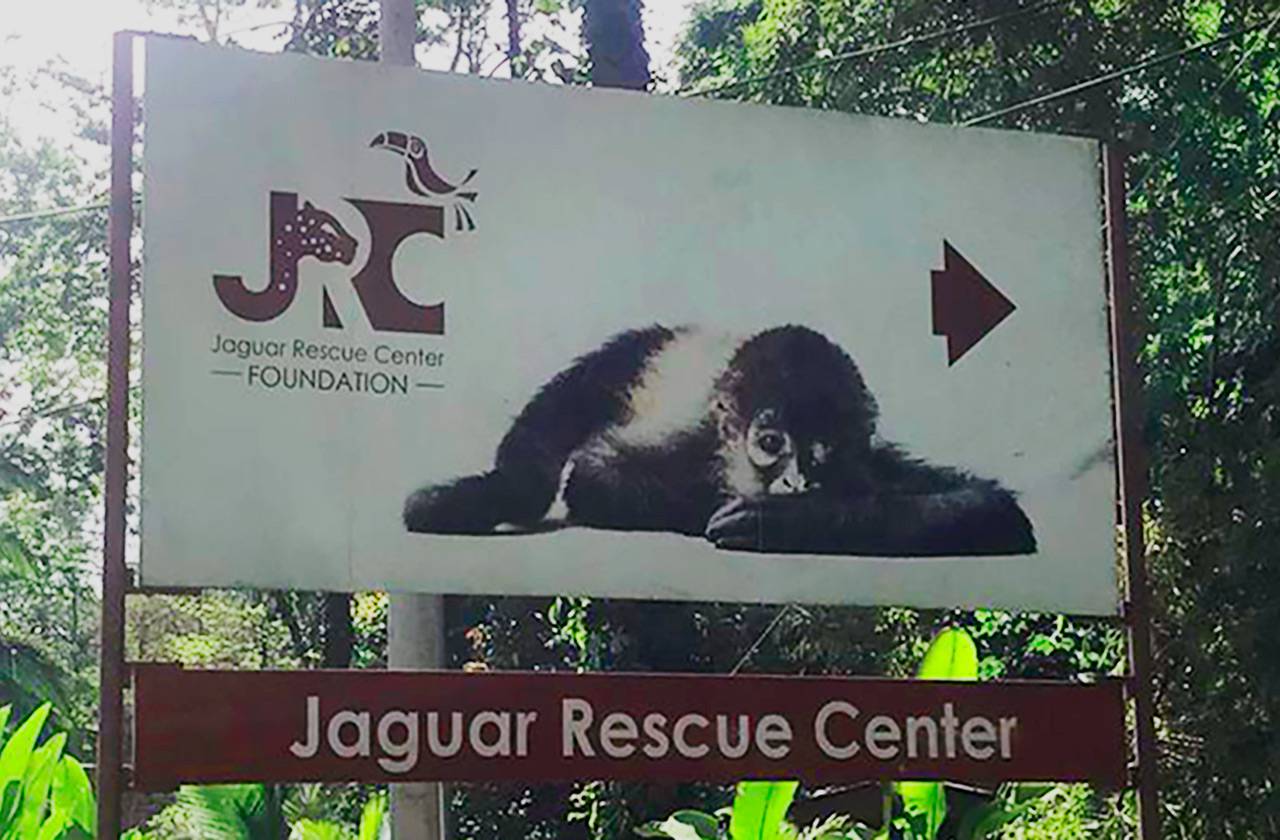 It was easy to find a parking place pretty close to the entrance. The place seems crowded, cultural diversity is amazing for a small place like this.
We lined up to buy the tickets. At this time, it´s funny to hear all the different languages from many people around the world. Knowing this, the Center offers the chance to choose the language of your preference during the tour when you purchase the ticket that costs 20 USD per person. This fee helps and supports the center and its maintenance.
We waited at the coffee shop as we were told until they called us. Everything was so organized, the coffee shop is also very nice and it is always open so you can come anytime to enjoy great fresh-baked pastries and cookies for good prices. While you are enjoying this delicious bakery you are also helping the Center even if you are not doing the tour.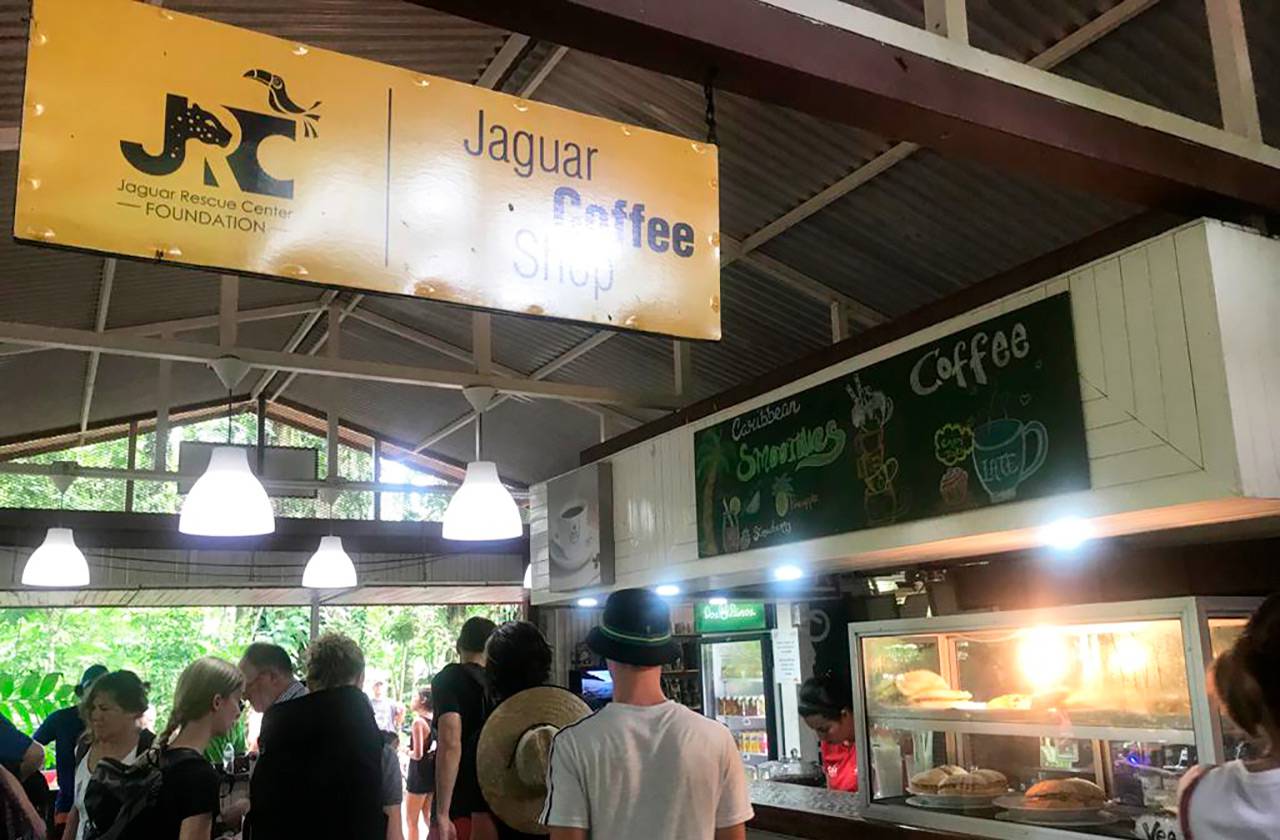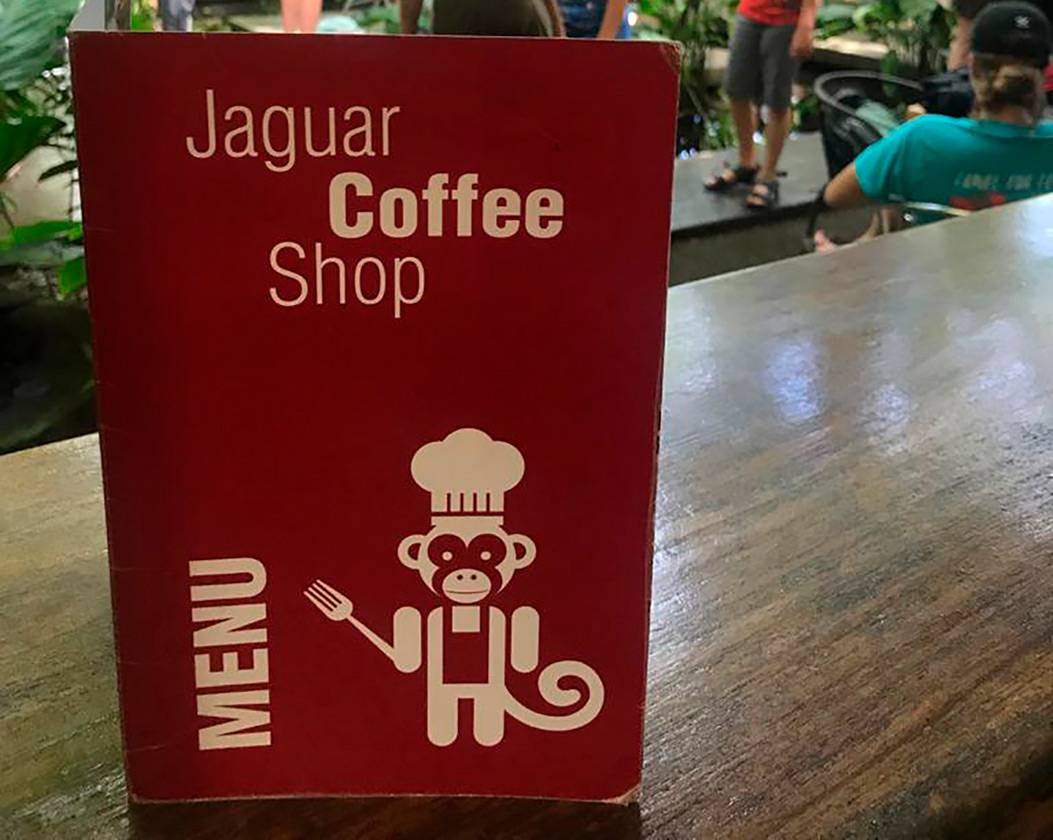 Suddenly, a tall guy gets close to the tables and starts announcing in a loud voice and many languages that we are ready to go. The whole crowd walks to the other entrance just 2 minutes away and again we lined up for our visit that was about to start!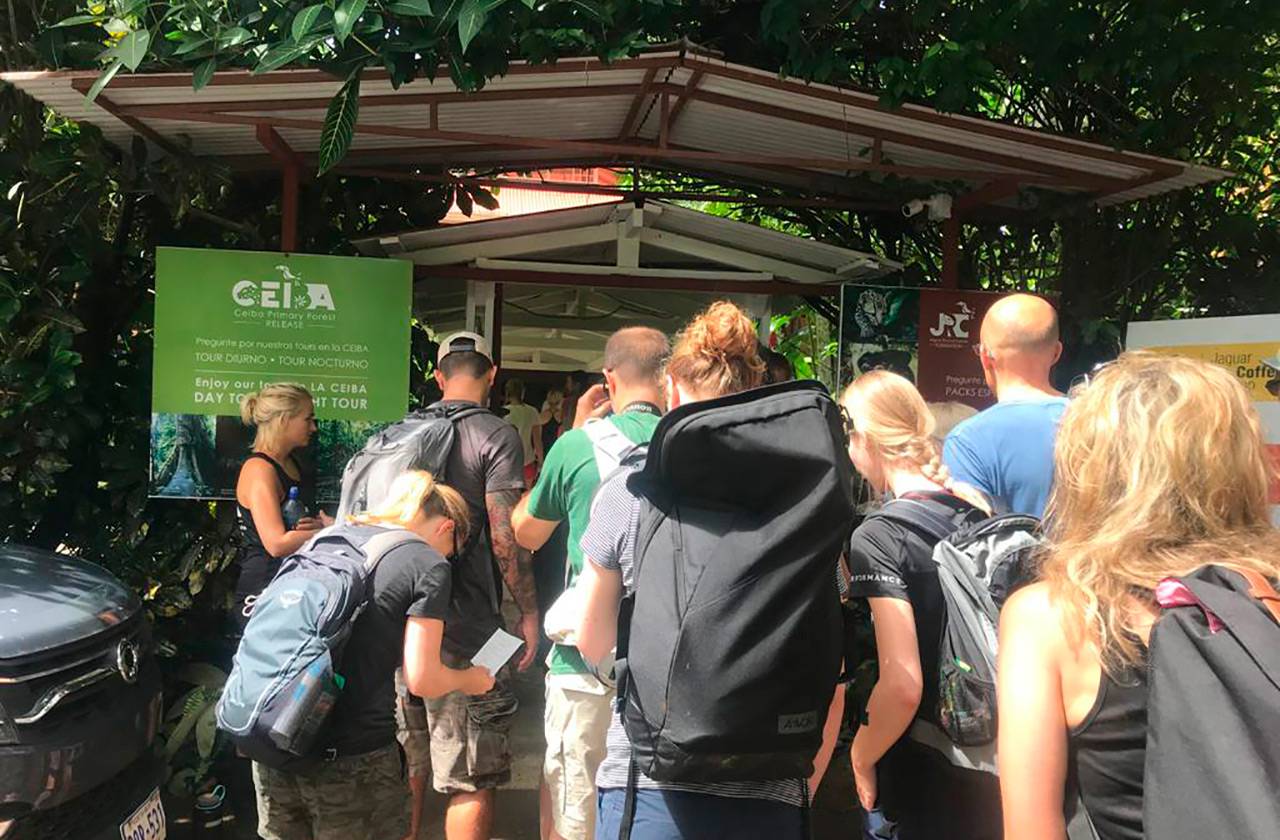 The guides separated us according to our languages, so many groups were formed. We enrolled in the German one, a group of 16 people, attended by a very nice German Volunteer Guide.  
In the first cage, there was a big Jaguar giving us our Welcome, however, he didn´t bother to look at us.
Another beautiful example of the good job the center is doing is the baby sloths nursery with the volunteers doing the work of surrogates moms. This especially touched me because I learned there that the special pace of this species provoked a sad but natural detachment from their mothers if a baby falls from a high tree. The mother takes so long to get down that she may never find it again. Taking care of the tiny infants shows how dedicated they are to the cause of feeding and watching over a slow-motion sweet ball of hair moving from one place to another and playing in the hammocks going up and down. It really inspires tenderness, they are so helpless that they can be an easy target for predators, animals and humans, so it is good to see some of them safe and happy right there.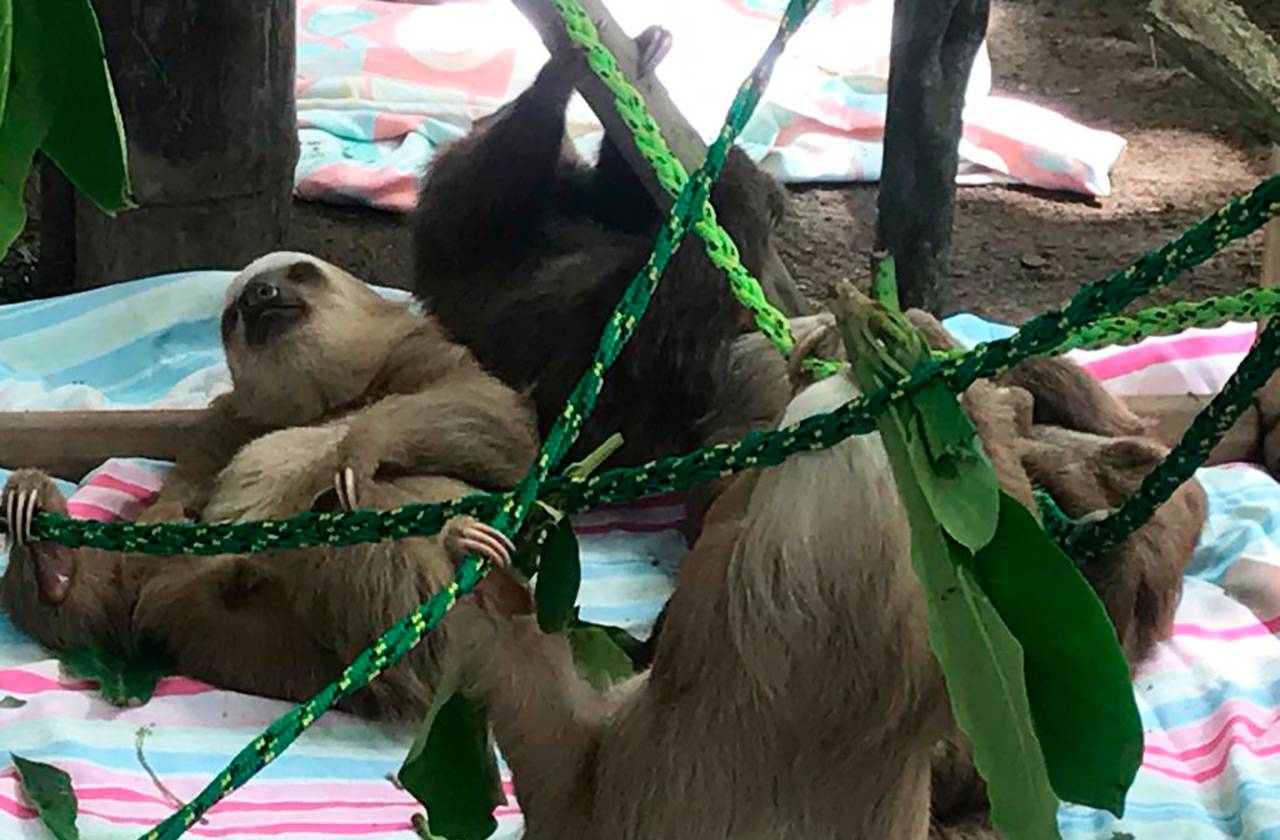 Then we passed to see the toucans and parrots. I really heard one saying HOLA to us! It was amazing! They told us that sometimes the parrots have to be sent away to erase sounds or words they have learned.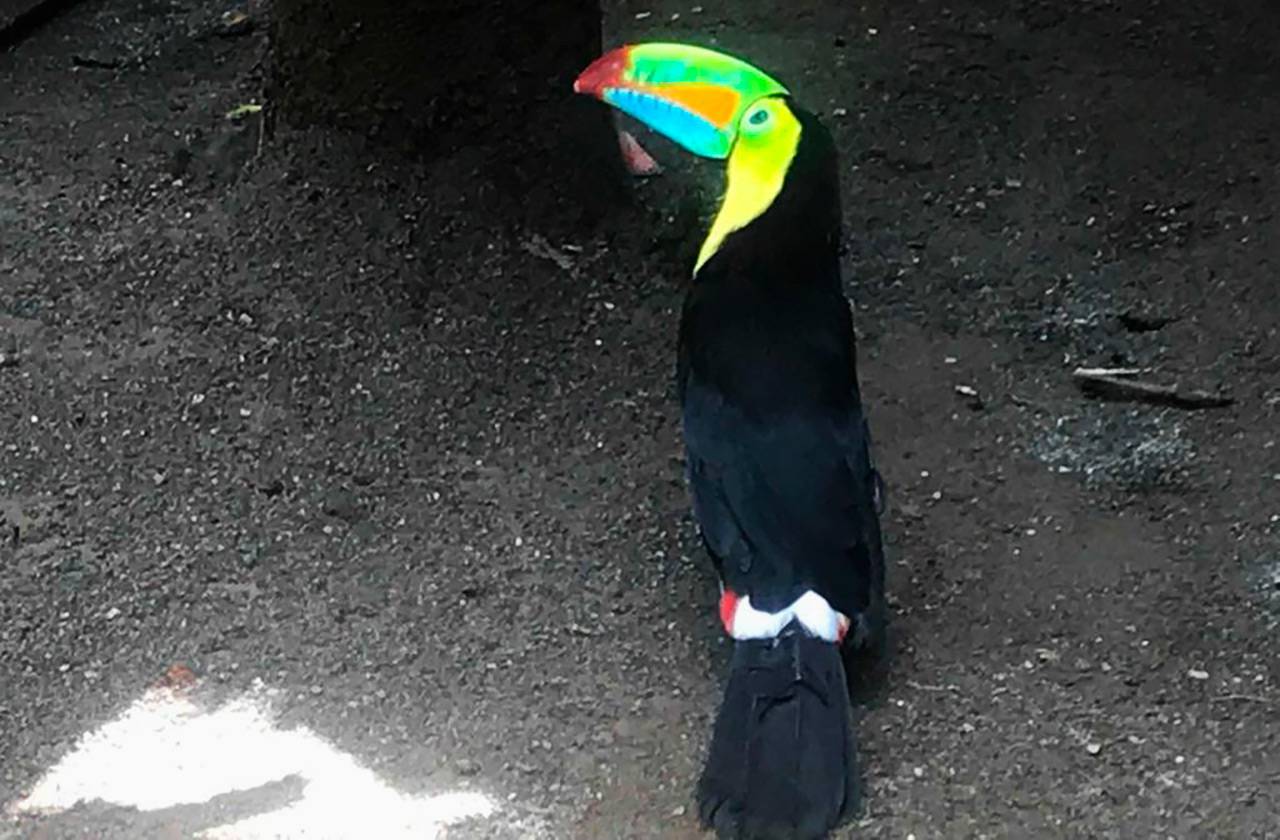 Trails are clean and we walk under a nice shadow all the time. We also saw deer, caimans, and monkeys. Fortunately, the animals here are not looking hurt or stressed at all... and all of them have a story. Some have been rescued from someone who had them as pets, sometimes for profit or just for pure cruelty.
But here at the Rescue Center the natural environment, big cages, food and tons of love of the people who work here as volunteers, give them a second chance to have a good life.
I highly recommend the visit. You can be able to see lots of animals in just one place and at the same time, you are helping them to survive. It is not a zoo but a place where many animals have an opportunity to live and be loved.
You will even get tempted to come back and volunteer... what a great way to help!
What to bring?
Not too much, just natural bug spray, sneakers, light clothes because it is pretty humid, a positive aura and a good attitude!
If you are on the Caribbean Side of the country, don´t hesitate to come and visit this incredible place, you won´t regret it!
Have any questions? Please This email address is being protected from spambots. You need JavaScript enabled to view it. and I will be more than glad to assist you!