Transportation in Costa Rica
By bus, shuttle or by taxi? On the road in Costa Rica. The decision is never easy. Depending on your budget, how good you find the ways by yourself, and how independent you are, you choose your transportation. We help you with it! The language is not important, you just need to know how!
Public bus
How do bus stops look like? How much does it cost? How can you pay? How can you stop the bus to get inside or to leave the bus?
Bus stops
Bus stops in some countries usually have a bench with a rooftop. In Costa Rica, they generally don´t. There are some bus stops with a bench. Some are marked with a yellow or white line on the sidewalk, most of them not at all. The Ticos know where they are, that's why it is not necessary to mark them. You can just ask a local.
Entering the bus
You can stop the bus simply by waving like you want to stop a taxi. If the bus is already crowded, the bus might not stop!
Paying
You can pay with cash, coins or small bills, to the bus driver. With bills of 5´000 or up, it is usually difficult to pay, because the bus drivers don't have much change. Sometimes it is also possible to pay with a 1 or 5 dollar bill.
Exit the bus
If you want to leave the bus, look for the red buttons or a cord in the middle or above the windows. Just pull this cord and the bus will stop at the next bus station. In the city (for example in San José) there is a bus stop every 150-700 meters. So if you don't pull the cord at the right time, you can get out at the next stop and just walk back. In case you don't find the red button or the cord, you can just shout "Parada" to the bus driver. This means "bus stop" and he will stop.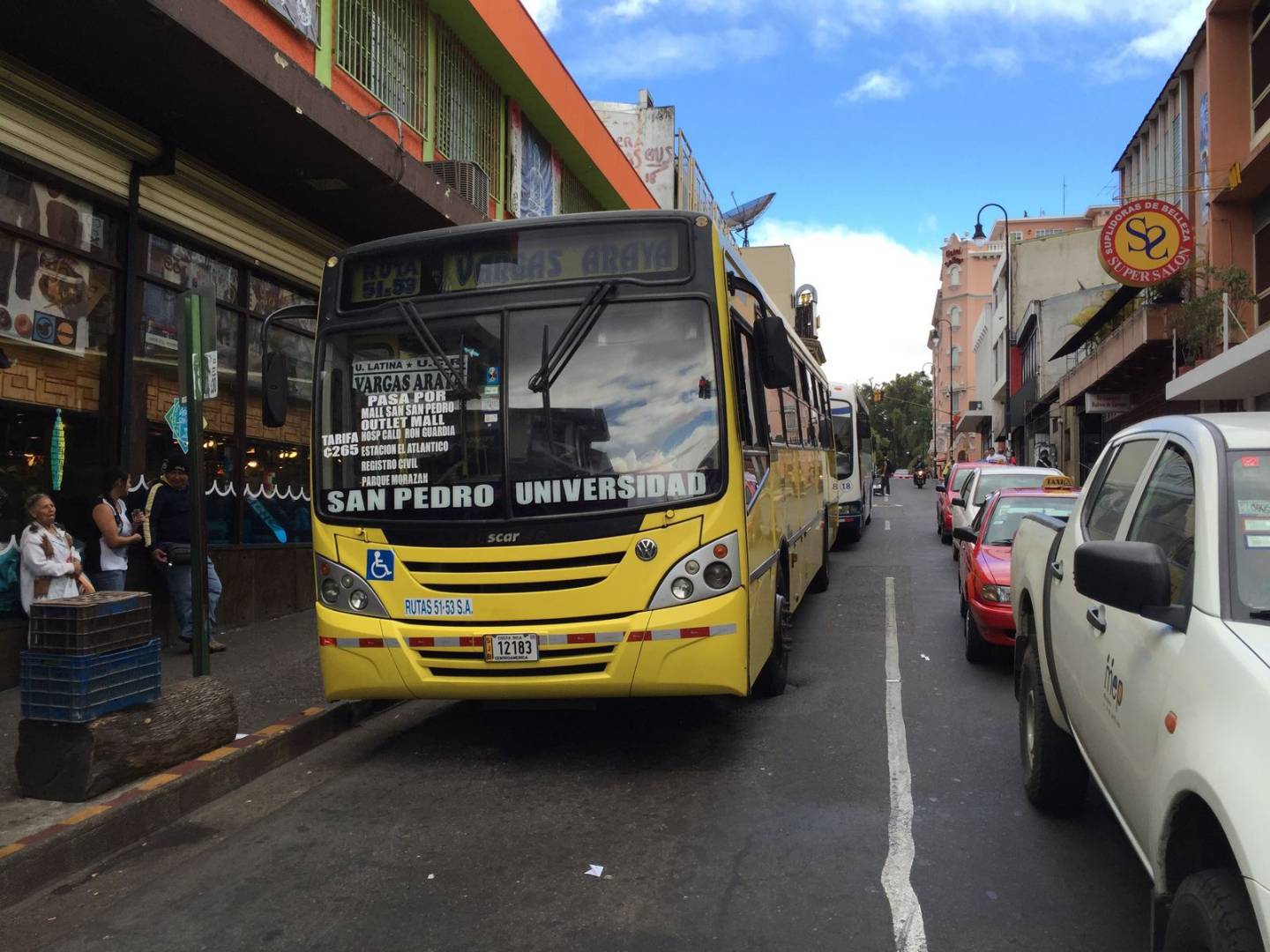 Public bus in San José
Long-distance
For far connections, you should check before where the bus station is, if you need to buy the ticket the day before, and how you can continue at your destination. You can usually buy the ticket at the counter and you might get a specific seat. If you want to travel for example from San José to Puerto Viejo de Limón you should buy the ticket before or make a reservation and pick the ticket up 30 minutes before the departure. The bus stops are chosen and the driver knows where he has to stop. You don't need to pull any cord. For the way back you should buy a ticket in Puerto Viejo de Limón before because the bus may be full and you have to wait until the next day.
Luggage
Try to keep your luggage with you. If you have to leave it in the trunk of the bus (on long-distance), then take care that nobody takes it off at another bus stop.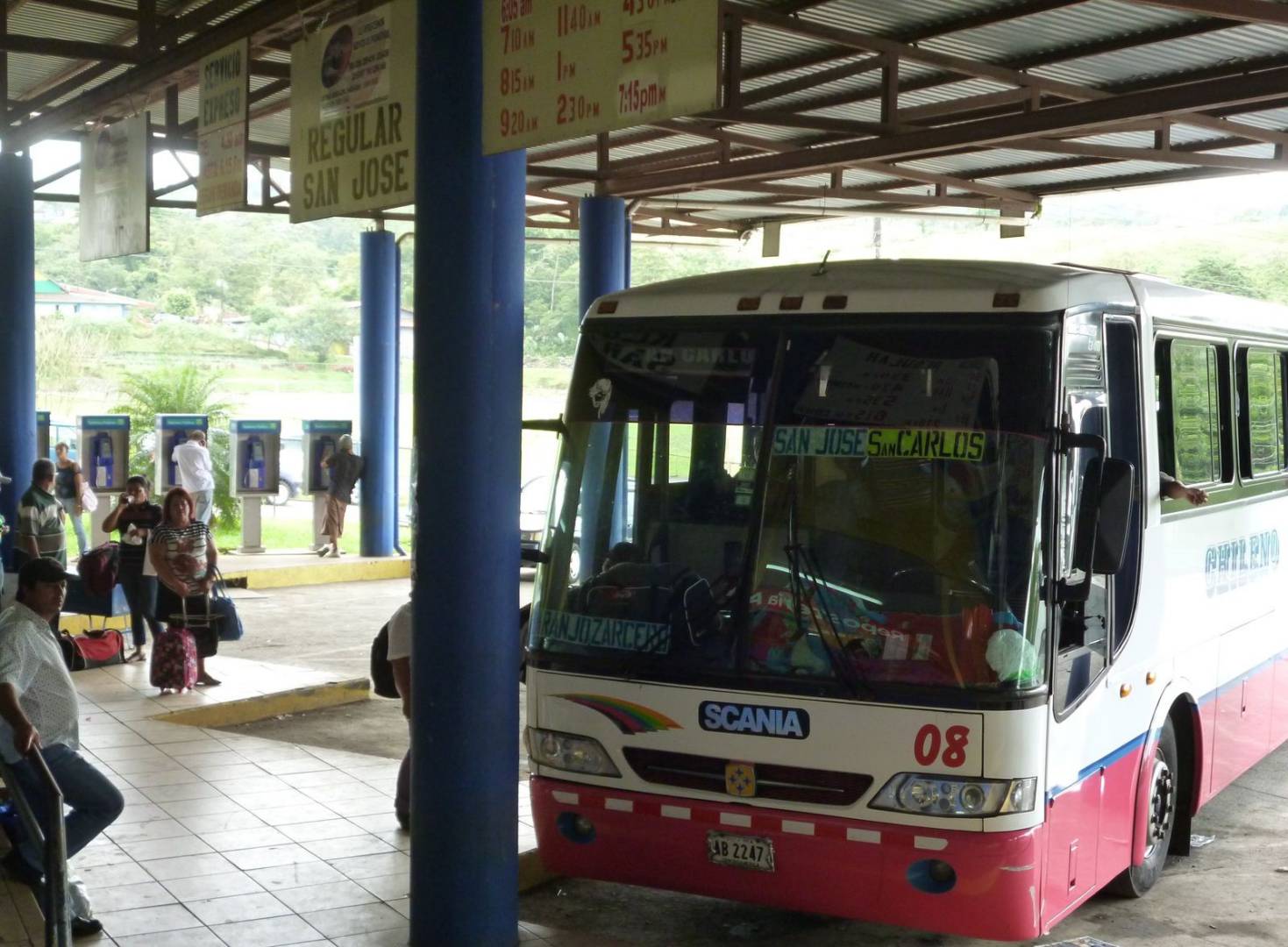 Public bus
Shuttle companies like Interbus
More comfortable than a public bus is the shuttles that many companies, like Interbus, offer. They offer connections between many places and you are travelling more comfortable with normally just 2-10 others. With 50-70 USD you can get to many places in Costa Rica. Your luggage is saved, too. The driver knows because of the reservation where you need to go, so you don't need to pull any cord.
The probability that another guest is travelling with a fried chicken and is eating it inside the bus is very low compared to public busses.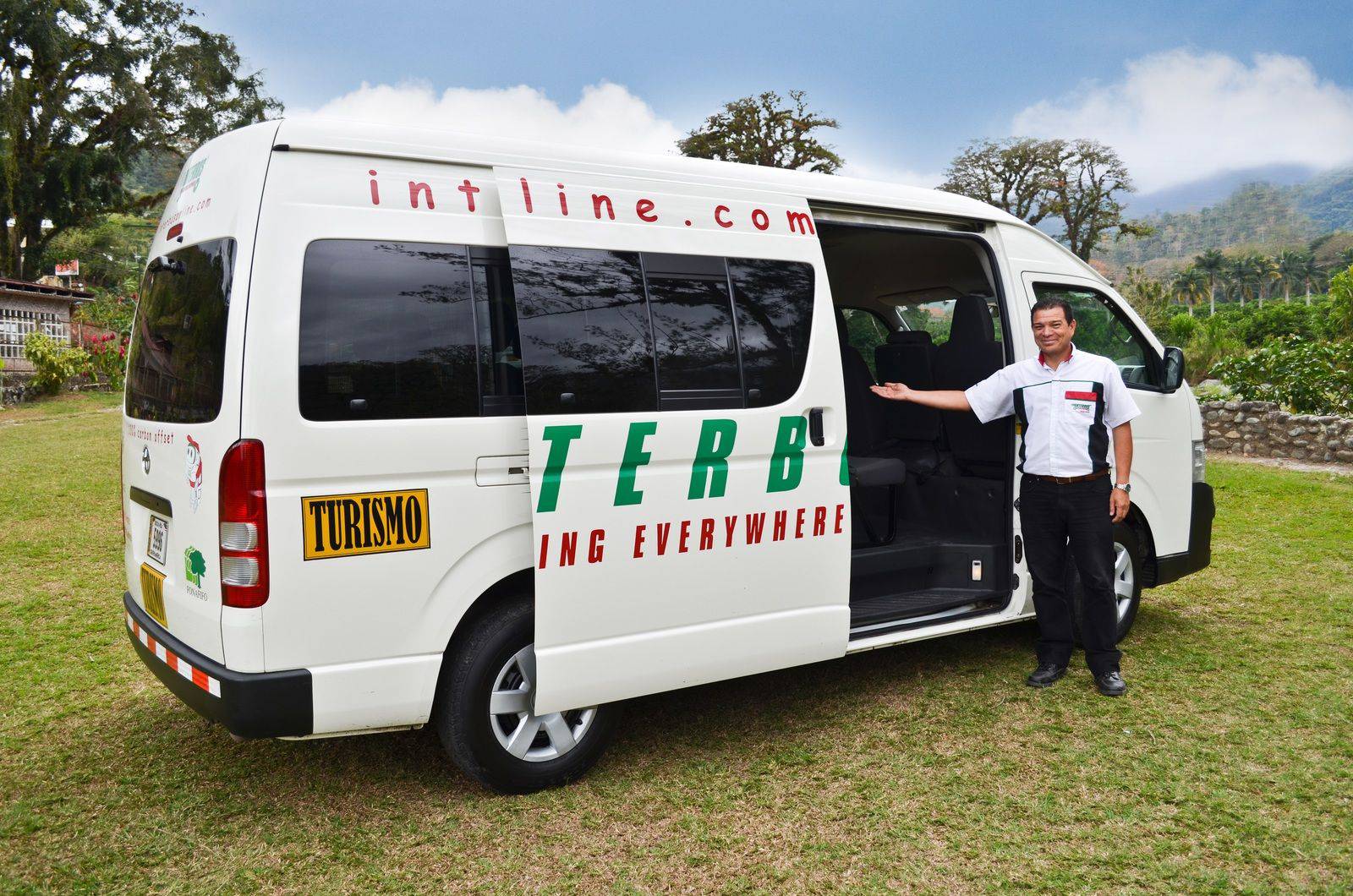 Shuttlebus of Interbus
Taxi
You recognize public taxis by their red colour and a symbol on the sides with a mark. You should remember the mark in case you forget something inside the taxi and you want to have it back.
If you need a taxi, you can call one with a phone or just wait in the street and wave when one is passing. Normally taxis are waiting at bigger bus stops, for example in San Jose (terminal 7-10). But there are some places where are just one, two or no taxis at all, for example in Tamarindo. There are the so-called "Piratas" (illegal), that drive taxis privately.
When you enter the taxi, you tell the driver where you want to go. He should turn on the "María", which is the name for the taximeter here. Unfortunately, some drivers use the ignorance of tourists and drive long ways or turn the maría off or don't turn it on at all and charge a more expensive price later. Choose your driver carefully, if you have the chance!
At night, I recommend you to take a taxi, it is the safest option.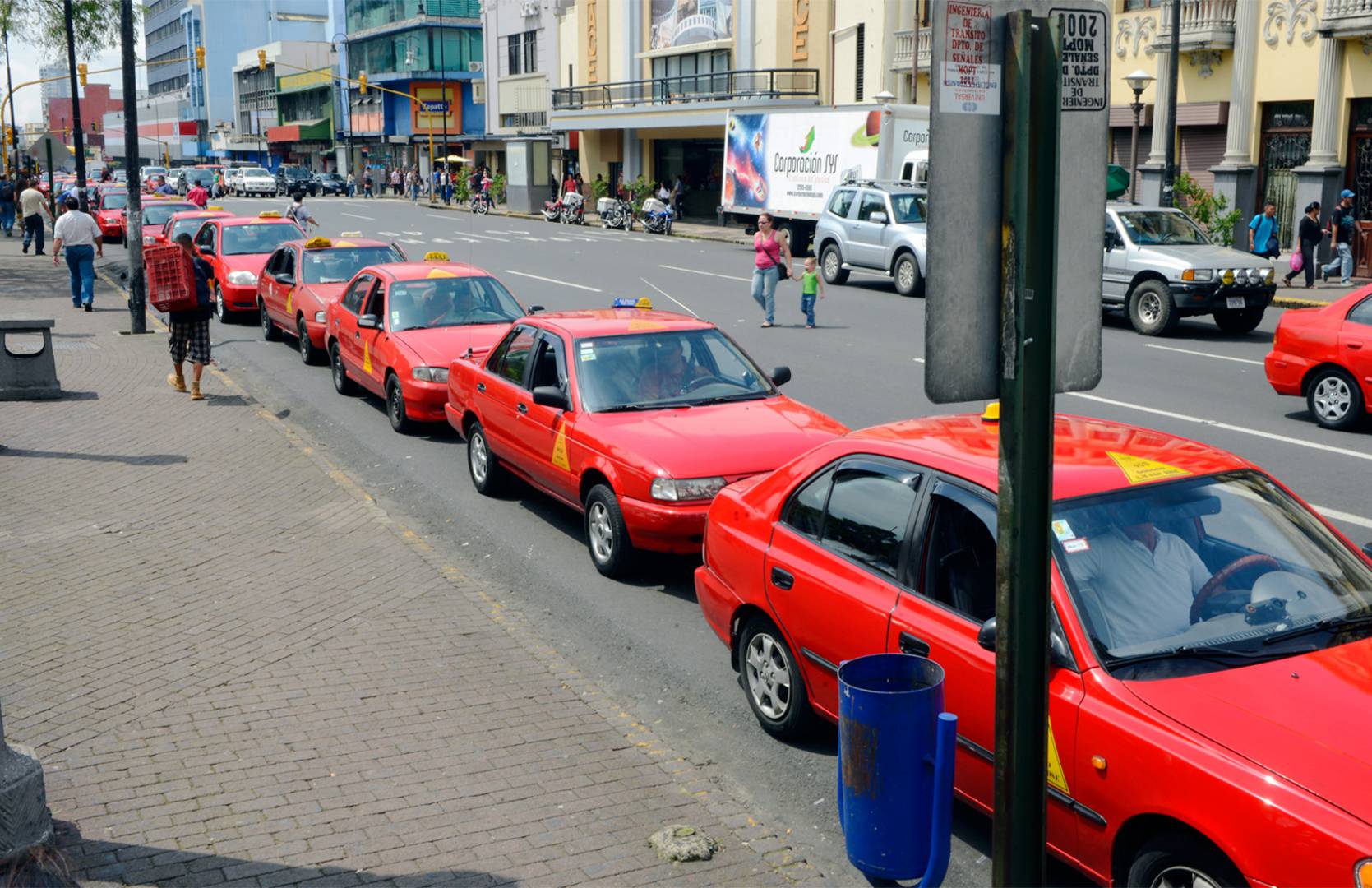 Taxis in Costa Rica
Flights
For some chosen distances there are flight connections. The runways are mostly very short, so just small planes can operate. The airlines in Costa Rica are for example Sansa or Aerobell. From or to San José you can find direct flights that take about 20- 55 Minutes and cost around 40- 100 Dollars per person. But if you want to travel for example from a place on the Pacific coast to another place besides San José, you usually have to stop and change the plane in San José. Anyway, a short flight is a nice experience. Enjoy the view of the rainforest from the top, watch the beach of Bahía Ballena that transforms into a whale fin during low tide, and see the breathtaking green mountains!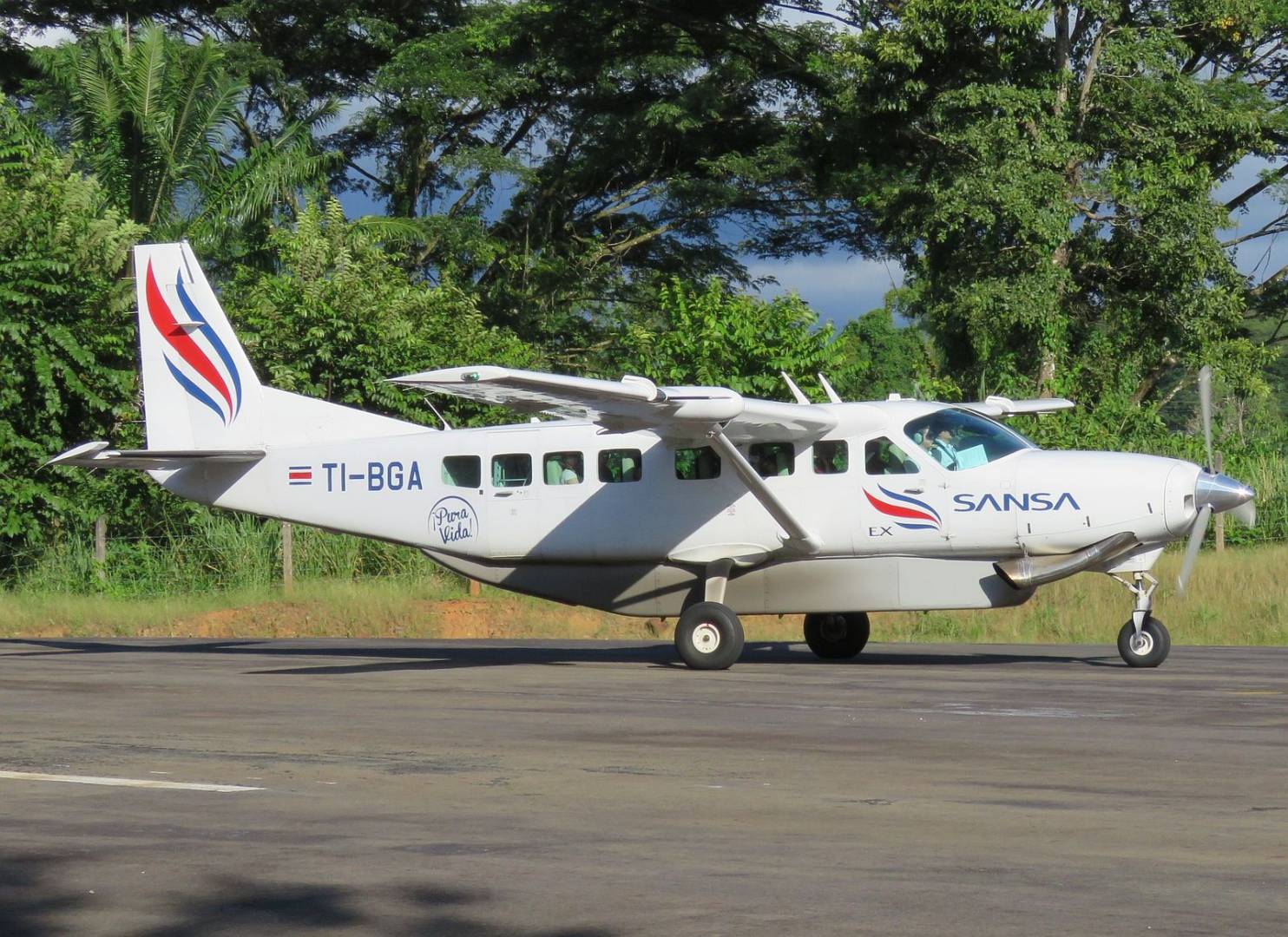 Airplane Sansa
Next to these transportation options, you can also choose private transfers, rental cars or boats. By the way, there are some places, like Tortuguero, where you just get by boat.
Do you already know how you want to travel? What is the most comfortable way for you? Do you have more questions? Then This email address is being protected from spambots. You need JavaScript enabled to view it.!