Monteverde: I'm walking on clouds oh oh!
I always believed that hidden somewhere in Costa Rica you can find a magical place, something pulled out from a fairy tale! And guess what?.... I found it in Monteverde, the place where you can walk through the clouds!
On my vacation I decided to travel alone to this beautiful place, even more, I was interested in taking some pictures of birds.
Monteverde, located in Puntarenas province, is just at 03:00hrs from San José and with plenty of ways to reach it.
If you are someone just like me, who doesn't like to drive (nor likes to pay a good amount on a private transfer or taxi) you can book a shuttle which will drop you off just in front of your hotel. What a great service!
A lovely stay...
I booked a hotel named "Monteverde Lodge & Gardens". I was pleasantly surprised by this amazing place. Located close from Santa Elena downtown to which I could easily walk.
At the time of my arrival, it was quite early, around 12:30, so I had to wait for my room to be ready.
In the meantime, I decided to explore this pretty hotel. With its 3 different hiking trails in which I found many birds, including one of my favourite one, the Keel-billed Toucan (Ramphastos sulfuratus). Unfortunately, it flew away and I couldn't take a picture of it.
After I had an interesting hike, I got my room and went to store my things. WOW! I just loved my room from the moment of entering it.
A small river was outside my room, which had a relaxing water sound. But not just that, on a tree at the side of the river there was a Turquoise-browed motmot (Eumomota superciliosa). With its green-blueish colours and a charming attitude allowed me to take some great pictures of it. What a model!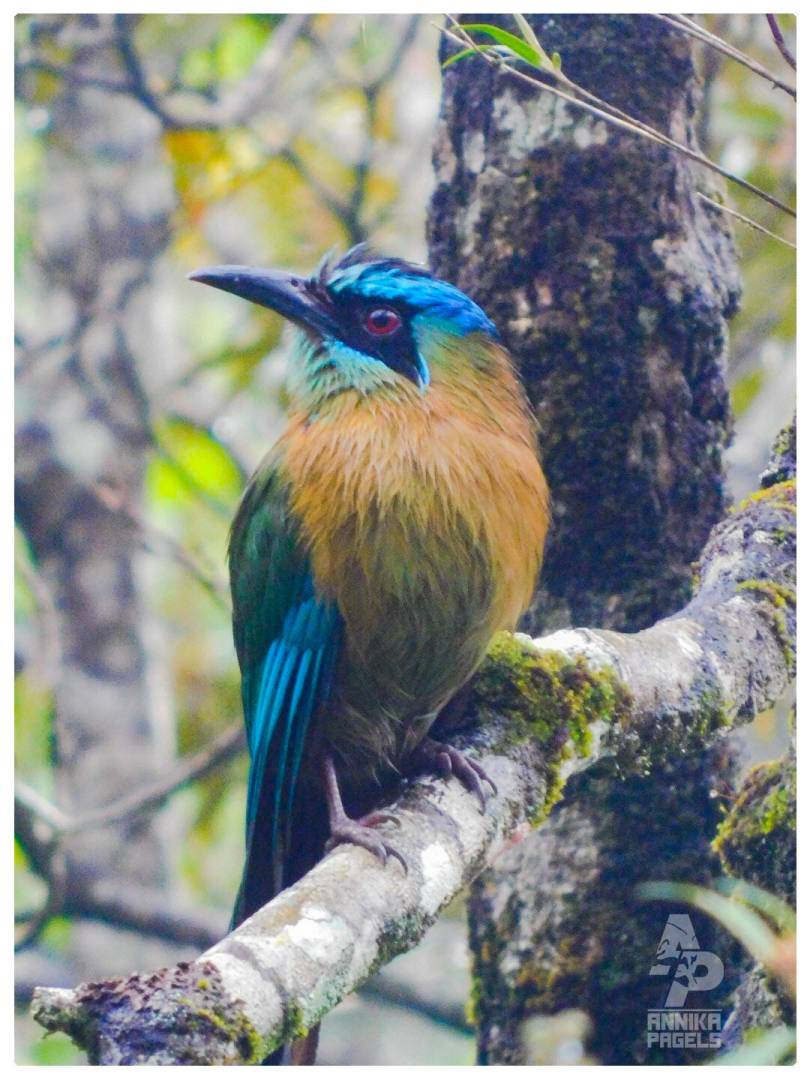 Turquoise-browed motmot (Eumomota superciliosa), Monteverde Lodge & Gardens
While I was taking pictures of it, without even leaving my room, a deep mist started to cover the zone... and so my photos...
At this moment my little bird friend left, and I decided to visit Santa Elena downtown.
Santa Elena is actually a 3 street town, with lots of restaurants, souvenir stores, and tour operators. As well you can find drug stores and a supermarket.
It is nothing big neither fancy… but well… tourists do not travel to Monteverde for a town, they travel for its flora and fauna.
Oh my God! An armadillo! A Sloth! SO MANY ANIMALS!
At night I took part in a tour that is one of the best things to do in the place, a night hike in the forest!
By my luck, we were a small group, just a British couple with their daughter and me. With just 2 minutes of starting the tour, we found around 5 different insects, even a Tarantula.
Our guide was very well-informed and he knew where most animals already had their dens or the paths they took every night.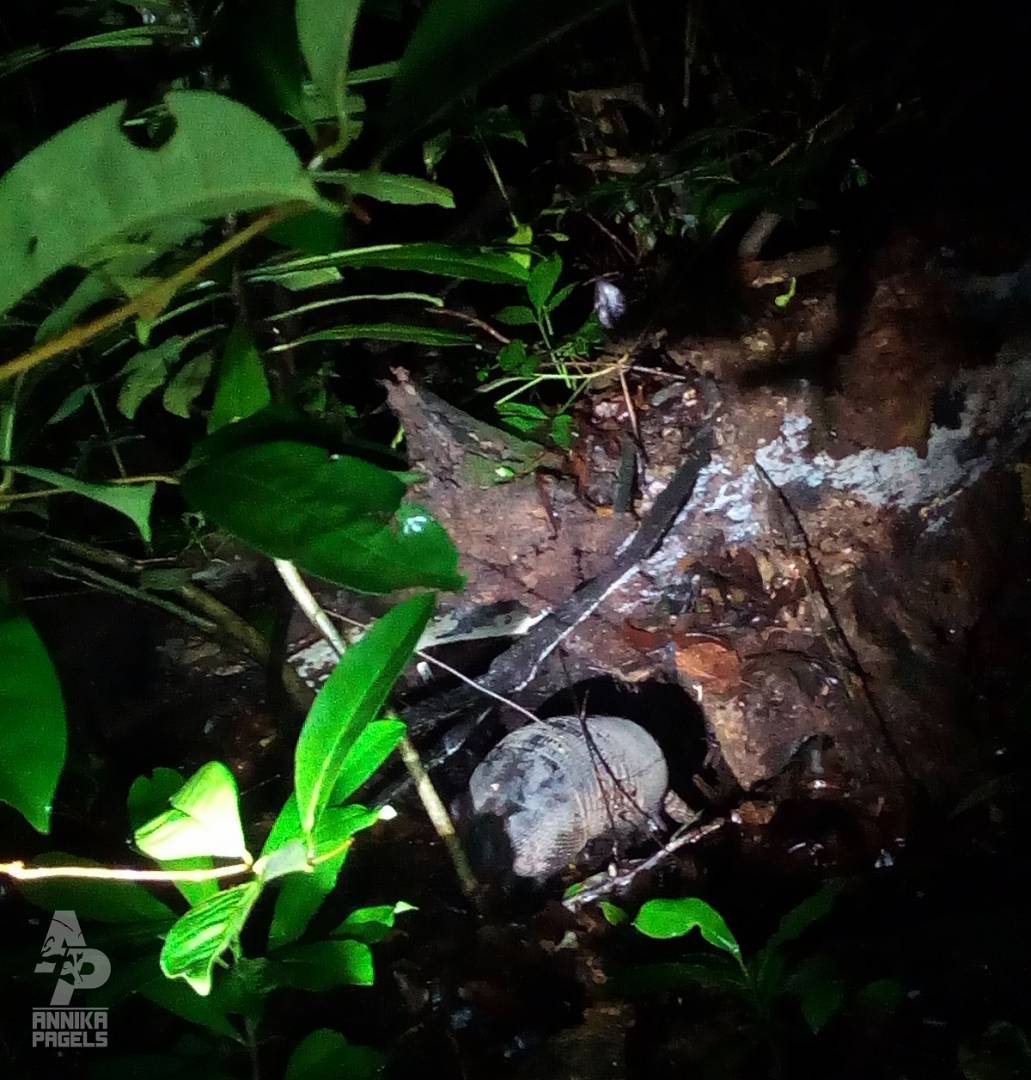 Hidding Armadillo, Monteverde  
We saw many animals, some of them were: armadillos, opossums, sleeping birds, tarantulas, sloths (we saw 3!), raccoons, different types of frogs… and a house cat… We were surprised to see a feline, however, it was just a simple house cat tricking us.
Most animals are awake at night if you wish to see a good amount of wildlife, go and book a night tour!
You won't be disappointed!
It's bird time!
The next morning I visited Selvatura Hanging Bridges Park.
Every time you hear about Monteverde, it will follow a sentence "You must visit the hanging bridges!"... so well, I did it on my desire of finding two of the most iconic birds of this zone, the Resplendent Quetzal (Pharomachrus mocinno) and the Three-wattled bellbird (Procnias tricarunculatus). My guide told me that at that time of the year it was going to be difficult to find the Quetzal… I had hope…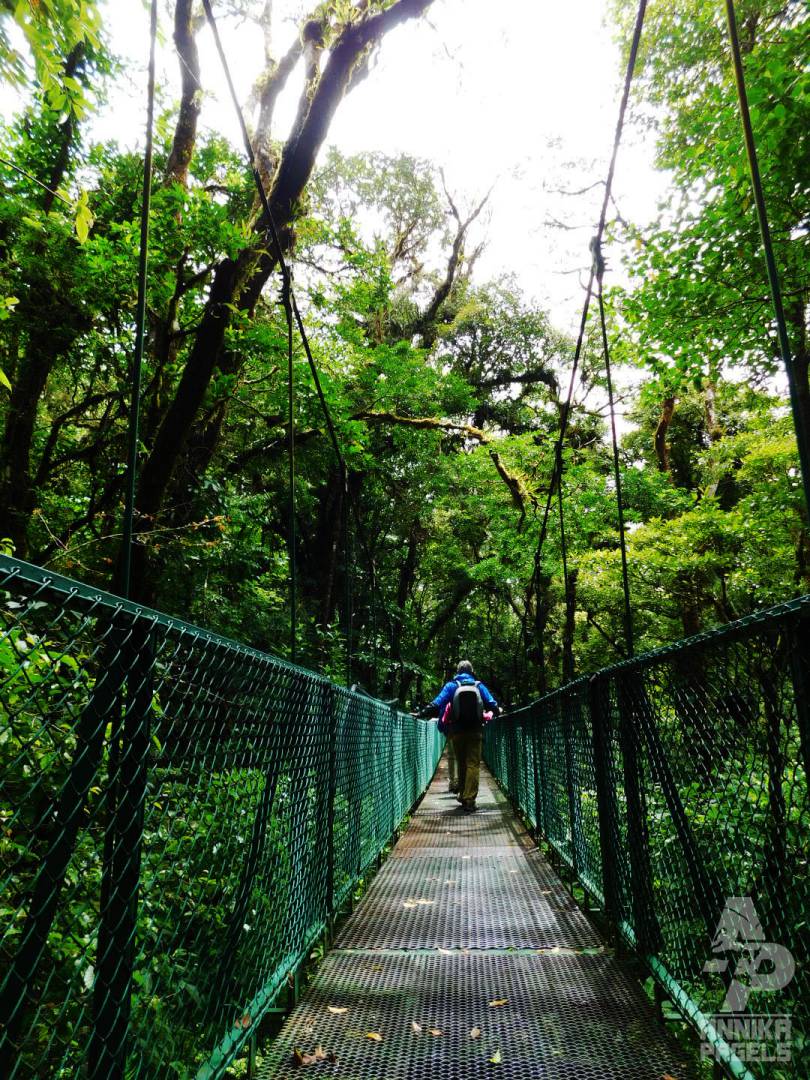 Selvatura Hanging Bridges
This time the group was a little bigger, most of them from the United States of America. Our guide started the walk and explained to us the ecosystem that we were walking through when an interesting sound stopped him.
-Do you hear that? That's the Quetzal!
As fast as possible I took out my camera, ready for taking that shot! But nothing more than a sound lost in the trees…
We started to cross the bridges… we were walking side by side with the treetops. I could see all the different plants that covered those trees, many of them orchids, how delightful and pretty.
After crossing the first bridge, our guide stopped us.
-The Quetzal!
I went crazy! Finally, one of the two birds I was searching for appeared.
It wasn't too far nor too close. However I did my best to film and photograph it.
Resplendent Quetzal (Pharomachrus mocinno), Selvatura Park
After around 20 minutes, we continued our walk and when starting the second bridge our guide smiled at us and said: "That other sound you hear, is the Three-wattled bellbird"... Oh my God, I can't express how happy I was feeling just that. I had never seen or heard this bird.
We kept our tour until we reached where the bird was singing…. But… Surprise! There were two of them! At the same spot!
I was more than shocked, my two "bird trophies" in one day. That was way too much luck, I couldn't believe it.
Three-wattled bellbird (Procnias tricarunculatus), Selvatura Park
We continued, there were more bridges to cross. On our way we saw more Three-wattled bellbirds, to the point we said "oh, another one.. Let´s continue".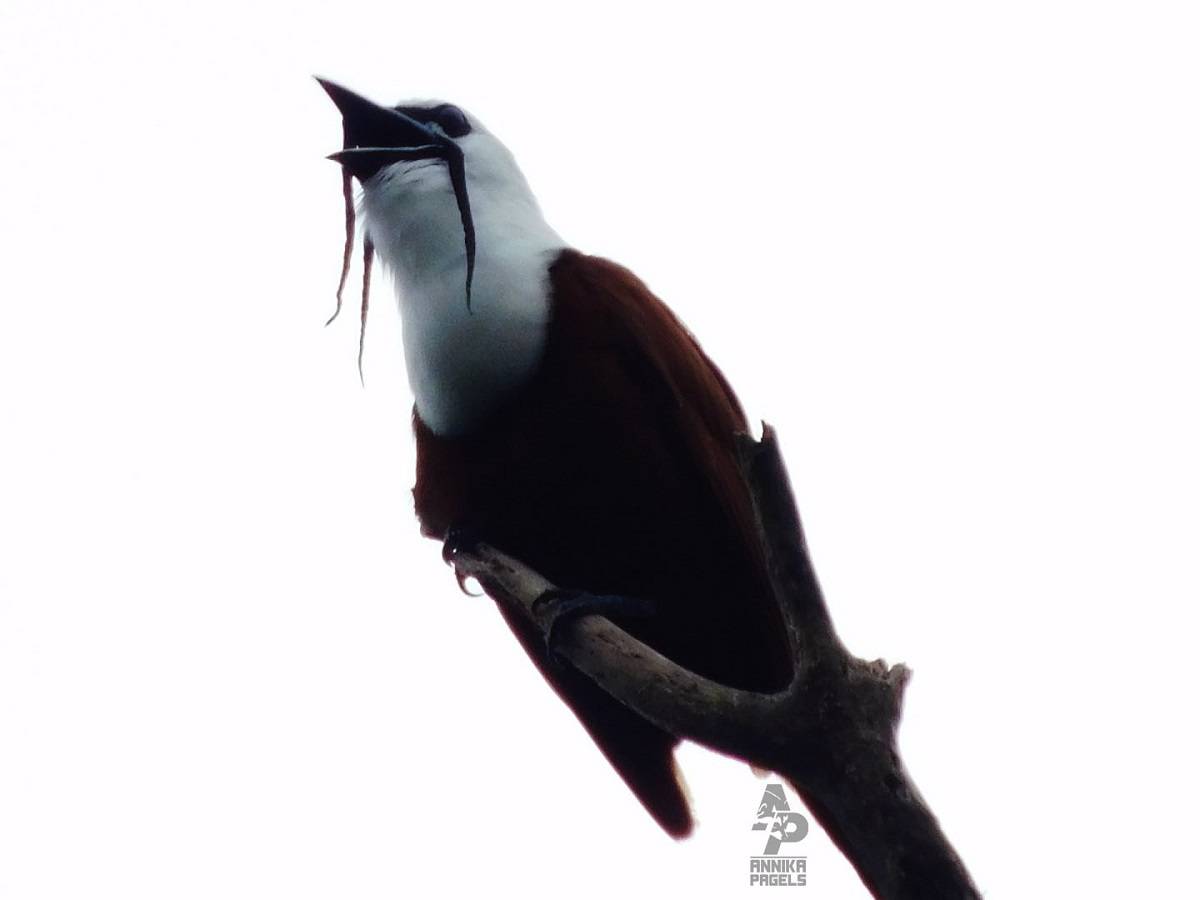 Three-wattled bellbird (Procnias tricarunculatus), Selvatura Park
While we were walking, once again we got attacked by the mist. It was magical, crossing these bridges without being able to see the other side of them… I felt just like in the Jurassic Park 3 movie, where they enter the pterodactyl cage and can't see their path… (I know.. I'm a big nerd)...
At the end of the tour we had a lot of luck, we not just saw two of the most beautiful birds, we even saw other species as Mot-mots, Howler Monkeys, Tarantulas, and Hummingbirds.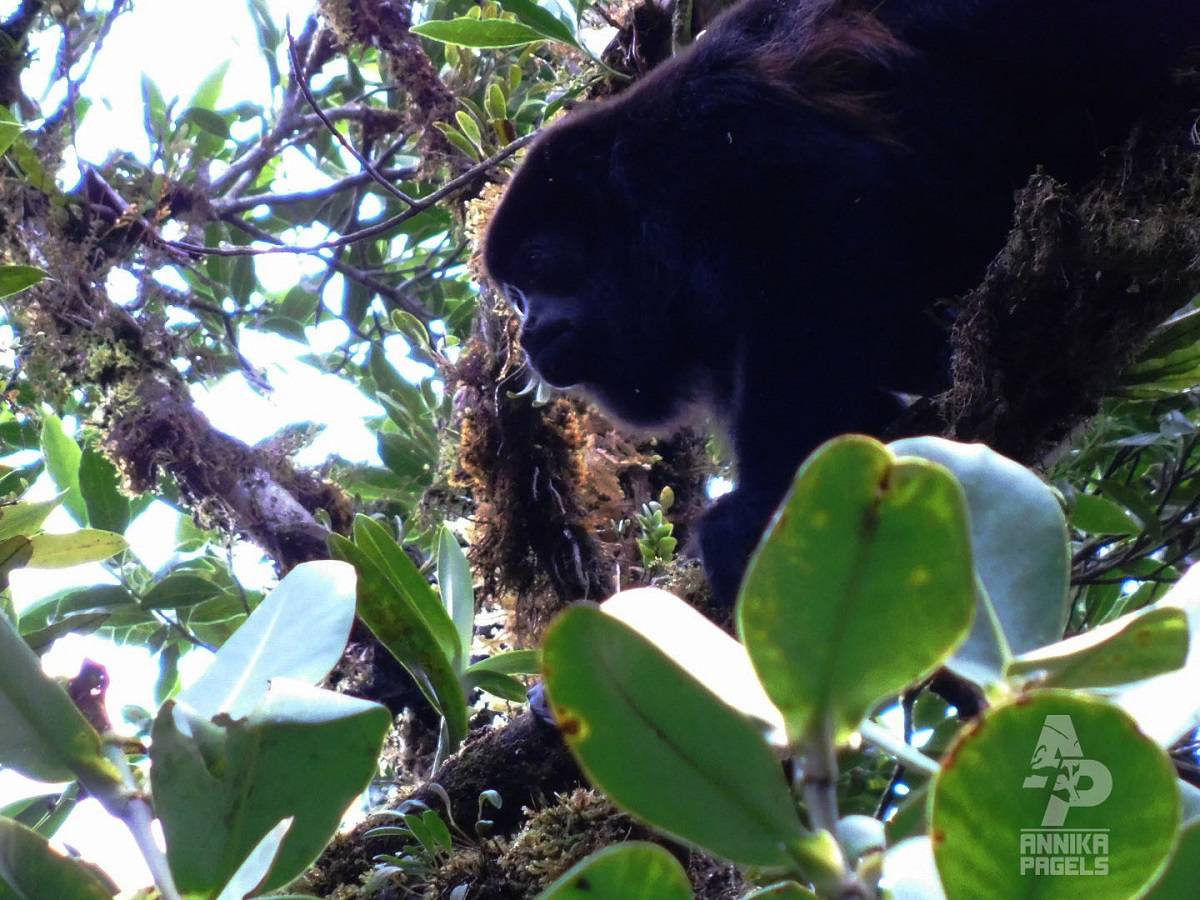 Mantled Howler Monkey (Alouatta palliata), Selvatura Park

Once you reach the station of this park, you can decide to do more activities (reptile garden, hummingbird garden or zip line) or you can just go back to your hotel.
Why do I have to leave?
My time in Monteverde came to its end, and I couldn't be sadder about it.
Monteverde is a place where you can enjoy tons of activities and it is a highlight for those who seek wildlife, especially birds!
It is a cloud forest and it can be a little cold or even feel a nice chill, so my recommendation if you visit the zone is:
Do NOT forget your jacket and your camera! Capture all those magical moments and don't let the cold beat you!
I had to say goodbye to Monteverde and its magic, nevertheless I will be back as soon as possible!
If you wish to know more about Monteverde or what you can find in here: Don't overthink it much! Write us down! We are always happy to talk with you.
Hugs,
Annika
Monteverde: I'm walking on clouds oh oh!
Recommended Blogs