Escazú: The Folklore Guardian
I know Halloween is over! But it's hard for me to accept how underestimated this celebration has become. I love monsters and everything related, so I did a quest to find where Ghouls, Ghosts and Witches hide after the trick or treating candy-hangover is over. The best place to start is Escazú; commonly known as the "City of Witches".
The good old times...
My first childhood memories come from a small neighbourhood in Escazú. My first friends, my first kiss, sleepovers, playing street baseball, hide and seek and what not. It was a time, a different time, where socializing was all about sharing with friends. All the neighbours used to organize street parties, BBQ's, fireworks and get-togethers in general; the streets came to life and we kids had an excuse to stay up later at night.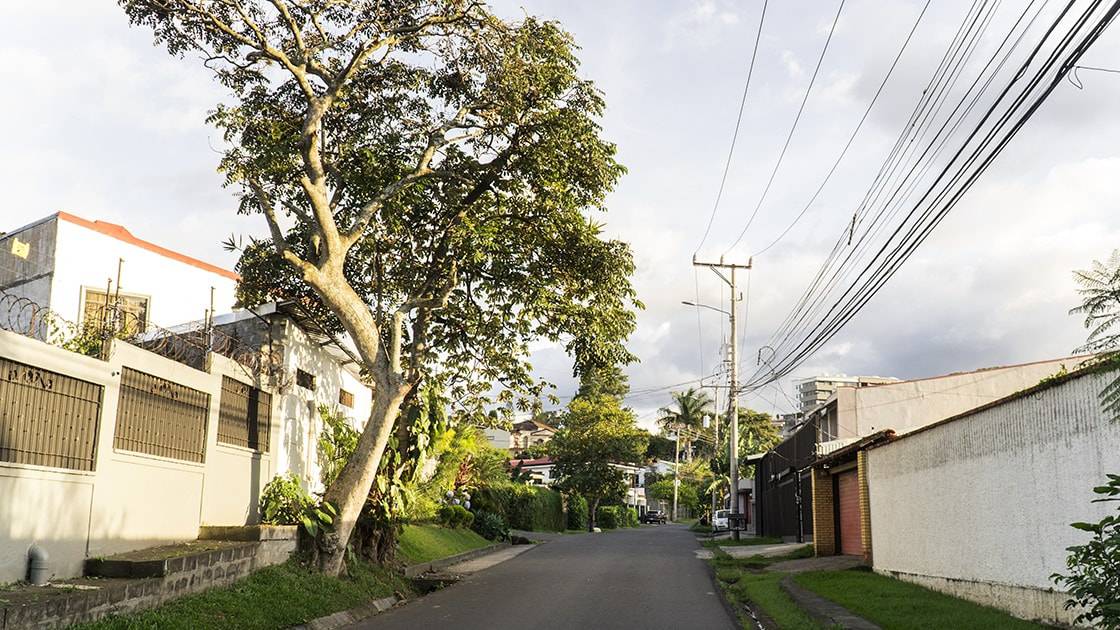 Back in the day, we didn't have any tall walls or razor-wire fencing. On the left my old house and down the street, the house with the parked car on the left used to live the girl I first kissed.
We always had these weird adventures; even with the smallest plan, something always came up. From riding our bikes to buy ice cream, find fruit trees, to looking for abandoned houses. I loved to go inside abandoned houses and find "treasures", worthless junk that previous owners had left behind; I saw those objects with great value, as they might have been useful to someone at some point, or cherished by someone until they got lost.
I was introduced to adrenaline when I was very young; that rush of entering a forbidden place or to not know what you might encounter when entering these crumbling places. I remember getting a good scare twice; the first one, we heard a telephone ringing somewhere in one of the abandoned houses we used to visit frequently... we couldn't find it! And exploring outside the house, we saw some of the tall weeds rustling and moving, like if someone was lurking on us, we obviously ran like crazy out of the place. The second one, we entered the same place with more courage and tried to find out what the sounds in between the tall weeds were. I lie to you not, I saw a human distorted figure moving super fast in between the weeds. That was the last time we entered that "haunted house".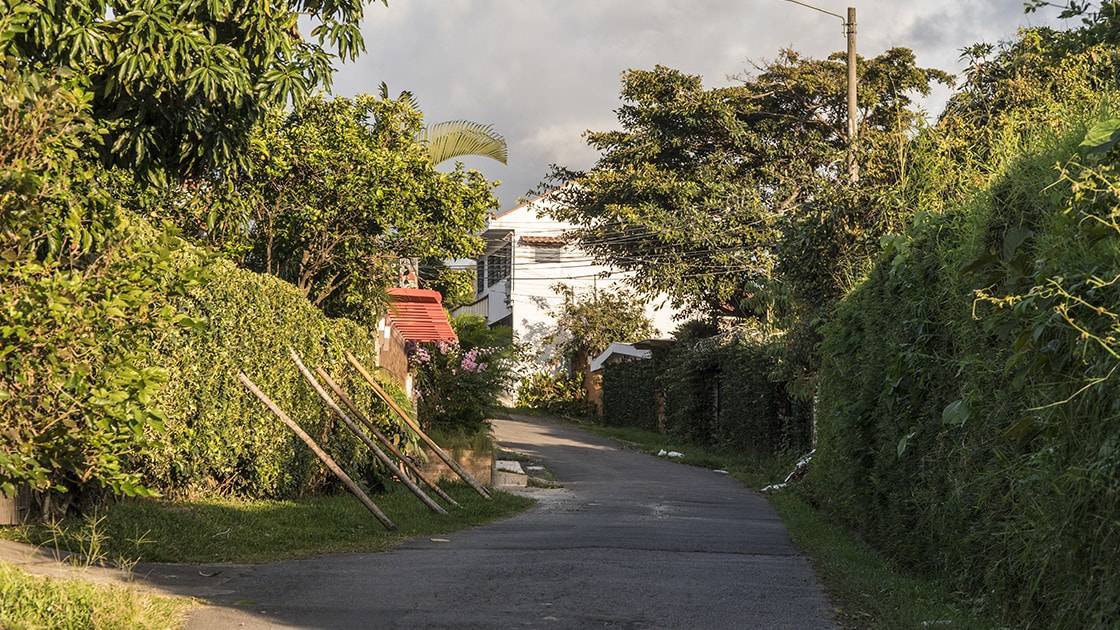 The street that leads to the "Haunted House", which is now a closed small apartment. I also had my first bike accident riding down this small street.
That haunted house became famous between us kids and one night, at one of our parents street-BBQ we were welcoming a new kid on the block, he was at least 3 or 4 years older than the rest of us in the neighbourhood, so we looked up to him. We gave him the tour around "our" street; and took him in front of the haunted house while telling him the scary moments we had witnessed. He replied:
"...Whom you saw, might've been "Zarate the Witch" (the most famous Witch in Escazú); shaped like a woman but with bird legs"
Escazú and its witches
We stood stiff cold, it was our first time listening to stories about old Escazú and its witches, he was older than us, so we had to believe everything.
Escazú or previously know as "Itzkatzu" was the original name given by its indigenous inhabitants. It was a famous resting stop for other pre-Columbian hikers that came from long distances throughout the tallest hills in Escazú. This mountain range was home for one of the oldest populations in Costa Rica, even before San José itself. Hills like "Cerro Pico Blanco", "Cerro San Miguel" and "Cerro Rabo de Mico" are the most famous to have held great mysteries, and they all gather meeting places for magical creatures who guarded medicinal plant crops.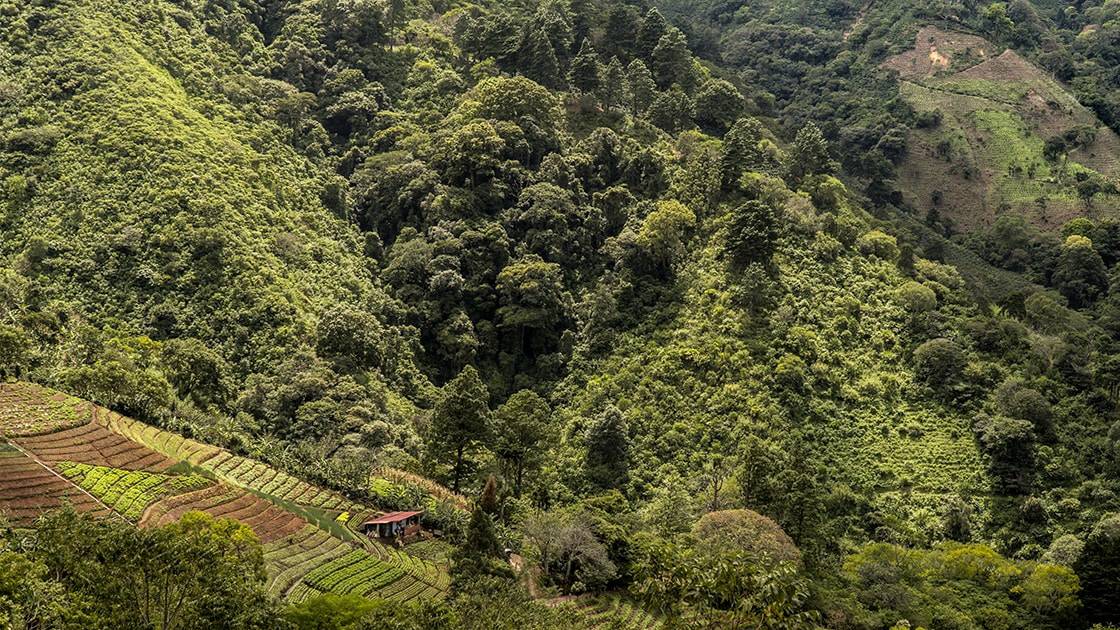 Going up the Escazú mountain range. They still seem to have crops where once they used to grow medicinal herbs. This ancient soil kept its supernatural powers.
Just like my adrenaline-filled adventures hunting for haunted houses when I was a kid, I decided it was time for me to lurk around the hiding dwell of the "Zarate Witch" and maybe find the resting place for some of the banshees and other ghosts that used to (or still?) roam Escazú.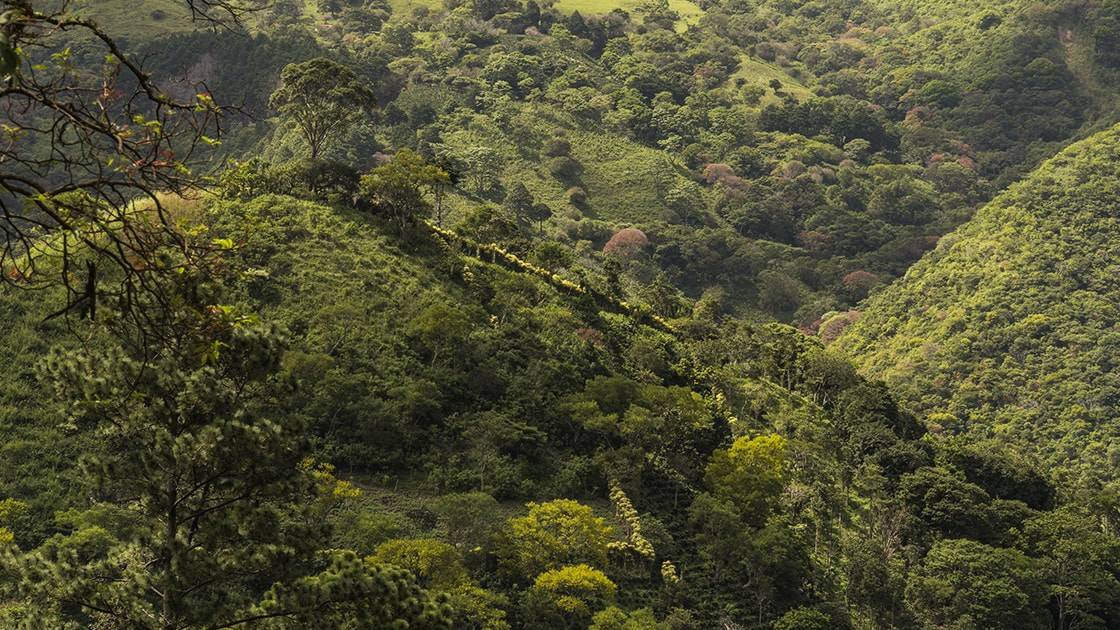 Roaming old lands
I was impressed by how quickly it took me to get from a busy city out to the mountains. There are incredible unimaginable views of infinite colour schemes just a few minutes from San José. The Escazú mountains still have the typical Costa Rican way of life, hard-working farmers and herdsmen, this is obvious when you see old men walking with rubber boots, machete and a large "yute" sack (natural fibre bag). The landscapes revealed where they worked the crops and this was the hint I needed to help me notice I was on the right track to find something.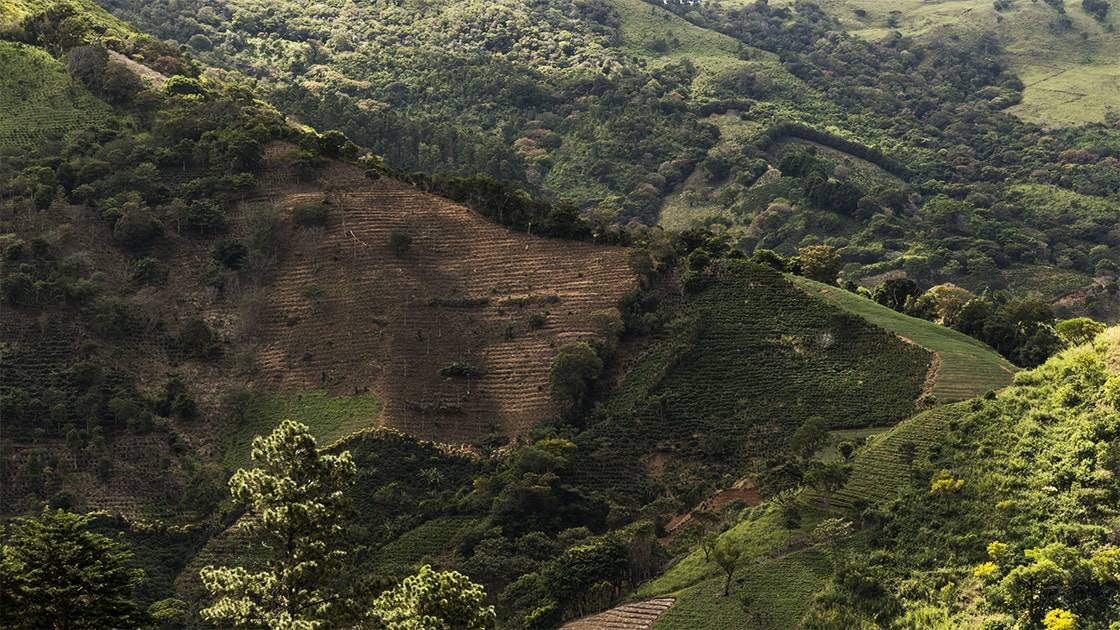 Halloween was a Celtic celebration, known as Samhain, a very important event as it commemorated the end of summer and thus, the end of harvests, so it was associated with human death. To avoid any superstition that may harm the crops during this period, people will meet to make offers by burning crops and doing animal sacrifices to their deities and usually they will "hide" from evil spirits by dressing on animal skins and heads.
End of harvest
Just like the Druids, the first inhabitants in Escazú, took very seriously their crops and they had women in charge of protecting and elaborating medicinal recipes and until 1960 you could still visit one of these "Medicine ladies", at least 23 of them had inherited their ancient indigenous roots. Some of them were the original "witches", feared by some, as they lived under particular conditions, but many others appreciate them, even the "high class" knocked on their doors to look for potions and natural curative remedies.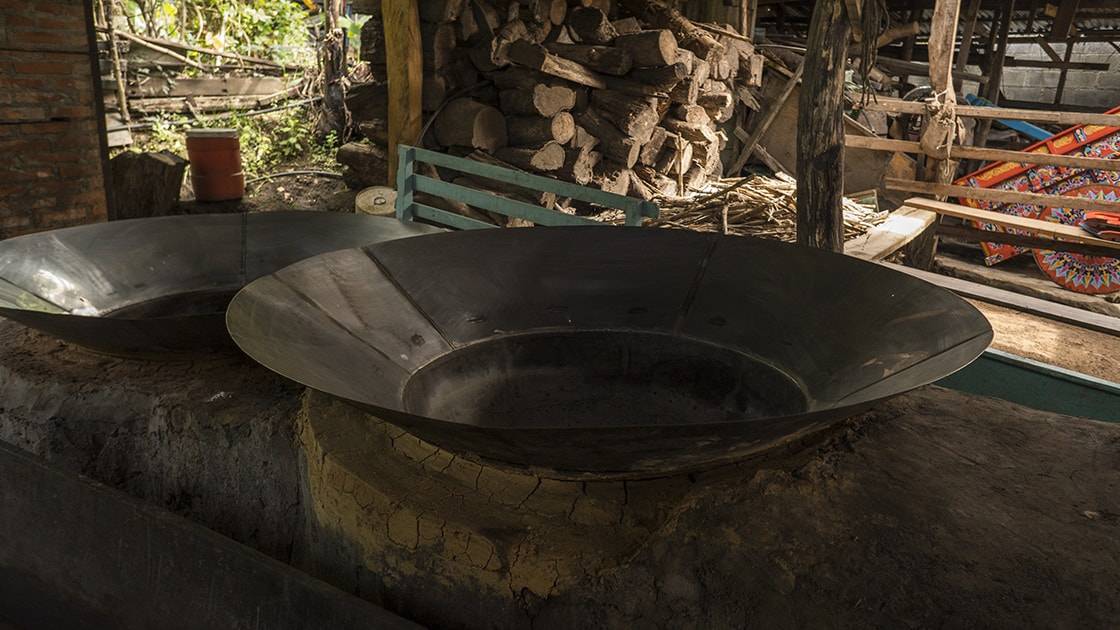 Looks like a giant Witch cauldron. But it's actually used to heat up sugar cane. 
I stopped on my way up to the mountain, as my attention was drawn towards a small garage place that had an old "trapiche" (press mill). This and other old-fashioned objects were there sitting on a dirt floor.
"Upeee"
I called to the closed gate when a small, very old lady came to attend my "Costa Rican call" I explained to her what I was doing and asked her permission to enter and take some pictures, maybe she might as well tell me some stories surrounding the myth and legend of the Witch and where she hides.
She welcomed me and opened the gate while standing on her bare feet on the dirt floor, dressed with an old-fashioned white dress and apron. She then proceeded to explain about the sugar cane process on the "trapiche", a very rudimentary, hard work process that requires the muscle of two oxen to grind the raw sugar cane and extract its juice.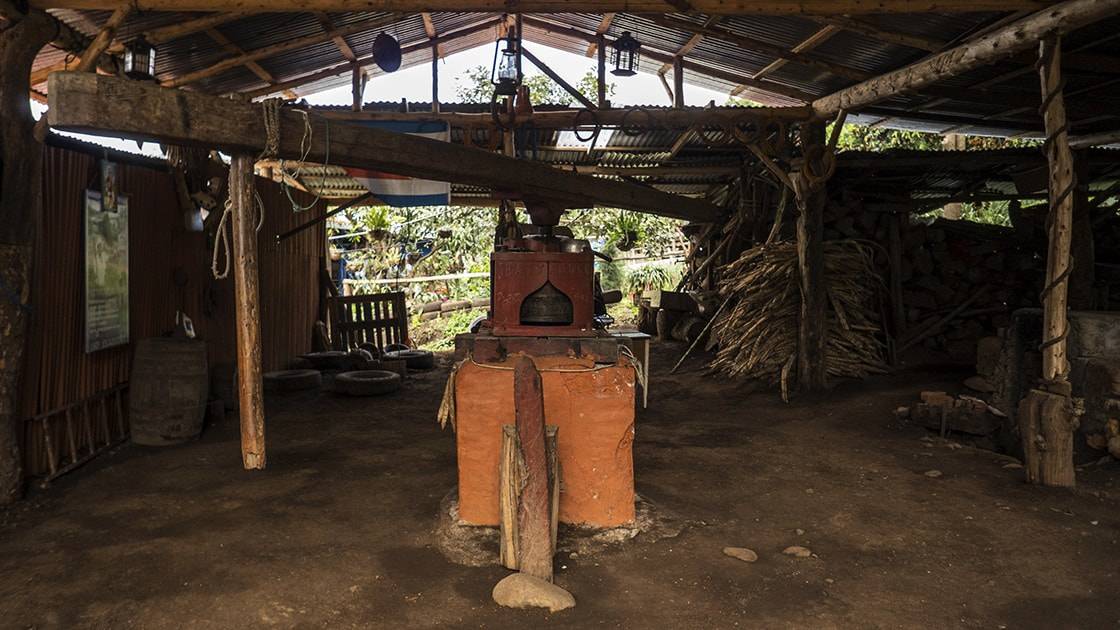 This is the "trapiche", without the oxen.
After sharing some stories about her late husband, who used to work with the "trapiche" she told me about a mysterious old man who used to roam near "Cerro San Miguel" (where I was with the old lady at that moment). He was seen every day walking around with a stick, a long grey beard, long hair, all dressed in black with ragged clothes. The neighbours were certain he was the last descendant of the Zarate Witch, but we will never know, as he just disappeared, never to be seen again. So I asked her if she knew a bit more about the Witch and without a clue, she took me outside and pointed a very close mountain range (the same I was driving to) and showed me where she used to be seen. "Cerro Pico Blanco" is supposed to be a hollow mountain, and there are three secret accesses through caves, or "windows" as she described; from there she will keep an eye of Escazú, Aserrí and San Ignacio de Acosta (both used to be part of Escazú). But on specific days she will come out with crows, bats and goblins to protect her enchanted lands, as she strongly believed the old Escazú was Her sacred territory, after all, she had supposedly traded her soul for those lands with The Devil itself. She was seen many times, walking barefoot and smoking. Her hair was very characteristic, two black hair braids and a black hat, dressed in black and a scarlet scarf that accentuated her indigenous ethnicity.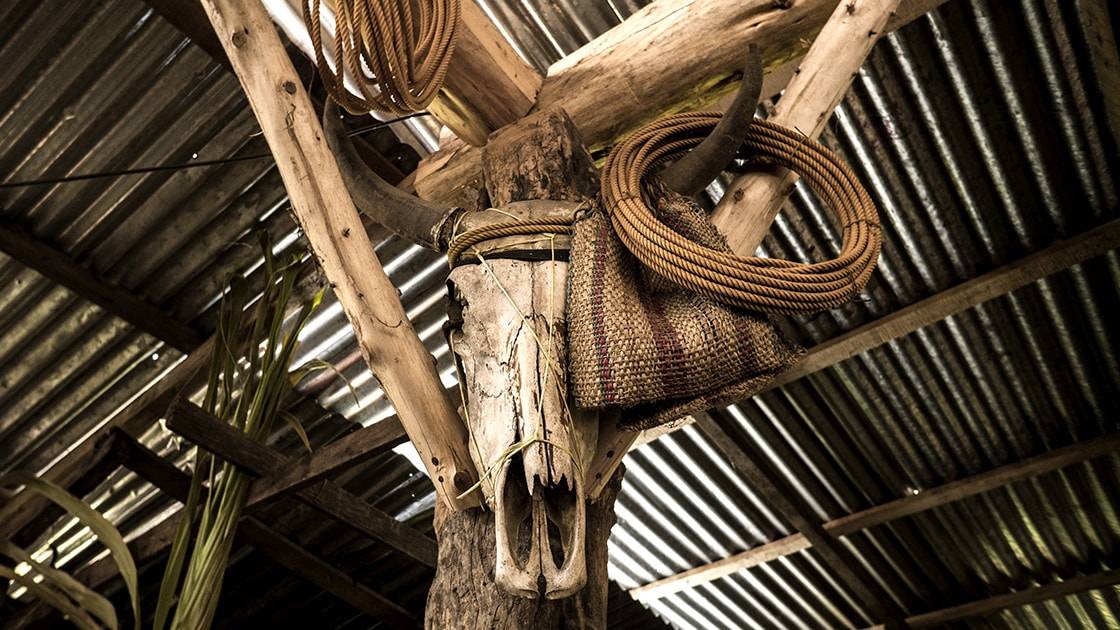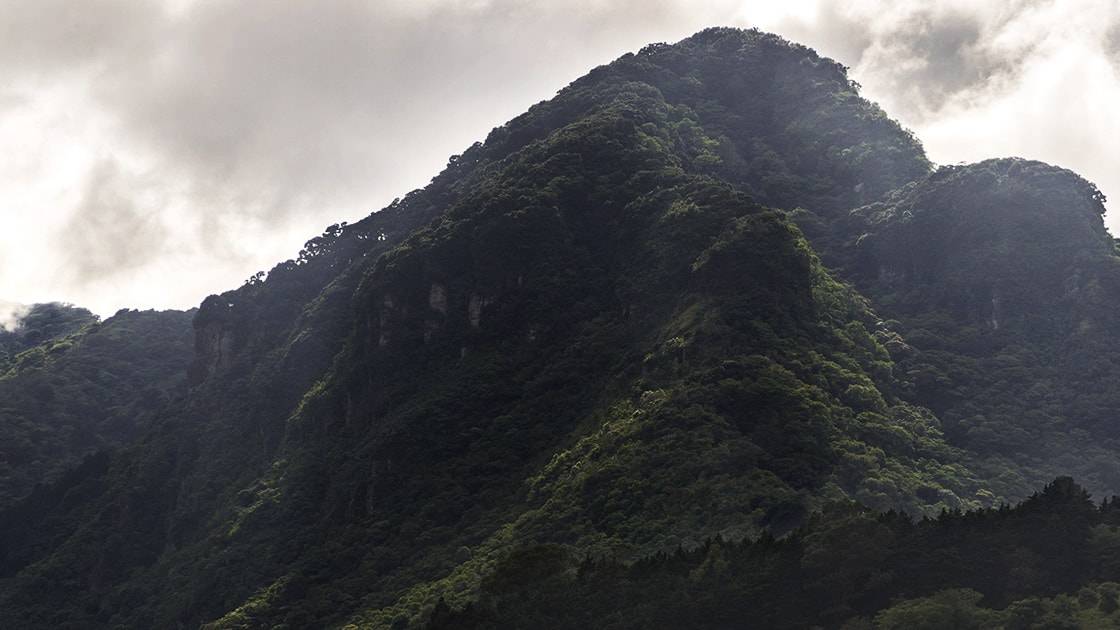 I thanked the nice lady and started going up towards the hazy hills, it wasn't that late, but clouds and thin layers of fog were trying to cover the mystery as if the Witch knew I was looking for her. The road ended and I put my car to the test, driving over boulders and stone paths through dry rivers until I got to a dead end. I got out of the car and noticed there were colourful trees with a sweet aroma; the air was filled with a fresh smell of cut wood and scents of wet dirt, a very soothing, almost sedative smell. I looked back to where I would have to go through again and noticed there were some abandoned structures hiding inside some scrub, so I walked down and saw a wall with symbols that reminded me again of the Druid deities, the Sun and the Moon. I thought I might be in the presence of otherworldly spirits, I could feel it through the seductive fragrance in the air, or maybe I was just hypnotized by the textures on the hills and tainted by the magical fresh breeze of Escazú. All I knew was that I felt reverential respect towards the silent place I had just found and somehow I discerned empathy for Zarate, I now understood why she wanted to protect these amazing natural surroundings.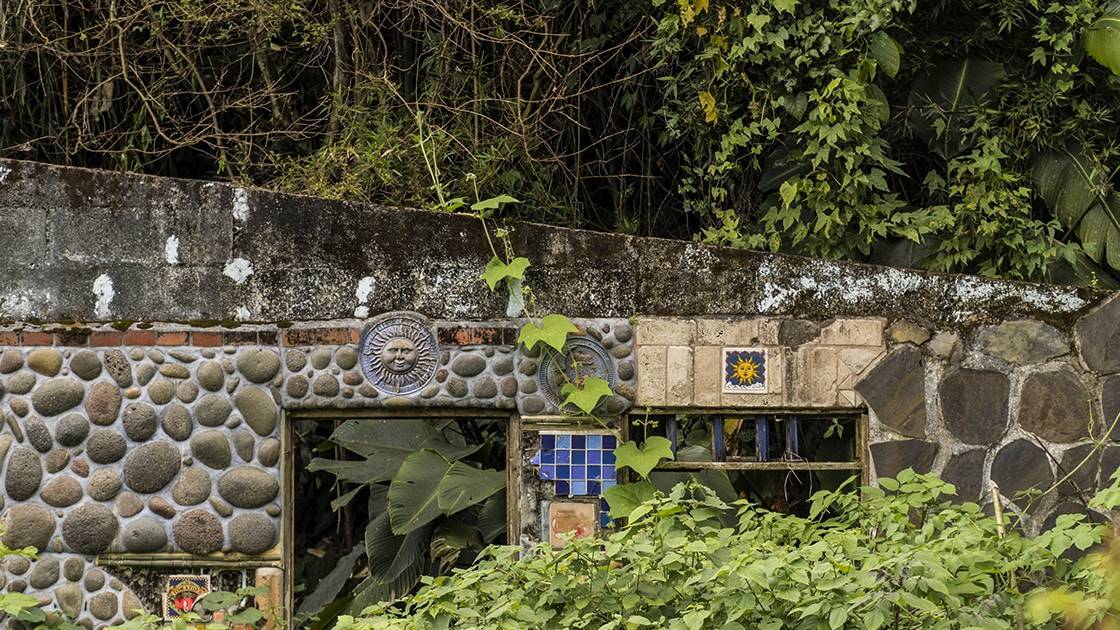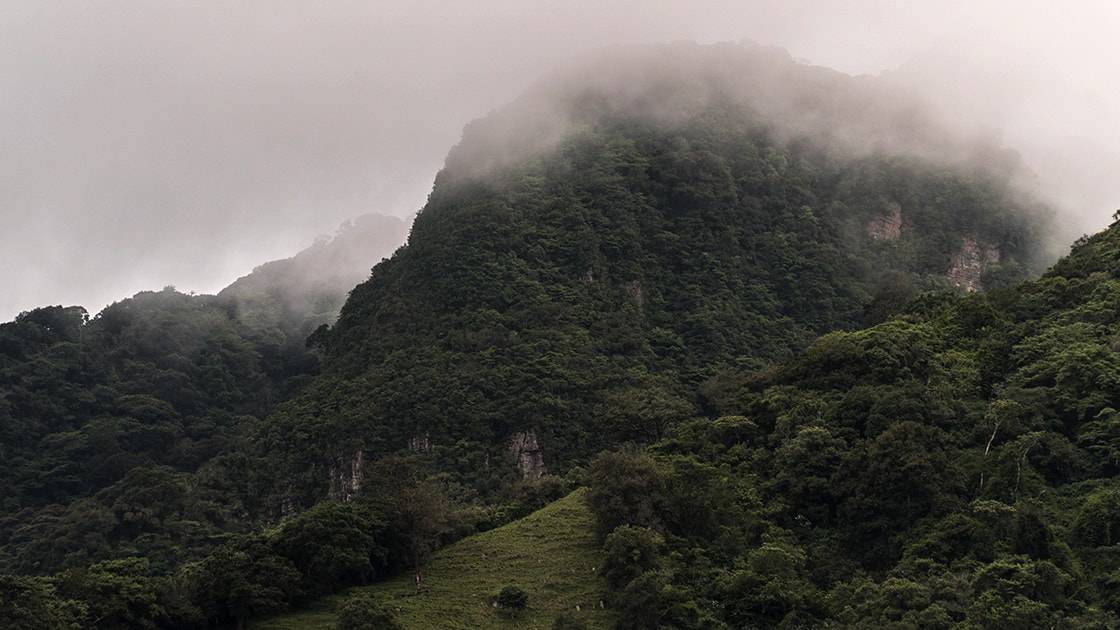 The view up from the strange wall I saw. The dwelling place of Zarate (The Witch).
Wrong turn
I started driving back down, but I think I took a wrong turn. The sky seemed to open up and some rays of light managed to break through the clouds at moments, when I encountered what I thought was one of the doors into the cave of the mountain, there was a shot to meet the Witch after all. I stopped the car to take a picture when all of the sudden a herder passed me by with two oxen. I couldn't resist and asked him about the Witch. He made a gesture and while smiling he gave me an address...I didn't think about it much and just went for it.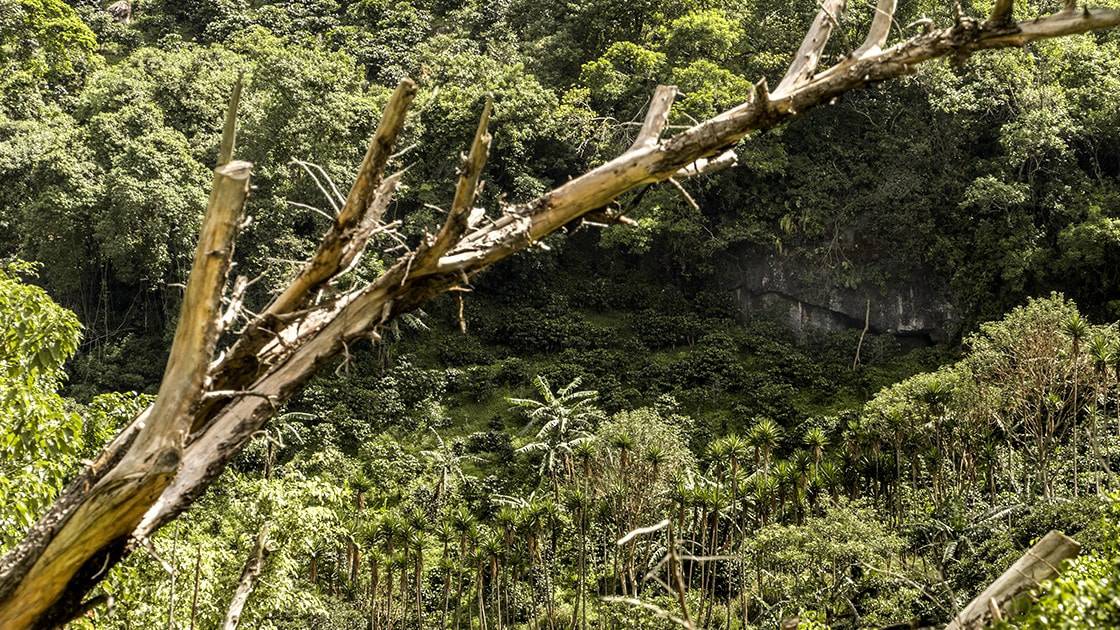 One of the three possible "windows" from Zarate's lookout to Escazú. Or just an entrance to her hiding place.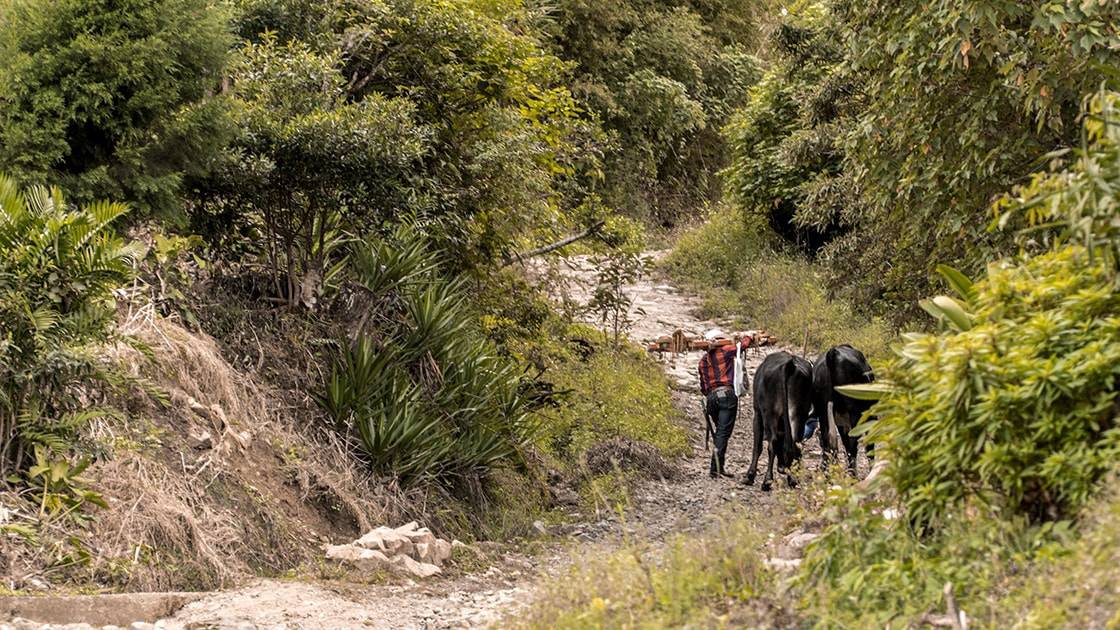 I was now driving down the hill, following the directions the herder gave me. The view was mesmerizing; down until I found the place I was looking for, it might not have been a cave or a secret entrance in the mountain, as they say, the best hideaway is always at plain sight and there it was in front of me; the resting place for all the creatures and monsters, where all ghouls and the Devil himself were kept away safe from the public and I had the chance to meet their caretaker.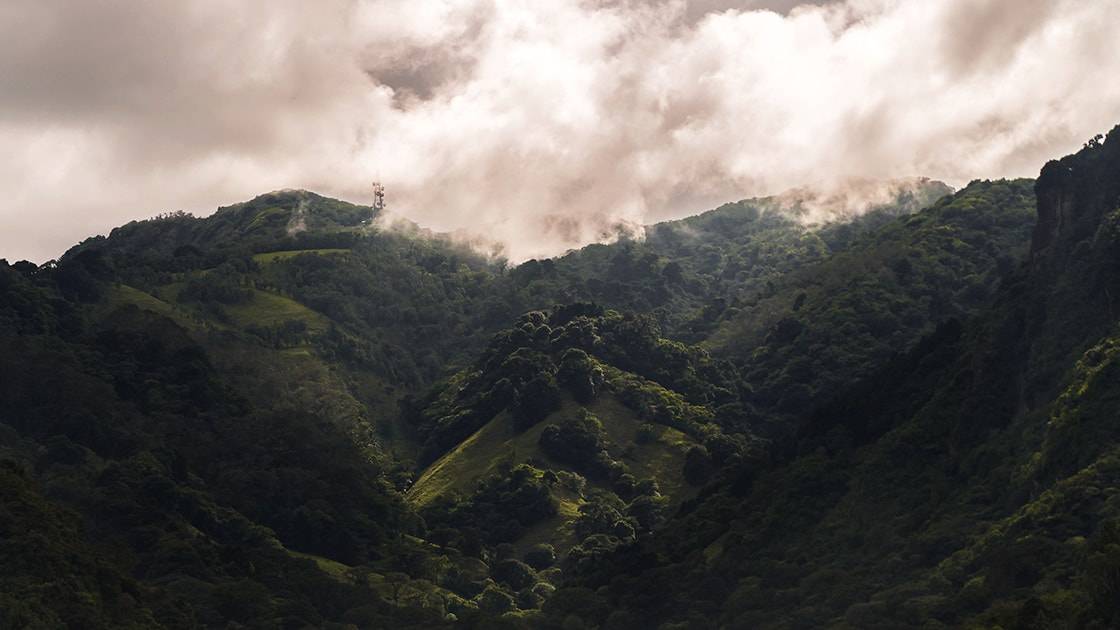 Finally
The custodian seemed to be a farmer over his fifties (but looked younger); rubber boots, jeans, open neck shirt with his chest uncovered, chonete (typical Costa Rican hat) and a bold moustache. At the gate of his house I told him I was referred to come here and meet Zarate the Witch, he smiled and opened the gate. With enthusiastic energy, the man rushed me to a shed in his garage and opened a couple of metal doors that revealed all the classic creatures and legends from the Costa Rican folklore. There it was, the monster lair, the resting hideout, inanimate beasts waiting for Halloween eve to be awakened by the magic spells of the high grounds I previously visited. The small leak of light on the roof amplified the creepiness, I was delighted to have finally found them all.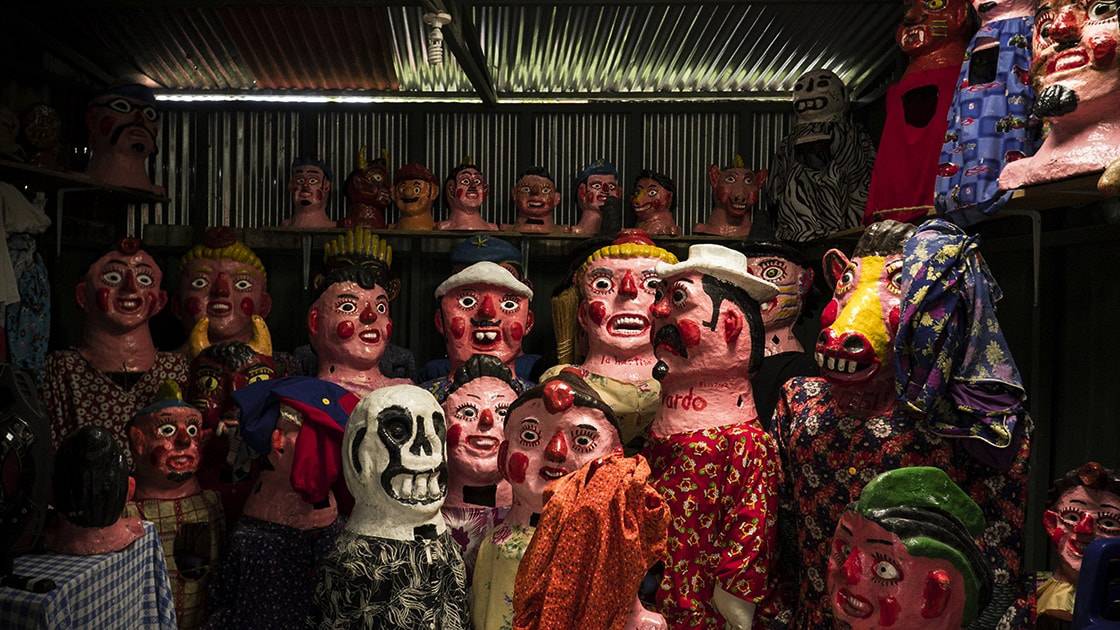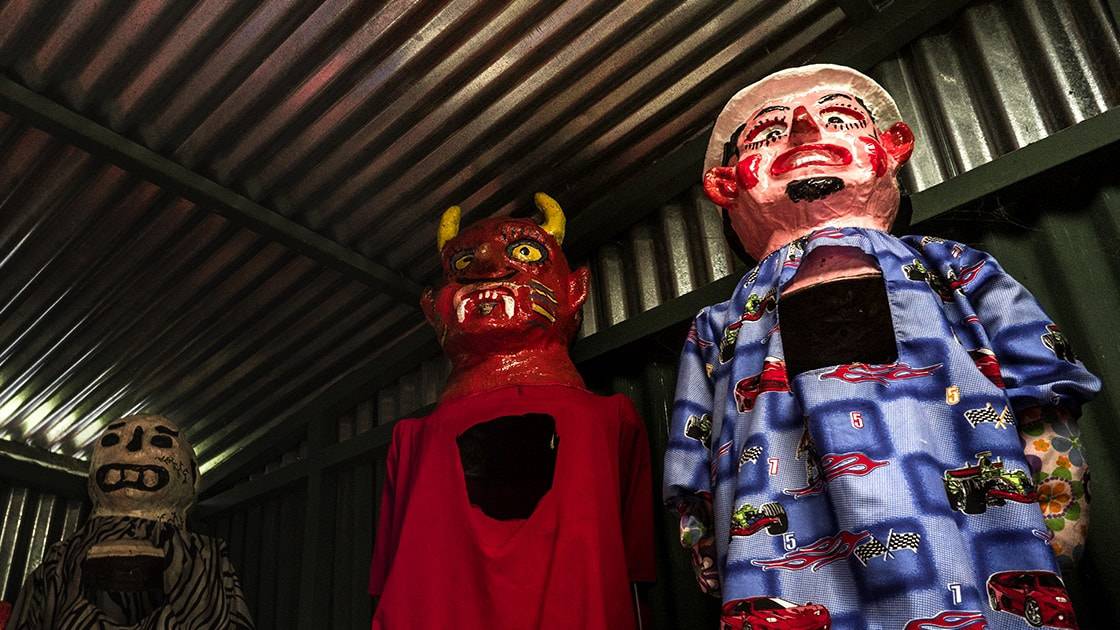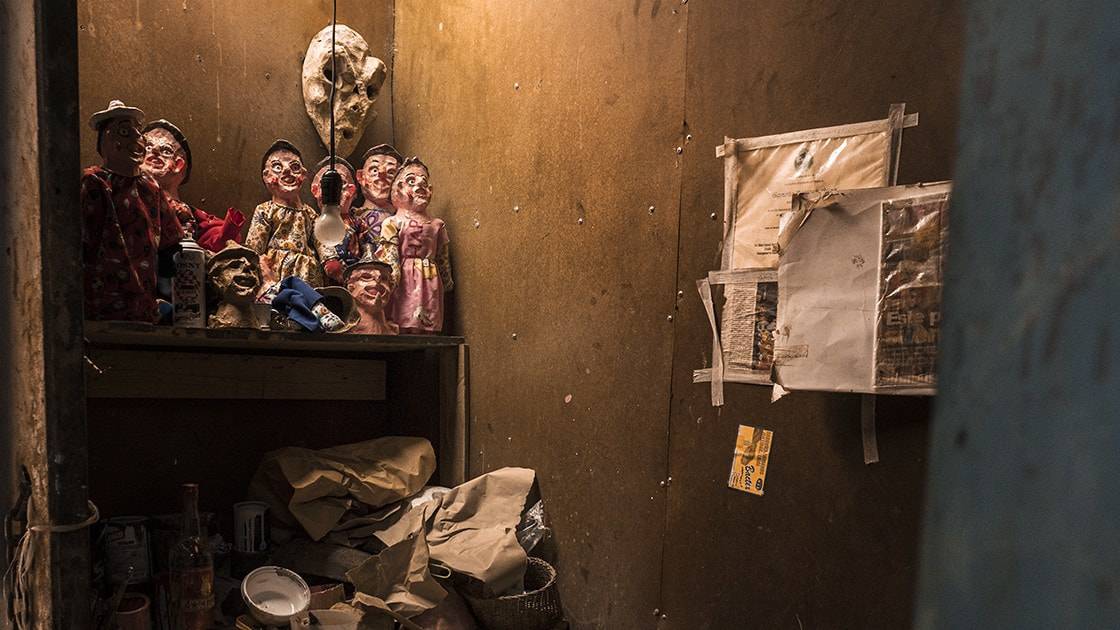 My quest had ended; I had not only found the Witches accomplices but I unveiled the cloak and dagger; the importance to explore where we come from, the roots of our culture and find pride on those who still fight to maintain its essence and spirit alive. Nature holds many secrets, and it bears ancient knowledge. If you know where to look with respect, you will find the alchemy that transforms the legends of the past into the livelihood the people of a city needs to build a strong, solid community, something Escazú found centuries ago by keeping its rich folklore intact, sheltered by Zarate the Witch.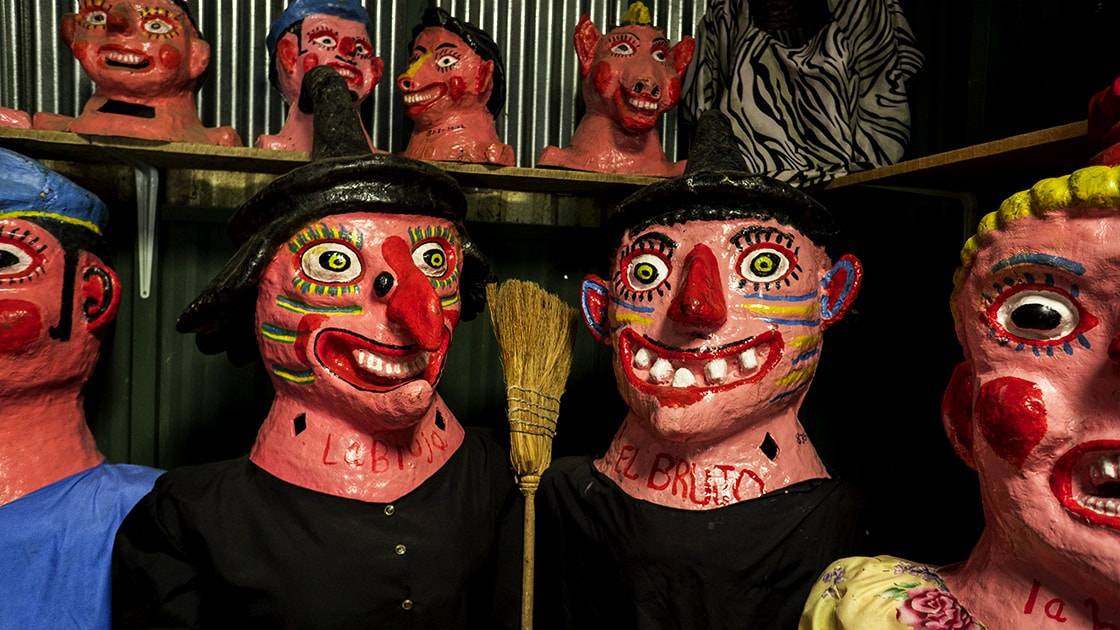 Bruja Zarate on the left and her descendant (El Brujo) on the right.