National Park Rincón de la Vieja, a natural paradise
Have you asked yourself where the magic found in the Rincón de la Vieja National Park, is born? In this article, I'll tell you a little bit more about the hidden places few of us know. Specifically, it is about the "Las Pailas" sector.
It's difficult to name them all, there are so many hidden beauties, but to not make this longer, I'll start with a list:
Loop trail Las Pailas
If you like to walk in the forest surrounded by nature, but you're not in the best condition, this track is perfect for you...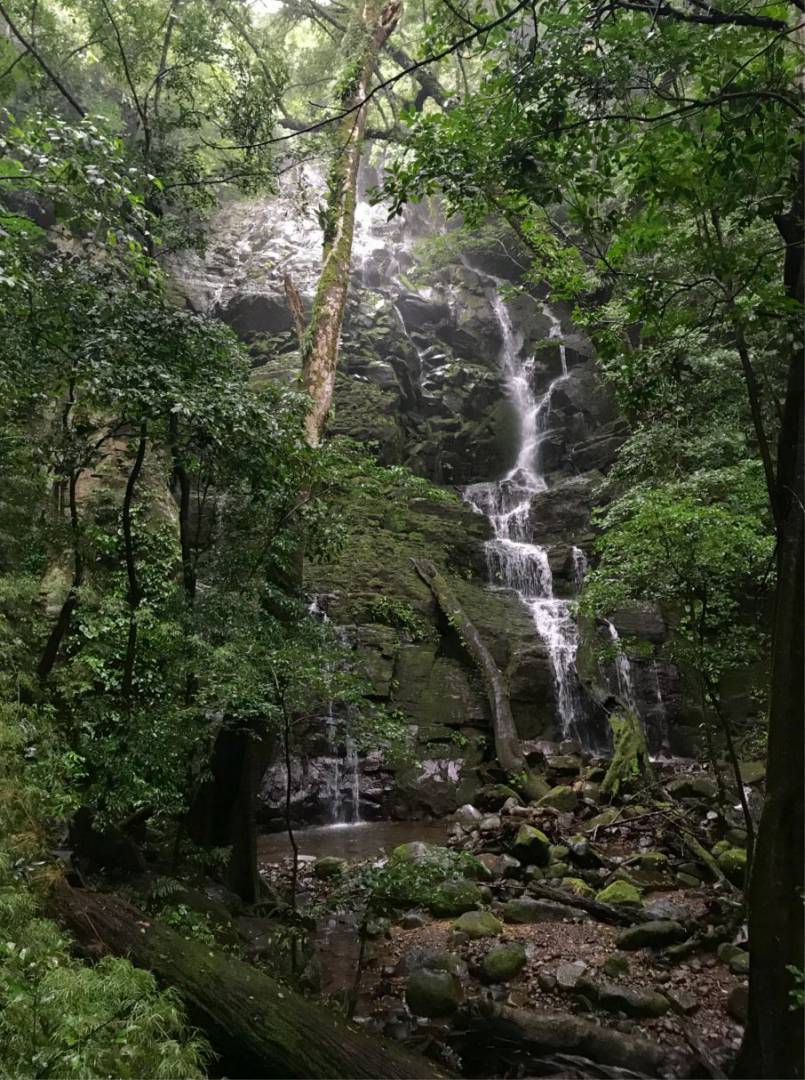 Around the well-maintained concrete path, you'll be able to see different vegetation, at the beginning more with a closed flora, bushy and high trees. Initially mentioned, the magical atmosphere gets back to you hearing goldfinches softly tweeting around you. The sound of falling water promises a surprise and as we get nearer we see it: a waterfall that looks like it's painted in the middle of the forest, softly the water flows over stones, and we're not able than to admire it. Gigantic roots of the trees are framing ornamentally our track and you'll think that the following has to be out of another world. From one second to another we see steam ascending from the ground in a "magical" way. As soon as you're getting closer, you'll realize that the vast escaping heat was too much for the surrounding stones, they are molten. The sputtering of the powerful and at the same time soft "Volcancito" shows its presence, but that is not the moment to present itself, yet. While continuing, you'll experience mud holes where grey bubbles explode after getting too much steam-pressure, a spectacle that we are observing quite a time (Pailas de Barro).
Later the vegetation is suddenly getting lighter. Trees are not as bushy anymore, rooms open more towards the sky and we're able to see steam ascending out of the mountain. Following the track, you'll see something such as thermal hot springs, in reality, you have to be very cautious because the temperature of the water is extremely high (Pailas de Agua). 
You're not really appreciating the natural basins in the midst of the mountains, living in the city until you're actually here. At the end of the path, you'll see a basin with boiling water in a coffee-brown colour, that matches perfectly with the green surrounding offering, once more, a beautiful view (Laguna Fumarólica).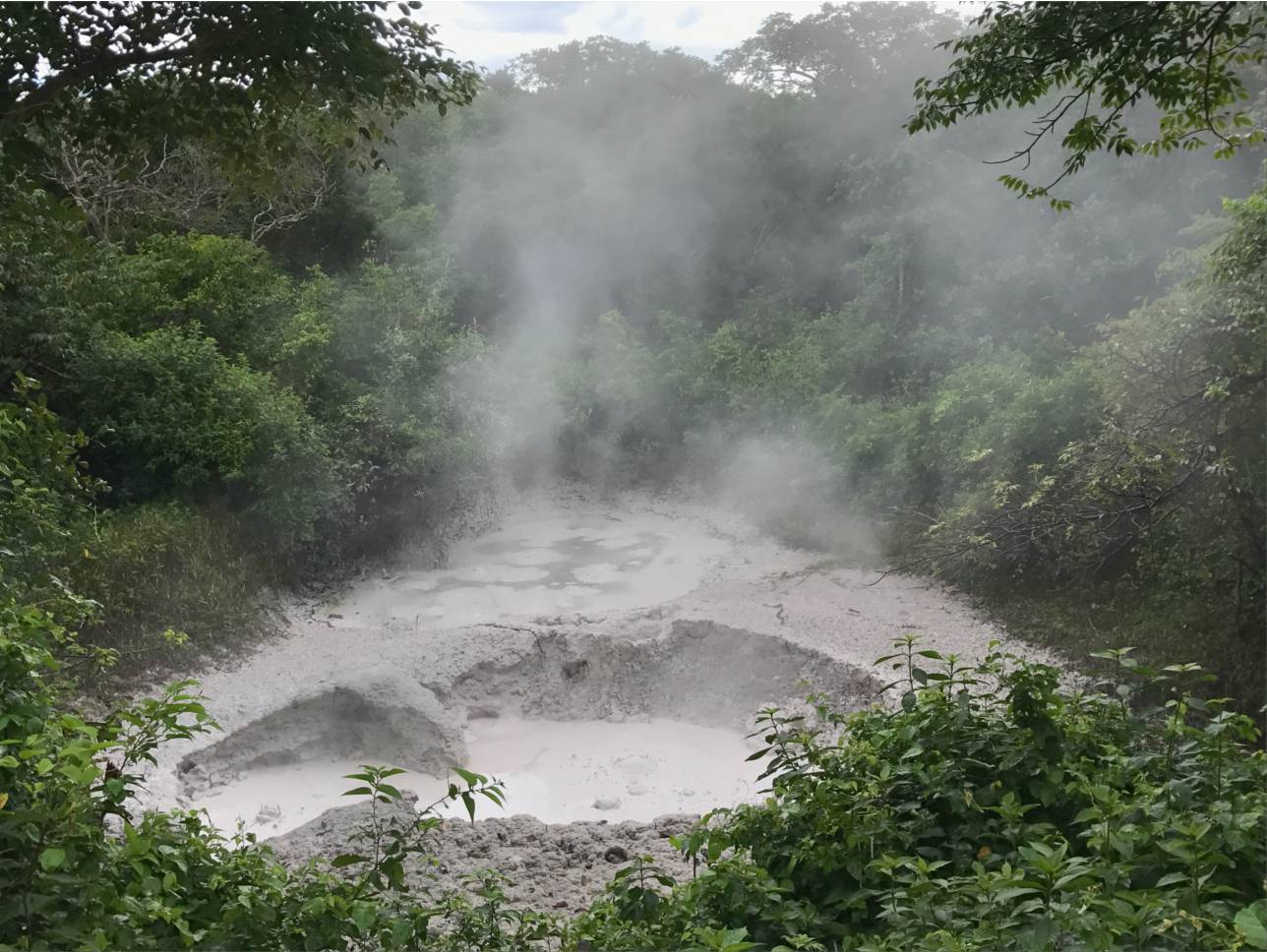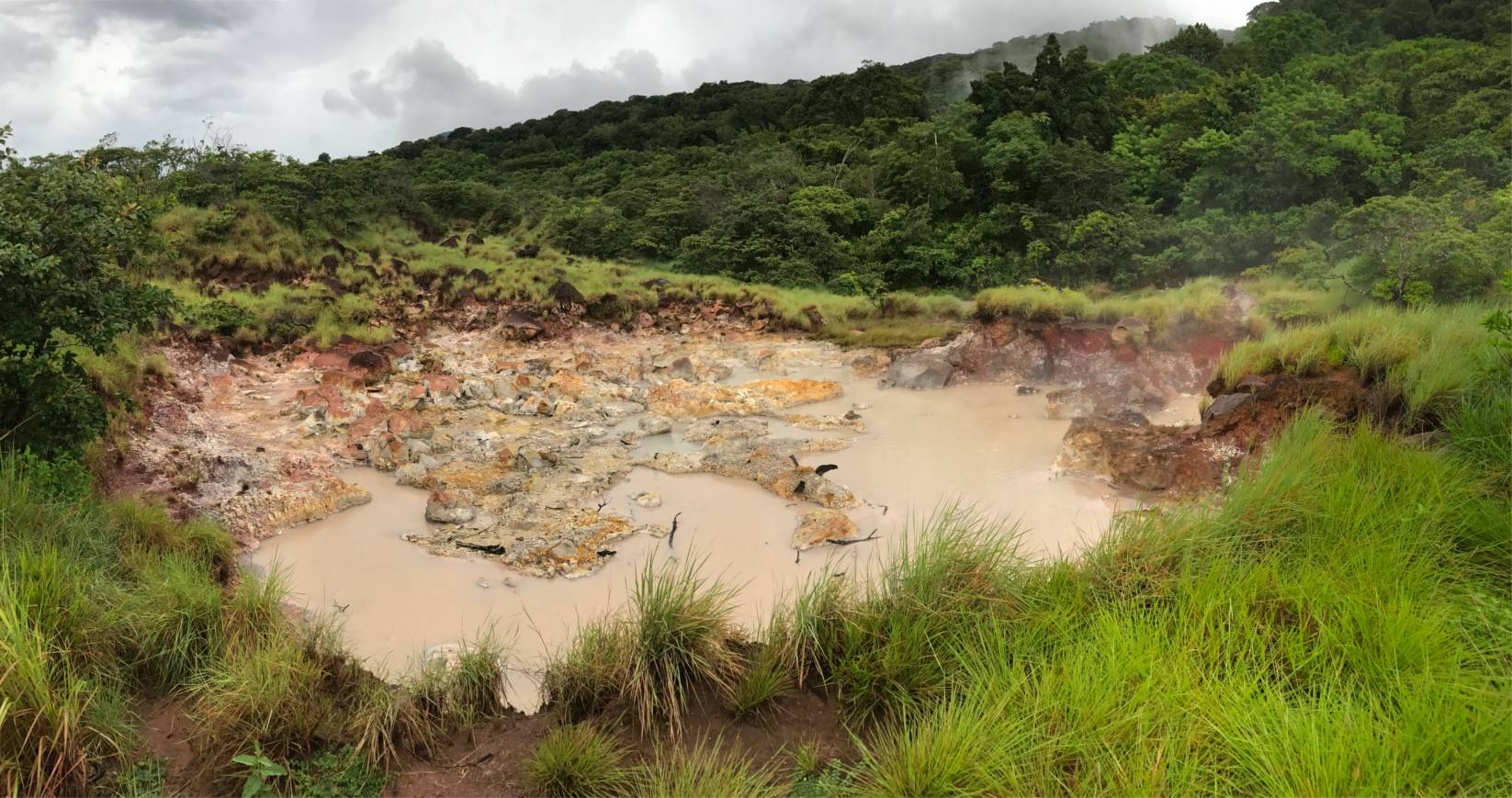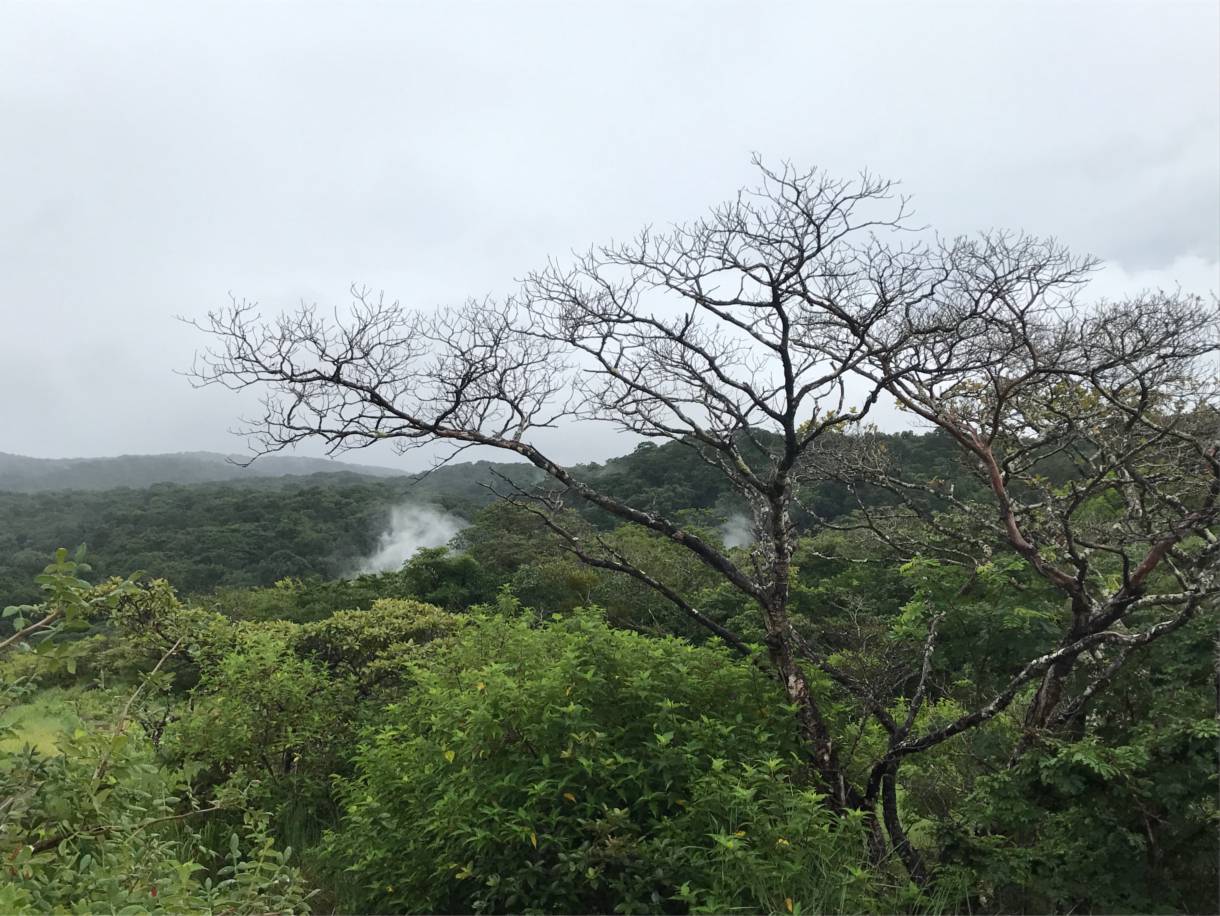 Waterfall La Oropéndola
As if the before mentioned wouldn't be enough, there is more to come. At the entrance to the national park, you'll see a path to the Oropéndola Waterfall, reading the sign though, all seems to be a mystery. This because you'll be asking yourself how long it might take to get there, how far it is, and if it is worth it to walk all the way. While starting to walk to the waterfall, you'll see bushy, dry vegetation, so, nothing special, but later it gets more exciting. The paths are getting tighter and nature, again, gets closer. You're able to see small white mushrooms that appear to be out of a fairy tale. Furthermore, if you're having the same good luck as I had, you'll see some capuchin monkeys eating some fruits in the trees. Mentioned trees here, again, they are higher and are hiding treasures...
But, how might that waterfall be, so near to the entrance, appearing at the same time perfectly hidden? Why do I talk of hidden? It's because after a while you'll get to a suddenly appearing hanging bridge with a lot of wooden steps, it's calling you with a highly mysterious aspect, and finally, you'll reach the waterfall. Long-awaited, we're enjoying the waterfall with its crystal-clear water and the impressive sounds.  Just some meters away we feel the breeze, that seems to wash away all negativity we might carry around with us. 
If you love the clear, cool wet, you should go down the steps and should risk a header in the beautiful basin of the waterfall. Not only will you get out of the refreshing water again super relaxed, but feel your body and soul being purified - uncomparable! 
I assure you that it's a once-in-a-lifetime, spectacular, and, as mentioned several times, magical experience. I am sure that thousands of years ago, mystical creatures had to take their baths in these waters. Furthermore, I am certain that everybody who will be able to visit this place, will make themselves one of the best gifts for life!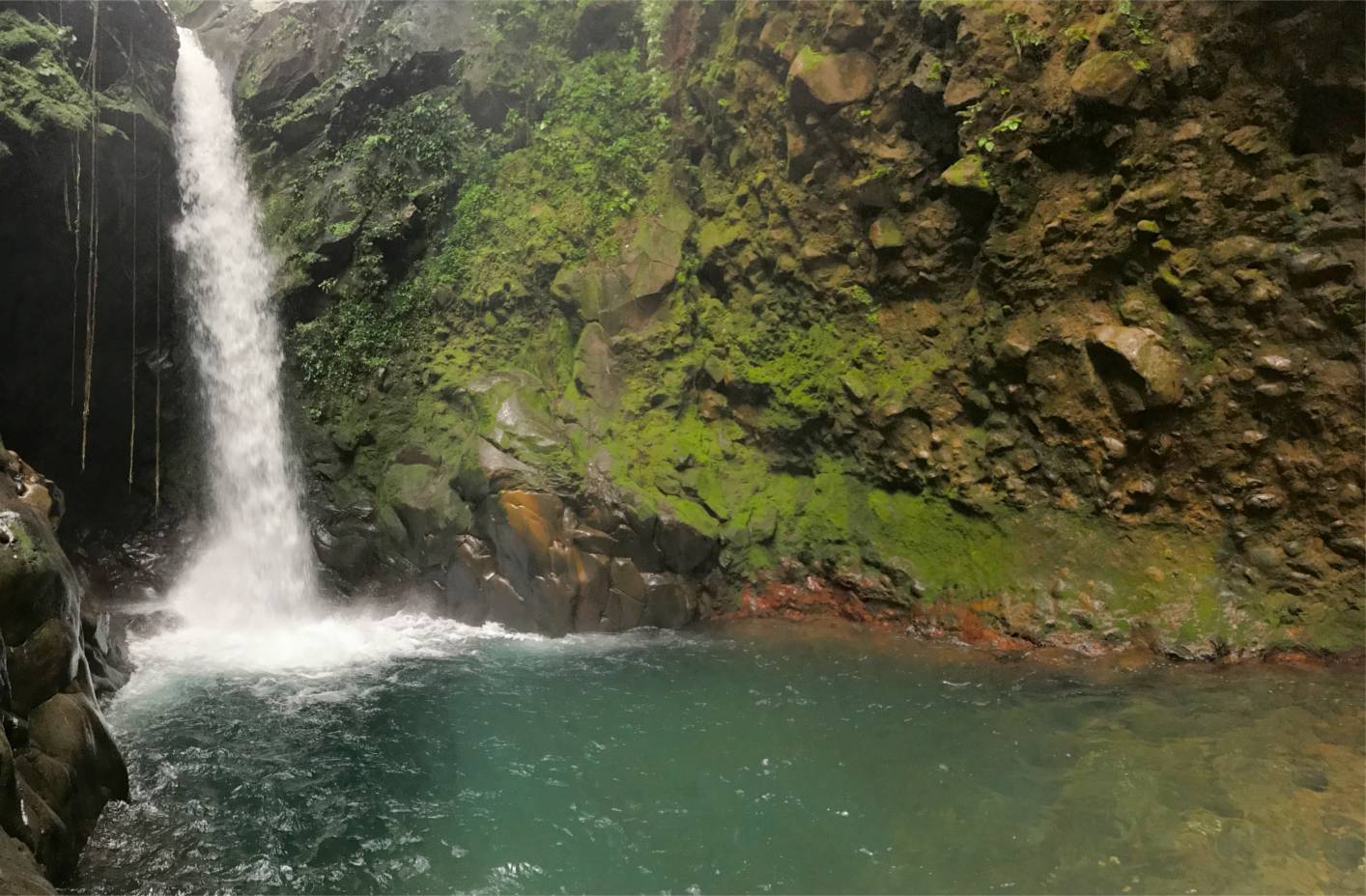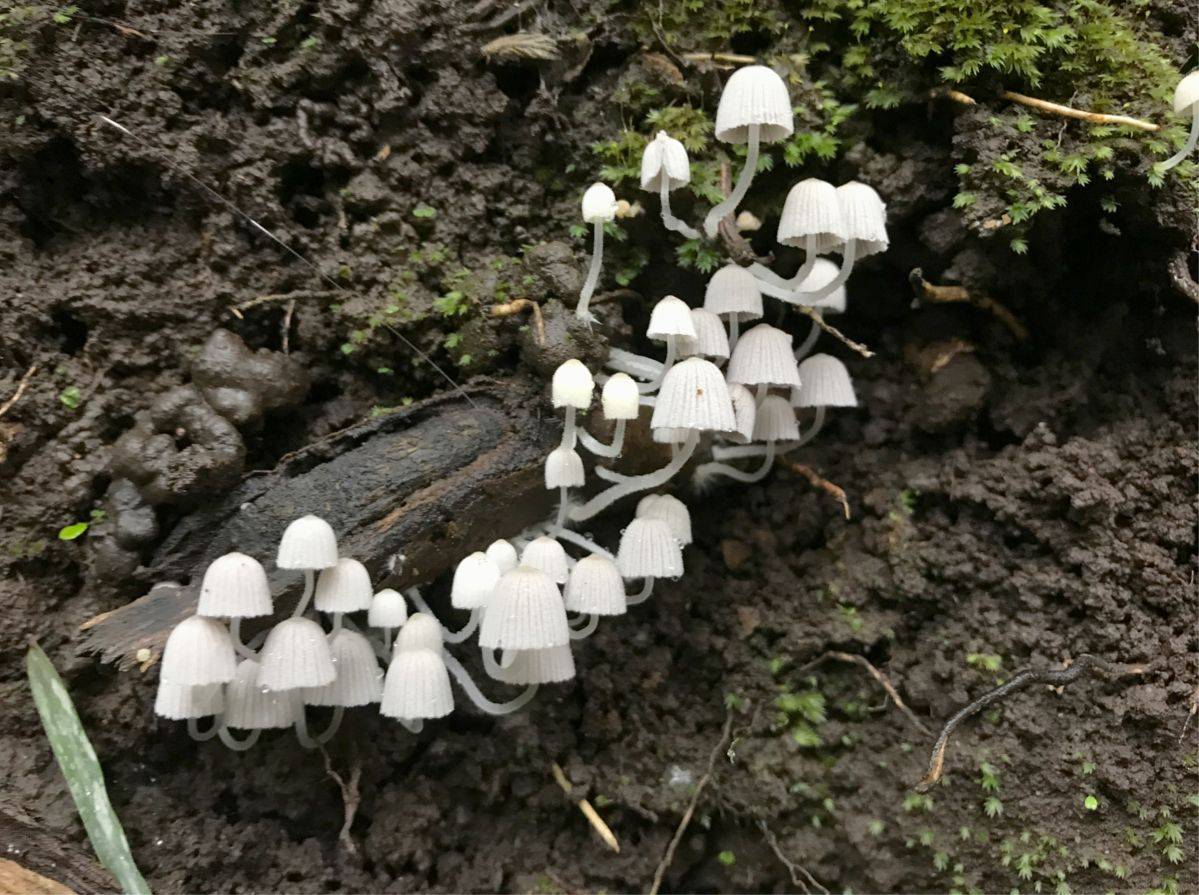 Recommendation 
Don't forget to meet all the treasures of our country, in this case, the Rincón de la Vieja National Park (Alan was already here checking out some single tracks with his mountain bike - read about it here). You'll have the chance to visit and enjoy magical places, that we think don't exist, but are reachable so easily. What I just told you is not even a fourth of what you could find here in this park. Also, there are a lot more secrets,  I hope I will be able to tell you about them soon... So, get out of your comfort zone and go on an adventure, because life is to enjoy right now!
Read here more about the Guanacaste province where the Rincón de la Vieja National Park is located.
If you'd like to know more about this place, don't hesitate in asking me. Furthermore, I invite you to follow us on our social media channels so you're able to discover other wonderful places in Costa Rica!
National Park Rincón de la Vieja, a natural paradise
Recommended Blogs