Canopy in the Braulio Carrillo National Park, Costa Rica
Ziplining combined with the aerial tram in the Braulio Carrillo National Park is a fantastic way to experience spectacular views, getting close to nature, as well as satisfying your thirst for adventure.  
The "Rainforest Adventure Costa Rica Atlantic" in the Braulio Carrillo National Park is reachable in a day tour from San José, and it allows you to explore a versatile flora and fauna as well as to challenge your inner adrenaline junkie.
Are you looking for an adventure during your vacations, or for an adrenaline kick on a weekend? In only 50 minutes from San José, you are able to totally immerse yourself in the jungle, not using ordinary hiking paths, but aerial tram and zip line.
Journey
I had the opportunity to visit the Braulio Carrillo National Park and to go ziplining. I was a little bit anxious, although this was my third time, at the same time was hoping that the fun factor would overrun my fear this time.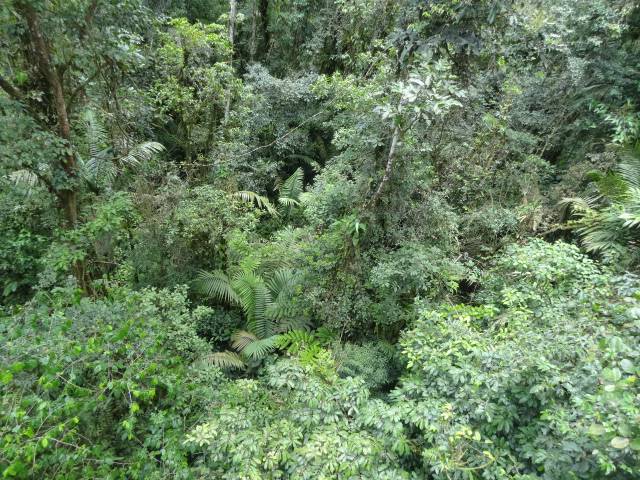 Rainforest in the Braulio Carrillo National Park
My journey begins at the Aurola Holiday Inn Downtown San José Hotel, in the city centre and easy to get to. Of course, you can also be picked up in other hotels in San José. 
Starting our adventure at 7 am, our journey leads us through the Braulio Carrillo National Park, where just the street already is a delight: green, green, and more green around us, small waterfalls and different, extraordinary plants and trees. One plant is called "poor man's umbrella" by the Ticos because the leaves are huge and allow you to use it actually as an umbrella.
Our guide is playing a "get-to-know-each-other game", absolutely not my thing... but, also, he is telling us some interesting facts about Costa Rica. Did you know that it only takes about 50 minutes to get to the Braulio Carrillo National Park, but we are crossing 4 provinces (states)?
During the drive, I get into a conversation with my neighbour, she never was on a zip line tour. Puh, of course, I am the best person to talk to, with my own doubts... Quickly, a group of scary ones was formed, that later should be the last ones on their zip line. Like "If the other 35 people before us made it, our chances are pretty good". After actually just 50 minutes we arrive, it's Saturday and because of that in San José there are no traffic jams. As soon as we reach the entrance, we switch from our bus to a smaller van, because the bigger one wouldn't be able to continue. And the adventure starts!
We're heading for 5 more minutes into the national park before we arrive at the starting point. Here, there is a hotel, a restaurant, a souvenir shop, and the zip line equipment.
Arrival
First we have breakfast, in a buffet form. Of course, there is the traditional Gallo Pinto, that's: rice and beans mixed together, served with egg and a small piece of bread. As a vegetarian, I am not eating the bacon that would be part of it. There are also fruits, such as pineapple and papaya, as everywhere in Costa Rica delicious. On top, coffee and the day can start.
By the way, rice and beans you'll get in Costa Rica in the morning, for lunch, and in the evenings. Such as just mentioned Gallo Pinto or Casado (married) for lunch. Different on the Casado is that beans and rice are served apart.
Read here more about Costa Rican Food: Top 5 dishes you must try!
Ziplining
After breakfast, we have to sign a waiver declaration (yes, it's a must), lock up our personal stuff in lockers, and get into the zip line equipment. You don't need to worry about anything, the guides are going to help you.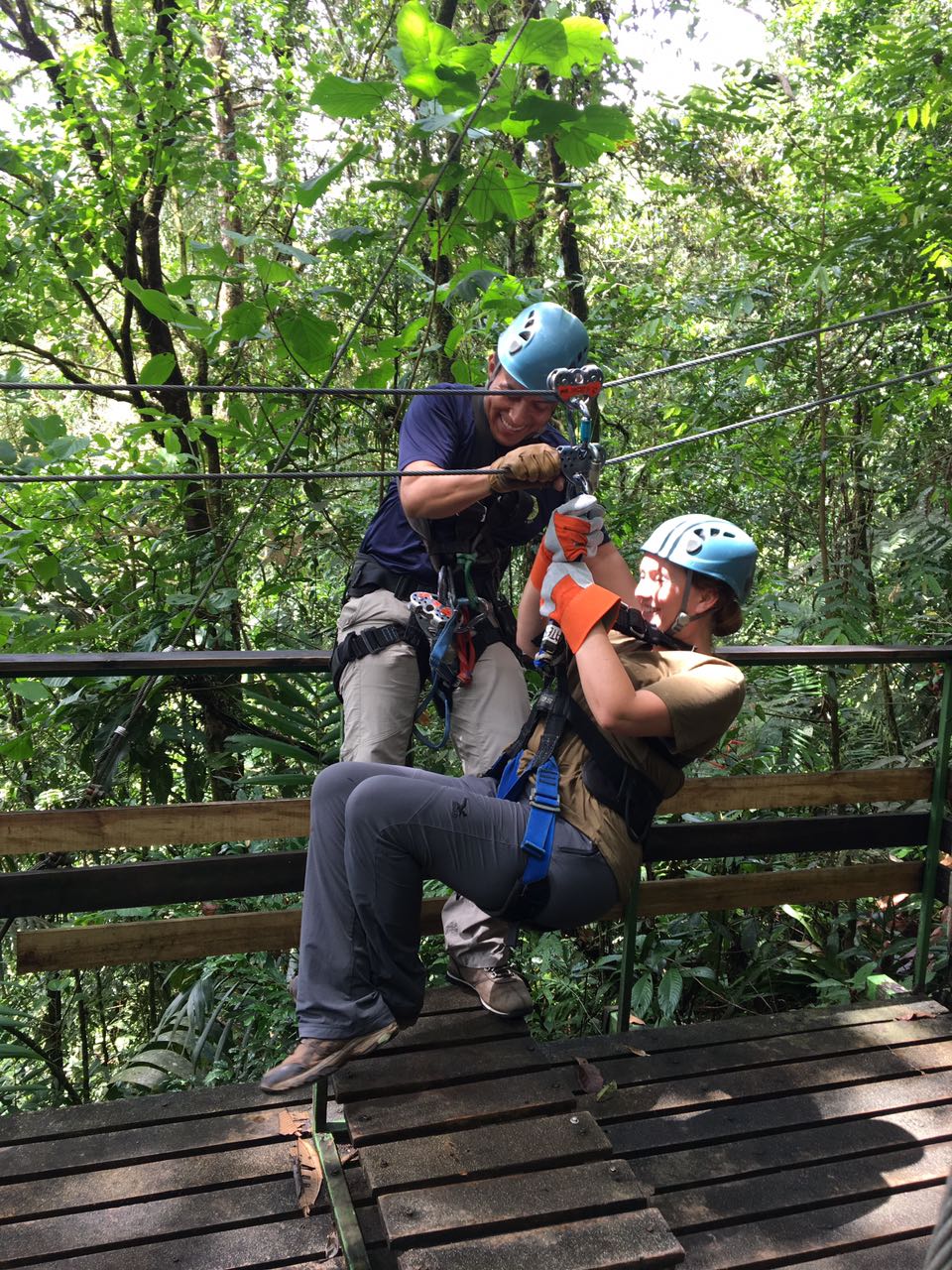 Aline ziplining
Don't forget the helmet, straps, carabiner, and gloves, afterwards we're off by bus to the first zip line station. But we didn't count on a suddenly appearing tapir with its about three months old baby. The mammal with dense, short fur and a short trunk is, of course, the highlight because they're rare. And it takes its time until everybody took a nice picture.
My tip for zip lining: Best would be you wear pants with secure closeable pockets, so you're going to be able to take your mobile phone to take pictures and to make videos, or, you choose to attach your GoPro to your helmet. No need for a jacket, it's too warm, and if it's raining in the rain forest, it's raining. It will stay warm.
After the photo session with the big and the small tapir model, the adventure now finally begins. First of all, there is an orientation about security, they're explaining to you that you were equipped with the newest equipment and on top, you'll have double security. Furthermore, the guide brakes for you. Fantastic! In La Fortuna, it wasn't like that (Sky Adventures). There everybody had to brake on their own, I constantly was imagining myself crashing with full power in the next station, it gave me an unpleasant feeling. So, that can not happen here.
They also show you what to do if you're too light or in a bad position, because of that too slow, and not reaching the next station with your own power. If you're stuck in the middle of a line, you'd have to turn and pull yourself to the next station. "That never happens", I am explaining to my neighbour on the bus. Obviously, it happened to both of us later! Jackpot! It wasn't that hard though if you are know-how, and relaxed we're continuing to the next cable.
Overall you'll find 14 platforms and 10 cables in the Braulio Carrillo National Park, we were using 7 of them. One, a 700m long cable, is the longest zip line cable on the Caribbean side of Costa Rica.
In Monteverde and La Fortuna, you'll find way longer ones, for the extreme adrenaline junkies among you. We start with short cables to get used to it, but soon cables get longer, and the speed gets higher. The landscape is beautiful, you're in the middle of the jungle or above, enjoying nature, and on top, you're enjoying an adventure.
Guides are highly professional and they're securing you on the platforms every time you get there. You also don't wait long until you can continue. At half the time you'll get time to breathe and refresh on a larger location with a nice view. For me, it's not surprising that right now a team of National Geographic is here to take some drone shots of the area.
After near getting used to the height and the zip lining combined with an awesome view, I think to myself: "Wasn't that bad..." I forgot the last cable, which is, as mentioned above, 700 meters long, and high. Really high. This time we are not in the jungle but above it.
Meanwhile, the group is getting on the next platform, we spot one of the beautiful frogs you find here, a really small one, with an incredible blue with red. Again, I am frustrated that my camera is absent, locked in a locker that I mentioned earlier. Since here frogs aren't just green like in your neighbour's garden, but really colourful, I became a fan of those amphibians.
Being on top of the platform, I have to be honest, I am afraid. The platform is really high and you can't see the next one from here, a voyage into uncertainty. As it's my turn, I just want to be done with it. The distance of 700 meters at the end is so long to overcome, that I suddenly have time to check my surroundings, and enjoy it. How happy I can be living that close to such a paradise, I can only recommend you to spend a day here. After about four hours, according to the size of the group it might be longer or shorter, the tour is over. I am happy to take off my helmet, it's pretty hot here. 
Aerial Tram
I am getting my camera and the tour continues with the next highlight of the day. Our guide, five others, and I are getting in an aerial tram that is open towards all sides. Guide, five others, and I are in one gondola, so there is space for 7 people.
The aerial tram takes you on a ride through the jungle on two levels; On one way you'll be near the ground and see ground vegetation while going back you'll be some meters higher and see all levels of the forest.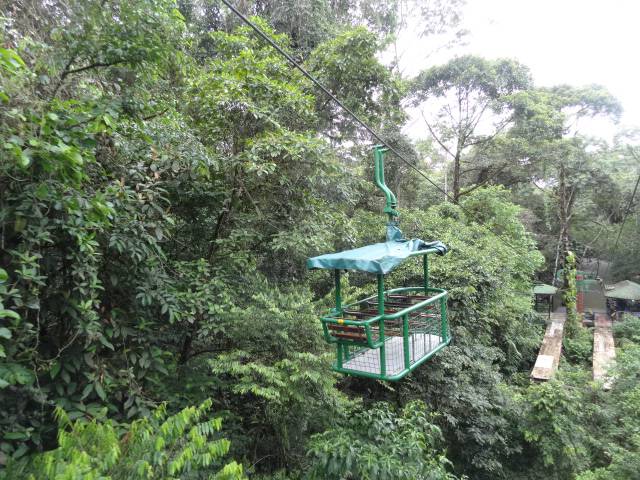 Aerial Tram Braulio Carrillo
The ride takes about an hour and our guide explains a lot of details. Why are some trees "hugging" each other so inmost that you can't even tell anymore which is which, or why is it that some roots are growing from up to down?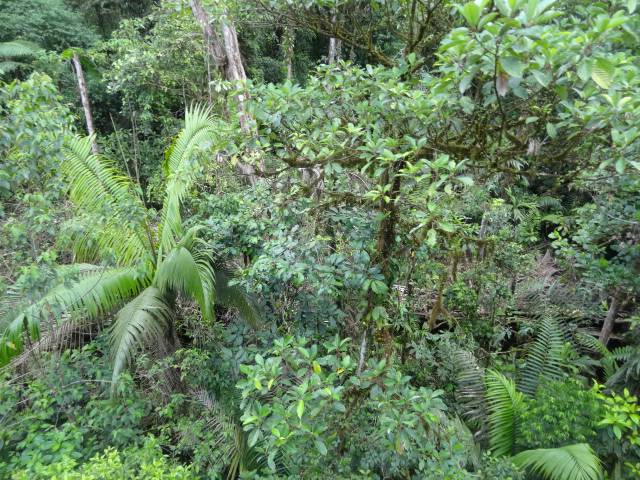 Rainforest, Braulio Carrillo
Two snakes greet us during the ride, they are wound around trees and leaves, without a guide we wouldn't have noticed them. Besides the many different species of insects, as well as huge spiders, we also see toucans, which impress me every time with their nice colours.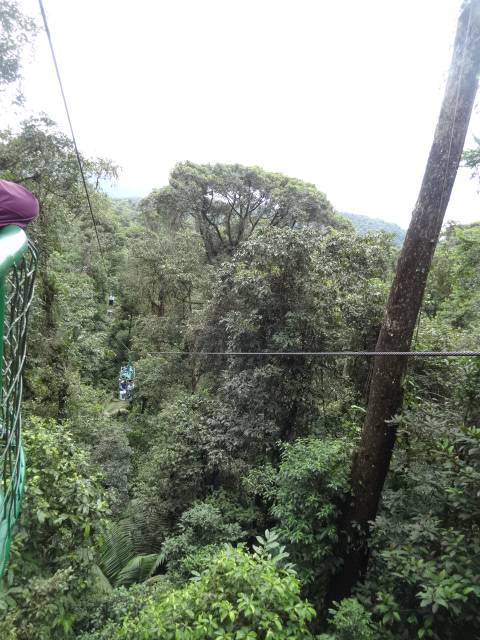 Aerial Tram, Braulio Carrillo
The aerial tram ride was an amazing experience, I enjoyed it a lot. Now I am ravenously hungry, good for me that our lunch comes next, again in the form of a buffet. Again they offer rice and beans in the form of "casado" with meat, vegetables, and plátano (cooked, sweet banana), very delicious. Furthermore, they offer salads and fruits, nothing is missing.
Learn more about our Costa Rican Food: Top 5 dishes you must try!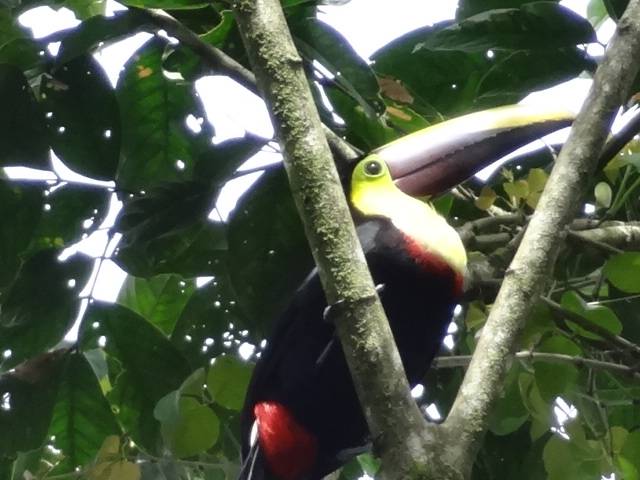 Toucan
Snake and frog terrarium
After lunch, we're heading to an orchid farm as well as to a terrarium right next to it. I am very pleased to hear that none of the animals was caught to show them to tourists, like in a zoo, but they were rescued.
Some of them were held illegally in households and aren't able anymore to survive in the wilderness. Therefore, they found a new adequate animal housing here. The guide explains to us a lot of things about the animals, for example; how do you know a coral snake is poisonous? It's a poisonous one if the colours are ordered red, yellow, black, yellow.
We also get to see hummingbirds, always a highlight with their vibrant colours. They're the only birds that are able to fly backward, and don't have to turn around, unlike other birds. They demonstrate it each time they're departing from a flower, impressive!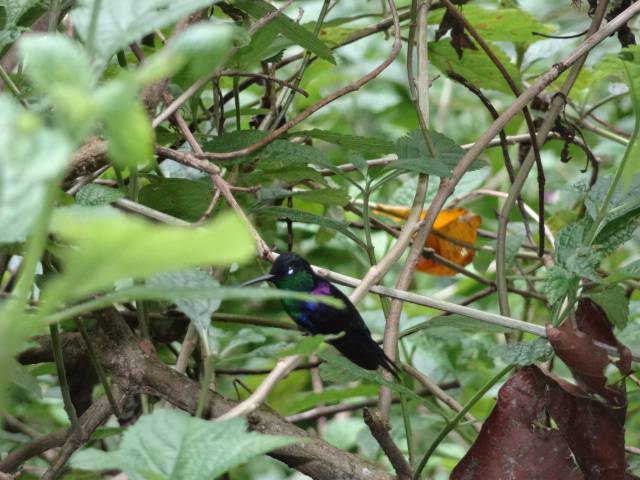 Hummingbird
Accommodation
We're having a look at the Tapirus Lodge and our guide tells us who should not come. That I call an unusual sales strategy, but it's needed. People who aren't able to live without a TV, a network, or even WiFi for a while, shouldn't think of coming here. Let me put it in a positive way: Nature lovers who want to enjoy the rainforest, explore, go on a night hike, and hear the sounds of the jungle while getting to bed, you are very welcome!
Furthermore, it's recommended to not be afraid of snakes. In case of doubt, you can always cancel the night hike.
The rooms are super nice, simple, but clean and with all you need. Food also is included. More than a night I wouldn't recommend, Costa Rica, in general, has so much more to offer.
If you're living in the city, this is a perfect getaway with a short distance to drive, or you visit on a one-day tour. Also, with some flights leaving as late as 10 pm from San José, you could combine this trip on your last day.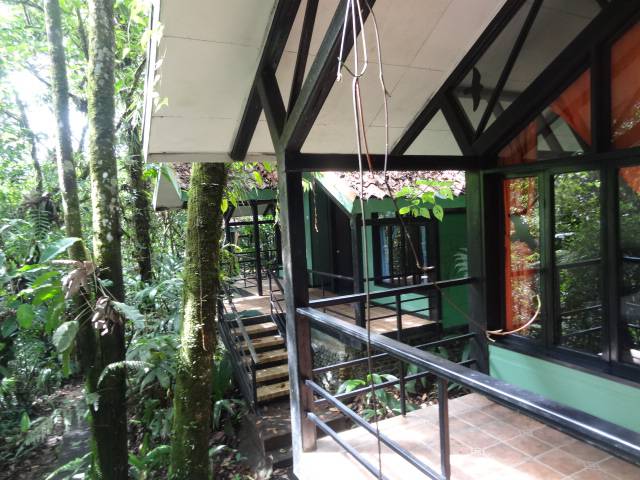 Tapirus Lodge, Braulio Carrillo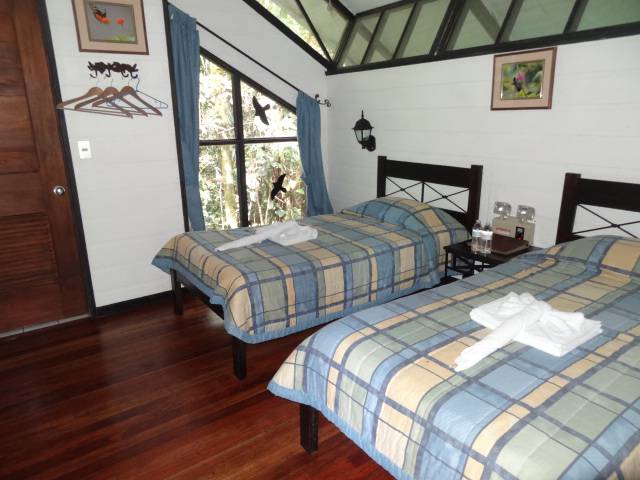 Tapirus Lodge, Braulio Carrillo
My day ends after a coffee and a delicious banana cake, and I have to say: I couldn't have spent my weekend better. Perhaps I'll not be afraid anymore the next time I'm going on a zip line tour.
I'll know soon because I won an entrance ticket for the Rainforest Adventures Costa Rica Pacific Park on the way back. I again will be on a zip line, furthermore, I'll be climbing a waterfall. I am able to use the voucher within the next five weeks, therefore, I am already looking forward to it.
If you need help with your itinerary, This email address is being protected from spambots. You need JavaScript enabled to view it.! 
Canopy in the Braulio Carrillo National Park, Costa Rica
Recommended Blogs